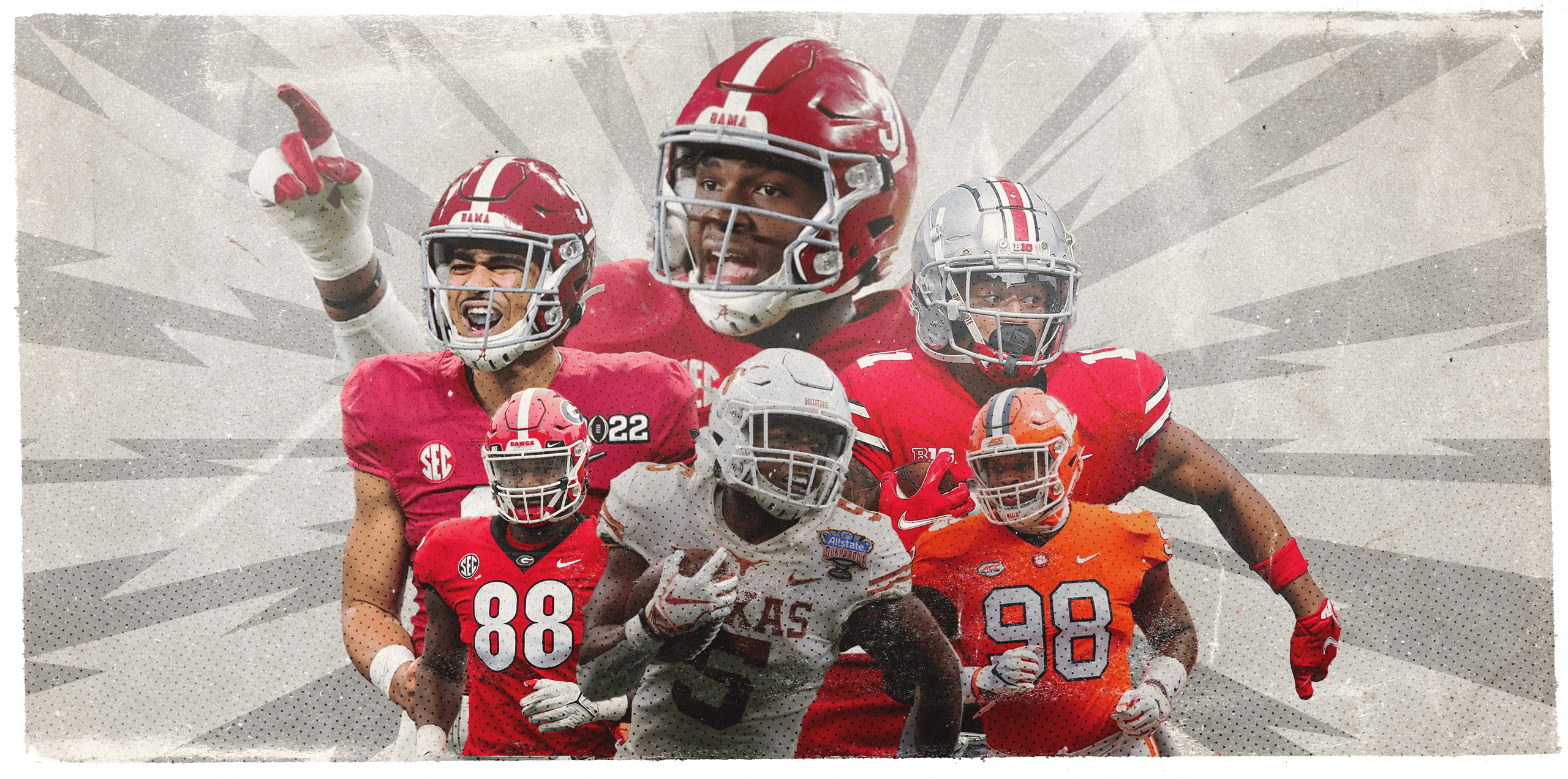 SEC
20 things to know about the 2022 college football season
The start of the 2022-23 college football season is a day away. If you've had your college football radar turned off since January, you're in the right place to get reacquainted.
Here are 20 things to be aware of heading into the year.
1. It's been a decade since a national champion was able to repeat
The last team to win back-to-back national championships was Alabama in 2011 and 2012. Bama remains the only team to repeat in the BCS/CFP era, which dates to 1998. (USC shared the 2003 title and won the BCS crown in 2004, but that title was stripped.) Reigning champion Georgia enters the season as the +400 third-favorite in the national championship odds.
Alabama is the outright betting favorite at +180, followed by Ohio State at +300.
2. East Coast bias? Its teams have produced 16 consecutive national champions
If there's an East Coast bias in college football, it's been earned. A team East of Texas has won 16 consecutive national titles. The last team to break this trend was … Vince Young's 2005 Texas Longhorns.
3. The Heisman winner is back but is not the favorite to win this time
Alabama QB Bryce Young captured the 2021 Heisman Trophy in a landslide, winning 684 of 875 first-place votes. No other player had more than 78 first-place votes (Michigan edge rusher Aidan Hutchinson). But Young, the first Heisman winner to return to school since Lamar Jackson (2016), finds himself the second-favorite in the Heisman odds in his junior season. Sophomore Ohio State QB CJ Stroud is the chalk. Stroud finished 4th in Heisman voting last year as a freshman.
4. Alabama OLB Will Anderson is seen as a legit Heisman threat
Will Anderson will start the year as a top-10 Heisman Trophy favorite, and that's incredibly rare for a defensive player. In the 87-year history of the award, only one primarily defensive player has ever won the Heisman — Michigan's Charles Woodson in 1997 — and Woodson was also a dynamic returner and part-time wideout.
If Anderson wins the Heisman, he'll be making history.
Anderson's opening odds (+3750 on average) are significantly better than other defensive standouts of recent years. For comparison, Ohio State's Chase Young was a +10000 longshot when the 2019 season began. Fellow Buckeye Nick Bosa was at a similar number the year prior.
5. The transfer portal was busy this offseason
There has never been a more impactful group of transfers than the 2022 crop. Just looking at the QBs. Caleb Williams followed head coach Lincoln Riley from Oklahoma to USC. The man whose job Williams took at OU, Spencer Rattler, is now at South Carolina. Former USC pivot Kedon Slovis moved to Pitt. Casey Thompson went from Texas to Nebraska. Jayden Daniels transferred from Arizona State to LSU.
We can't cover all the significant moves here and now. Use the links below to see more comprehensive lists.
6. The "Coaching Carousel" was as busy as ever
Lincoln Riley moving to USC was the biggest newsmaker of the offseason, but it was just one of dozens of head-coaching changes. The other Power 5 teams (plus Notre Dame) with new head coaches are, in alphabetical order:
Duke: Mike Elko (was Texas A&M DC)
Florida: Billy Napier (was Louisiana HC)
LSU: Brian Kelly (was Notre Dame HC)
Miami: Mario Cristobal (was Oregon HC)
Notre Dame: Marcus Freeman (was Notre Dame DC)
Oklahoma: Brent Venables (was Clemson DC)
Oregon: Dan Lanning (was Georgia DC)
TCU: Sonny Dykes (was SMU HC)
Texas Tech: Joey McGuire (was Baylor AHC)
USC: Lincoln Riley (was Oklahoma HC)
Virginia: Tony Elliott (was Clemson OC)
Virginia Tech: Brent Pry (was Penn State DC)
Washington: Kalen DeBoer (was Fresno State HC)
Washington State: Jake Dickert (was WSU DC)
7. Michigan was the best team against the spread last year
Michigan's phenomenal 2021-22 season, which resulted in its first trip to the College Football Playoff, caught oddsmakers a little by surprise. The result was that Michigan posted an 11-3 record against the spread, including a 6-1 ATS start to the season.
Michigan isn't going to catch anyone off-guard in 2022. The Wolverines are projected to go 10-2 despite losing a ton of NFL-level talent on defense. They will open as 27.5-point home favorites against Colorado State. If the Wolverines are going to cover 79% of their games again, they're going to earn it.
8. New Mexico was the worst team against the spread
What a forgettable season 2021 was for the Lobos. Expected to be a .500 team, give or take, New Mexico went 3-11 straight-up and covered just 1 game against the spread: a hard-to-watch 14-3 win at Wyoming, where they were 20-point underdogs.
Expectations for the 2022 Lobos have been tempered, to say the least. The 2022 college football win totals list New Mexico at just 2.5, with the under heavily favored at -145. That's tied for the lowest win total in the nation.
9. The Group of 5 is not expected to return to the CFP
The 2021-22 season was historic for the Group of 5 as Cincinnati became the first G5 team to qualify for the 4-team Playoff. The Bearcats put up a decent fight in the Cotton Bowl, losing 27-6 to Alabama in a game that was a little tighter than the score suggests.
But oddsmakers are pessimistic that any G5 team will be able to duplicate Cincinnati's success. The current odds to qualify for the CFP list Cincinnati, which lost 9 players to the NFL, at +2000. Not including Notre Dame (+1000), the Bearcats are the only non-Power 5 team even on the board.
10. No G5 team is in the top 20 of the AP Poll or Coaches Poll
The decimated Bearcats remain the highest G5 team in the polls, coming in at No. 22 in the Coaches Poll and 23 in the AP. Houston is 25 and 24, respectively, while BYU is 25 in the AP.
BYU is the lone team in the AP Top 25 that didn't make the Coaches Poll. The reason is hilarious …
11. A rogue coach voted Texas No. 1
In arguably the funniest turn of events this offseason, the Texas Longhorns did not make the AP Top 25 yet landed at No. 18 in the Coaches Poll thanks to 1 first-place vote.
Yes, the same Texas that went 5-7 last year and didn't even qualify for a bowl game. Yes, the same Texas with Steve Sarkisian and his 51-42 coaching record at the helm.
This is a strong argument against anonymous voting.
12. The SEC is dominating the polls … again
In both preseason polls, the SEC is the only conference with 3 teams in the top 10 (No. 1 Alabama, No. 3 Georgia, No. 6 Texas A&M in AP Poll) and 6 teams in the top 25 (No. 19 Arkansas, No. 20 Kentucky, No. 21 Ole Miss).
The ACC has 5 teams in the AP Top 25 (No. 4 Clemson, No. 13 NC State, No. 16 Miami, No. 17 Pitt, No. 22 Wake Forest.
The Big Ten has 4 in the AP Top 25 (No. 2 Ohio State, No. 8 Michigan, No. 15 Michigan State, No. 18 Wisconsin).
Three belong to the Big 12 (9 Oklahoma, 10 Baylor, 12 OK State) and Pac-12 (7 Utah, 11 Oregon, 14 USC).
13. This is the last year for the Big 12 as we know it
On July 1, 2023, BYU, Cincinnati, Houston, and UCF will join the Big 12. Oklahoma and Texas will depart for the SEC a year later. If you are partial to the Big 12's current 10-team construction, enjoy it while it lasts.
14. The title game is heading west
The National Championship Game will be held at SoFi Stadium in Inglewood, Calif., on Jan. 9, 2023. The semifinals for the College Football Playoff will be the Peach Bowl (Mercedes-Benz Stadium, Atlanta, Ga.) and Fiesta Bowl (State Farm Stadium, Glendale, Ariz.).
Both semifinals will be played on New Year's Eve, as usual.
15. QB battles to watch heading into Week 0/1
The quarterback competition that got the most headlines was at Texas, where Ohio State transfer Quinn Ewers beat out sophomore Hudson Card.
Up in Ann Arbor, Michigan incumbent Cade McNamara is being pushed to the brink by dynamic sophomore JJ McCarthy.
The QB1 in Baton Rouge has yet to be decided, as well. Even though Myles Brennan has stepped away from football, Arizona State transfer Jayden Daniels still has to beat out Garrett Nussmeier.
Other QB battles to keep an eye on:
16. Significant injuries have already hit several teams
Wake Forest has suffered the biggest single loss: starting QB Sam Hartman is out indefinitely with a "non-football medical condition." Last season, Hartman led the Deacs to an 11-3 record (best since 2006) and ACC title-game appearance. He finished top-10 in the nation in passing yards (3,924) and TDs (36).
Notre Dame suffered a big setback in their receiving corps; injury-plagued WR Avery Davis is out for the season with a knee injury. The Irish also lost freshman RB Jadarian Price for the season to an Achilles' injury, a significant setback for a group that's trying to replace 1,000-yard rusher Kyren Williams with sheer quantity.
Texas lost WR Isaiah Neyor — a projected starter — to an ACL tear during a scrimmage, along with senior OL Junior Angilau to the same injury during the same scrimmage. Angilau started every game for Texas during each of the last two seasons.
UNC has also suffered multiple significant injuries on offense. RB British Brooks, their leading returnee in the backfield, is out for the year with a lower-body injury. Joining Brooks on the sideline is WR Antoine Green (shoulder injury). UNC's second-leading receiver last season (612 yards) will miss at least 6 weeks.
Florida State lost Kayden Lyles, a grad transfer center from Wisconsin, to an undisclosed season-ending injury during fall camp. Houston will be without leading rusher Alton McCaskill (961 yards last season) due to a season-ending knee injury. Promising sophomore RB Len'Neth Whitehead is out for the year at Tennessee (upper-body injury).
17. The ACC is catching up to Clemson
For the better part of the past decade, oddsmakers considered it a foregone conclusion that Clemson would win the ACC. And from 2015-2020, they were correct. Entering 2021, Dabo Swinney's Tigers were -835 favorites to make it 7 straight ACC titles. But a stunningly pedestrian 6-2 conference record wasn't even good enough to qualify for the 2021 ACC title game.
Fast forward to 2022 and oddsmakers have a lot more questions about Clemson. They enter Week 0 as just -125 favorites in the ACC title odds, with Miami, NC State, and Pitt all +1000 or shorter.
18. Ohio State is expected to reclaim the Big Ten throne
Not only did Jim Harbaugh register his first win over Ohio State in 2021, he also captured his first Big Ten title, ending Ohio State's streak of 4 straight. But the Big Ten title odds for 2022 set Ohio State as the -230 favorite. Those are the shortest odds of any team to win its conference this season.
Alabama is second-shortest at -177 to win the SEC. Clemson, a -125 favorite to win the ACC, is the only other team that's an odds-on favorite (i.e. -100 or shorter).
19. Kirk Ferentz is still coaching the Hawkeyes
Kirk Ferentz will be entering his 24th season at Iowa. He is the longest-tenured coach in the nation by a considerable margin. Kyle Whittingham (Utah) and Mike Gundy (OK State) are tied for second, entering their 18th seasons with their respective teams. Ferentz's longevity isn't just inertia; he's still getting results, leading Iowa to a 10-2 regular-season record and a Big Ten title game appearance last year. He's won at least 8 games in each of the past 6 full seasons and is averaging 9.5 wins per year over that span.
20. The season (almost) starts with a bang
While the Week 0 matchups don't see any Top-25 teams in action, the Week 1 college football odds are filled with marquee games.
The biggest matchup is unquestionably No. 5 Notre Dame at No. 2 Ohio State in Columbus in primetime on ABC (7:30 pm ET, Sept. 3). But the appetizers for that battle of CFP hopefuls are intriguing in their own right: No. 3 Georgia starts its title defense at home against No. 11 Oregon (3:30 pm ET on ABC), while No. 23 Cincinnati visits No. 19 Arkansas in Fayetteville (3:30 pm ET on ESPN).
On Sunday, Sep. 4, two programs looking to get back on track tangle as Florida State travels to the Superdome to face LSU (7:30 pm ET on ABC).
From there, it's a scant 19 weeks until the title game, and then another long offseason. But let's not think about that just yet.