SEC
Monday Down South: November chaos theories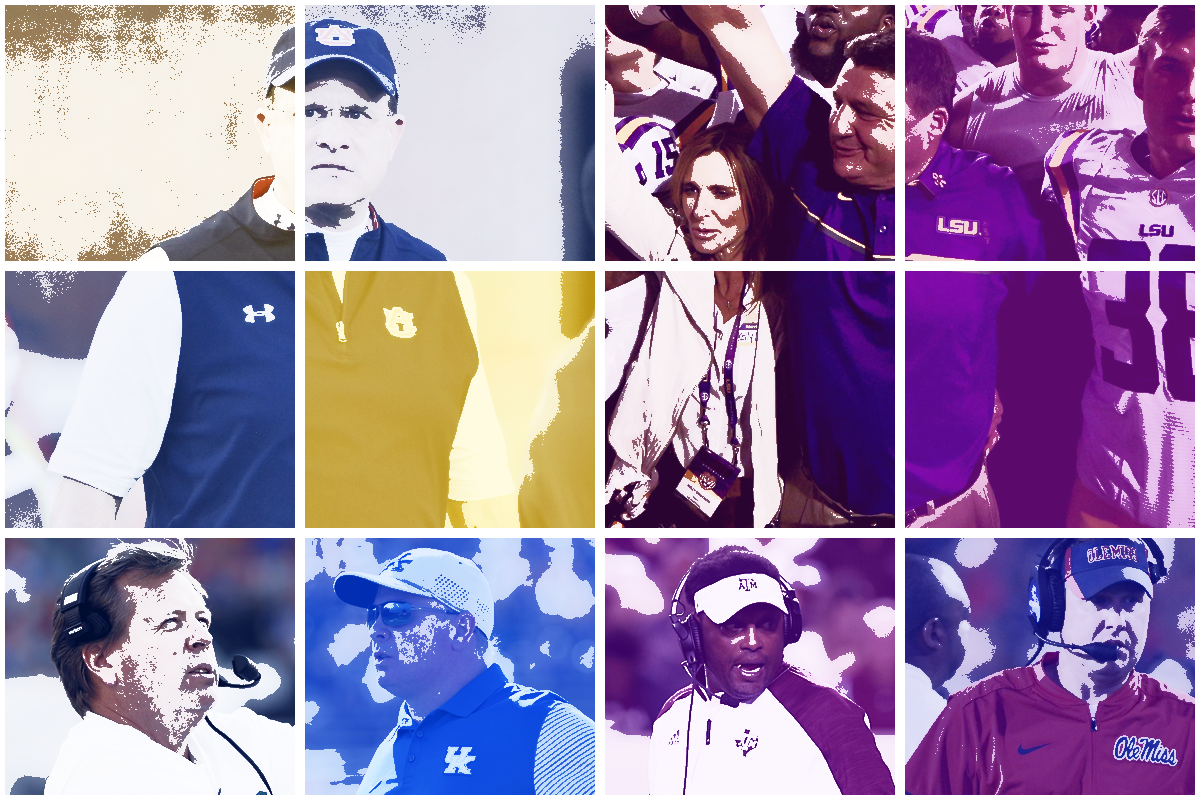 Monday Down South
November chaos theories
By Matt Hinton
October 31, 2016
We're a little less than 36 hours from the arrival of the first official College Football Playoff rankings of the season, and the suspense is … actually not all that dramatic, is it? Save for some quibbling over the specific order, the top four teams (Alabama, Michigan, Clemson, and Washington) are a foregone conclusion, as is the assumption that all four are bound for the playoff if they win out. Which is a distinct possibility, given that all four will be significant favorites in all of their remaining games. Not exactly edge-of-your-seat material, until one of the front runners goes down.
That's true in the SEC, too, where November arrives with Alabama in the West and Florida in the East steaming straight toward a championship-game rematch in Atlanta — the Gators are enjoying effectively a two-game edge in the division standings, and this edition of Bama might be the most dominant in Nick Saban's tenure. A month out, the paths to the postseason are all as straight as they can be, and mostly clear.
If we know anything about college football, though, it's that a lot of sturdy assumptions can turn to dust in a month, and when that month is November the upheaval might as well be baked in. Whatever the landscape looks like on the first Saturday of December, it will almost certainly be bearing the scars of storms that have yet to form over the next few Saturdays.
So instead of peddling the status quo, this week we're going to game out a few alternate timelines for the remainder of the SEC race — some more likely than others, but all of them still very possible in the name of late-breaking chaos.
Hold up: This is based on the premise that Bama might lose?
We discussed Alabama's possible vulnerabilities a few weeks back, and the Crimson Tide's subsequent win over Texas A&M only reinforced the impression that they might not actually have any. But we've heard that before, and it typically doesn't play out that way: Five times in Nick Saban's tenure, Bama has made it to November undefeated, always accompanied by No. 1 or No. 2 ranking, and has gone on to lose at least one game in four of them.
Note also that Bama still has to face two of the fastest-rising teams in the country, LSU and Auburn, both of which have looked like completely different teams in October than it did after dropping two games apiece in the season's first four weeks.
Advanced stats and analytics are much higher on both sets of Tigers than the traditional polls, which have been a little slower to record their respective turnarounds; in the stats-only rankings, Auburn and LSU are both Top-10 teams this week across the board.
Two of those systems, ESPN's Football Power Index and Bill Connelly's S&P+ ratings, apply those numbers to project the likelihood of winning/losing upcoming games, which in Alabama's case looks like this for the remainder of the regular season:

Of course the Crimson Tide are heavily favored to win every game. But beyond individual games, both FPI and S&P+ also project the likelihood of a given team running the table against its remaining schedule, and in those cases the numbers are less confident — Alabama's chances of finishing the regular 12-0 are just 47 percent according to S&P+ and 41.5 percent per FPI. In other words, while the odds of Bama winning each individual game are high, the odds that it will win them all are still dicey. There's a slightly-better-than-even chance of an upset.
And if the prospect is just too farfetched — if neither historical precedent nor math is enough to convince you that the Tide might in fact be beatable — well, just indulge me the rest of the way.
OK, let's say (hypothetically, strictly for fun) Bama loses. What then?
That would depend on who it loses to.
If LSU beats Alabama: An upset in Baton Rouge this weekend would unspool all kinds of far-reaching ramifications, but the most immediate, short-term consequence would be a four-way tie among the teams with one conference loss (Alabama, Auburn, LSU, and Texas A&M). From there, the cleanest path involves all four teams reaching Thanksgiving weekend with 10-1/6-1 records intact, which would set up a head-to-head tiebreaker scenario between the winner of LSU/A&M and the winner of the Iron Bowl.
It's also possible that LSU could stun the world this weekend, then turn around and lose to Arkansas or Florida before it can even start thinking about the finale against A&M. In that case, the standings would revert to a three-way tie entering the final weekend, with Alabama controlling its destiny, A&M rooting for an Auburn win, and Auburn hoping for an A&M loss. Note, though, that LSU cannot finish in a three-way tie itself.
If Auburn beats Alabama: If Texas A&M drops another game to Ole Miss or LSU, the consequence of an Auburn upset in the Iron Bowl is straightforward: Auburn wins the West. If A&M also wins out, however, and the Aggies, Crimson Tide, and Tigers all come in at 7-1 in-conference with head-to-head wins against one another, get ready to memorize some very convoluted tiebreaker scenarios, the results of which can't yet be determined.
If Mississippi State beats Bama: Hardly anyone will notice in the throes of the ongoing zombie apocalypse. But in this scenario Dan Mullen will be back in whatever remains of post-Thriller Starkville in 2017.
But Florida still wins the East, right?
Probably, yes, but the Gators' remaining conference schedule (South Carolina squeezed between trips to Arkansas and LSU) is tough enough that there's still some outside hope for Tennessee despite the Vols' inexplicable loss this weekend at South Carolina. If Florida drops two of those three, and Tennessee wins out, then UT will take the east courtesy of head-to-head.
Incredibly, Kentucky is also relevant in this equation. At 4-2 in SEC play — seriously, look it up — the Wildcats are on a bit of a roll and have a shot at splitting their next two games against Georgia and Tennessee, if not winning them both. UK's head-to-head loss to Florida in September hurts, but a strong finish by the 'Cats in combination with one or two Gator losses could very well … send … Kentucky … to Atlanta. This is not a drill.
Most Important: Can the SEC still get two teams in the Playoff?
The dream is alive, as long as those teams are a) Alabama, and b) A team that beat Alabama. It's not too farfetched to imagine a situation in which LSU or Auburn upsets the Crimson Tide, wins the conference, and earns the league's de facto playoff bid on the strength of a nine- or 10-game winning streak that absolves them of them of their early losses. If Florida can survive the next month and arrive at the championship game at 11-1, and upset in Atlanta would almost certainly get the Gators in, too.
And even if Bama doesn't win a conference title, it's still highly regarded enough to have a solid chance of replacing a one-loss champion from another conference (I'm looking at you, Washington) and making the final four as an at-large. Stranger things have happened.
Even cleaner, if Alabama and Texas A&M win out and finish 13-0 and 11-1, respectively, the Aggies could conceivably join the Tide in the playoff field as an at-large themselves. But winning out against Ole Miss and LSU is easier imagined than accomplished, and even if it is accomplished A&M will need some help.
NOTEBOOK
Around the conference.
FLORIDA 24, GEORGIA 10
The less said about these offenses the better. On one side, Florida hogged the ball for more than 37 minutes despite averaging all of 3.2 yards per play. On the other, Georgia produced of the most depressing drive charts in history — it starts off promisingly, then descends gradually into madness and winds up locked away in a straitjacket, muttering incoherently: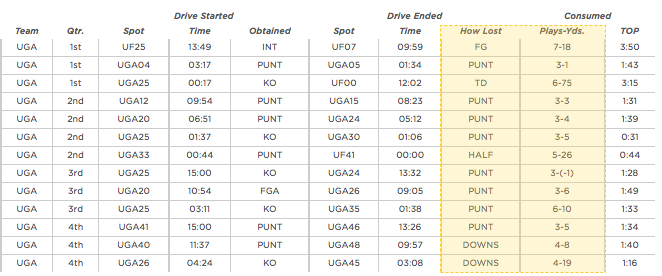 Blech. Instead, let's focus on the positive: Florida's defense is good! It's potentially great, in fact: The Gators took over the SEC lead from Alabama in scoring defense, total defense, and yards per play allowed, and continue to rank among the small handful of elite defenses nationally in most relevant categories. Juniors Teez Tabor and Quincy Wilson are the best cornerback tandem in the nation. With even a shred of help from the offense (which is just about all they got against Georgia) this can be a championship defense; certainly it's more than enough to carry the day in the current SEC East. If absolutely necessary, Tabor and Wilson can even generate a little offense of their own.
But the idea of Luke Del Rio leading an offense against LSU in Baton Rouge in a few weeks or, heaven forbid, Alabama in the SEC title game is even more depressing than watching Georgia on Saturday — in last year's game, the Tide outgained Florida by 250 yards and held them to 0-for-11 on third downs. If Del Rio was appreciably better behind center than Treon Harris, I'd hesitate to bring that up. But so far he hasn't even shown that much, which is enough by itself to shelve the hypothetical playoff talk until he does.
AUBURN 40, OLE MISS 29
Auburn tailback/armored truck Kamryn Pettway rolled over Ole Miss for 236 yards – new career high for the third consecutive week — then looked directly into an ESPN camera after the game and cheerfully offered the kind of cogent analysis I can only dream of: "Nobody really wanted to tackle me." Anything else you'd like to know?
Based on what we've already seen from Ole Miss this year, of course, it's a good bet the Rebels couldn't have tackled Pettway on a consistent basis even if they had wanted to.
The "new career high" thing is a recurring theme for them, as well: In all four of Ole Miss' conference losses, an opposing back has chalked up a personal best for rushing yards, beginning with Alabama's Jalen Hurts (146 yards) and Damien Harris (144) in September, and continuing over the past three weeks with Arkansas' Rawleigh Williams (180), LSU's Leonard Fournette (284), and now Pettway. Combine that murderer's row of top rushers with a crumbling defense, and you get a unit that, predictably, ranks next-to-last in the SEC in both rushing and total defense and dead last in scoring.
Aside from the fact that Robert Nkemdiche is playing for the Arizona Cardinals now, the most obvious, persistent issue is the revolving door at linebacker. Through eight games, Ole Miss has somehow started seven linebackers despite running a 4-2-5 scheme that only employs two LB positions.
Against Auburn, the Rebels went with a new combination, starting a former walk-on (Tayler Polk) alongside a redshirt freshman (Willie Hibbler) making his first career start, with exactly the kind of results you'd expect. There's no official statistic for missed tackles, but Pro Football Focus estimated that Pettway averaged 5.2 yards per carry after contact, good for almost two-thirds of his total for the game. Hibbler, especially, was in for a rough night on the tackling front.
Again, his predecessors in the role haven't fared much better. (One of them, Terry Caldwell, was suspended against Auburn after abandoning last week's game at LSU following a sideline altercation.) Nor have other defenses fared significantly better against Pettway, who is coming into his own as the most brutally effective weapon in the SEC. But when the opposing offense scores points on 80 percent of its possessions, even an offense featuring Chad Kelly at full throttle is going to have a tough time keeping pace.
SOUTH CAROLINA 24, TENNESSEE 21
All anyone wants to talk about after a game like this is Tennessee losing, and we'll get to that. But first, take note of just how young this South Carolina team, especially on offense: The starting quarterback (Jake Bentley) and leading rusher (Rico Dowdle) on Saturday are true freshmen, as was the second-leading receiver, Bryan Edwards; the leading receiver, Deebo Samuel, is a sophomore. There's only one senior starter on offense (offensive lineman Mason Zandi), and the defensive star against the Vols (Jamarcus King; see below) is a junior-college transfer in his first year at Carolina. They've been reasonably competitive in every game this year, and whatever you think of Tennessee right now, a win over a ranked division rival is well ahead of schedule.
Speaking of which: Bentley, who by all rights should be a high school senior right now, looked like a long-term answer behind center, hitting 15 of 20 passes for 167 yards, two touchdowns, and no picks in just his second start. Even if Tennessee had managed to pull victory from the jaws of defeat, as it's done so many times this year, there's no way to spin that performance by a true freshman QB as anything but a positive — especially when you compare Bentley to his senior counterpart on the other side, Josh Dobbs, a heady, seasoned veteran who was picked off twice and lost a fumble in the fourth quarter.
At 4-4, the Gamecocks still need two more wins to qualify for a bowl game, which they seem likely to get at this point against Missouri and Western Carolina. (Against Florida and/or Clemson, not so much.)
After last year's collapse, that would be a tangible step forward in Will Muschamp's first season. But expectations were low enough to start "Year Zero" that ending it in Shreveport or Birmingham in December is gravy.
The real goal for 2016 was to lay a foundation that could begin to yield bowl bids and upsets down the line. Assuming QB1 is Bentley's to lose now, a .500 finish on the heels of a significant upset  would just serve as evidence that the program is right where it's supposed to.
REORIENTATION
Time to rethink… The Vol Renaissance
As for Tennessee, well, the Vols' season is really balancing out, isn't? Even when they were playing relatively well over the first half of the season — that is, winning games by whatever means necessary — they were sloppy and inconsistent enough in the process that it felt like the other shoe could drop at any moment. So it has, exacerbated by an onslaught of injuries and another transfer, this time Jalen Hurd.
But injuries have their limits: It was a fully healthy team, after all, that struggled in the season opener with Appalachian State, a game that looked a lot like Saturday's loss to South Carolina except for the fact that App. State happened to miss a decisive field goal at the end of regulation that would have won the game by the same three-point margin as the Gamecocks.
(The subsequent game-winning fumble in overtime is another reminder of what a 50/50 proposition that game was.)
The main distinguishing feature between Tennessee's wild, come-from-behind win at Georgia after trailing by 17 points and its wild, failed comeback at Texas A&M after trailing by 21 points is that in the former the Vols connected on a once-in-a-generation Hail Mary. The difference between the team that held steady in the Top 10 into mid-October and the one that fell out of the polls entirely this week is largely semantic, as most of us kind of suspected all along.
Obviously, 5-3 with rapidly diminishing hopes of winning the SEC East isn't the balance Butch Jones had hoped to strike. This was the team and the season his entire tenure had been pointing to, when Tennessee would reassert itself at the top of a wide-open division.
With the midseason gauntlet behind them, a forgiving schedule ahead, and multiple opportunities for Florida to lose, thereby handing the East to Tennessee via tiebreaker, it still could have been. Instead, the Vols emerged from a bye week looking disinterested and lethargic; they committed ghastly errors throughout, and didn't catch any notable breaks. They were exactly who they've been from the start, finally stumbling into the right win/loss record to reflect it.
SUPERLATIVES
The best of the week…
Auburn RB Kamryn Pettway. At 240 pounds, Pettway is such an old-school, straight-ahead battering ram of a runner I can't even come up with a decent recent comparison. (Toby Gerhart, maybe? But watching his old Stanford highlights again, even Gerhart was shiftier than Pettway.) At any rate, with his latest bludgeoning Pettway is beginning to distance himself from the competition as the most productive back in the conference, at the center of what's beginning to look like the most productive offense as a whole.
Auburn CB Joshua Holsey. Chad Kelly dropped 465 passing yards on Auburn's secondary, an Ole Miss record, and three touchdowns on top of that. But those numbers were more quantity than quality — Kelly set the school record for attempts, too, with 59 — and belied a brilliant night by his most frequent target: On 10 passes in Holsey's direction, PFF counted just two completions, compared to five passes broken up and a fourth-quarter interception that effectively put the game out of reach.
The return yards on that pick (47) exceeded the yardage Holsey allowed in coverage (34) and set up a short touchdown "drive" to close the scoring.
Kentucky RBs Stanley "Boom" Williams and Benny Snell Jr.  Everybody's running wild on Missouri these days (see below), but I still did a double-take at this box score: Williams and Snell combined for 374 yards and three touchdowns on 6.6 yards per carry, both setting new career highs in a 35-21 thumping that wasn't even as close as the score suggests. Snell, a 5-foot-11, 220-pound true freshman, logged 38 carries himself, eclipsing the 100-yard mark for the second consecutive game, while Williams … well, as usual, Williams supplied the boom.
Believe it or not, this is a pattern: After a truly dismal start, Kentucky has quietly taken five of its past six, setting itself up to secure a bowl bid with a win over Georgia, Tennessee, Austin Peay, or Louisville down the stretch. (Suddenly, locals aren't speculating about if the Wildcats will go bowling, but rather which bowl they're likely headed to, a remarkable development that no one saw coming a month ago.) And in those five wins Kentucky's ground game as a whole has averaged 299 yards per game rushing on 5.8 per carry.
Now, the flip side of that success is that it's come at the expense of some truly wretched defenses, especially Missouri's, which is in the midst of a wholesale collapse — the Tigers have given up at least 287 yards rushing in four consecutive games, including last week's debacle against Middle Tennessee State. But we're talking about Kentucky here, a program that was on the verge of firing its head coach earlier in the year and hasn't come close to averaging 200 yards per game rushing this century. Whoever's giving it up, the Wildcats will take it.
Tennessee DE Derek Barnett. Win or lose, the senior anchor of the Vols' defense has been a mainstay on our weekly honor roll all year long — if anything, the fact that he's continued to wreak havoc on opposing quarterbacks even as Tennessee's season collapses around him has only elevated his reputation. Against South Carolina, Barnett was credited with three sacks (plus two QB hurries), leaving him tied for the national lead with nine sacks on the season.
It will be easy to forget about Barnett now as his team fades from the national and regional radars over the next  few weeks. Try not to.
South Carolina DB Jamarcus King. Carolina's other corner, Chris Lammons, got more attention for getting himself kicked out of the game in the first half. But King was vital to the upset over Tennessee, turning in five tackles (all solo) and two consequential interceptions off Joshua Dobbs.
That pick led directly to a touchdown pass that put the Gamecocks up early 14-7, a lead they never relinquished; King's second INT, an instinctive, ad-libbed play 30 yards downfield, was the dagger with under four minutes left to play.
MISCELLANEOUS POWER RANKINGS
The top 10 things in the SEC this week.
1. Alabama's Front Four. Before the bye week, Bama led the nation in sacks and rushing defense, and still does, the latter by even wider margins than last week. Next up on the hit list: Leonard Fournette and the short-term psychological health of the entire state of Louisiana. (Last Week: 1)
2. The Legend of Leonard Fournette. It was a rough October for LSU's Herculean headliner, who's missed four of the past five Saturdays to injuries, scheduling, and the weather. But his brief appearance last week against Ole Miss was so reassuringly spectacular that it was impossible to keep visions of a late-season surge in check — the inverse of the narrative last year, when the runaway Fournette-for-Heisman train crashed spectacularly in Tuscaloosa and never recovered. Again, he couldn't ask for a bigger stage than the one he'll have on Saturday night. (LW: 2)
3. Gus Malzahn's Recently Restored Mojo. In September, Auburn managed 29 total points in losses to Clemson and Texas A&M, and couldn't crack the end zone at all in its season-saving win over LSU. But the season really was saved: In October, the Tigers scored at least 38 points in all four games, averaged 372 yards rushing, and posted the league's best pass efficiency rating by a mile. (LW: 3)
4. Florida's Shutdown Corners. Tabor and Wilson can hang with anyone, but in this league right now, if Ole Miss and Alabama don't appear on your schedule you don't really have much of a chance to prove it. (LW: Unranked)
5. Alabama's Non-Offensive Scoring Streak. The Crimson Tide scoring in all phases has become such a routine fixture of SEC Saturdays it was almost surprising they didn't figure out a way to do it even when they weren't playing. The streak remains at 10 games and counting dating to last season. (LW: 4)
6. Mark Stoops On the Upswing.  If the cross-division schedule had pitted Kentucky against, say, Ole Miss or Arkansas at midseason instead of Alabama, the conversation around the Wildcats right now would be borderline euphoric. As it stands, don't expect the point spread for next week's game against Georgia, where UK somehow opened as a three-point underdog, to stay there for long. (LW: 6)
7. The Orgeron Effect. So far, so good: LSU is 3-0 on Coach O's watch, all by double-digits margins, and the offense looks like a completely different animal than it did in September. But it's no secret that this weekend is the referendum for gauging just how far the Tigers have come, and for Orgeron's prospects of removing the "interim" tag for good. (LW: 5)
8. Texas A&M's Pass Rush. A&M showed no mercy Saturday to its fellow Aggies, finishing with three sacks, seven tackles for loss, and three QB hurries in a 52-10 romp over New Mexico State. In the conference, only Alabama has more sacks this year; nationally, no one has more TFLs. (LW: 7)
9. Will Muschamp's Annexation of Tennessee. At Florida, Muschamp was 4-0 against the Vols, including one of the ugliest wins in recorded history in 2014. At South Carolina, he's now 1-0 with a team that wasn't sure it would win a conference game at the start of the season. In the annals of Big, Dumb Will Muschamp Football, this is the closest thing to coherent logic. (LW: Unranked)
10. Chad Kelly In a Losing Effort. Ole Miss is 3-5 overall, 1-4 in SEC play, and even setting the school record book aflame isn't enough to suppress the feeling that (thanks mainly to the defense) Kelly's senior season is a lost cause. The Rebels will be favored to win three of their final four, and can still salvage a winning regular season with an upset win at Texas A&M; for his part, Kelly is still the SEC's most draftable passer as well as its most prolific in terms of yards and touchdowns. But no matter how good he or the team looks over the next few weeks, you can expect the topics of conversation around Oxford to begin skewing heavily toward Shea Patterson and sanctions. (LW: Unranked)