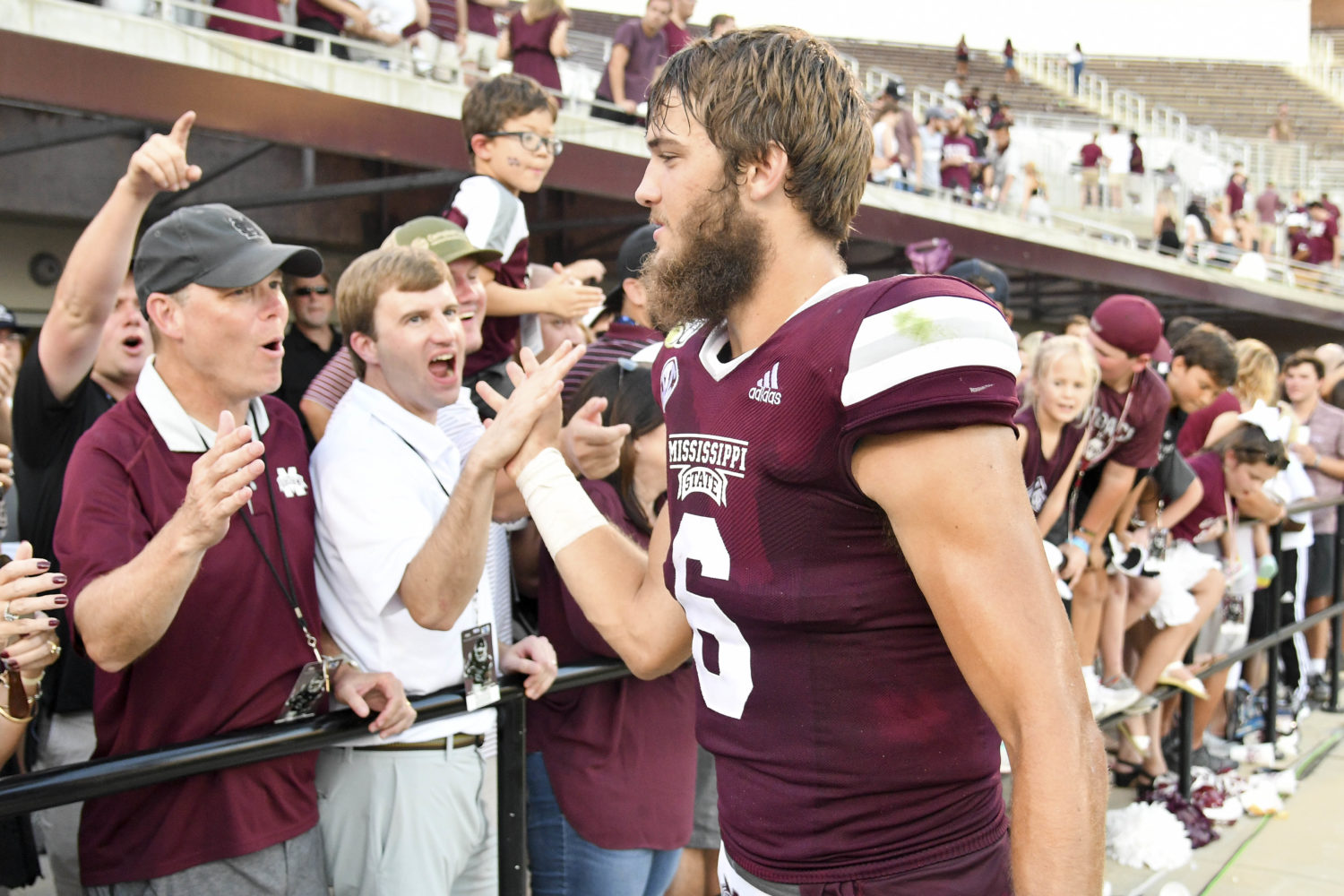 SEC
Week 5 SEC QB Power Rankings: Welcome to the Year of the Backup
Quarterbacks: There are a lot of them! Each week throughout the season, QB Curve will help you keep the game's most important position in perspective by ranking the SEC starters 1-14 according to highly scientific processes and/or pure gut-level instinct. Previously: Week 1 … Week 2 … Week 3 … Week 4.
1. Tua Tagovailoa, Alabama
Deep ball alert! After surgically eviscerating Bama's first 3 opponents on shorter throws, Tua connected on his first bona fide bomb of the season against Southern Miss, a 74-yard touchdown to the perpetually open Henry Ruggs III — by my reckoning, Tagovailoa's first completion of the year on a throw that traveled at least 20 yards beyond the line of scrimmage. Nice to see the ol' lefty has a little juice left in that arm after all.
Tank for Tua Watch: The Miami Dolphins were crushed again Sunday, 31-6 at Dallas, leaving them as 1 of 7 winless teams in the NFL but the only one that's been outscored by 117 points on the season. That's the worst point differential in league history through 3 games, outpacing the 2nd-worst team this year (the Jets) by 70 points. Elsewhere, the NFL Network's Rich Eisen reported on his radio show that it's no secret the Dolphins have "coveted Tua" since his game-winning TD pass to beat Georgia in the 2017 National Championship Game. But there could be unexpected competition in the race to the bottom: The 0-3 Denver Broncos are prime candidates for tank mode as well. (Last week: 1)
2. Joe Burrow, LSU
With 6 scoring strikes against Vanderbilt, Burrow now has more TD passes through 4 games (17) than any LSU quarterback has managed in an entire season since 2013, when Zach Mettenberger threw for 22. Burrow gets to rest his arm this week, but he could equal or surpass the 'Berg next week against Utah State, with JaMarcus Russell's single-season record (28) in sight by mid-October. (Last week: 2)
3. Jake Fromm, Georgia
Fromm attempted 26 passes against Notre Dame, completing 20, typical for a competitive win in which neither side was interested in pushing the pace and Georgia was in command after halftime. But while D'Andre Swift was the star of the show on offense, it's no coincidence that actually putting points on the board coincided with Fromm throwing beyond the sticks: All 3 of the Bulldogs' extended scoring drives featured at least 2 passes that gained 12 yards or more, as opposed to a steady diet of dinking and dunking on the 4 possessions that ended in punts.
The contrast was most obvious on UGA's decisive, 82-yard touchdown drive in the late 3rd/early 4th quarter. The first 3 plays of the march were successful runs by Swift — including the hurdle — who quickly carried the Bulldogs to midfield. From there, Fromm capitalized by taking his only true downfield shots of the night, jump-ball shots Lawrence Cager that gained 36 yards …
Lawrence Cager just went up and got it. pic.twitter.com/KxA3mq8LhX

— CBS Sports (@CBSSports) September 22, 2019
… and 15 yards for the touchdown that put Georgia in control for good:
That sound you just heard was Sanford Stadium reacting to this touchdown. pic.twitter.com/GFYl0v1enG

— CBS Sports (@CBSSports) September 22, 2019
Aside from a couple of incomplete lobs in the direction of freshman WR George Pickens (one of which came on the play just before Cager's touchdown, in the opposite corner of the end zone), Fromm was wary of testing the Irish's corners despite having multiple targets at his disposal capable of … well, see above. The Bulldogs don't need him to put it in the air very often to get where they want to go, but in the biggest games, they do need it to count when he does. (Last week: 3)
4. Kelly Bryant, Missouri
Reminder: Kelly Bryant can run! After minimal contributions as a rusher in the Tigers' first 3 games, Bryant broke out against South Carolina with 90 yards on 15 carries (not including sacks), a stat line more reminiscent of the dual-threat role he played at Clemson. That fits with Mizzou's overall emphasis on balance: Any game that sees Bryant attempting 48 passes, as he did in the season-opening loss at Wyoming, is not going according to plan. (Last week: 4)
5. Kellen Mond, Texas A&M
Mond is a tough position as A&M's injury-ravaged ground game continues to shrivel up against respectable competition. He did his best Saturday to salvage what was shaping up as a total no-show against Auburn, leading 3 too-little, too-late scoring drives in the 4th quarter that nearly put his team in position to win a game it trailed 21-3, and did it with no pretense whatsoever that the Aggies had any other options but to let him sling it.
Mond's final stat line (31-of-49, 335 yards, 2 TDs, 0 INTs) is misleading because such a disproportionate share of that production was tacked on with the outcome essentially decided. But it also came with the same strange combination of promise and frustration that has defined Mond's career — if he's capable of making plays like this, with an All-American defensive tackle bearing down on him like an angry bear …
What a throw by Kellen Mond for six. pic.twitter.com/TF42YqfhME

— CBS Sports (@CBSSports) September 21, 2019
… why are they so few and far between? And why does it seem to take a desperate situation (think of his 2nd-half masterpiece against Clemson in 2018, or the late rally against LSU in the 7-OT game) to bring them out? Does it always have to be in a losing effort, or in a frantic bid to avoid one? If he could sustain the same level or urgency against a decent opponent for more than a quarter or two at a time it would be something to see. (Last week: 5)
6. Bo Nix, Auburn
Nix had exactly the opposite type of game in College Station: Efficient in the early going, nothing spectacular for the highlight reels, underwhelming stat line, go home a winner. It remains to be seen whether he has the arm to make a secondary on the level of, say, LSU's or Georgia's sweat, but for a true freshman facing his first hostile environment on the road, style points are a luxury. (Last week: 6)
7. Kyle Trask, Florida
If this strikes you as suspiciously high on the totem pole for a lightly recruited, 4th-year player coming off his first career start, welcome to the jungle. Fully half the conference has turned the offense over to a backup QB or is seriously considering it, and we're not even out of September.
That's due mainly to injury: Florida (Feleipe Franks), Kentucky (Terry Wilson), and South Carolina (Jake Bentley) have already lost their incumbent starters for the season, and Mississippi State has played without its nominal starter, Tommy Stevens, for all or most of the past 3 games. Ole Miss' Matt Corral was knocked out of Saturday's game and could miss more. Arkansas benched its opening-day starter in Week 2; Tennessee could be next.
Trask is unusual among the new/aspiring starters in that he's the only one who was even on his team's roster before this season. The rest are grad transfers (Sawyer Smith, Nick Starkel) or true freshmen (Ryan Hilinski, Garrett Shrader, potentially John Rhys Plumlee and/or Brian Maurer) in their first year, none of whom necessarily expected to play much if at all. And again, it's only September – the top half of the list should be hightailing it out of bounds at every opportunity.
So while it might be too soon to proclaim the Gators are in safe hands based on a couple of mostly good outings against Kentucky and a rapidly imploding version of Tennessee, at the moment "a couple of mostly good outings against SEC opponents" is a relatively accomplished résumé. We'll know more in a couple of weeks, when the Gators get Auburn back-to-back on the other side of a date with FCS Towson. (Last week: 11)
8. Tommy Stevens or Garrett Shrader, Mississippi State
Stevens didn't play in the Bulldogs' 28-13 win over Kentucky due to a lingering shoulder injury, and based on Shrader's performance in his first career start, it's not a given that he's going to return to find the job waiting for him. It was the kind of effort that should remind MSU fans of Nick Fitzgerald on his better days: Although still very raw as a passer, Shrader was on point enough to complete 17-of-22 attempts for 180 yards while ripping off another 139 yards as a runner (not including sacks). ESPN's QBR metric rated that as the best rushing performance by any quarterback in Week 5 against a Power 5 defense.
As for this weekend's trip to Auburn, the pecking order is "a fluid situation." If Shrader hasn't quite overtaken Stevens as "1a," at least he has generated a lot more confidence in his ability to serve as "1b" in a tough road game than he had in the wake of his Week 3 struggles against Kansas State. (Last week: 13)
9. Ryan Hilinski, South Carolina
For anyone still asking, I think we can shelve the question for now of whether Hilinski actually represents an upgrade over Jake Bentley.
1️⃣0️⃣0️⃣ YARD PICK SIX ?

The longest INT return in @MizzouFootball history! pic.twitter.com/302VDNXEdp

— SEC Network (@SECNetwork) September 21, 2019
The game-changing INT was emblematic on a day when Hilinski looked every bit the true freshman in his first road start, finishing 13-of-30 for 166 yards in a decisive loss at Mizzou. It was that kind of afternoon. In addition to the pick-6, Hilinski also gifted the Tigers an easy touchdown in the 1st quarter, on a bizarre play on which he reflexively caught a pass that had been deflected back to him — making him an eligible runner — and reacted by spiking the ball into the ground inside his own 5-yard line. That's … a fumble? Yeah, that's a fumble.
Heads ? play by @cale_garrett ?

— Mizzou Football (@MizzouFootball) September 21, 2019
Much better days are in store, although with Georgia, Florida, Texas A&M and Clemson still to go and no gimmes in between, it might be awhile. (Last week: 7)
10. Matt Corral or John Rhys Plumlee, Ole Miss
Corral is "day to day" with bruised ribs, putting his status for Saturday's trip to Alabama in doubt. Even with a clean bill of health, though, his grasp on the starting job would be tentative at best after watching Plumlee, a true freshman, come within inches (literally) of leading Ole Miss back from a 15-point deficit against Cal in his first career action.
Plumlee was only on the field for a dozen plays, but in that brief span he broke a 47-yard run, setting up a touchdown on the next play that cut Cal's lead to 8 points; went 7-for-7 passing on the Rebels' next possession, including a 41-yard heave that put them in 1st-and-goal with a little over a minute to go; and may or may not have connected on the game-tying touchdown a few plays later, depending on your perspective.
I dunno #OleMiss fans – was Elijah Moore in? Here's our angle from the field… pic.twitter.com/ADxBUMz5gL

— Noah Newman (@NoahNewmanTV) September 21, 2019
That's not much in the way of sample size, but for a team that seemed resigned to defeat just a few minutes earlier, the contrast was dramatic. Before he was forced to the sideline it was hard to imagine Corral providing anything like that kind of spark.
In a way, Plumlee's near-heroic turn was even more unlikely when you consider that he had no intention of playing in Oxford until the very tail-end of the recruiting process. Up to that point, he had been committed to Georgia for more than a year. That arrangement only fell apart after Justin Fields' transfer last December, to which UGA responded by flipping Ohio State commit D'Wan Mathis to serve as Jake Fromm's heir apparent instead. Snubbed, Plumlee delayed his decision until February, eventually opting to stay in-state — a signing-day footnote that even casual Ole Miss fans might wind up learning by heart. (Last week: 9)
11. Sawyer Smith, Kentucky
Smith went the distance at Mississippi State despite suffering a shoulder injury just before halftime, visibly struggling through a 2nd half in which he was just 8-of-26 in an attempt to throw the Wildcats out of a double-digit deficit. His status for Saturday's game against South Carolina is uncertain, but the early indications out of Lexington are not optimistic; on Monday, coach Mark Stoops said Smith "wouldn't have been able to throw any passes (on Sunday) at all."
If he can't go, the pickings are slim: Redshirt sophomore Walker Wood has yet to see the field in a Kentucky uniform, and the only other healthy scholarship quarterback on the roster, true freshman Amani Gilmore, has "got a little work to do" before Stoops would be willing to throw him to the wolves. How much of the offense can run through WR Lynn Bowden Jr. taking direct snaps in the Wildcat, a la Randall Cobb? UK fans might be about to find out. (Last week: 12)
12. Riley Neal, Vanderbilt
Neal rises by default this week by virtue of a performance against LSU that (unlike the 2 entries below him) was not a complete disaster for the Vandy offense, relatively speaking. At least, it's not likely to get him benched. Through 3 games Neal has accounted for 60 percent of the Commodores' total yards, good for 5th in the conference, despite yielding a handful of snaps per game to backup Deuce Wallace. (Last week: 14)
13. Jarrett Guarantano, Tennessee
The Vols have a weekend off to lick their wounds, so Guarantano's official status on the depth chart relative to true freshman Brian Maurer will have to wait until next week, when the Vols actually release a new depth chart ahead of their game against Georgia (yikes). But it's safe to say a significant portion of the fan base has seen all it needs to see.
MARCO WILSON with the INT! pic.twitter.com/aekQQJvAlV

— libgator (@lib_gator) September 21, 2019
The best thing about Guarantano's performance last year — the only part that qualified as a legitimate strength, to be honest — was his aversion to big mistakes: He was picked just 3 times in 246 attempts, the lowest rate among all SEC starters. This year? Not so much. Through 4 games Guarantano has already thrown 4 INTs in just 93 attempts, 2 of them coming Saturday in the Vols' 34-3 flop at Florida. His memorably bad Week 2 interception into triple coverage against BYU was the turning point in that game, setting up the Cougars' only touchdown in regulation. If he does wind up on the bench, it might go down as the turning point in his career.
If Guarantano is broken — and all signs in Gainesville seemed to point in that direction — the next man in will be Maurer, a former 3-star prospect whose initial effort off the bench against the Gators (4-of-11, 44 yards, 0 TDs, 1 INT) didn't exactly move the needle. He did lead Tennessee's only scoring drive on the opening possession of the 2nd half, completing passes of 17 and 22 yards to set up a field goal. From that point on, though, his most successful throw was a tipped pass he caught himself. (Last week: 8)
14. Nick Starkel, Arkansas
"Total disaster" might be an unfair assessment of a game that saw Starkel throw for 356 yards and 3 touchdowns. On the other hand, it took him 50 attempts to get there, and throwing 5 interceptions tends to tip the scales against you, regardless of the opponent. When the opponent is San Jose State, and your team comes out on the losing end as a 21-point favorite, you're on an elevator ride to the sub-basement. (Last week: 10)