SEC
Saturday Football: Mike Gundy, more COVID concerns and a Brian Barnhart Q&A
The Saturday Football newsletter goes out to subscribers up to 3 days a week and discusses the major events going on around the nation in college football. You can subscribe by clicking here.
Good morning and happy Monday! As we make our way toward July, there are still a lot of questions and concerns regarding the 2020 college football season. Those concerns have been growing louder in the past week. Today, we'll take a look at the COVID-19 situation once again.
Then, we'll head to Stillwater, where coach Mike Gundy found himself in plenty of hot water this past week. Finally, we'll have a conversation with Illinois football broadcaster Brian Barnhart. Let's get started!
MIKE GUNDY FIASCO
Mike Gundy found himself in lots of hot water this past week. What's going on at Oklahoma State?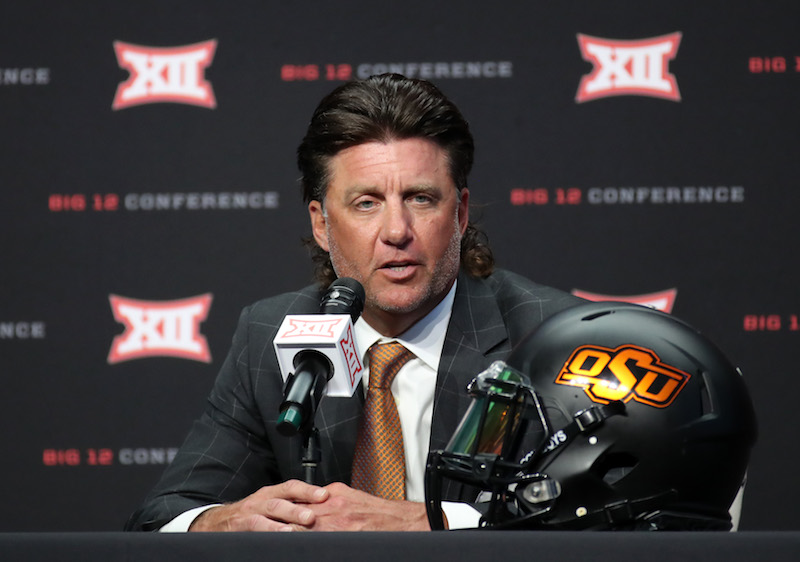 Nobody has had a more controversial week than Oklahoma State coach Mike Gundy. He found himself in hot water after a photo surfaced of him wearing a shirt for One America News Network, a conservative network. That led to star RB Chuba Hubbard saying he wouldn't have anything to do with the university until changes were made, and many of his teammates backed him up.
That was only the beginning for Gundy and the Cowboys, though. Let's dive into this story that created plenty of headlines over the past week:
By the end of that very same day, Gundy and Hubbard seemed OK. They released a video together promising changes. But, the next day, SEC Network analyst Paul Finebaum questioned why Hubbard apologized in the video and Gundy didn't. Oklahoma State's president and AD both issued statements after the matter gained attention nationally.
That led to Gundy releasing another video, this time apologizing. In this video, he addressed the shirt specifically and said it didn't represent his views. Hubbard took to Twitter after that video was released, calling it a step in the right direction.
Gundy's apology tour wasn't over just yet, though, as he spoke about it again. The coach spoke with ESPN and called himself a "dumbass" for wearing the shirt. "I put the shirt on, not knowing enough about the shirt," he said.
It seems things are on the mend in Stillwater. The players seem to have accepted what Gundy had to say and are moving forward together. We'll see how things progress as we move closer to the 2020 season and get into practices and games.
GOOD READS
MORE COVID-19 CONCERNS
The COVID-19 pandemic isn't going away. What impact is it having as the 2020 CFB season approaches?
The 2020 college football season is still set to take place as scheduled starting in September, but as players return to campuses across the nation, COVID-19 tests are turning in a lot of positive results. While players have generally been asymptomatic, universities are following their quarantine procedures to try to prevent the virus from spreading further.
This past week, a pessimistic tone has started to set in across parts of the college football landscape. Let's take a look at some of the top COVID-related stories from the past few days:
We've already seen two college football games canceled as a precaution. The Southern Heritage Classic, a game played between Jackson State and Tennessee State, was supposed to be played on Sept. 12 in Memphis, but that has been canceled. Another game quickly followed suit, as the Sept. 12 matchup between Southern and Florida A&M in Baton Rouge has also been canceled for cautionary purposes during the pandemic.
As mentioned above, several teams are dealing with more positive tests. In Baton Rouge, around 30 LSU football players are in quarantine after either testing positive or coming in contact with someone who has tested positive. Clemson, meanwhile, has 28 positive tests among players and staffers. Then there's Kansas State, which canceled voluntary workouts for two weeks after more Wildcats tested positive.
Those stories have led to some pessimism about the 2020 season. SEC Network host Paul Finebaum said he hasn't heard this much negativity about the 2020 season since mid-April. Meanwhile, UCLA players reportedly want a third-party health official to come in to make sure they're being treated properly and not taking unnecessary risks. Dr. Anthony Fauci said he thinks it would be hard to play a season without some sort of bubble and near-daily testing.
There's obviously still time for things to change, so this story will bear monitoring moving forward. We'll see what happens as we make our way into July and move toward August.
JUST FOR FUN
A number of talented running backs left the college ranks to head to the NFL this past offseason. From Jonathan Taylor to D'Andre Swift to Clyde Edwards-Helaire to JK Dobbins and more, there will be plenty of holes to fill at the position across the college football landscape this fall.
For today's quiz, let's see if you can name the running backs returning in 2020 who led each Power 5 conference (ACC, Big 12, Big Ten, Pac-12 and SEC) in touchdowns in 2019. Bonus points if you can guess how many touchdowns they ran for.
Scroll down to see the answers to today's quiz.
Q&A WITH BRIAN BARNHART
Illinois broadcaster Brian Barnhart joined us for a Q&A session. Here's what he had to say.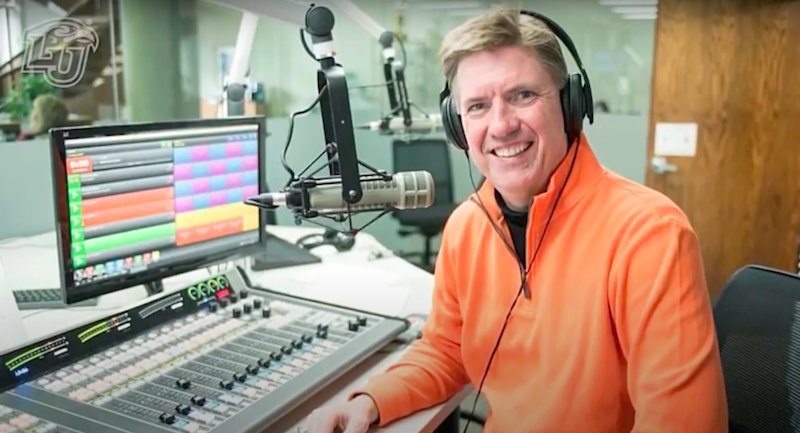 As we (hopefully) approach the start of college football season, we'll bring you weekly Q&A sessions with the voices and personalities you'll hear on the air broadcasting your favorite games. Stay tuned for the next installment of our media Q&A series (which will be with SEC Network reporter Alyssa Lang).
Brian Barnhart has been with the Illinois since 2002. He grew up in the Champaign area and is now back home doing his dream job. He spoke with newsletter editor Adam Spencer about Illinois' best games, growing up in Central Illinois, weird baseball ground rules and more.
Here's a summary of what he had to say (interview edited for length and clarity):
Saturday Football: When you started getting into broadcasting in college and even as you began as a broadcaster yourself, who were some of your inspirations? Who did you look up to in the business?
Brian Barnhart: Some of it was from around here. Jim Turpin, of course, did the Illini games when I was growing up as a teenager. He and Loren Tate. Loren Tate's still around. Jim is still living in the community. I grew up listening to those guys.
Then, of course, Jack Buck in St. Louis and Harry Caray in Chicago. There was a guy in college I got to hear, and a little after college, named Brad Sham. He does the Dallas Cowboys. I thought he was really, really good. Al Michaels I thought had an excellent delivery. Those were some of the guys I really enjoyed listening to and watching when they were doing games.
SF: During your career as a broadcaster, maybe not even during your time at Illinois, what was the funniest moment you've had in a broadcast booth?
BB: There have been a few, but I would say kind of a strange moment was when I was doing a minor league game in New Orleans. In the minors, they have what they call staggered fences. The home run fence. You have either a double-decker fence where you have to clear the whole thing or you have a staggered fence where all it has to do is clear the bottom fence.
They had that ground rule in New Orleans and it was the very end of the game and I didn't know that they had changed the ground rules before the game. I don't remember why. It came down to a game-winning home run and I didn't know what the final score was because I didn't know if the ball had hit the fence or cleared the fence or what.
It was calling a game-winning home run, but we had to say 'We'll tell you the final score when we come back.' That was pretty strange.
Then there are other great moments or funny plays. We had a moment a few years ago at Illinois where they started the men's (basketball) game with a women's basketball. They went 3 or 4 minutes with it. Demetri McCamey was playing at the time and he kept telling coach Bruce Weber, 'Hey, this ball's not right.' They weren't shooting it well. And Bruce was like, 'Well, it's not affecting the other team. Just keep playing!'
They finally did check it at the first timeout and it was like, 'Yep, you're right, we're playing with the women's ball instead of the men's ball.' I don't know if somebody grabbed the wrong ball before the game or what, but that was pretty funny to hear the back-and-forth between McCamey and coach Weber.
SF: If you could pick anyone, past or present, to broadcast a game with, who would you choose and why?
BB: I'll have to think about that. Anybody, huh? That's interesting. Early in my career in the minor leagues, I actually did some games with Joe Buck. He was in Louisville while I was in Oklahoma City. I'd have him come down and sit with me and do some innings. It'd be fun to do another game with him at some point just because of that history.
I'd love to do a game with Brent Musburger. I think that'd be fun. Brent always treated me really well. He was so friendly and I grew up watching him on TV, so that would be fun to do a game with him. A current guy, too, would be Mike Tirico. I've always loved the way he approaches games and events. The thing I like about him, and I told him this once, I like that he understands that he's not bigger than the event he's covering. He does a really good job of being solid and professional and yet still painting a really good picture of what's happening without making it all about him.
To read our full interview with Barnhart, click here.
ANSWERS
Here are the answers to today's quiz involving returning running backs with the most touchdowns in 2019:
ACC: Travis Etienne, Clemson (19 TDs)
Big 12: Chuba Hubbard, Oklahoma State (21 TDs)
Big Ten: Journey Brown, Penn State (12 TDs)
Pac-12: Max Borghi, Washington State (11 TDs)
SEC: Najee Harris, Alabama (13 TDs)
QUOTE OF THE WEEK
"We're not allowed to talk scheme. Coach (Kirby) Smart laid those ground rules for us. His well being is all I'm concerned with and and he's very happy.
"Jackson grew up in the SEC with Auburn, LSU, Florida, and me playing at Georgia. Obviously we have a great relationship with Coach Smart and his wife, Mary Beth, and we've been friends for a long time. Jackson has known Coach Smart since he was four of five years old. He went to their camp this (past) summer and threw the ball very well. He had a really good senior year at Hammond School here in Columbia. He had some scholarship offers, but nothing I think he was really excited about. In the back of his mind he's got four cousins that go to Georgia. Obviously we have ties in Athens. He was really excited about that opportunity."
– South Carolina coach Will Muschamp is in a unique position this year as his son, Jackson, is a walk-on quarterback at Georgia. Muschamp described how that's been going so far.
TWEET OF THE WEEK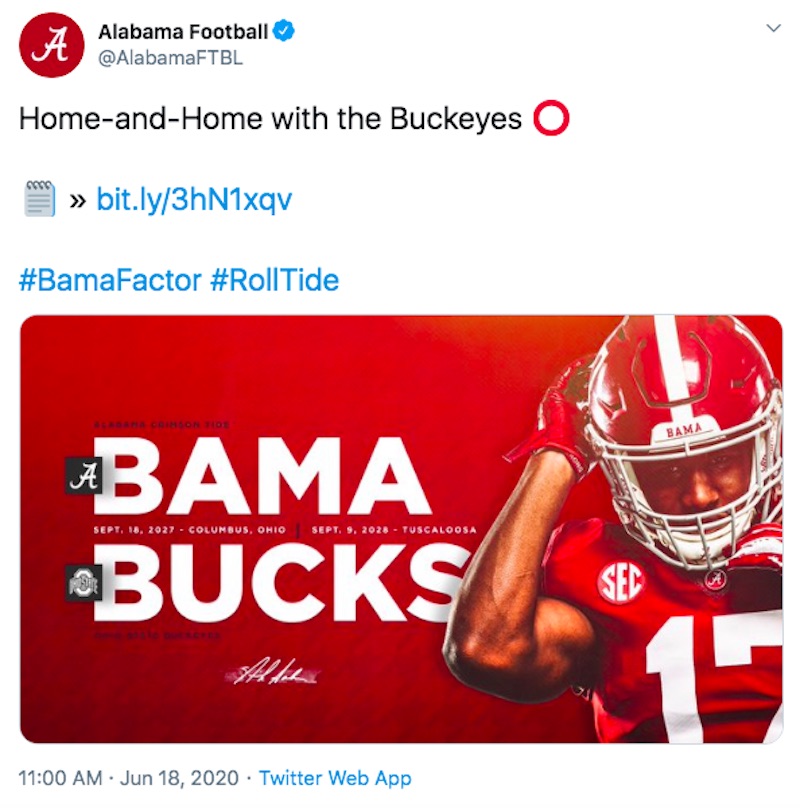 A home-and-home between Alabama and Ohio State? Sign us up! The two powerhouse programs announced the series last week.
Comments have been disabled on this post. The Saturday Down South community is a robust community of passionate football fans, but the comments exist for healthy debate around the game of college football. Nasty arguing or name calling with inappropriate and explicit language will get users removed from the system and/or a shutting down of comments on various articles. Our goal is to facilitate a healthy community of football fans. Arguments over politics and other non-football issues are for other websites. On occasion, we will preemptively shut down comments on articles of sensitive topics if we have seen a recent history of such topics leading to inappropriate arguments. Thanks for understanding.