SEC
SEC QB Power Rankings, Week 7: Reality check for Bo Nix? Is Ole Miss ready to commit to spread-n-shred lifestyle?
Quarterbacks: There are a lot of them! Each week throughout the season, SEC QB Power Rankings will help you keep the game's most important position in perspective by ranking the SEC starters 1-14 according to highly scientific processes and/or pure gut-level instinct. Previously: Week 1 … Week 2 … Week 3 … Week 4 … Week 5 … Week 6.
1. Tua Tagovailoa, Alabama
Tua's not quite on the historic pace he set over the first half of 2018, which would be absurd — it's going to be a long time before anyone matches that run — but in terms of historic benchmarks, he's not very far off. His pass efficiency rating through 5 games (225.1) is still well north of his rating for all of last year (199.4), which set the single-season FBS record despite a significant regression after Halloween. The only other quarterbacks running ahead of that number: Jalen Hurts (231.3) and Joe Burrow (216.2).
Tank For Tua Watch: The Miami Dolphins were off last weekend but still managed to gain ground in the tank wars due to the Broncos' win over San Diego, their first of the season. That left the Phins as 1 of just 4 winless teams, and 1 of just 2 — along with the Cincinnati Bengals — likely to be in the market for a franchise QB next spring. Suddenly the Bengals' Week 16 trip to Miami on Dec. 22 looms large in the annals of tanking history. (Last week: 1)
2. Joe Burrow, LSU
Among the many reasons this weekend's visit from Florida is one of the most compelling matchups of the regular season: It's Burrow's first test against a legitimately championship-level defense in LSU's revamped offense. The best defense he's faced through 5 games, Utah State, ranks a distant 78th in pass efficiency D and 40th in Defensive SP+. (Texas comes in 97th and 66th, respectively.) Florida ranks among the top 10 on both counts and boasts future pros all over the field, led by CJ Henderson. (Last week: 2)
3. Jake Fromm, Georgia
Fromm is a natural in the role of the cagey vet who sweats the details, and nowhere is that more obvious than in his ability to avoid sacks — he's been dropped just once this season (by Murray State, somehow), best in the nation for a full-time starter. Sacks are primarily a quarterback stat, and although Fromm benefits from arguably the best offensive line in the country he also excels at pre-snap recognition, allowing him to get the ball out of his hands with exceptional rhythm.
Fromm @FrommJake to Robertson @d_rob4 !!! pic.twitter.com/Aj0DoeA0ib

— Hiro Katsuki (@KatsukiFB) October 6, 2019
Saturday's win over Tennessee was a low-key clinic: Fromm dropped back 30 times, wasn't hit, didn't leave the pocket on a scramble, and was forced to get rid of the ball under pressure just once (for a short completion). By my stopwatch, he averaged just shy of 2.5 seconds between snap and release; on his 23 non-pressure completions, he averaged 2.27 seconds, effectively rendering the pass rush moot. Outside of short-yardage and goal-line situations, the Vols were usually content with a standard 3- or 4-man rush, and on the rare occasions that they tried to bring heat from unexpected angles Fromm diagnosed it instantly.
After 33 career starts, there might be some lingering quibbles about his downfield arm strength — it's fine, but is it elite? — and his ability to make plays on the fly if his rhythm is disrupted. But answering the latter would require someone actually forcing him out of his comfort zone, and the next team that manages that this season will be the first. (Last week: 3)
4. Kelly Bryant, Missouri
Bryant accounted for 4 touchdowns (3 passing, 1 rushing) in Mizzou's 42-10 win over Troy, continuing his evolution into exactly the quarterback the Tigers hoped they were getting when he transferred from Clemson. He was injured on a low, late hit to his knee, but it wasn't as serious as it looked. If the Tigers wind up being bowl-eligible — the appeal to the NCAA is still pending — the opening-day loss at Wyoming is going to haunt their otherwise very real chances of cracking the New Year's 6. (Last week: 4)
5. Kellen Mond, Texas A&M
Mond disappointed in A&M's first 2 prove-it games of the season, decisive losses to Clemson and Auburn in which he managed to pad his stats only after the outcome was clear. Saturday's visit from Alabama is another chance to level up before Aggies fans decide he is who he is and adjust their expectations accordingly. (Last week: 6)
6. Kyle Trask, Florida
With a less stingy defense on his side, Trask's gritty performance against Auburn might look a lot different: After all, he lost 3 fumbles and didn't lead a sustained touchdown drive. (Florida's 3 TD possessions involved a grand total of 5 plays, including an 88-yard run on which Trask was a spectator.) As it is, he's 3-0 as a starter for an undefeated team with legitimate Playoff ambitions — 4-0 if you count the rally at Kentucky, where he came off the bench to lead the Gators from an 11-point deficit — and beginning to look like one of the more reliable signal-callers in the league. There's no faking it this weekend at LSU. (Last week: 7)
7. Bo Nix, Auburn
Nix crashed to Earth at Florida in a performance that made his stellar September – including his breakthrough night against Mississippi State in Week 5 – look like a mirage: 11-of-27, 145 yards, 1 TD, 3 INTs is a classic "true freshman vs. an elite defense on the road" stat line, and it still doesn't quite capture just how out of sync the Tigers looked in their 1st loss. Auburn went 3-out-and 6 times and crossed midfield just once with the outcome still in doubt, on a drive that ended with a back-breaking INT in the end zone and Gus Malzahn contemplating every previous moment in his life that led specifically to this one.
Granted, that's not all on the quarterback. Auburn's ground game, the best in the SEC coming in, failed to generate a 1st down until the tail-end of the 3rd quarter, leaving Nix to pick up far too much slack. All 3 of his interceptions came on obvious passing downs. But they were also a result of very basic lapses, such as where are my eyes? and where is the safety?
On his first pick, Nix spaced on both. Facing 2nd-and-14 early in the 2nd quarter, Malzahn dialed up a route combination designed to spring WR Sal Cannella on a wheel route that, for a fleeting second, actually looked open …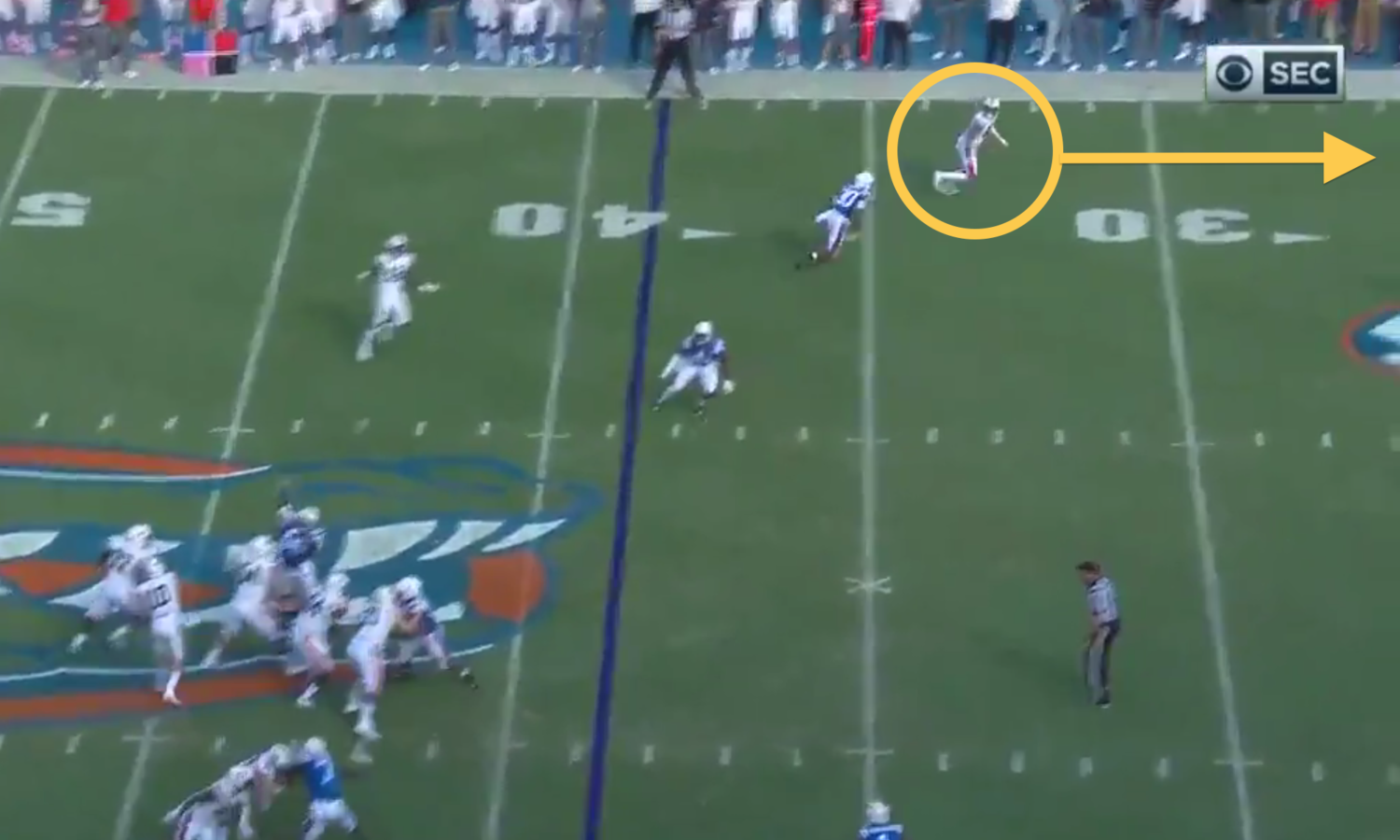 … but very much was not. Instead, Nix lost track of Florida DB Shawn Davis even as his eyes, locked on Cannella from the start, led Davis directly in the path of the ball:
If you like awesome interceptions, you'll like this play by Shawn Davis. pic.twitter.com/NVqTEV2MmD

— CBS Sports (@CBSSports) October 5, 2019
There's no real pressure there from a standard 4-man rush, just a lack of recognition by a very green quarterback. Ditto Nix's next pick, a 3rd-and-12 shot oblivious of the "robber," Donovan Stiner:
Florida forces the Nix pick! pic.twitter.com/4UawXnTj82

— CBS Sports (@CBSSports) October 5, 2019
That's the difference right now between Nix and the veteran his skill set most closely resembles, Jake Fromm, who has yet to throw a pick this season. Normal freshman stuff. The question now is how quickly Nix adapts to his first setback. If he's still making the same decisions by the time the Iron Bowl rolls around, appealing to growing pains will be less persuasive. (Last week: 5)
8. Tommy Stevens or Garrett Shrader, Mississippi State
Local sentiment has begun to turn in favor of the true freshman, Shrader, who (a) gives the Bulldogs the kind of big-bodied running option they've enjoyed for most of the past decade; (b) has outplayed Stevens since the latter suffered a shoulder injury in Week 2; and (c) has 3 more years of eligibility beyond this one. (Stevens, a grad transfer, is 1-and-done.) Joe Moorhead isn't tipping his hand. Check back next week. (Last week: 8)
9. Matt Corral or John Rhys Plumlee, Ole Miss
Ole Miss is in a similar situation as MSU — original starter returning from injury vs. athletic freshman who's held his own — and is giving similarly vague answers. "I think we have 2 starting quarterbacks," offensive coordinator Rich Rodriguez said after Saturday's eye-opening, 31-6 win over Vanderbilt, in which Corral dressed but didn't play as Plumlee racked up 165 yards rushing. That was Plumlee's 2nd consecutive game over the century mark (he ran for 109 against Alabama, a week after breaking off a 47-yard run on his 1st career snap against Cal), and the Rebels' 413 rushing yards as a team represented their best effort vs. an SEC opponent in 40 years.
Thumbs up from @OleMissFB's John Rhys Plumlee ? pic.twitter.com/L9oqo9Iqcv

— SEC Network (@SECNetwork) October 6, 2019
That's not happening with Corral, a Southern California pocket type who defected to Ole Miss from Florida late in the recruiting process in large part because he didn't mesh with Dan Mullen's emphasis on involving the QB in the running game. Instead he's wound up under RichRod, who might be more personally associated with emphasizing the QB in the running game than any other active coach. Plumlee, an afterthought 3 weeks ago, doesn't have Corral's arm or recruiting hype but is clearly the better fit for Rodriguez's spread-to-run philosophy.
It would be one thing if Corral were an upperclassman and Plumlee could serve for a year or 2 as the "change of pace" option before taking over full-time, as is the case in Starkville. But as a redshirt freshman and true freshman, respectively, they're both on the same timeline. (Plumlee is still technically eligible to redshirt; barring an injury in Saturday's trip to Missouri that's not going to happen.) In that sense the Rebels aren't just choosing a quarterback in pursuit of 6 wins: They're choosing an identity for the next 2 or 3 years. (Last week: 10)
10. Ryan Hilinski, South Carolina
Carolina's schedule was brutal enough when the Gamecocks were relying on a senior, Jake Bentley, to steer them through it. For a freshman, it's downright unfair. After a couple of rough outings against Missouri and Kentucky, Hilinski got an open week to prepare for back-to-back dates against… Georgia and Florida. Good luck with that, kid. (Last week: 10)
11. Brian Maurer, Tennessee
Maurer's 1st career start was a physical and emotional roller coaster. The high: 2 early touchdown passes that gave the Vols a glimmer of hope against Georgia and revved up Neyland Stadium for the first time this season. The low: A late sack/fumble that resulted in a game-clinching, spread-covering touchdown for the UGA defense and left Maurer crumpled in a heap. In between: Not much to write home about.
But the Vols weren't expecting much as 25-point dogs, and the initial spark was more than enough to keep Maurer on top of the depth chart over the fading Jarrrett Guarantano going forward. (Jeremy Pruitt didn't outright guarantee the freshman would be back in the starting lineup this weekend against Mississippi State, but conceded on Monday that "he'd really have to have a bad week of practice not to.") His stock is up, for now; we'll see how it goes now that the old chestnut about the backup quarterback being the most popular player on the team applies to the other guy. (Last week: 14)
12. Sawyer Smith, Kentucky
Smith is expected to play Saturday against Arkansas, although for how long or at what capacity remains in doubt. He visibly struggled through shoulder and wrist injuries in Kentucky's losses at Mississippi State and South Carolina, and the Wildcats spent the bye week prepping WR Lynn Bowden Jr. to take the reins if Smith can't go. The updated depth chart for this weekend lists Smith as the starter, untested sophomore Walker Wood as the backup, and Bowden as a wide receiver, as usual. Whether that's how it will actually look after kickoff is an open question. (Last week: 12)
13. Nick Starkel, Arkansas
Starkel is "full speed" this week after getting knocked out of the Razorbacks' Week 5 loss to Texas A&M and remains atop the depth chart despite a credible relief effort on the part of Ben Hicks. The last thing Chad Morris wants is to wind up back in the same kind of musical-chairs situation that plagued the offense last year — a few weeks ago it was Starkel coming off the bench to wrest the job from Hicks with a late, meaningless rally at Ole Miss — but with 6 interceptions in his past 15 possessions, Starkel's health isn't the only reason to wonder if his status is in doubt. Saturday's trip to Kentucky could be the Razorbacks' best chance this season to snap a 13-game losing streak vs. SEC opponents. If he continues to cough it up, patience is a luxury they can't afford. (Last week: 13)
14. Riley Neal, Vanderbilt
Neal remains the starter for Saturday's game against UNLV, but after a dismal night at Ole Miss (18-of-30, 140 yards, 0 TDs, 0 INTs opposite one of the league's least respected defenses) the door is wide open for backup Deuce Wallace to make his move. Of course, that door has been open: Wallace competed with Neal in the spring and the preseason and has played significantly in 4 of 5 games with not much to show for it. (Last week: 9)