SEC
SEC QB Power Rankings, Week 7: Mac Jones is already the next great Alabama quarterback
Quarterbacks: There are a lot of them! Each week throughout the season, SEC QB Power Rankings will help you keep the game's most important position in perspective by ranking the SEC starters 1-14 according to highly scientific processes and/or pure gut-level instinct. Previously: Week 1 … Week 2 …Week 3 … Week 4. … Week 5 … Week 6.
1. Mac Jones, Alabama
Comparison time! Here's how Mac Jones' first 10 starts at Alabama dating to last season stack up against Tua Tagovailoa's first 10 starts in 2018, a season widely hailed as one of the most show-stopping runs in college football history: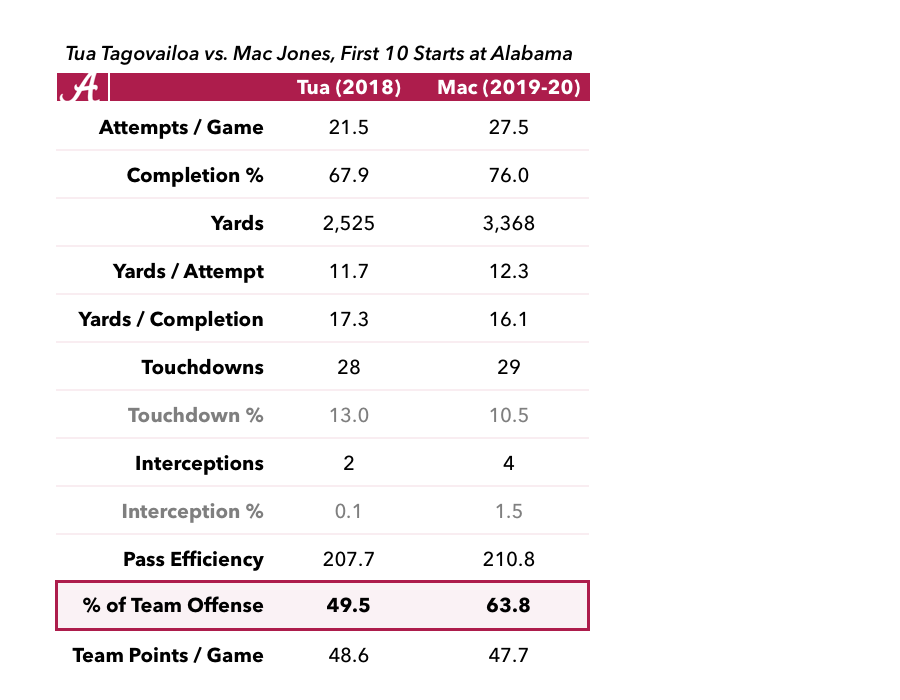 Add whatever caveats you want: Mac stacks up pretty dang well. Most categories are a dead heat — including overall passer rating, where Jones is slightly outpacing Tagaovailoa in what was arguably Tua's signature statistic — and where there are notable differences they tend to be in Jones' favor: He's throwing more often for more yards with a significantly higher completion rate and accounting for a significantly higher percentage of Alabama's total offense. (And no, not only due to the fact that he's not getting pulled quite as early in blowouts; Jones' edge holds in each of those categories even if you remove his 4th-quarter output entirely.) Whatever marginal drop-off there is Jones' column in terms of downfield explosiveness, he's more than made up for in efficiency.
Ten games is a snapshot, not a final verdict. And it's worth pointing out that this particular snapshot doesn't capture Tua's dramatic turn off the bench in the 2017 national title game, which made him a household name and Heisman contender before he even cracked the starting lineup.
Slowly but surely, though, the national consensus is coming around on Jones as more than just a system quarterback. He passed Trevor Lawrence for the first time this week as the Heisman front-runner according to ESPN, USA Today, and the betting markets. Draftniks, who largely gave Jones the same "meh" grades after he took over for Tua last year as the recruitniks who rated him as a 3-star prospect out of high school, now see him as a rising talent whose next-level potential is at the very least up for debate. He continues to lead the nation in yards per attempt, where he's on a record-setting pace; among players who have played in more than 1 game, he trails only Justin Fields in pass efficiency and Total QBR. His 417-yard, 4-touchdown outing vs. Georgia may be the best individual QB performance of the season to date, proving he's up to the challenge vs. a Playoff-caliber defense.
What's not to like? As the season wears on, most or all of Jones' numbers (like Tua's) will likely begin descending to earth, and he'll ultimately be judged (like all Alabama quarterbacks) on how he finishes the job in the postseason. As it stands, though, he's steadily playing his way into the conversation with the best of them.
– – –
(Last week: 1)
2. Kyle Trask, Florida
In Florida's first 3 games, Trask had 4 completions of 30+ yards. In Saturday's 41-17 win over Missouri, he had 6 completions of 30+ yards, to 5 receivers, all on drives that resulted in points. Ending Florida's 3-year losing streak against Georgia on Saturday will likely require more of the same.
– – –
(Last week: 2)
3. Matt Corral, Ole Miss
After a couple of down weeks in losses to Arkansas and Auburn, Corral returned to form with a near-perfect afternoon at Vanderbilt, finishing 31-of-34 for 412 yards, 6 TDs and no turnovers in a 54-21 shellacking. The bulk of that output went in the direction of WR Elijah Moore, who broke A.J. Brown's single-game Ole Miss receiving with 238 yards on 14 catches, 228 of those (along with 3 touchdowns, tying the school record) coming in the first half alone. For the season, Moore is on a prolific pace that may very well wind up etching his name in Ole Miss history for reasons entirely unrelated to his starring role in the single dumbest ending to a game in the recorded annals of the sport. (Although he'll still be there for that, too, of course.)
– – –
(Last week: 3)
4. Kellen Mond, Texas A&M
A month ago Mond was at a crossroads, with his future very much in doubt in the wake of another sobering loss at Alabama. He's responded with one of the most reassuring stretches of his career – aided, not coincidentally, with the emergence of RB Isaiah Spiller as an every-down workhorse. Mond's final stat line in Saturday's 42-31 win over Arkansas (21/26, 260 yards, 3 TDs, 0 INTs) was a gem of efficiency that yielded career highs for both passer rating (202.4) and QBR (96.5).
– – –
(Last week: 4)
5. Feleipe Franks, Arkansas
Franks' evolution from volatile underclassmen at Florida to steady vet in Fayetteville has been rockier than Mond's, but no less fulfilling. His 239-yard, 3-touchdown effort against A&M marked the 3rd time in the last 4 games Franks has completed at least 70% of his attempts with multiple touchdowns, a passer rating north of 150 and a QBR in the mid-to-high 80s. He also added a career-high 109 yards rushing (excluding sacks), for good measure, a dimension he's flashed in the past but never to such effect.
– – –
(Last week: 5)
6. Bo Nix, Auburn
Even adjusting for the elevated flammability of LSU's secondary, Saturday's 48-11 thrashing was easily the best outing of Nix's season, if not his young career, yielding season highs for passing yards (300), yards per attempt (12.5), rushing yards (81), and touchdowns (4 – 3 passing, 1 rushing). With the possible exception of last year's blowout win over Mississippi State, it was the closest Nix has come yet to fulfilling the advance hype against a live opponent for 60 minutes.
The next challenge: Sustaining that progress over the final month of a schedule that still includes Alabama and Texas A&M. Consistency has never exactly been his strong suit – the last 2 games vs. LSU and Ole Miss are the first in which he's posted a 150+ passer rating in consecutive weeks. (And just barely, at that.) As easy as it is to overreact to one outlying performance, it's also easy to forget that, with 19 starts already under his belt, Nix is still just a sophomore. I've been as skeptical about his long-term ceiling in this space as anyone. But it may be that all that's separating him from becoming a championship QB is hitting the high notes on a more regular basis.
– – –
(Last week: 8)
7. Stetson Bennett IV, Georgia
Bennett may as well have taken the day off in UGA's 14-3 win at Kentucky, finishing 9-of-13 for 131 yards and 2 INTs in a slog of a game both offenses would just as soon forget. Can the Bulldogs keep winning this way? With WR George Pickens inactive in Lexington, the wide receivers as a group managed just 36 yards on four receptions, and for the second consecutive game it fell to RB James Cook to supply the only big play.
Beautiful play design by Todd Monken pic.twitter.com/MMavfMylVD

— AXactly (@DawgAXactly) November 1, 2020
Against Kentucky, fine: Zamir White finally looked like a feature back, churning out a career-high 136 yards on 26 carries, and the defense ensured nothing the offense did really mattered, anyway — even the interceptions, which yielded a pair of quick Kentucky punts.
But Georgia's offense was defined in 2019 by its lack of explosiveness compared to the high-octane attacks at Alabama and LSU, and generating more downfield juice was the top priority in the offseason. Instead, the Dawgs are right back to enduring sub-3-hour slugfests against Kentucky while producing even fewer big plays than last year. (In 2019 they managed a 20-yard gain on 6.2% of all offensive snaps; this year that rate is down to 4.6%. For comparison, Bama is at 9.0%.)
The crucial factor in their 41-24 loss in Tuscaloosa was Mac Jones' capacity to consistently hit the long ball. This weekend's do-or-die test against Florida is very winnable, but unless Bennett can eventually say the same it's only getting harder to imagine him being the guy who gets Georgia over the hump in December.
– – –
(Last week: 6)
8. Myles Brennan, LSU
We all know the old cliché about the backup quarterback's status as the most popular player on the team. LSU's blowout loss at Auburn brought us the corollary: The starting quarterback is never more popular than when the backup actually has to play.
Christian Tutt came all the way from the secondary for the scoop-and-score. pic.twitter.com/DtYCbx7lgr

— CBS Sports (@CBSSports) October 31, 2020
To whatever extent Brennan's job was actually in jeopardy prior to Saturday, well, it's not anymore: True freshmen TJ Finley looked overmatched in his first career road start, finishing with 6.0 yards per attempt, 3 turnovers, and zero sustained scoring threats before yielding to fellow freshman Max Johnson in garbage time. (Johnson led LSU's only touchdown drive in the 4th quarter.) QBR graded Finley's and Johnson's respective outings as the 2 lowest-rated individual performances of the weekend among all SEC quarterbacks.
Their long-term potential is a debate for another day, and most likely for another season; suffice to say the expectations for blue-chip 2021 commit Garrett Nussmeier just got a little steeper. In the meantime, Brennan, who has missed the last two games due to an abdominal injury, remains a question mark for LSU's next game against Alabama, although he will have an extra week to heal up with the Tigers heading into an open date. But even last week, when Finley's stock was on the rise following a solid debut against South Carolina, Ed Orgeron insisted that Brennan would not lose his job due to injury, a sentiment he reaffirmed (obviously) after the debacle at Auburn. Not that anyone's about to start erecting statues of a guy who's only 1-2 as a starter, but whenever Brennan is cleared to return his place at the top of the depth chart had never been safer.
– – –
(Last week: 7)
9. Connor Bazelak, Missouri
The good: Bazelak completed 65% of his attempts at Florida and extended his INT-free streak to 109 consecutive passes without a pick, the longest active streak in the conference. The bad: He averaged just 5.2 yards per attempt with a long gain of 19 against a porous and undermanned Gators secondary. The ugly: He was also sacked 3 times. Mizzou's offense didn't reach the end zone until well into garbage time.
– – –
(Last week: 9)
10. Collin Hill, South Carolina
Halfway through the regular season South Carolina coaches are still getting asked regularly if Hill, the hirsute Colorado State transfer who has improbably taken nearly every snap over the first 5 games, is still the starter. He is, for now. But that's the kind of question that, the more times it gets asked, the more likely the answer is subject to change.
– – –
(Last week: 11)
11. Terry Wilson or Joey Gatewood, Kentucky
Gatewood, the touted Auburn transfer, went the distance in the Wildcats' 14-3 loss to Georgia, and… well, the final score pretty much tells the story. Gatewood finished 15-of-25 for 91 yards (3.6 per attempt), didn't make a dent as a runner,and generally muddled through his first extended action in Wilson's absence. His longest completion netted just 11 yards, and he fumbled away Kentucky's only trip into UGA territory after halftime.
Georgia's defense is the worst possible scenario for a first-time starter, and Wilson's availability for the Wildcats' next game against Vanderbilt remains up in the air entering an open date. But for all the hopeful speculation amid Wilson's struggles that Gatewood's raw talent could revive a one-dimensional offense, his audition was as anemic as ever.
– – –
(Last week: 10)
12. Jarrett Guarantano, Tennessee
Tennessee had the weekend off, a brief reprieve in the weekly saga of Guaranano's status on the depth chart. The Vols spent last week in "camp mode," according to Jeremy Pruitt, meaning more reps than usual for backups Brian Maurer and Harrison Bailey, but there's no reason ahead of this week's trip to Arkansas to believe Guaranano won't be the guy taking the first snaps. The last snaps, on the other hand, are an open question as always.
– – –
(Last week: 12)
13. KJ Costello or Will Rogers, Mississippi State
The Bulldogs failed to score (again) in a 41-0 laugher at Alabama, bringing the tally to a grand total of 1 offensive touchdowns in their last 3 games. Costello started in Tuscaloosa but oversaw 5 consecutive 3-and-outs to open the game before being knocked out with a potential (though unconfirmed) concussion; Rogers fared slightly better moving the ball (only slightly) but also threw 2 interceptions, including a late pick-6.
With a depleted roster, morale at rock bottom, and nothing in particular left to play for this season, local sentiment seems to favor Rogers, a true freshman, who at least counts as a plausible investment in the future. Costello, who dealt with lingering concussion issues last year at Stanford, may be on the shelf indefinitely. At this point, frankly, it's hard to see any upside to him continuing to put himself at risk behind this offensive line even if the doctors tell him he can.
– – –
(Last week: 13)
14. Ken Seals, Vanderbilt
Vandy's 54-21 loss to Ole Miss was Seals' best game to date, by far (31/40, 319 yards, 2 TDs, 1 INT), which may not be saying much for many reasons, chief among them that Ole Miss' defense is very bad. Still, for a true freshman with every card in the deck stacked against him, hanging a respectable stat line on a bad defense surely beats not hanging hanging a respectable stat line on a bad defense, even if it takes a fair amount of garbage-time padding to do it. Seals remains well on the track to sticking as a long-term starter.
– – –
(Last week: 14)