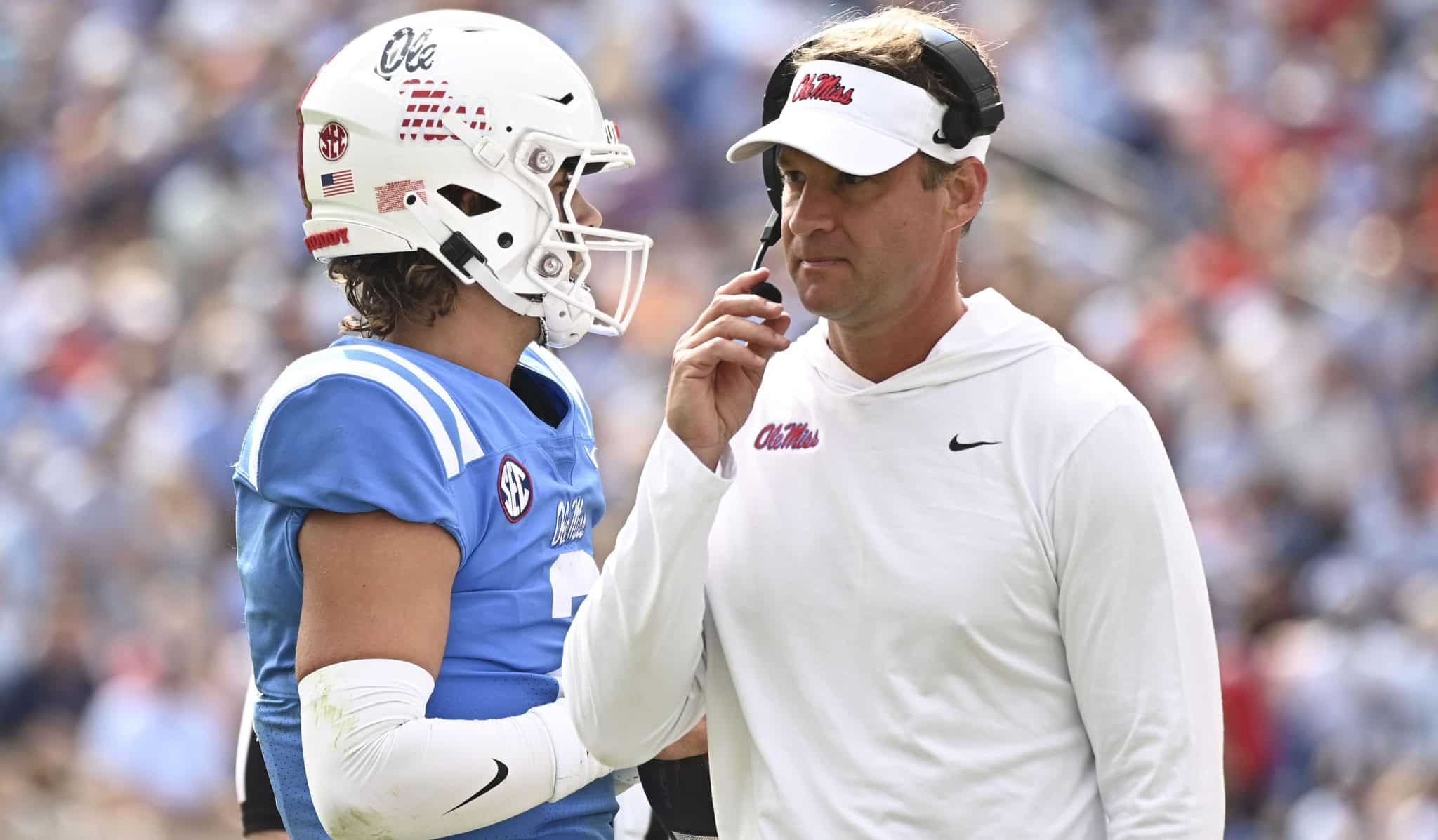 SEC
SEC Rivalry Week Primer: Egg Bowl drama, South Carolina seeks to sabotage another Playoff run and more
Breaking down the final weekend's SEC slate, all in one place.
Paeans to the provincial hate inspired by this rivalry have been overshadowed this year by speculation over Auburn's interest in Lane Kiffin, and vice versa. Kiffin has been deflecting rumors from pretty much the moment Auburn sent Bryan Harsin packing on Halloween, even going so far as to publicly mock a local TV reporter who tweeted out earlier this week that the deal was done. But he has not put them to bed. On Wednesday, On3Sports reported that Kiffin met with Ole Miss players to reassure them that "unless something significant changes" he has no plans of leaving. That's quite the caveat, and implies that there's a real possibility that something significant will change.
Is the grass that much greener in Auburn than in Oxford? Historically, sure. But for Lane Kiffin, specifically, I wouldn't be so certain. For one thing, he's already built an ascendant program at Ole Miss and enjoys the job security that comes with it, which he would not have in taking on a ground-up rebuilding job. For another, the exponential growth in TV revenue distributed by the SEC has significantly narrowed the gap between the league's Haves and Have Nots compared to the past.
Ole Miss has made competitive investments in Kiffin and his staff, and to keep him it will almost certainly commit more. The Rebels briefly flirted with national relevance a few years back under Hugh Freeze, before his scandalous exit, and Kiffin is off to a good start in terms of sustainability. With wins on Thursday and in the bowl game, the Rebels can record back-to-back 10-win seasons for the first time since 1959-60, despite massive personnel turnover from 2021 to 2022.
All that said, of course, the decision could ultimately be a simple as the fact that Auburn, for all its dysfunction, has won championships in the past 30 years, and Ole Miss has not even come all that close. The Rebels have invested heavily in changing that, and with a little stability might not be far off. We'll find out soon enough how invested Kiffin is in being there when it actually happens.
– – –
• Ole Miss 34 | Mississippi State 28
It's been a while since there was anything good to say about Florida State at this time of year, but lately, FSU is one of the hottest teams in the country. Really: The Seminoles bounced back from a 3-game October losing streak to win their past 4 by a combined score of 173-39, returning to the polls in the process for the first time since Jimbo Fisher was still the head coach. The competition in that run (Georgia Tech, Miami, Syracuse and Louisiana) isn't going to stop anybody in their tracks, but then, frankly neither is the current edition of Florida. In 2022, Florida State putting together a month-long series of blowouts over ACC opponents is a development. The online haters have even stopped sizing up Deion Sanders for Mike Norvell's job, for now.
I was looking forward to writing something similar about Florida here after back-to-back wins over Texas A&M and South Carolina, but last week's 31-24 flop at Vanderbilt sent the Gators back to square one on the momentum board. At 6-5, they're not sweating bowl eligibility, but for the sake of allowing Billy Napier to point at the record and call it progress, 7-5 looks a whole lot better than 6-6. On top of the record, Napier is facing the prospect of closing out his first year in Gainesville by becoming the first coach in school history to lose to Tennessee, Georgia and Florida State in the same season. (Incredible but true.) Oh, and the team's top 3 receivers will all be sidelined by injury.
The great equalizer, as always, is QB Anthony Richardson and his on-again, off-again skill set, which is capable of igniting on any given Saturday. (Or Friday, in this case.) Selfishly, I'm rooting against Richardson leaving early for the NFL Draft for the simple fact that he hasn't come close to maxing out his potential as a college quarterback and I want to see what it looks like if he does. Presumably, Florida fans feel the same way. If Richardson is confident he's likely to be a first-rounder, his own best interest is probably to get paid while the getting's good. Either way, one game shouldn't significantly alter his projection or decision, unless it's an absolute blockbuster. If it meant ending Napier's debut on a high note — while breaking up FSU's late surge in the process — maybe it would be worth it.
– – –
Florida State 35 | • Florida 27
At 10-1, Clemson already is booked for its annual appointment in the ACC Championship Game and still thinking Playoff if enough dominoes fall in its favor between now and then. Going strictly by the record, last year's 10-3 finish looks like a blip on the radar. But make no mistake: This group is much closer to the good-not-great 2021 team than the glory-years Clemson outfits that took conference championships and Playoff bids for granted.
Like last year, getting back to 10 wins has been less about dominance than survival. The Tigers are 3-0 in games decided by single digits, including a double-overtime escape at Wake Forest and a close shave against Syracuse in a game they trailed 21-10 in the fourth quarter. (Syracuse, undefeated and ranked 14th at the time, hasn't won another game since.) Their best win according to the current polls was a 34-28 decision over then-unranked Florida State in mid-October, before FSU went on a tear that has made that win look more impressive in retrospect than it did at the time.
Meanwhile, in their only loss, Clemson was waylaid by Notre Dame in a game that wasn't even as close as the 35-14 final score suggests. (In fact, the collective reaction after that game was relief that the Irish had finally exposed the Tigers as the unworthy contenders lots of people already suspected they were, thereby sparing the nation from having to sit through an inevitable semifinal blowout if Clemson tiptoed its way into the Playoff. Not quite!) They're better than they were, especially on offense, where scoring is up nearly 2 touchdowns per game vs. FBS opponents compared to last year. But not that much better.
The starting quarterbacks on Saturday, Clemson's DJ Uiagalelei and South Carolina's Spencer Rattler, are similar in the sense that a) They're both former 5-star recruits who came into this season hoping to rebuild their reputations following a nightmare campaign in 2021, and b) They've both made some progress toward that end.
Otherwise, all they have in common is picking schools in the same state. Uiagalelei, despite his peaks and valleys, has been the steadier hand, improving on his abysmal sophomore production in all facets. Touchdowns are up, interceptions are down, and he's averaging a full yard more per attempt over last year. Statistically, he qualifies as an above-average ACC starter, which may not sound like much for a guy being measured against the lofty standard set for the position by Deshaun Watson and Trevor Lawrence, but for a guy who came in at or near the bottom of the conference in everything in '21 it represents tangible growth. If he sticks around in 2023, there's still a chance he has a breakout, Watson/Lawrence-caliber season in him, just a couple of years later than expected.
This throw is perfection.

Uiagalelei ➡️ Williams for the 59-yard score.@ClemsonFB | #ACCFootball

? ABC pic.twitter.com/nUik4TgWIB

— ACC Football (@ACCFootball) October 16, 2022
Rattler, on the other hand, had barely made a ripple in a South Carolina uniform prior to last week's 63-38 stunner over Tennessee, at which point he suddenly emerged as a chaos agent par excellence. His 438-yard, 6-touchdown performance against the Vols was arguably the best individual outing by an SEC quarterback this season, yielding a career-high 96.9 QBR score and an absurd 234.0 passer rating — more than 100 points better than his rating across Carolina's first 7 conference games. Rattler bore no resemblance to the conservative, underachieving quarterback the Gamecocks had seen over the course of the first 10 games, throwing the door wide open to the possibility that the light, finally, has come on.
Or else, you know, it was a one-off that has no bearing on what comes next and will only grow more inexplicable with time. Who knows? Stranger things have happened. Clemson's defense under first-year coordinator Wes Goodwin is not on the elite tier of its championship years, but it remains at least a couple of rungs above Tennessee's, with future pros at all three levels. The stacked d-line, in particular, will be the best Carolina has faced since a Week 2 loss to Georgia. The Tigers have taken 7 in a row in the series by an average margin of more than 25 points. Rivalry stuff aside, the sliver of a chance that Rattler has another season-killing, chaos-inducing arrow in his quiver is easily the most (perhaps only) compelling aspect of this matchup. If he does, it will establish one of the more unlikely redemption arcs in recent memory. If he doesn't, the Tigers will just tack on another year onto the streak on their way to bigger fish.
– – –
Clemson 31 | • South Carolina 20
An Iron Bowl with nothing in particular stake beyond the rivalry itself? What a concept. Since 2008, the Crimson Tide have come into the game with national championship hopes intact in every season except one: 2010, when the Tigers showed up with an undefeated record behind Heisman shoo-in Cam Newton. In that 14-year span, the winner has advanced to the SEC Championship Game 12 times, and to either the Playoff or BCS Championship Game 11 times. A Bama-Auburn game that carries no national implications whatsoever feels like it belongs to a different era. This year, the main themes concern the final home game in Tuscaloosa for Bryce Young and Will Anderson Jr. (if not their final college game, period) and Auburn's search to fill its vacancy at head coach. There's nothing on the line even worth spoiling.
Anderson has had a relatively low-key season — quiet, you might say, but only by the standard he set last year, when he was widely acknowledged as the most dominant player in America. This year, he's merely been one of the most dominant players, which in his case has hardly seemed worth dwelling on because it's already a well-established fact. He hasn't turned in an outrageous individual performance or taken over a high-profile game in a way that made everybody watching sit up straight and take stock, or everyone on Twitter scurry simultaneously to type his name into the little box. His box-score production, predictably, has declined compared to his over-the-top stats in 2021.
By any measure, though, Anderson remains arguably the most productive edge rusher in the college game. He has 14 tackles for loss, which lags well behind the FBS-record 33.5 TFLs he logged as a sophomore but still leads the SEC. He's recorded at least one TFL in every game except last week's scrimmage against Austin Peay. Pro Football Focus credits him with 52 QB pressures and 12 sacks, most among Power 5 defenders nationally in both categories. Anderson has also earned the top PFF run defense grade among Alabama's front seven defenders for the second year in a row. Plus, hey, he scored a touchdown.
WILL ANDERSON PICK SIX pic.twitter.com/zTumP2TyXU

— The Field of 12 (@TheFieldOf12) September 17, 2022
The Heisman campaign foretold in the preseason never materialized, which was always more a "Justice For Will" idea than a realistic one, anyway. (If he didn't even make the finalist cut last year, what more could have plausibly done for an encore?) But the decorations are coming. Anderson is almost certainly going to repeat as a consensus All-American, joining Minkah Fitzpatrick, CJ Mosley and Terrence Cody on the list of Saban-era Bama defenders to do it 2 years in a row; he's already confirmed as a finalist for the Lombardi Award (best lineman), with more nods in that vein coming in the next couple weeks. And he's very much in the running to be the No. 1 overall pick next spring. He's going to make his presence felt at the next level for a long time to come. Appreciate it at this one while you still can.
– – –
Alabama 34 | • Auburn 14
Back in August, it would have seemed more likely that the respective circumstances in this game were reversed, but here we are. LSU, owner of a 5-game winning streak and a guaranteed ticket to the SEC title game, can still control its fate in the Playoff race by taking care of business against A&M and springing an upset on Georgia next weekend in Atlanta. A lapse in College Station against a thoroughly demoralized Aggies outfit on a 6-game losing streak vs. Power 5 opponents would bring that Mardi Gras float to a grinding halt. Is there any way the Tigers screw this up?
If so, it will almost certainly involve some combination of A&M's best skill players, RB Devon Achane and WR Evan Stewart, both of whom expect to play Saturday after missing all or most of the past 2 games against Auburn and UMass. The offense, which has struggled mightily at full strength, looked even worse without them, especially Achane, who has accounted for nearly 30% of the team's total offense this season. At full speed, his presence stands to move the needle. Still, given Harold Perkins Jr.'s presence on the other side of the ball and the fact that the needle is currently pointed at "please put this season out of its misery," any scenario in which LSU biffs it would qualify as a monumental collapse.
– – –
• LSU 30 | Texas A&M 17
Georgia Tech pulled the plug on both head coach Geoff Collins and the athletic director who hired him back in September, on the heels of a dismal, 1-3 start. But the Yellow Jackets have fared surprisingly well since, going 4-3 in ACC play under interim coach Brent Key, including a major upset over Coastal Division champ North Carolina in Week 12, the Tar Heels' only conference loss. The defense held UNC to less than half its season average on the scoreboard, and its Heisman-contending quarterback, Drake Maye, to his worst game, by far. On paper, this is a better version of Tech than the ones Georgia has trounced by an average margin of 36.4 points in the past 4 meetings.
Good enough to make it remotely interesting again the consensus No. 1 team in the country? Probably not, although that could depend on Georgia's willingness to keep its foot on the accelerator on offense. The Dawgs have been more aggressive this season than they've tended to be in the past, a reflection of their trust in Stetson Bennett IV's experience and decision-making. That wasn't the case their last time out, though, a 16-6 slugfest at Kentucky that proceeded at a prehistoric pace. (UGA's offense managed just 8 possessions and 1 touchdown.) Georgia should be able to dictate whatever terms it wants on Saturday, but given that the Jackets are no more likely to crack double digits than Kentucky or most other opposing offenses the Bulldogs have faced, the patented Kirby Smart three-hour chokehold is always an option.
– – –
Georgia 38 | • Georgia Tech 7
A game where you really can throw out the records for teams that could not possibly have more different feelings at the moment about how their respective seasons are going. Vandy (5-6), until a couple of weeks ago the laughingstock of the league, has won 2 in a row in SEC play for the first time since 2018, pulling within reach of the once-distant goal of bowl eligibility. Tennessee (9-2), until a few weeks ago an ascendant national contender, just watched its season go up in smoke in a 63-38 meltdown at South Carolina that turned all of the Volunteers' loftier ambitions to ash in a matter of hours. They're not going to win the division, they're not going to the Playoff, and Hendon Hooker is not going to win the Heisman after suffering a torn ACL in the loss. Even Steve Spurrier, wherever he's at these days, is back on his old routine at the Vols' expense.
So although Tennessee is obviously the better team, it's much less obvious whether it still has any interest in showing up. There is some intrigue in the performance of Hooker's heir apparent behind center, Joe Milton III, who'll make his first start on Saturday since losing the job to Hooker last September. Milton didn't transfer from Michigan to be a backup, but he has bided his time, and assuming he plans on returning for a 6th year in 2023, it's his team now until further notice. He has all the raw physical tools to be a star and a high draft pick; up to this point, he has also been notoriously inaccurate. If his coordinates are straight against the 'Dores, it could be the launching point for very high expectations next year. If not, Tennessee's defense at this point absolutely cannot be trusted.
– – –
Tennessee 37 | • Vanderbilt 26
Two more in-state rivals headed in opposite directions: Louisville, which started 2-3, has won 5 of its past 6, its only loss since midseason coming at Clemson; while Kentucky, which rose as high as No. 7 in the AP poll following a 4-0 start, has lost 5 of its past 7, topping 21 points just once in the process. Beyond the home-field advantage, the fact that the Wildcats are still favored to win Saturday boils down to three factors. One, significantly more respect for Kentucky's schedule in the SEC than Louisville's in the ACC. (Despite the fact that Kentucky's skid includes a home loss to Vanderbilt.) Two, uncertainty over the status of Louisville QB Malik Cunningham, who will likely be a game-time decision due to a shoulder injury that sidelined him in last week's win over NC State. And three, the Wildcats have dominated the past 3 meetings in the series by margins of 46, 32 and 31 points. If Cardinals coach Scott Satterfield, who has been on the losing end of each of those beatdowns, is ever going to get one over on Mark Stoops, this might be as good a shot as he's going to get.
– – –
• Louisville 24 | Kentucky 20
We really don't respect running backs like we used to, do we? Take Arkansas RB Rocket Sanders, who leads the SEC and ranks 4th nationally with 1,628 scrimmage yards this season – putting him on a nearly identical pace with Darren McFadden in his Heisman runner-up campaign in 2007 – without seeming to make much of a dent in the national consciousness. Obviously, it would help if the Razorbacks had better than a 6-5 record. But I think it also has something to do with the fact that he often makes it look so dang easy.
CLEARED FOR TAKEOFF pic.twitter.com/VL6gWs9RaC

— Arkansas Razorback Football (@RazorbackFB) November 20, 2022
McFadden had to fend off hordes of belligerent tacklers with a stick because he was playing in an offense with only the faintest notion of a quarterback. In the spread, alongside the equally feared KJ Jefferson, Sanders gets a free pass to the second level and is never more than one false step by a linebacker away from taking it to the house without a hand being laid on him. Break some tackles, kid!
– – –
• Arkansas 32 | Missouri 27
Scoreboard
Week 12 Record: 5-3 straight-up | 1-7 vs. spread
Season Record: 69-20 straight-up | 40-46 vs. spread