SEC
SEC QB Power Rankings, Week 13: Is Spencer Rattler back on track or beyond the point of no return?
Quarterbacks: There are a lot of them! Each week throughout the season, we'll help you keep the game's most important position in perspective by ranking the SEC starters 1-14 according to highly scientific processes and/or pure gut-level instinct. Previously: Week 1 … Week 2. … Week 3. … Week 4. … Week 5. … Week 6. … Week 7. … Week 8. … Week 9. … Week 10… Week 11. … Week 12.
1. Bryce Young, Alabama
As he prepares to wrap up his Bama career, Young remains arguably the most valuable and respected quarterback in the college game. But he is pretty clearly not going to repeat as the Heisman Trophy winner, extending the streak to 47 years and counting since the first and only player to pull it off, Ohio State's Archie Griffin, went back-to-back in 1974-75. On one level, that follows the unwritten rules of Heisman politics, which overwhelmingly favor quarterbacks whose teams are set to play for national championship. (Alabama, for once, is not.) On a more basic level, though, even Young's ongoing brilliance can't obscure the fact that the production this time around just isn't there: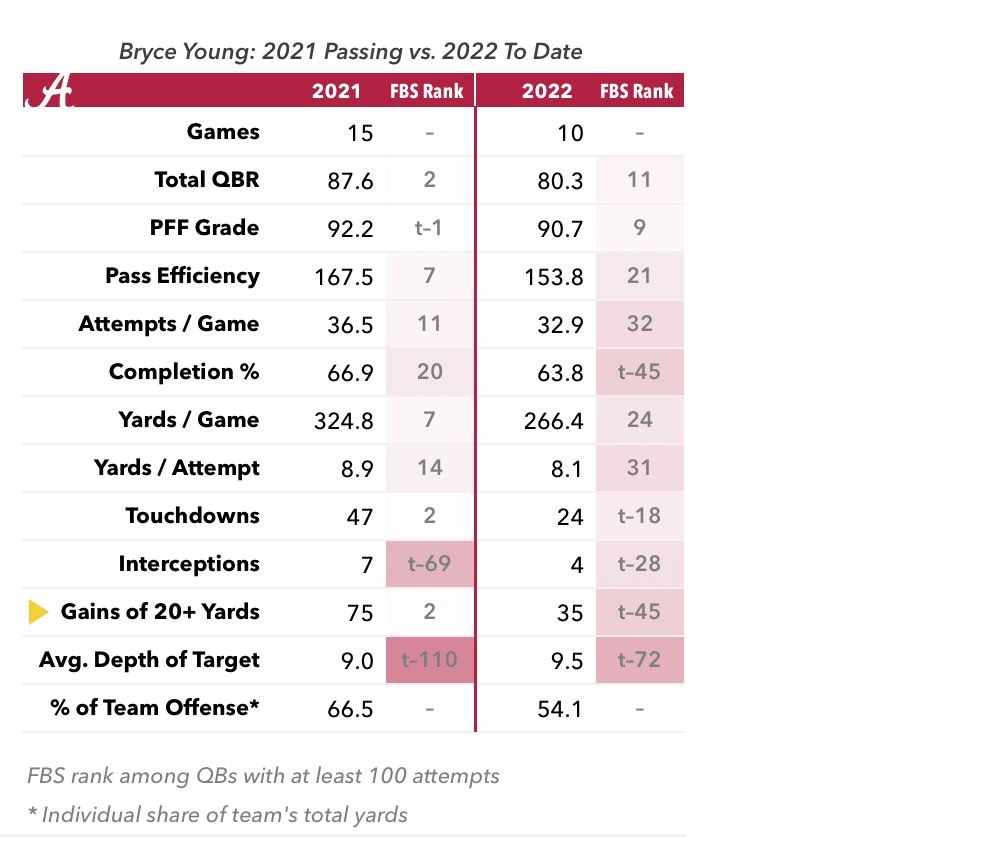 There are a few caveats where the volume stats are concerned due to the fact that Young missed half of one game at Arkansas and all of the next against Texas A&M with a sprained shoulder, but the broader trend is plain enough. Not coincidentally, the steepest regressions are in the two columns that translate to "big plays:" Touchdowns and gains of 20+ yards.
Although his average depth of target actually increased, per Pro Football Focus, Young never really synced up with any of his current wideouts the way he did with Jameson Williams and John Metchie III in 2021, with the result that the offense has felt increasingly disheveled and dependent on Young making up stuff on the fly. Williams and Metchie each had more yards after the catch last year than any Bama receiver has this year, period.
Anyway, repeating as the Heisman Trophy is a borderline impossible mission, as it should be. In many ways the award functions as a kind of Hall-of-Fame induction, and in a sport as sprawling and diverse as college football — and with so much annual turnover — there's no good reason to allow any individual to suck up that much oxygen. That's one of the reasons Griffin's second Heisman is widely regarded as a mistake. Who is he to be that guy, the only one whose name counts twice? Too many equally deserving players didn't even get on the list once. In Young's case, his chances of being that guy were probably never as good as the preseason odds implied. We didn't need to be told again what we already knew. One is enough.
– – –
(Last week: 2⬆)
2. Stetson Bennett IV, Georgia
Do you realize how hard it is to put a national CBS broadcast to bed in three hours flat? Georgia and Kentucky pulled it off on Saturday in a 16-6 slog that played out like both teams got together beforehand and agreed they had better places to be. In that context, it's hard to read much into Bennett's boring stat line, which set season lows for attempts (19), yards (116), yards per attempt (6.1) and efficiency (109.2) on an afternoon when the outcome was never in doubt. I'm not sweating his numbers this weekend in what should be an automatic win over Georgia Tech, either. If he clocks in under the speed limit in the SEC Championship Game, then it might be time to dig up some of the old concerns from this time last year, but not before then.
– – –
(Last week: 3⬆)
3. Jayden Daniels, LSU
Daniels is officially on the board in the Heisman race, a fairly stunning development if you remember his tenuous grasp on the job at midseason. Brian Kelly told reporters earlier this week that Daniels was sick from the flu leading up to the Arkansas game in Week 11, which may have contributed to his sluggish afternoon against the Hogs. (Although the bug obviously didn't slow down teammate Harold Perkins Jr.) In the other four games of LSU's five-game winning streak, he's averaged 361.8 yards of total offense, accounted for 16 touchdowns and posted a 169.2 passer rating.
– – –
(Last week: 4⬆)
4. KJ Jefferson, Arkansas
For a huge, athletic QB who's on pace to finish in the top 10 nationally in pass efficiency for the second year in a row, Jefferson doesn't get as much respect outside the state of Arkansas as he probably deserves. But that statement definitely does not apply to Missouri coach Eli Drinkwitz, who summed up the sentiments of the rest of the league ahead of Friday's regular-season finale when he told reporters "golly, I hope he's graduating or going pro or something." Drink may get his wish: Although Jefferson, a redshirt junior, is rarely mentioned among the top tier of draft-eligible QBs, he'd have a good chance of going on Day 2 or 3, and wouldn't have much to gain by coming back with 2 years as a starter already banked. If the scouts aren't convinced by now, another year in Kendal Briles' system isn't likely to make them see the light.
– – –
(Last week: 5⬆)
5. Will Rogers, Mississippi State
With 301 yards and 5 touchdowns passing against East Tennessee State, Rogers moved into the top 10 in SEC history in both categories and remains on pace to smash both records in 2023 with room to spare. (Every other QB with 10,000 yards to his credit needed 4 years to do it; Rogers got there in 3.) On a related note, he also set the conference record for career attempts, moving ahead Drew Lock with just 33 games under his belt compared to Lock's 50 games. We remind the reader again that, due to the free COVID year, Rogers technically still has 2 more years of eligibility remaining.
– – –
(Last week: 6⬆)
6. Anthony Richardson, Florida
Richardson's stock was back on the rise last week after plus performances in Weeks 10 and 11, so naturally he was due for a crash in Week 12 with Vanderbilt in the role of the iceberg. The Gators' 31-24 flop against the 'Dores was their first loss in Nashville since 1988 and their third this year in a game they were favored to win straight up. (The other two: home losses to Kentucky and LSU.) It also tanked their momentum heading into the regular-season finale with surging Florida State, a rivalry game that looks a lot less interesting than it did when Florida was expected to show up 7-4 instead of 6-5. Between Richardson and Will Levis, both of whom remain mainstays in mock drafts, there's now a very real possibility we're going to get not just 1 but 2 first-round QBs in the same class who lost to Vandy.
– – –
(Last week: 7⬆)
7. Jaxson Dart, Ole Miss
The middle of the pack is an appropriate landing spot for Dart, who ranks 6th among SEC starters in total offense, 6th in QBR and 7th in efficiency. After last week's 42-27 loss at Arkansas – a game Ole Miss trailed at one point 42-6 – the Rebels' once-promising season is trending toward the Mendoza line, as well. A native Utahan in his first year in Mississippi, Dart may not have much personal investment in the rivalry aspect of the Egg Bowl, but surely he would like to avoid heading into the bowl game as the guy who oversaw 4 losses in the last 5 following a 7-0 start.
– – –
(Last week: 8⬆)
8. Will Levis, Kentucky
Saturday's regular-season finale against Louisville will be Levis' last home game at Kentucky, an opportunity to enjoy some positive vibes at the end of a difficult and mostly disappointing season, and ahead of an NFL Draft season that figures to cast him as a main character. The rankings, which have devoted more than enough space at this point to sizing up the polarizing pro prospects of a QB with 23 interceptions in 23 starts, can't wait to watch this heretofore niche content gradually consume roughly half of ESPN's daytime programming in the months leading up to the actual event. It's not his fault! Levis is just doing the best he can and has no control over the hype. But for all the takes it's already generated, in the grand scheme of things the debate over how good his best really is has barely even begun.
– – –
(Last week: 9⬆)
9. Spencer Rattler, South Carolina
The rankings have been around for a little while now and have had to account for plenty of unlikely performances along the way. But "unlikely" doesn't even begin to do justice to Rattler's 438-yard, 6-touchdown bonanza against Tennessee, which compared to his first 10 games in a South Carolina uniform must rank among the most incomprehensible performances on record.
Prior to Saturday, Rattler's underachieving rep seemed pretty well set in stone. He'd fallen out of mock drafts, languished near the bottom of the SEC statistically, and generally been reduced to a "game manager" type in one of the league's most low-octane offenses. Two of his previous 3 games, losses to Missouri and Florida, were outright duds on either side of a footnote victory at Vandy. His most memorable play of the season was an open-field tackle against a runaway defensive lineman, the main result of which was Rattler getting mocked on Twitter. This was not a guy trending in the direction of a monster night against the No. 5 team in the country.
But then, there he was, looking like a different guy altogether in a near-flawless effort. South Carolina scored touchdowns on 9 of its 10 full possessions against the Vols, all but one of them sustained drives covering at least 64 yards. Rattler, who failed to attempt a pass 20+ yards downfield against Florida, was 4-for-6 on deep shots, including 2 of his 6 touchdowns. He was patient, decisive, creative and more accurate than ever. For the first time since he landed last winter, he looked like the ex-Heisman candidate the Gamecocks thought they were getting when they won the offseason sweepstakes for his services.
— Chet Ubetcha (@chetUbetcha__) November 20, 2022
It's tempting to dismiss one big night against a middle-of-the-pack defense missing one of its best players as an extreme outlier with no broader implications outside of eliminating Tennessee from the Playoff race, which, yeah, fair enough. For now, that's exactly what it is. At the same time, though, it was also a glimpse of an alternate timeline where Rattler fulfilled his potential, elevated Carolina out of the middle rungs of the standings, and rejoined the tier of draft-eligible QBs regarded as potential franchise picks. It's too late for that now, unless he opts to come back for a 5th year in 2023. (Not likely, but not out of the question.) But given his baseline talent, if he closes out the regular season looking the part again at Clemson, a serious 11th-hour reassessment may be in order.
– – –
(Last week: 12⬆)
10. Joe Milton III, Tennessee
Hendon Hooker's season is over due to a torn ACL, meaning the Vols are Milton's team until further notice. As entrenched as Hooker has been over the past 2 seasons, it's easy to forget that it was Milton, not Hooker, who was considered the prize transfer in 2021, and Milton who started the first two games that year before yielding to Hooker for good. At 6-5/245, Milton is certainly a more imposing specimen. If he manages to straighten out his accuracy in 2023, his combination of size, mobility, and A-plus arm strength will have draftniks falling out of their chairs.
But then, as Tennessee fans are well aware, that's a very big if. Although a minor injury contributed to last year's benching in favor of Hooker, the major factor was Milton's chronic inaccuracy, which also cost him the starting job at Michigan in 2020, a miserable season for the Wolverines. It's the reason he's still considered a raw prospect, even as a 5th-year senior. And if by some chance it turns out he's not the guy in Year 6, his scattershot arm will probably be the reason. The gem of the incoming recruiting class, 5-star Nico Iamaleava, is scheduled to arrive in January with a potential opening to compete right away. The remaining 2 games might seem like an empty coda for a team that expected to be playing for much higher stakes, but they'll have a lot to do with determining just how wide that opening is.
– – –
(Last week: Milton n/a; Hooker was No. 1.)
11. Brady Cook, Missouri
On paper, Cook has played his 2 best games of the season the past 2 weeks against Tennessee and New Mexico State, apparently coinciding with offensive coordinator Bush Hamdan taking over play-calling duties from head coach Eli Drinkwitz. (For his part, Drinkwitz downplayed the report, describing play-calling as "a collective effort, anyway.") Whoever's voice is in Cook's head lately, it's beginning to click. His 6 touchdown passes against Tennessee and NMSU matched his total over the first 9 games combined, he topped 100 yards rushing in both games, and he hasn't thrown an interception in a month.
– – –
(Last week: 10⬇)
12. Mike Wright, Vanderbilt
Wright accounted for just 121 total yards in the Commodores' 31-24 upset over Florida, a strange game that turned largely on 2 plays: One, a muffed punt by the Gators that Vanderbilt recovered for a touchdown in the first half, and two, a fluky interception that set up a short-field Vandy TD in the second half. Meanwhile, both of the 'Dores' sustained touchdown drives on offense owed a debt to Florida penalties on apparent 3rd-and-long stops that extended the possessions. But who's sweating the details? Considering Wright is just the second Vanderbilt QB to beat Florida since 1988 – joining the immortal Patton Robinette, in 2013 – they'll take it however they can get it.
– – –
(Last week: 11⬇)
13. Robby Ashford, Auburn
Auburn's resurgence under interim coach Cadillac Williams hasn't changed Ashford's reputation as more of an athlete than a full-service quarterback: He's just 21-for-55 passing the past 3 weeks for 4.3 yards per attempt. (Fittingly, the Tigers' only touchdown pass in Saturday's 41-17 win over Western Kentucky was thrown by a running back.) If an upset is in the cards at Alabama, it will be by virtue of the defense and the ground game, where Ashford remains a factor, not his arm. Either way, the Iron Bowl is almost certainly his last turn as Auburn's starting QB before the new coach arrives and posts a "Help Wanted" notice in the portal.
– – –
(Last week: 13⬌)
14. Conner Weigman, Texas A&M
Weigman still has the "student driver" sticker on his helmet, but one positive note so far: Zero interceptions in 114 attempts. One more week until the 2023 hype cycle begins in earnest, and if you assume that this year's meltdown is necessarily going to curb the enthusiasm for the rising young talent on hand next year, you might be in for a surprise.
– – –
(Last week: 14⬌)