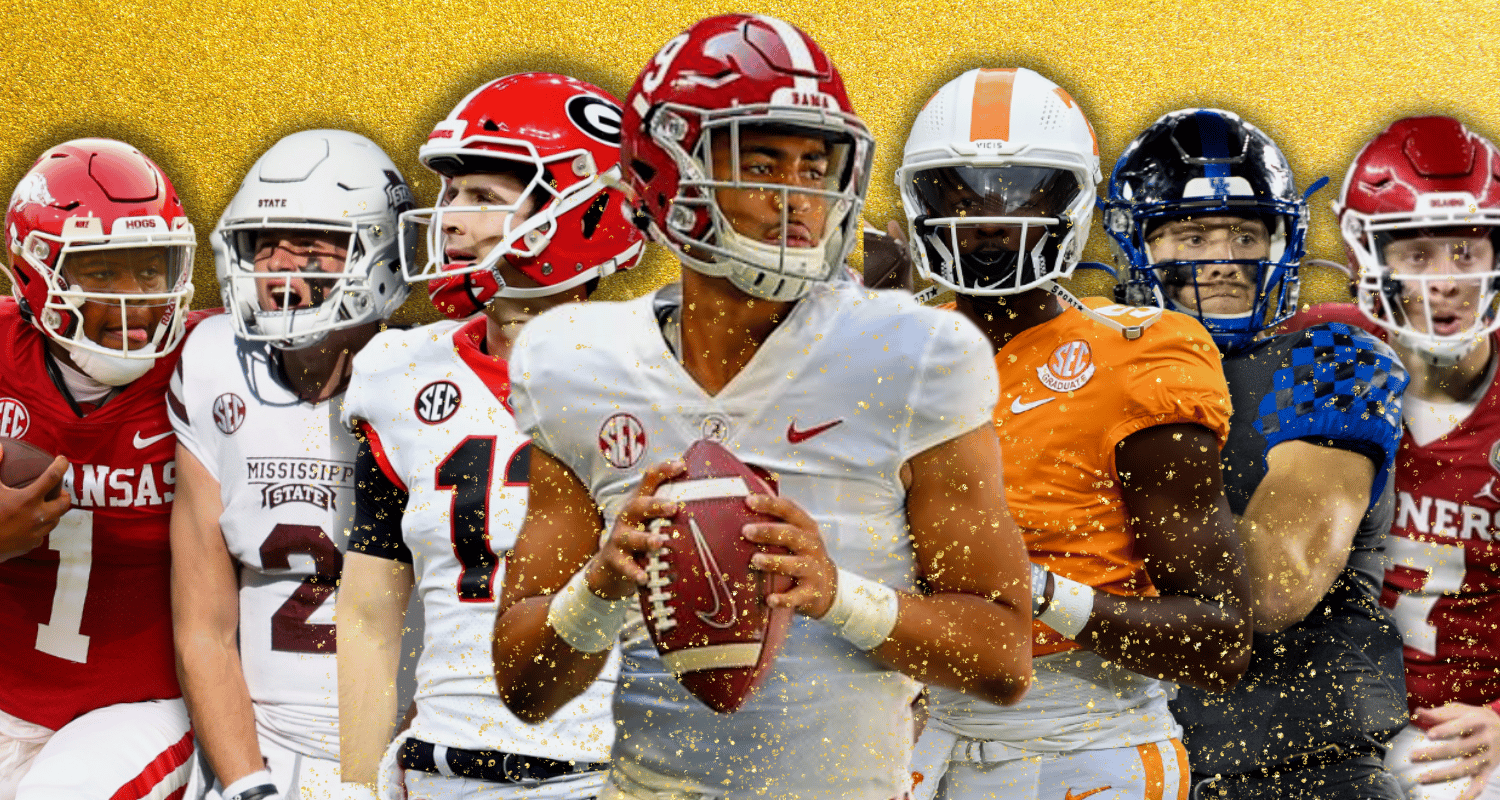 SEC
SEC QB Power Rankings, Week 12: Can Hendon Hooker's Heisman case hold up in the home stretch?
Quarterbacks: There are a lot of them! Each week throughout the season, we'll help you keep the game's most important position in perspective by ranking the SEC starters 1-14 according to highly scientific processes and/or pure gut-level instinct. Previously: Week 1 … Week 2 … Week 3 … Week 4 … Week 5 … Week 6 … Week 7 … Week 8 … Week 9 … Week 10… Week 11.
1. Hendon Hooker, Tennessee
Hooker is having the kind of season that makes accounting 405 yards and 4 touchdowns in a blowout win over a division rival seem like just another day at the office, and probably makes him a lock for a seat at the Heisman Trophy ceremony in New York. His prospects of winning the Heisman are much dicier.
Although he remains a betting favorite, coming in behind only Ohio State's CJ Stroud in the latest Heisman odds, Hooker is the only serious contender whose campaign is effectively in the clubhouse already: His biggest games are behind him, and with no conference championship at stake, the Vols' next 2 games against South Carolina and Vanderbilt are strictly stat-padding opportunities that will fly well below the national radar. In the meantime, everyone else at or near the top of the list — Stroud, Michigan's Bake Corum, North Carolina's Drake Maye, USC's Caleb Williams, TCU's Max Duggan — still has at least one big, season-defining test on deck that stands to actually move the needle. The outcome of a blockbuster Ohio State vs. Michigan game, specifically, is almost certain to cement Stroud or Corum as the front-runner, and to set them up for a victory lap the following Saturday in the Big Ten Championship Game, when an idle Hooker will be out of sight, out of mind.
As far as Tennessee's Playoff chances are concerned, cruising to the finish line has its benefits. Assuming they win easily the next 2 weeks to finish 11-1, almost any version of late-season chaos that doesn't involve LSU upsetting Georgia in the SEC Championship Game will break in the Vols' favor. (If LSU falls as expected, then in all likelihood TCU and USC both have to run the table to keep Tennessee out.) Backing your way into a Heisman without a strong closing statement is another story. To date, the only player in the Playoff era to win it without leading his team to a conference championship on the final Saturday of the regular season is Lamar Jackson in 2016. And sorry, but Hendon Hooker, prolific as he is, is no Lamar Jackson in the highlight department. In the CFP, the No. 3 or 4 seed can still win it all. The Heisman only goes to No. 1.
– – –
(Last week: 1⬌)
2. Bryce Young, Alabama
Young is not realistically in the Heisman picture, with his stats significantly down from last year and his team relegated to playing out the string en route to a consolation appearance in a New Year's 6 Bowl, at best. In one fashion or another, though, he still consistently walks off the field having made a compelling case that he was the best player on it.
In Saturday's come-from-behind, 30-24 win over Ole Miss, he transcended a pedestrian stat line (209 yards on 6.3 yards per attempt) by almost singlehandedly holding together an offense that looked disjointed and disinterested when Young wasn't creating plays out of thin air. His first 2 touchdown passes were tight-window strikes, his 3rd was an ad-libbed gem (see below), and after falling behind 17-7 in the first half, he led Bama on 5 scoring drives in its last 6 possessions.
Just Bryce Young doing Bryce Young things. pic.twitter.com/3BZQjG0Tuh

— CBS Sports (@CBSSports) November 12, 2022
Across Young's 24 career starts, the Tide have trailed in the second half in 7 of them; on all but one of those occasions — last year's national championship loss to Georgia — they've rallied to take the lead in the fourth quarter. Even when the final score has ultimately gone against him, he's been nearly impossible to kill.
– – –
(Last week: 2⬌)
3. Stetson Bennett IV, Georgia
Bennett doesn't run much, but when he does he makes it count. Seven of his 28 carries this season (excluding sacks) have gone for touchdowns, none of them of the goal-line QB sneak variety. He broke a 64-yarder against Auburn; outran half the Tennessee defense to the pylon to get Georgia on the board against the Vols; and, with his 4-yard TD run against Mississippi State on Saturday night, has put not just one but 2 opposing safeties in the deep freeze on red-zone jukes.
.@StetsonIv breaking ankles!

?: Watch live on ESPN pic.twitter.com/qMoMN31ZtK

— Georgia Football (@GeorgiaFootball) November 13, 2022
Sure, nobody thinks it can happen to them. But the evidence is clear: If Stetson Bennett gets your safety 1-on-1 within sniffing distance of the end zone he WILL embarrass him. Accept the facts and take the necessary precautions.
– – –
(Last week: 3⬌)
4. Jayden Daniels, LSU
Harold Perkins' national coming-out party at Arkansas shouldn't obscure the other side of the coin: The Tigers needed every last play their freshman phenom made on defense made because the offense was struggling to make any of its own, especially in the passing game. Daniels, coming off three highly efficient outings against Florida, Ole Miss and Alabama, was anything but in Fayetteville, turning in abysmal numbers in terms of passer rating (88.2) and Total QBR (9.6) while finishing just 8/15 for 86 yards and throwing his second interception of the season.
That was largely due to pressure, which arrived early and often. On a dozen pressured dropbacks, per Pro Football Focus, Daniels was sacked 7 times, scrambled on 4 more, and managed to get off a single (incomplete) pass. That's on the heels of games in which he was sacked 6 times by Alabama, 4 times by Ole Miss and 5 times against Tennessee, all in Baton Rouge. For the season, Daniels has not only taken more sacks (40) than any other Power 5 quarterback; he also has the highest pressure-to-sack ratio, defined as the percentage of pressured dropbacks that result in sacks. For all his escapability, Daniels has been corralled at a higher rate under duress (34.5%) than any other full-time QB in a major conference. Against Arkansas, that number was over 50 percent.
Second of the day for Pooh, our SEVENTH overall pic.twitter.com/Ks51zb6hcs

— Arkansas Razorback Football (@RazorbackFB) November 12, 2022
To some extent, that's life behind a line with 2 true-freshman tackles, one of whom, RT Emery Jones, PFF has down for an alarming 25 pressures and 5 sacks allowed. But the interior hasn't exactly been a rock, either (see above), and against Georgia in the SEC Championship, they'll face the unenviable task of taking on the nation's premier interior pass rusher, Jalen Carter, before they can even begin to worry about the myriad other ways the Dawgs can get to the quarterback. (Ask Tennessee.) There are plenty of other concerns from LSU's perspective, including the Tigers' surprising lack of downfield juice despite an abundance of gifted wideouts. At first glance, though, protecting Daniels long enough to get the ball downfield in the first place stands out as the biggest, reddest flag the SEC Championship matchup has to offer.
– – –
(Last week: 4⬌)
5. KJ Jefferson, Arkansas
Jefferson expects to play this weekend against Ole Miss after sitting out the Razorbacks' loss to LSU with a sore shoulder, a game they likely would have won with him on the field. (If nothing else, the idea of the still-growing Harold Perkins attempting to repeatedly drag down a quarterback who outweighs him by more than 20 pounds is quite the image.) At 5-5, bowl eligibility is at stake the next 2 weeks, but the more pressing question at this point is whether Jefferson plans to return for a 5th year in 2023.
Although he's not considered a top-tier prospect, he is draftable on Day 2 or 3, and his biggest liability – that he plays in a very "college" offense that doesn't ask him to make NFL reads or throws – isn't something he can control if he decides to come back. He has the requisite size, production and experience with 23 career starts under his belt. On the other hand, he's still only 21 years old; the clock is not necessarily ticking just yet. If he does re-up for another tour on campus, he would be due for a monster year.
– – –
(Last week: 5⬌)
6. Will Rogers, Mississippi State
Rogers has always struggled to make a dent against blue-chip defenses and didn't threaten to reverse the trend Saturday against Georgia, throwing 51 times for 5.1 yards a pop in a 45-19 defeat. Even those 19 points should be taken with a grain of salt: 14 of them came courtesy of a) a punt return touchdown just before halftime, and b) a short-field TD set up by a UGA turnover. But hey, Georgia does that to everybody. As usual, the verdict on Mississippi State's season comes down to the Egg Bowl.
– – –
(Last week: 6⬌)
7. Anthony Richardson, Florida
Year 1 of the rebuilding effort in Gainesville hasn't been anything to write home about, but Saturday's 38-6 win over South Carolina was a glimpse of what the finished product under Billy Napier will ideally look like: Explosive on the ground, and just efficient enough through the air to keep the defense honest. Richardson was a key cog in a backfield that piled up 374 yards rushing on just shy of 7.0 per carry, contributing 96 yards in that effort to go with another 112 yards and two touchdowns on 11-of-23 passing. He's still incredibly raw for a guy getting first-round hype, if that matters anymore. But the upside if he opts to stay in school in 2023 remains as plain as ever. If he's not struggling with an NFL playbook next fall, Richardson will be a legitimate Heisman candidate.
– – –
(Last week: 8⬆)
8. Jaxson Dart, Ole Miss
Unless something truly amazing/ghastly happens in the next 2 weeks, the indelible image of Dart's season came in the third quarter of the Rebels' loss to Alabama, when Dallas Turner decided to use him as a crash test dummy in an experiment to determine the torque capacity of the human neck:
Jaxson Dart was okay after this facemask penalty. pic.twitter.com/U9o1QXCxgP

— CBS Sports (@CBSSports) November 12, 2022
It only netted 15 yards and a first down, but in spirit spinning the opposing quarterback's head 180 degrees in the course of violently ripping off his helmet by the facemask may be the maximum penalty it's possible to commit in the course of a play. Even Turner reacted like he wanted to throw the flag on himself. This is the kind of thing that happens when the rusher beats your right tackle so badly he overshoots the mark due to his own unexpected momentum.
– – –
(Last week: 7⬇)
9. Will Levis, Kentucky
Let's state the obvious, which is that Levis is not right physically. Although he's only missed 1 game, a Week 6 loss to South Carolina, he arguably hasn't been healthy at any point in conference play due to lingering foot and shoulder injuries, and his output continues to deteriorate. Over the past 3 games, he's averaged just 5.5 yards per attempt with more interceptions (4) than touchdowns (3), in addition to taking an alarming 14 sacks. He was overmatched in the Wildcats' Week 9 loss at Tennessee, serving up 3 INTs in a blowout, and off-target in Saturday's demoralizing, 24-21 loss to Vanderbilt, finishing 2-for-8 on attempts 10+ yards downfield against one of the most flammable secondaries in America. He's made no impact as a runner, a core component of his success in 2021.
Injuries notwithstanding, knives are out locally for offensive coordinator Rich Scangarello, who could be on the verge of getting served his walking papers in his first year on the job. Whatever the reason, Levis' regression on the field is a problem for mock drafters, who generally have not reassessed his status as a likely first-rounder next spring but have started using words like "polarizing" and "controversial" to acknowledge he is not playing up to the hype.
As a "traits" prospect, Levis' production is largely an afterthought, anyway — a good thing for him heading into his final home game as a Wildcat against Georgia, which figures to be as miserable an experience on paper as it will be in real time in borderline freezing conditions. If he can put a couple plus throws on film against the Dawgs, avoid catastrophe, and make it off the field under his own power, it will qualify as his best outing in weeks.
10. Brady Cook, Missouri
Cook turned in his best stat line of the season in a losing effort at Tennessee, finishing 19-for-32 passing for 217 yards and 2 touchdowns while adding a career-high 106 yards rushing in a performance the live TV crew couldn't stop comparing to "a young Bo Nix." (They meant it as a positive, I think. Again, Bo Nix is good now!) Cook's best throw of the day, a 38-yard touchdown lob to Dominic Lovett, pulled the Tigers within 28-24 early in the third quarter … after which the Vols went on to outscore them 38-0 the rest of the way en route to a 66-24 final. Nevertheless. A broadly encouraging outing from Cook, who should remain in the mix next spring even if Mizzou is open for business in the transfer portal.
– – –
(Last week: 11⬆)
11. Mike Wright, Vanderbilt
Wright returned to the lineup Saturday at Kentucky in place of an injured AJ Swann and won't be leaving again anytime soon after leading Vandy to its first conference win in 3 years. Wright posted a 94.6 QBR score against the Wildcats, accounting for 310 total yards (184 passing, 126 rushing) and 2 touchdowns: The first, a 59-yard run that put the Commodores on the board in the first quarter; and the second, an 8-yard, game-winning strike in the final minute, capping a 12-play, 80-yard drive. For his efforts, Wright was named SEC Offensive Player of the Week, becoming the first 'Dore to claim the distinction since the legendary Kyle Shurmur in 2018.
– – –
(Last week: n/a)
12. Spencer Rattler, South Carolina
Listen, it's been a rough year for Rattler, whose turn in the Garnet and Black has obviously not lived up to expectations, and there is no light at the end of the tunnel. Saturday's loss at Florida yielded his worst QBR score of the season (21.9) after the Gamecocks fell behind 21-0 in the first quarter. But credit where it's due: In the third quarter, faced with the prospect of flinging himself in the otherwise unobstructed path of arguably the largest man in the history of college football in a game his team had virtually no chance of winning, Rattler answered the call.
That's 415-pound Desmond Watson just taking the ball away. pic.twitter.com/FGezS0gOCg

— Connor O'Gara (@cjogara) November 12, 2022
He made the tackle! Against a defensive lineman who outweighs him by 200 pounds! And what did he get for it?
Took care of business. pic.twitter.com/WRnVofX2nI

— Florida Gators Football (@GatorsFB) November 14, 2022
See kids, this is why they call it a "business decision."
– – –
(Last week: 12⬌)
13. Robby Ashford, Auburn
As the score implies, Auburn's emotional, 13-10 win over Texas A&M was the kind of game where the quarterback is at his best when he's doing the least. Ashford finished with just 60 yards on 6-for-13 passing, threw 2 interceptions, and didn't move the needle as a runner. If he can eliminate the picks and toss in a long run or two in a couple of weeks in the Iron Bowl, the Tigers will take it.
– – –
(Last week: 13⬌)
14. Conner Weigman, Texas A&M
There's nothing left to write about the Aggies' nightmare of a season that hasn't already been written after every each and every one of their six consecutive losses — yes, that represents their longest losing streak in decades; no, they're still not firing Jimbo — so in that sense Saturday's loss at Auburn was just another bruise on the corpse. To the extent that Weigman represents hope for the future, however, it was a whole new flavor of disappointment.
There was no hope in this performance: Prior to a futile touchdown drive in the closing minutes, A&M's first 11 offensive possessions yielded 9 punts, a lost fumble, a field goal set up by a turnover, and a single first down after halftime (immediately followed by the fumble, a strip sack). At one point, the Aggies posted 5 consecutive 3-and-outs without gaining a yard.

Of course, it's important not to read too much into the struggles of a true freshman quarterback making his first road start, especially on an offense that already ranked among the league's worst before he was promoted to QB1.
Weigman is a talented young player with a solid debut against Ole Miss on the books and a lot of football in front of him. But that caveat cuts both ways: As long as we're reserving judgment, let's not read too much into his prospects for a "sophomore surge" in 2023, either. Like clockwork, once the calendar turns there will be a certain level of offseason buzz over the large number of 4- and 5-star underclassmen returning to College Station next year from pundits looking to buy low on a potential darkhorse, with Weigman's name at the top of the list. Fair enough. Just remember, buyer beware.
– – –
(Last week: 10⬇)