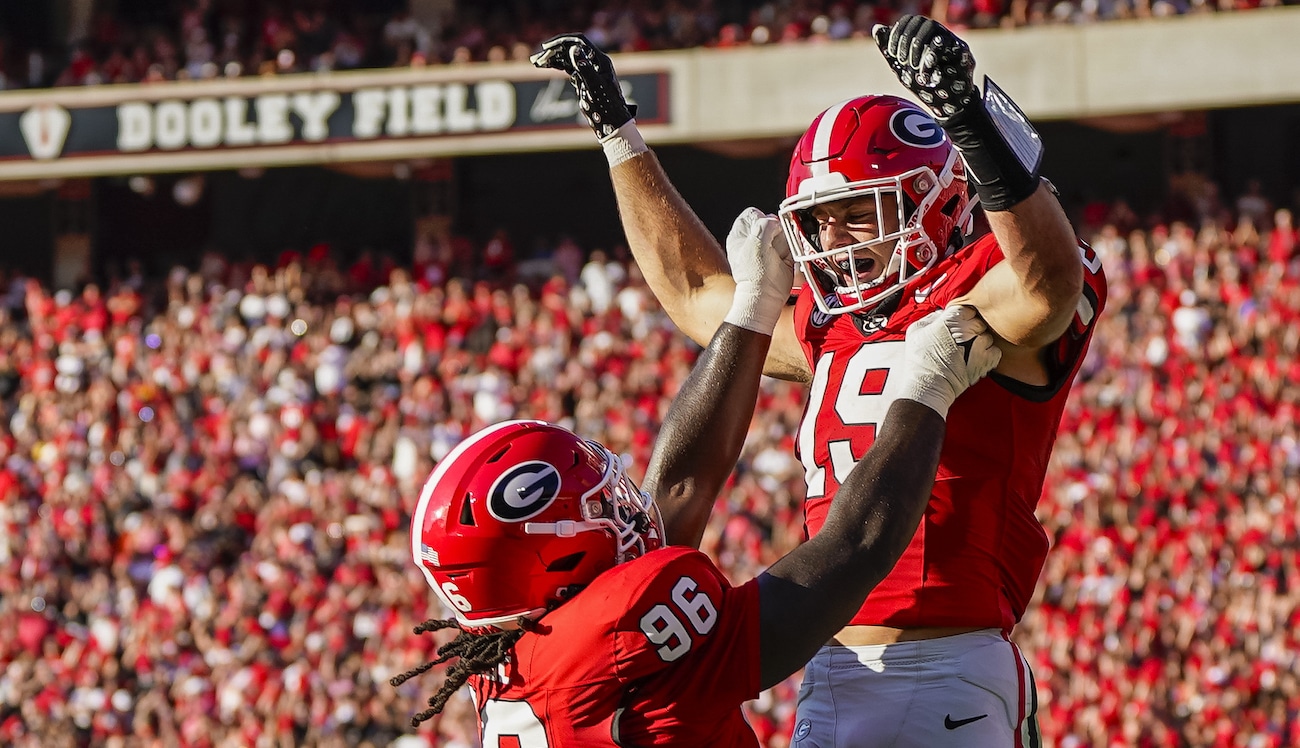 SEC
DFS Picks of the Week: Our top Underdog plays for college football and NFL, Sept. 16-17
Daily Fantasy Sports (DFS) are becoming more popular every year. And every fall, when football is in full swing across America, it's a great time to get in on the fun.
Underdog is one of the top DFS apps in the space, allowing sports fans to play daily drafts, pick'em contests and more. For this college and NFL football season, we'll focus on the pick'em contests offered on the Underdog app, which include both college football and NFL players.
Our Saturday Football DFS experts, Andrew Olson and Adam Spencer, will share their favorite DFS college football and NFL plays every Friday so you can get in on the fun on Saturdays and Sundays to try to win real money!
Ready to get started on Underdog? Check out our Underdog Fantasy Promo Code to land a first-time deposit match of up to $100 when you sign up!
Our Week 3 College Football Picks
Andrew Olson
Graham Mertz, Florida: Higher than 0.5 interceptions
As a Wisconsin starter, Mertz had back-to-back seasons with double-digit interceptions. Mertz is facing an SEC defense for the first time Saturday and may take some risks if the Gators are playing from behind. Pardon the pun, but the Vols snagging an INT off Mertz feels like a favorable pick.
Ricky Pearsall, Florida: Higher than 67.5 receiving yards
No matter the situation, Pearsall is Florida's go-to wideout. Pearsall is where Mertz turns to move the chains or go deep. With 215 receiving yards already on the year, I like his chances to get 68 or more on Saturday.
Brock Bowers, Georgia: Higher than 0.5 receiving touchdowns
Bowers has 1 touchdown on the season so far, a rushing score against UT Martin. Saturday feels like a perfect time to change that. The Bulldogs are facing a South Carolina passing defense that got carved up by a North Carolina team missing its top 2 receivers. Bowers catching a TD feels bound to happen.
Adam Spencer
Jaylen Wright, Tennessee: Higher than 59.5 rushing yards
This is my lock of the week. Wright has rushed for 118 and 115 yards in his first 2 games. No, those weren't elite opponents for the Vols, but even against an SEC defense, Wright should be good for 70 yards. Take this higher option and don't look back.
Spencer Rattler, South Carolina: Higher than 194.5 passing yards
This is just going off of my projected game script. South Carolina falls behind early and Rattler has to try to keep them in the game with his arm. He's thrown for 345 and 353 yards so far this year. Yes, Georgia might have the best defense in the country, but 200 yards is doable for Rattler.
Brady Cook, Mizzou: Higher than 23.5 rushing yards
Cook hasn't had to use his legs very often the first 2 weeks. But against Kansas State, he won't have as much time to look for passes down the field. He'll be on the run early and often and I predict he'll finish with 40-50 rushing yards before all is said and done on Saturday.
Our Week 2 NFL Picks
Andrew Olson
CeeDee Lamb, Dallas Cowboys: Higher than 72.5 receiving yards
Lamb and the Cowboys draw a New York Jets team coming off an impressive, improbable win in Week 1. The Jets' defense deserves a lot of credit for creating turnovers, but the unit did allow 102 yards to Buffalo's WR1, Stefon Diggs. Lamb isn't Diggs, but the opportunities should be there as long as Dallas' offensive line protects for Dak Prescott.
Anthony Richardson, Indianapolis Colts: Higher than 0.5 interceptions
Richardson exceeded expectations in his regular-season debut. I hate to pick on AR, but throwing his second INT feels more likely than not. Richardson came out for multiple series in the opener with a knee issue. He's off the injury report heading into Week 2, but I wouldn't be surprised if he's less mobile and asked to do more from the pocket.
Adam Spencer
Ja'Marr Chase, Cincinnati Bengals: Higher than 81.5 receiving yards
One of the biggest overreactions to Week 1 will be how awful the Bengals' offense looked. As long as it's not pouring rain in Cincinnati on Sunday, Chase should be on the case (yes, I'm a new dad and yes, that's a Paw Patrol reference). Against a Baltimore secondary that's already missing a couple of pieces, I expect Chase to have 100+ yards.
Harrison Butker, Kansas City: Higher than 1.5 field goals made
Yeah, I'm going with a kicker higher/lower here. I know it's not a sexy pick, but the Kansas City offense had some real issues against a bad Detroit defense last week. The wide receivers are looking like nonfactors. Even if Travis Kelce plays, he can't do everything. Look for a couple of drives to stall in the red zone, leading to Butker kicks.
Underdog is one of our favorite apps like PrizePicks. Check out our exclusive Underdog Fantasy Promo Code today to secure your first-time deposit match of up to $100!