SEC
Monday Down South: The college football season is riding on Tua Tagovailoa's ankle
Thanks for your concern, folks, but really: Tua is going to be just fine.
That's the word from Tuscaloosa, anyway, where panic is giving way to some tentative relief. Tagovailoa reportedly had minor surgery Sunday morning on the ankle injury that sidelined for the entire second half of Alabama's 35-13 win over Tennessee. This is the same "tightrope" procedure that doctors used to repair the same injury last December, according to Nick Saban, which allowed Tagovailoa to be back on the field a little less than a month later, looking like his usual record-breaking self in the Orange Bowl.
The only difference this time — aside from the fact that Jalen Hurts is no longer waiting in the wings if it turns out to be worse than feared — is that it was performed on the opposite ankle. That's preferable to a recurrence in the same ankle, apparently. Saban predicted "a full and speedy recovery."
Which leaves us with just one question, one Saban's otherwise matter-of-fact statement pointedly declined to answer: Exactly how speedy are we talking about here? Because LSU looms in 19 days, and the answer at the end of that countdown stands to alter the course of both Alabama's campaign and the national landscape at large.
That's a lot to put on a sprained ankle, I know. But it's hard to overstate how much is riding on Tua's presence in the defining game of the season — the SEC West, the Playoff race, the Heisman Trophy, possibly even the top pick in next year's NFL Draft, just for starters.
Bama and LSU are No. 1 and No. 2 in the AP poll; if that holds on Nov. 9 (a big if, with LSU facing a major test this weekend against Auburn), it will set up just the 4th regular-season meeting between the top 2 teams since 2000 and the first since the epic Bama-LSU slugfest in 2011, with all that implies.
The showdown between Tagovailoa and his record-breaking LSU counterpart, Joe Burrow, is a mirror image of the top-ranked defenses in the 2011 game, the pending shootout proof of how thoroughly the league has evolved over the past decade. It's also the ultimate test of whether the Tigers' embrace of the spread revolution is the key to ending the Tide's dominance in the series.
The air goes out of all of those dynamics if the most decorated player in college football is a bystander. Or even if he's visibly limited, as Tua was at times last year (including in the LSU game) by a midseason knee injury. Not only could his absence cost Alabama its best chance at a championship: It could cost the rest of us the payoff this entire season has been aiming at from the start.
The good news, for now, is that the early vibes are optimistic. Although he reportedly left the stadium following the injury, Tagovailoa made a post-game appearance in the locker room to enjoy a traditional victory cigar; linebacker Terrell Lewis said later that Tua assured teammates "I'll be back for LSU." Saban has only ruled him out for Saturday's tune-up game vs. Arkansas, where the Tide opened as 33.5-point favorites, injuries be damned. The usual open date ahead of Bama-LSU is strategically timed for exactly this scenario. Based on last year's time table, the smart money is probably on Tagovailoa suiting up, albeit not necessarily at 100 percent.
If not, the offense is in uncharted territory. Initial returns behind backup/would-be starter Mac Jones were not inspiring. Jones, a redshirt sophomore in the McElroy/McCarron mold, entered Saturday's game midway through the 2nd quarter with Bama leading the Vols 21-10 after marching for touchdowns on 3 of its first 4 possessions; from there, the Tide struggled, scoring just once in their last 5 possessions and only then with the help of a dubious unsportsmanlike flag against Tennessee that extended the drive following a 3rd-down stop. The visit from Arkansas will be Jones' first career start, which means a close-to-the-vest approach in a game Alabama can only conceivably screw up with an unprecedented flurry of turnovers.
Of course, it would hardly be out of character for Alabama's defense to save its best game for LSU. (We've all sat through enough Bama-LSU slogs, including last year's 29-0 thumping in Baton Rouge, to know what that looks like.) But the basic premise that makes this year's matchup so intriguing is the possibility that, for once, even the Tide's best efforts might not be enough to slow this version of LSU down.
These Tigers are a different beast, one that ranks No. 2 nationally in scoring offense at a tick above 50 points per game. With Tua, the Tide are every bit their equal, and then some. Without him, we don't know who they are, and there's no evidence that they do, either.
Notebook
Around the conference.
Alabama 35, Tennessee 13
What the heck happened on Tennessee's momentum-killing, 4th-and-goal fumble midway through the 4th quarter? The buzzword from Vols players and coaches after the game was "miscommunication," which … well, obviously.
Exactly what was miscommunicated to whom is less clear. On ESPN's broadcast, there was speculation that QB Jarrett Guarantano called his own number without notifying the offensive line, which appeared to be blocking for another play entirely; the left guard, Trey Smith (No. 73), actually pulled on the play to kick out the end man on the line of scrimmage, making a QB sneak impossible. In fact, Smith's alignment before the snap made a sneak impossible — his extra-wide split (on the 1-inch line?) left a huge, unprotected gap between Smith and center Brandon Kennedy…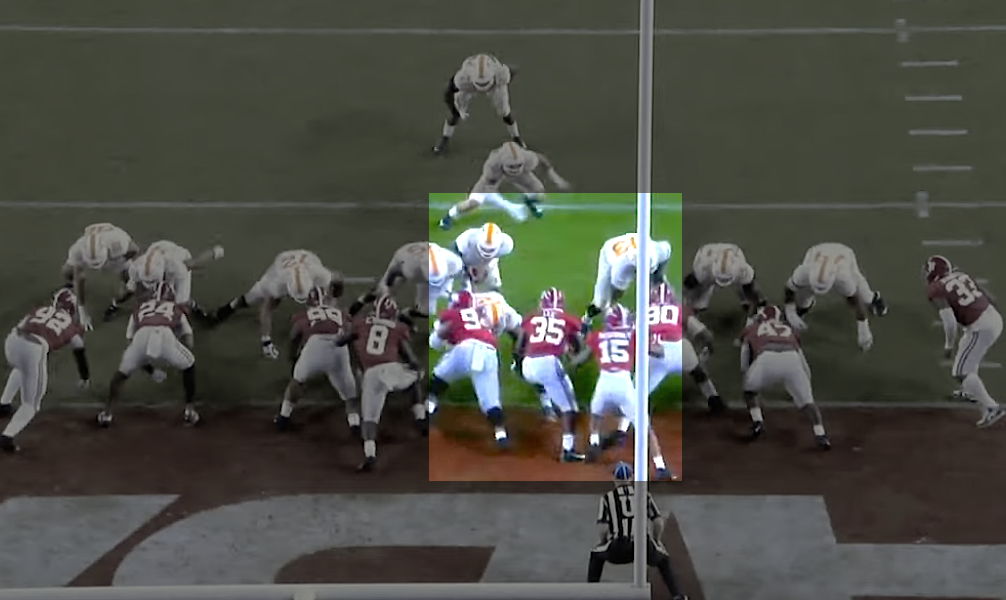 … which left Guarantano exposed to Alabama LB Shane Lee (No. 35), who instantly crashed down on the sneak along with DB Xavier McKinney (15) and jarred the ball loose before Guarantano even had time to leave his feet. The alignment itself is so disorganized it's hard to discern what Tennessee could have possibly had in mind that involved leaving a guy lined up directly over the ball on the goal line with an unimpeded shot at the quarterback. Add in Smith pulling to his left at the snap and this is some bona fide nonsense.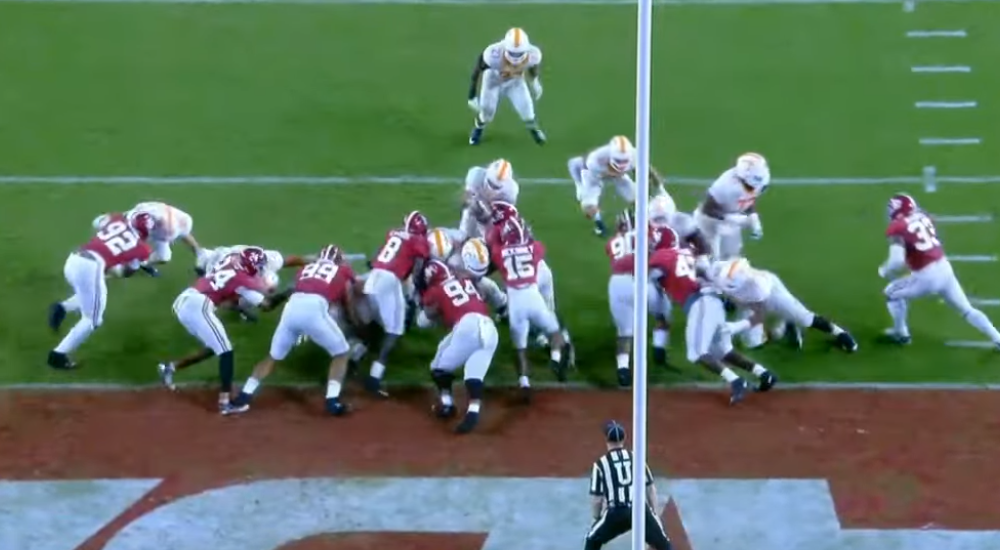 Frankly if Guarantano had tried to turn around and hand the ball off he would have been swarmed over almost as quickly, although at least in that case he might have been less likely to put the ball on the ground.
For what it's worth, coach Jeremy Pruitt insisted after the game that a QB sneak was in fact the call from the sideline — "we elected to run a sneak" — and his over-the-top, facemask-yanking reaction was in response to Guarantano's attempt to go over the top rather than lower his shoulder into the scrum and let his fullback help shove him across the line, Bush Push style. I don't think it's worth much: If that was the plan, at least half the offense didn't get it. Hurrying to the line before the play didn't help, either.
Anyway, that's how the Vols managed to turn a 14-play, 8-minute drive that brought them to the cusp of pulling within 1 touchdown of Bama with half a quarter to play against a backup QB into yet another "Lucy pulling the football away from Charlie Brown" experience. Given just how hopeless the season looked a month ago, maybe it's a moral victory that Tennessee fans can still feel anything at all, even if it's disappointment.
Florida 38, South Carolina 27
The officiating left almost everyone in Williams-Brice Stadium irate, including (naturally) Will Muschamp, who earned a flag for unsportsmanlike conduct in the 4th quarter and called out the official who threw it as "gutless." And while I'm not going to defend hurling objects onto the field, on a couple of Florida scoring plays the mob had a point.
The first came early in the 3rd quarter, on a game-tying, 75-yard run by UF's Dameon Pierce that should have been whistled dead from the get-go due to a false start by the Gators' right tackle, No. 56 Jean Delance:
https://twitter.com/SECNetwork/status/1185619704733417473?s=20
The extended downfield jersey grab by WR Tyrie Cleveland is debatable; personally, I agreed with the on-air explanation that it didn't necessarily qualify as holding because the Carolina defender, Israel Mukuamu, never really attempted to disengage. Your mileage may vary. Regardless, the false start was plain as day.
The more egregious example, the one that finally set Muschamp and the drenched-to-the-bone crowd off, came later in the half, on what was essentially the game-clinching touchdown — the result of a blatant and blatantly ignored pick by Florida WR Josh Hammond — midway through the 4th quarter.
Will Muschamp goes nuclear on SEC officiating on this illegal no-call pick play that clinched the win for Florida. pic.twitter.com/ozA0KvkCB5

— Brad Crawford (@BCrawford247) October 19, 2019
These things happen. But they can't happen repeatedly on such consequential plays.
That said: The Gamecocks' complaints only go so far in a game they led at the start of the 4th quarter, 20-17, and wound up losing by double digits at the hands of Florida QB Kyle Trask. Trask struggled for most of the first 3 quarters, including a bad interception to open the second half that set up a short-field South Carolina touchdown. In the 4th, though, he was on point, hitting 5-of-6 attempts for 64 yards, 3 touchdowns, and 2 legitimate pass interference penalties that don't show up in his stat line.
The ones that did count included arguably his 3 best plays of the day: A key 4th-down conversion to TE Kyle Pitts after eluding pressure from the middle of the d-line; a perfectly placed, 25-yard TD pass to a diving Freddie Swain in the front corner of the end zone on the next play; and an ad-libbed 20-yard strike to Jacob Copelend that showed off Trask's ability to buy time and throw on the run.
Is Trask plausibly a championship quarterback? Of the starters for the SEC's still-plausible contenders, he remains the least-known quantity, arguably even more so than Auburn's Bo Nix. (Nix, after all, has played a lot more football over the past 4 years than Trask has.) But he's holding his own: In his 4 starts vs. SEC opponents, the Gators have scored 34, 24, 28 and 38 points. Individually, Trask has posted an efficiency rating of 140 or better in every game, and a QBR rating of 75-plus in every game except Florida's Week 6 win over Auburn; that's consistently above the national average on both counts.
He might not be there yet — not before the Georgia game, anyway — but as unlikely as it seemed when he took the reins from Feleipe Franks in September, it's getting a little more plausible by the week.
Vanderbilt 21, Missouri 14
The Commodores' 34-10 loss to UNLV in Week 7 was the worst of the Derek Mason era, the kind of inexcusable flop that, in Year 6, tends to signal the beginning of the end. Seven days later, they turned in what might be the best win of Mason's tenure. Your thoughts, coach?
Derek Mason is FIRED UP 🔥 pic.twitter.com/lN2KHFvF58

— SEC Network (@SECNetwork) October 19, 2019
Don't try to make too much sense out of this one. Missouri came in on a 5-game winning streak, all by double digits; Vanderbilt, as I noted last week, came in ranked dead last in the SEC in virtually every single relevant category on both sides of the ball. The Commodores are also certain to be big underdogs in their last 4 conference games on the other side of a bye week, 3 on the road, which doesn't bode well for the notion that Saturday was the beginning of a rally toward respectability.
Still, while it might be too early to say with any confidence that Mason saved his job, he has certainly bought himself some time before that decision gets made. That's a significant shift from last week, when it was much easier to take for granted that the decision had been made already. He hasn't lost the players, which for a 2-5 team that still has virtually no chance of qualifying for a bowl game is saying an awful lot.
Auburn 51, Arkansas 10
The same can't be said right now for Chad Morris, whose 2nd year in Fayetteville is shaping up as a grim sequel to his 1st. The Razorbacks have had more than their share of embarrassing moments over the past year-and-a-half, so trust me when I say I don't make this distinction lightly. But this, for my money, is the defining play of the Morris era:
This fake punt, uh, did not go as planned. pic.twitter.com/nD9ulfUZfJ

— CBS Sports HQ (@CBSSportsHQ) October 19, 2019
To his credit, Morris owned both the rationale behind the call and the execution, explaining that it was designed to "let the rush come and kinda touch pass over the top like a basketball shot, right over the top with (the Auburn defender) running under it."
That's… well, it's an idea, I suppose. Time for generating more might be running out.
Superlatives
The best of the week…
1. D'Andre Swift, RB, Georgia
Swift carried the Bulldogs' offense in a waterlogged 21-0 win over Kentucky, running for a season-high 179 yards and 2 of UGA's 3 touchdowns amid the slop. As usual, the numbers don't quite do Swift justice.
D'Andre Swift continues to prove this season that he truly is RB1.

— Nick Farabaugh (@FarabaughFB) October 20, 2019
That marked his 5th game this season over 100 scrimmage yards, best in the conference, all of them hard-earned on a night when putting the ball in the air was … not productive, to say the least: Georgia stopped throwing at halftime, and Kentucky — running a limited, Wildcat-oriented offense with converted WR Lynn Bowden Jr. behind center for the 2nd week in a row — didn't complete a pass until the dying minutes. Together, both sides combined for the fewest passing yards in an SEC game (53) since the turn of the century.
2. Joe Burrow, QB, LSU
Trap game? No, the Tigers' 36-13 win at Mississippi State was just another day at the office: 25-of-32, 327 yards, 4 touchdown passes to 4 receivers, another step closer to a seat among the Heisman finalists in New York. Eight weeks into the season, Burrow's efficiency rating has eclipsed the 200 mark in every game but one.
3. Terrell Lewis, LB, Alabama
Bama held Lewis back in September to be absolutely sure he was at full speed, and the result is an emerging nightmare for opposing offenses. Last week, he broke out at Texas A&M with 2 sacks in his first start of the season; this week, he brought the heat from all over the field, finishing with 7 tackles and another pair of sacks against Tennessee while adding a nasty spin move to the list of ways he's capable of getting to the quarterback.
https://twitter.com/TideSports/status/1185782696737460225
Along with fellow bookend Anfernee Jennings (7 tackles, 2 QB hurries, honorable mention credit in this week's Superlatives standings), Lewis looks like the omnipresent edge-rushing threat the Tide have mostly lacked the past 2 years — a critical piece of the puzzle for a young lineup as it ramps up for Joe Burrow and other elite, Playoff-caliber passers down the stretch.
4. Ke'Shawn Vaughn, RB, Vanderbilt / Tavien Feaster, RB, South Carolina / Najee Harris, RB, Alabama
All 3 finished with career-highs for touches in circumstances nearly as unique as Swift's:
Vaughn (176 total yards, 2 TDs on 33 touches) accounted for the majority of Vandy's total offense vs. Missouri, headlining the upset alongside a walk-on quarterback who was (a) making his 1st career start and (b) knocked out of the game late in the 3rd quarter;
https://twitter.com/SECNetwork/status/1185670702202052609?s=20
Feaster (175 yards, 2 TDs on 25 carries) shouldered the bulk of Carolina's ground game after his running mate, Rico Dowdle, was injured on the first play, averaging 7.0 yards a pop in support of a true freshman quarterback in miserable conditions;
And Harris (153 total yards, 2 TDs on 25 touches) assumed full-time workhorse duties after Tagovailoa's injury, grinding out most of those yards in the second half against a defense more focused on him for a change than it was on the arm of Mac Jones.
5. Justin Madubuike, DL, and Buddy Johnson, LB, Texas A&M
A&M's defensive leaders combined for 15 tackles and 2 TFLs at Ole Miss as well as the biggest play of the game: A momentum-swinging, 62-yard fumble return for a touchdown in the 3rd quarter — forced by Madubuike, finished by Johnson — that turned the tide permanently in A&M's favor.
Before that play, the Aggies trailed 14-10 after giving up a touchdown on the opening series of the second half and subsequently going 3-and-out on offense; from that point on, they outscored Ole Miss 14-3 (due in part to a blocked field goal by Madubuike) en route to a 24-17 win.
Not that the final score in Oxford was a referendum on the direction of the program under Jimbo Fisher or anything like that. But if it had gone the other way, dropping the Aggies to 3-4 with trips to Georgia and LSU still to come, let's just say this would not have been the most pleasant week in College Station.
Honorable Mention: Auburn QB Bo Nix, who finished 12-of-17 for 176 yards and 3 touchdowns, plus a 4th TD on the ground. … DE Marlon Davidson, who had 3 TFLs and 2 sacks in the Tigers' win over Arkansas, including a forced fumble on the game's opening series that set up a short field for their 1st touchdown. … LSU safeties Grant Delpit and Jacoby Stevens, who combined for 19 tackles, a sack and an interception in the win at Mississippi State. … Vanderbilt DE Dayo Odeyingbo and LB Andre Mintze, who combined for 8 tackles, 3 TFLs and 4 QB hurries against Missouri. … Mizzou LB Nick Bolton, who totaled 15 tackles with 3 TFLs in a losing effort. … Ole Miss LB Sam Williams, who was credited with 2 sacks and 2 QB hurries in the Rebels' loss to Texas A&M. … And Tennessee DB Nigel Warrior, who finished with a team-high 6 tackles and an interception return off Tagovailoa that set up the Vols' offense in Alabama territory for their only touchdown of the night.

The scoring system for the Superlatives standings has been slightly revised: Beginning this week, I'm awarding 8 points for the week's top player, 6 for second, 5 for third, 4 for fourth, 3 for fifth, and 1 for honorable mention, because how honorable is it really if it doesn't come with any points? Season totals have been adjusted accordingly.