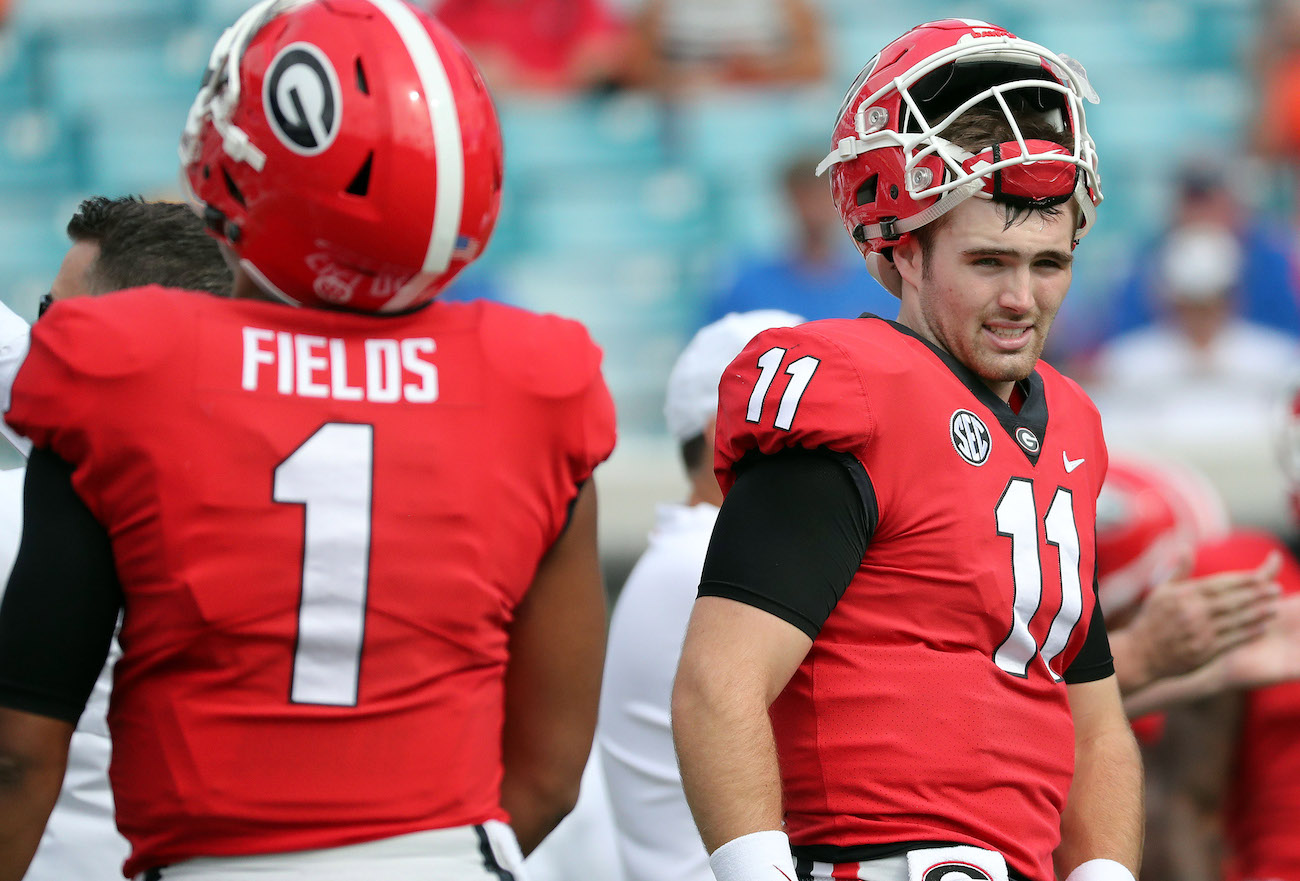 SEC
Week 6 SEC QB Power Rankings: The great Jake Fromm-Justin Fields debate is just beginning
Quarterbacks: There are a lot of them! Each week throughout the season, the Power Rankings will help you keep the game's most important position in perspective by ranking the SEC starters 1-14 according to highly scientific processes and/or pure gut-level instinct. Previously: Week 1 … Week 2 … Week 3 … Week 4 … Week 5.
1. Tua Tagovailoa, Alabama
2. Joe Burrow, LSU
A specter is looming over the SEC — the specter of an Alabama-LSU shootout.
The terrifying possibility becomes more real by the week. As the offenses have flourished, averaging well north of 50 points per game over the first month of the season, the defenses have looked nothing at all like their usual standard-bearing selves: LSU has given up 38 to both of its Power 5 opponents to date, Texas and Vanderbilt, and in 2 conference games Alabama's inexperienced, injury-plagued D has allowed a combined 54 points to offenses led by true freshman quarterbacks. Last year was the first in more than a decade that both teams finished outside of the top 10 nationally in total defense; so far this year, neither ranks in the top 30.
If the trend holds, it's pointing toward uncharted territory. Consider that in the entire history of the rivalry the combined point total in a Bama-LSU game has exceeded 60 points just once, in 2007, which is also the only time either side has put 40 on the board more than 70 years. This year's game on Nov. 9 could put both of those trends to shame and relegate the memory of the 9-6 game in 2011 — arguably the defining slog of the decade for the series and the SEC as a whole — to a relic from another era. We're all the Big 12 now.
Tank for Tua Watch: Six NFL teams remain winless through Week 4, 3 of which (Miami, Cincinnati, and Denver) will almost certainly be in the market for a 1st-round QB next spring. Only the Dolphins are residing permanently in Tank Town, having been outscored by a ridiculous 137 points in 4 games, but the Bengals' listless performance on Monday night — their second 24-point loss of the young season — could be a prelude to their moving in next door as the Andy Dalton era wheezes to a close. Meanwhile, Tagovailoa himself acknowledged the existence of the "Tank for Tua" campaign(s) for the first time, telling an interviewer last week "a lot of my teammates love to joke about it." It's not a joke, Tua! At least one and potentially multiple billion-dollar franchises are enduring ritual weekly humiliation with only the distant dream of acquiring your talents to stave off all-encompassing hopelessness! This is very serious business. (Last week: 1/2)
3. Jake Fromm, Georgia
There was a fleeting moment last season when Fromm's grip on the job seemed to wobble, and as Justin Fields continues to look like the second coming of Vince Young at Ohio State it's hard not to wonder: Is it possible the hot-around-the-collar segment of the fan base calling for Fields was kind of … right?
We'll see. Not that Georgia could have or should have wavered on Fromm, a proven winner with 1st-round potential, or that he's not perfectly capable of leading the Bulldogs past Bama and on to a national championship. But it's not nearly as obvious at this point that he still gives them a better chance. While Fromm remains the epitome of the "game manager," Fields has emerged in short order as the dual-threat nightmare his recruiting hype promised. His 23 total touchdowns ranks No. 2 nationally, trailing only Tagovailoa, and his presence alone expands and amplifies the Buckeyes' running game in ways Fromm's does not.
Maybe that says more about their respective offenses and the roles they're asked to play within them than it does about their actual abilities. (Personally I take for granted that Fromm would be the one putting up Burrow-esque numbers if Georgia embraced the spread rather than LSU. And UGA's offense might not be any more conducive to Heisman hype with Fields at the controls, either.) Fields' choice to leave Athens was his own, not Kirby Smart's or anyone else's. Still, as long as they're both aiming for the same lofty goals they're inevitably going to be linked and compared. If Ohio State winds up farther along the national title track in January, his departure is going to be relitigated in Georgia till kingdom come. (Last week: 3)
4. Kelly Bryant, Missouri
The Tigers are likely to be heavy favorites in each of their next 4 games ahead of back-to-back dates with Georgia and Florida in November, which could conceivably decide the SEC East crown … that is, if Missouri is eligible for the SEC East crown. In lieu of any on-field drama, the most suspense Mizzou fans can expect over the next few weeks is waiting on the NCAA to rule on the school's appeal to lift a one-year postseason ban. (Last week: 4)
5. Bo Nix, Auburn
Mississippi State's defense is a far cry from last year's fire-breathing unit, obviously. But just as obviously Nix is the next true freshman star in the making: His 16-of-21, 335-yard, 2-TD performance against the Bulldogs yielded the best efficiency rating (241.6) of any opposing passer against MSU in 2 years, as well as the highest grade according to ESPN's Total QBR (99.5) of any FBS quarterback in Week 5. Brutal schedule notwithstanding, Auburn is officially a contender. (Last week: 6)
6. Kellen Mond, Texas A&M
Mond's outing against Arkansas looks a lot better on paper (23-of-35, 251 yards, 3 TDs, 1 INT) than it did as it was happening, which may as well be his M.O. — respectable stat lines in losses to Clemson and Auburn obscured frustrating afternoons in those games, too, albeit for different reasons. If the Razorbacks had managed to pull off their comeback attempt in the closing seconds the conversation over the next 2 weeks (A&M is off on Saturday) would be about a team and a quarterback at the crossroads. As it is, the Aggies' chances of matching last year's 9-4 record are remote, to put it mildly. (Last week: 5)
7. Kyle Trask, Florida
Trask has been just fine in his first 2 starts against Tennessee and Towson, which is all the Gators have needed in a pair of routine blowouts. This weekend's visit from Auburn will tell us a lot more about how high they can realistically set their sights behind a guy who just a few weeks ago was still slated to be a career backup. (Last week: 7)
8. Tommy Stevens or Garrett Shrader, Mississippi State
The or is a nod to Stevens' health, which has prevented him from playing at anywhere near his full capacity since Week 2. In the meantime, Shrader has begun to come into his own, leading a 28-13 win over Kentucky in his first career start and salvaging an OK performance at Auburn after coming off the bench with the Bulldogs already face-down in a 21-0 hole in the 1st quarter. Stevens has an open week to get his shoulder right, and Shrader can still technically redshirt if he doesn't play in another game. (Third-stringer Keytaon Thompson, the projected starter before Stevens transferred in from Penn State, remains an option in a pinch.) But some MSU fans have seen enough to cast their lots with the freshman and the coaches might not be far behind. (Last week: 8)
9. Ryan Hilinski, South Carolina
A win is a win, but Hilinski struggled again in the Gamecocks' 24-7 victory over Kentucky, averaging just 5.2 yards per attempt while leaning on an uncharacteristically productive night from the Carolina ground game. On the bright side: Zero turnovers, a big improvement over his gaffe-filled effort at Missouri in Week 4. (Last week: 9)
10. Matt Corral or John Rhys Plumlee, Ole Miss
Ah yes, noted Olympic Hurdler, #OleMiss freshman John Rhys Plumlee pic.twitter.com/wAsUErCstq

— Nathanael Gabler (@nategabler) September 28, 2019
Corral's status for Saturday's game against Vanderbilt is uncertain, but what's the rush? Rebels fans have taken an instant shine to Plumlee, a true freshman who nearly led them back from a 2-touchdown deficit against Cal and showed no fear Saturday at Alabama in his first career start. Once Corral is cleared to return, Plumlee will most likely be restricted to a package role to take advantage of his athleticism — he ran for 109 yards in Tuscaloosa, which even on 25 attempts is no small feat — or (less likely) to redshirt purgatory to preserve a year of eligibility. If it's the latter, it would be a wasted opportunity. (Last week: 10)
11. Riley Neal, Vanderbilt
Neal has started all 4 games this season, doesn't appear to be in any immediate danger of being benched and just led the Commodores to their first win, a 24-18 decision over Northern Illinois. At this point in the rankings, that makes him a beacon of stability. (Last week: 12)
12. Sawyer Smith, Kentucky
Smith is the name here by default. But the reality, in the words of coach Mark Stoops, is that "everything is on the table," and he does mean everything.
Smith's status is in doubt due to a lingering shoulder injury that severely limited his effectiveness in losses at Mississippi State and South Carolina; he appears unlikely to practice at all this week ahead of an open date, and might not be ready for a must-win game against Arkansas on Oct. 12. The nominal backup, redshirt sophomore Walker Wood, has yet to see the field at UK. (Remember, Smith took over the job following a season-ending injury to starter Terry Wilson.) Instead, the Wildcats are seriously considering handing the reins full-time to one-man-show WR Lynn Bowden Jr., who replaced Smith in garbage time at South Carolina and immediately led UK's only touchdown drive of the game.
Bowden is (of course) a former high school quarterback, and not necessarily confined to the Wildcat: He completed 2 short passes against the Gamecocks and is 6-of-9 for 131 yards in his career on mostly trick plays. He has 2 weeks to get up to speed for the Razorbacks, a critical game for Kentucky's chances of getting bowl-eligible. (Last week: 11)
13. Nick Starkel or Ben Hicks, Arkansas
Hicks rallied the Hogs to a near-upset after Starkel was knocked out of the eventual loss at Texas A&M, flipping the script from earlier in the season when it was Starkel generating a fleeting spark in place of the ineffective Hicks. Coach Chad Morris has 2 weeks to sort it out. The pecking order for next weekend's trip to Kentucky might depend more on Starkel's availability than anything else, but their performances so far have offered little distinction. (Last week: 14)
14. Jarrett Guarantano, Tennessee
Guarantano is splitting reps evenly with a pair of true freshmen this week, setting him up to be the scapegoat of a lost season as the Vols pivot toward being less terrible in 2020. It's fast approaching the point where the healthiest result for everyone would be for Guarantano to finish his degree and then finish his career elsewhere. (Last week: 13)