SEC
Monday Down South: Bama is so good it's boring. But don't take the Tide for granted
Last week I described Alabama's 59-0 annihilation of Vanderbilt as a near-perfect performance, so in the spirit of constructive criticism let's start this week some of the aspects of Saturday's 66-3 win over Ole Miss that were somewhat less than perfect.
The Crimson Tide punted twice, for example, committed seven penalties and gave up 11 first downs. On the play before their first touchdown, QB Jalen Hurts threw what looked like a certain, drive-killing interception in the end zone, which was dropped. (Only one of his seven incomplete passes. My god, seven!)
Altogether the offense failed to convert 8-of-15 third-down attempts. The kicker missed a field goal. The defense gave up 101 yards rushing to Ole Miss' Jordan Wilkins, as well as a couple of long completions on an early Ole Miss drive — one of them the result of a missed tackle — that set up a short field goal for the Rebels. Those were the only three points Alabama allowed, but my friends, that's three points shy of perfection.
Seriously now. One of the ironies of Bama's reign of terror over the past decade is that it makes individual funeral processions like this one — and the previous one — almost impossible to appreciate in their own right, or even to watch. Collectively they add up to an era of dominance nearly unprecedented in the modern history of the sport; from one week to the next, all you can do is shrug and flip to something with a shred of drama.
At this point it's hard to imagine even the most enthusiastic Bama fans are actually entertained. Coaches have to come up with creative ways of manufacturing "disrespect" for a team that's been favored by Vegas to win 102 of the past 103 games it's played; no one else is under any such illusions. The prospective point spreads for Alabama's games against Tennessee and LSU have already expanded by 10 points in less than a week. If real life were a video game, this would be the stage in Dynasty mode when you're simulating to the end of perfunctory blowouts just to get back to recruiting.
When blowouts are par for the course, it's hard to convey why any one or two of them should register as distinct from any of the others. But even by Bama standards the team on display the past two weeks is brimming with historic potential: The 66 points the Crimson Tide hung on Ole Miss were the most by any Alabama team against any opponent since 1979, and marked the first time they'd scored 50 in back-to-back SEC games since World War II. (If they'd had any mind to, of course, the Tide could have threatened to hit triple digits in both.)
The defense held the SEC's No. 1 passing attack — an attack piloted by a 5-star quarterback and the deepest receiving corps in the league — to barely a third of its season average through the air and zero third-down conversions. Eleven Bama players accounted for points, only two of whom, Jalen Hurts and tight end Hale Hentges, were technically listed as starters.
For his part, Hurts accounted for 291 total yards and three touchdowns before halftime. The most interesting thing that happened after halftime, by far, was ESPN's cameras catching the strength coach confiscating some poor kid's smartphone on the sideline.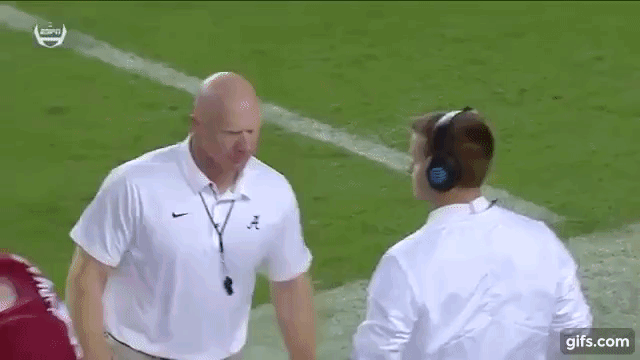 That's how engaging this game was to people observing it from a few feet away. For the rest of us, what's even the point? In the long run, this team is driven by the mission to avenge last year's championship loss to Clemson, and it's beginning to look more and more likely that it might get its chance — so far Clemson is the only team that appears to be playing anywhere near Alabama's level on a weekly basis.
The contours of that narrative are already beginning to take shape, so that by December the Bama-Clemson rubber match will come to feel like an inevitability. Maybe it is. Unless something outrageously unexpected happens in the meantime, though, all of the weekly postmortems between now and then will amount to coming up with original ways to say Bama's still Bama. Only more so.
NOTEBOOK
Around the conference.
Georgia 41, Tennessee 0
Of the two big-picture takeaways from this debacle, Butch Jones' fate at Tennessee is frankly less interesting to me right now than Georgia's continued emergence as a worthy counterweight to Alabama in the East. The rest of the league has been waiting for years for one of the East's "Big Three" to reassert itself on that level, and if the Bulldogs are the only viable contenders to actually follow through this season it says something that they're looking more and more viable by the week. Each game since their narrow road escape at Notre Dame in Week 2 has been another step forward from the last one, to the extent that earnest comparisons between Kirby Smart's new team and his old one don't seem automatically out of place.
Defensively, in fact, we may already be past the point where the similarities are harder to deny than to accept. Georgia's defense looks like Bama's, athletically, and on paper the results have been strikingly close: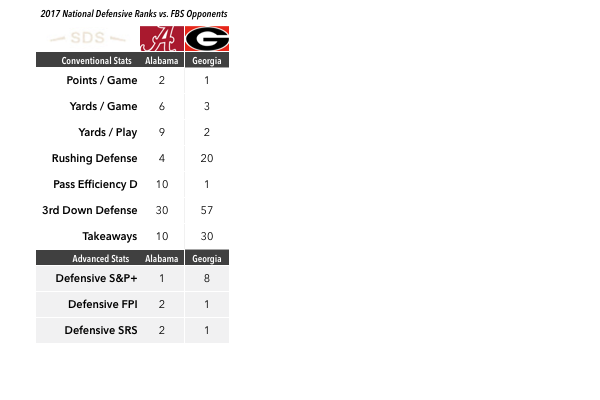 Alabama's been a little better against the run, Georgia slightly better vs. the pass. But in the major, overall categories — scoring defense, total defense, yards per play, two of the three advanced columns — the Bulldogs have been as good or better as any D in the country. They've gone 10 consecutive quarters vs. FBS offenses without allowing a touchdown, and given their next four games (against Vanderbilt, Missouri, Florida and South Carolina) that streak's not necessarily destined to end anytime soon. Barring some highly unexpected turn of events in Gainesville, the next challenge probably won't come until a Nov. 11 trip to Auburn, and it may well be the first.
Small sample size notwithstanding, the more obvious threat to Georgia's staying power in the national conversation is still the murmur of uncertainty at quarterback. Jake Fromm has been cool and composed beyond his years, and even on a subpar afternoon as a passer he found a way to singe a perfectly decent defense with his legs. Also like Bama, the Bulldogs have built a clear identity around patiently imposing their will in the running game, with the deep rotation of quality backs. Still, after his hyper-efficient outing against Mississippi State, the trip to Knoxville didn't do anything to alleviate concerns about Fromm's capacity to carry the torch if that identity begins to falter.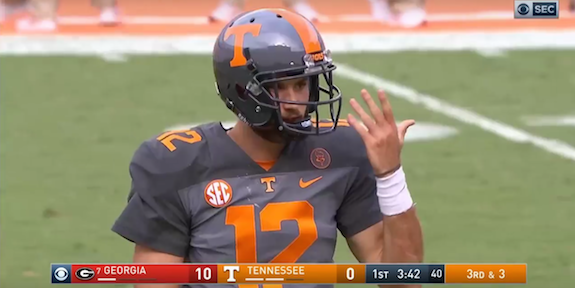 As for Butch, one of the sure signs of a coach on his last leg is that everything he says and does seems to carry the stench of impending doom, and Jones hasn't made this stage of the cycle any easier with some of his highly mockable rhetoric (i.e. touting the "championship of life" in lieu of any kind of championship related to football) and complaints about overwhelming negativity from the media. You know, when you decide to give a trash can a place of high prominence on your sideline, it had better translate into some wins. It has not.
A 41-0 trashing at the hands of an ascendant division rival, at home, does have the potential to go down as a point-of-no-return kind of loss, especially given the directions of the two programs. Last year, Tennessee was cast as the resurgent power on the verge of reclaiming its rightful place atop the East, and proceeded to blow its best shot in ages. This year, the Vols have clearly regressed even further while Georgia has given every indication that it's on its way to making good on the opportunity they just squandered.
The difference was so stark that I wasn't sure Jones would survive the weekend, and with a bye week ahead there's still a slim possibility he won't make it to the next one.
Assuming he's still in charge on the other side of the bye, UT's first game back against South Carolina feels like it's as close to an absolute must-win game for a coach as I can recall. After the Gamecocks, the Vols face a trip to Alabama that's likely to redefine "overwhelming negativity," followed by a trip to Kentucky in which they could arrive as underdogs. If things continue to go poorly against Carolina they're only going to get worse. And if the loftiest goal left to play for at that point is eking out a trip to the Birmingham Bowl — which might be the case already — what would be the point of leaving it to Bama to finish the job?
Troy 24, LSU 21
First of all, no, LSU isn't about to fire Ed Orgeron less than halfway through his first season as the full-time head coach. There's too much pride at stake to abandon ship so soon, not to mention the job of the guy who hired him on top of Coach O's own job. There's also the $12 million buyout.
But yes, any illusion that Orgeron was somehow a better fit for his dream school than he was during his disastrous tenure at Ole Miss should be good and shattered. As far as I'm concerned that much was clear enough two weeks ago, in a 37-7 flop at Mississippi State that looks even worse now in light of the Bulldogs' lame-duck efforts at Georgia and Auburn. If you were wiling to give him the benefit of the doubt, though … well, here we are, parsing the terms of Orgeron's buyout just five games in. If not for Mike Price's tenure at Alabama that would have to be a record for buyer's remorse.
There was nothing fluky about the Trojans' upset bid, either, which wasn't really as close as the final score: LSU had to rally for two late touchdowns just to make a game that Troy led 24-7 well into the fourth quarter look competitive. Those are the worst possible vibes to take into the meat of the schedule — Florida, Auburn and Alabama are on deck in the next four games — and the long-term implications are even more depressing. One of the most coveted jobs in the nation went to a defensive line coach who posted a 10-25 record in his only other stint overseeing an SEC program, and the first month of his tenure featured two historic losses to unranked underdogs. It's exactly as bad as it looks.
Auburn 49, Mississippi State 10 
Auburn was its best self Saturday on both sides of the ball: Offensively, the Tigers seamlessly balanced run (244 yards) and pass (267) with multiple big plays on both fronts, betraying no hint of the rash of injuries that left them shorthanded at running back; on defense, they consistently hounded Nick Fitzgerald, forced a pair of turnovers — including a pick-six — and shut the Bulldogs out in the second half. Jarrett Stidham turned in his best game in an Auburn uniform for the third week in a row, bringing him one step closer to full rehabilitation from the Week 2 debacle at Clemson. The defense remains the only FBS unit that's yet to allow more than 14 points in any game.
Meanwhile, in some respects the Clemson loss seems to have been largely forgiven — Auburn is up two spots this week in the updated AP poll, to No. 12, the same spot it occupied to open the season; the only higher-ranked team with a loss is Ohio State.
ESPN's Football Power Index gives the Tigers at least a 60 percent chance to win (and in most cases much higher) in every remaining game ahead of the Iron Bowl, including that critical Nov. 11 date against Georgia. As clearly as Alabama is the SEC's best team, Auburn and UGA have set themselves up nicely on the next rung down. If that's still the case a month from now then the conference race might actually have some late-breaking drama in it yet.
SUPERLATIVES
The best of the week…
Otaro Alaka, LB, Texas A&M. Alaka, a fourth-year junior, enjoyed easily his most productive game in an A&M uniform, finishing with career highs for solo tackles (7) and tackles for loss (5) in the Aggies' come-from-behind, 24-17 win over South Carolina. The latter number tied for the most TFLs in a single game by any FBS player this season, capped by a pair of takedowns in A&M's second-half sack parade on Carolina QB Jake Bentley.
Jalen Hurts, QB, Alabama. Hurts accounted for 298 total yards and three touchdowns against Ole Miss despite playing just one series in the second half, and even those numbers probably don't capture his full value to Alabama's offense as a decision-maker and running threat even when he doesn't keep the ball. (Although he did lead the team in rushing, again, with 101 yards on just 10 carries.) Bama is still the only FBS team that has yet to commit a turnover this season.
Minkah Fitzpatrick, DB, Alabama. Top honors on the other side of the ball go to the Tide's resident jack-of-all trades in the secondary, who was credited with a team-high eight tackles — two for loss, and all but one on gains of 5 yards or less. (The one exception came when Fitzpatrick tracked down a receiver following a rare missed tackle by a teammate.) His lone sack, in the second quarter, knocked Ole Miss out of plausible field goal range on third down and was arguably the play that pushed Alabama's win probability to 100 percent.
Roquan Smith, LB, Georgia. Smith led Georgia with 11 total tackles against Tennessee, more than twice as many as any other UGA defender, and was generally the most ubiquitous presence in holding the Vols to a season-low in rushing (along with every other conceivable category). More specifically, he also did this:
This dude Roquan Smith does not play around. pic.twitter.com/92td7tuqSJ

— Barton Simmons (@bartonsimmons) October 2, 2017
That's just viciously good, and it was as close as Tennessee came to scoring: The previous play was an interception by the UT defense that the set the offense up at the UGA 29-yard line with Georgia leading just 10-0; the next play was a fumble that ended the threat. The Vols only crossed midfield once more, long after it had been decided.
Jordan Sherit, Jachai Polite, Cece Jefferson and Jabari Zuniga, DEs, Florida. Officially, the Gators only managed to sack Vanderbilt's Kyle Shurmur once. In reality, their pass-rushing rotation combined to make Shurmur's afternoon miserable, racking up a dozen QB hurries – five credited to Sherit alone – and a steady dose of pressure in a reassuring 38-24 win. Add another sack by Zuniga that was waved off because he lost his helmet en route to the quarterback, and that's an unusually full day off the edge.
Carlton Davis, Javaris Davis and Jamel Dean, CBs, Auburn. Here, too, the Tigers' deep, relentless pass rush deserves much of the credit for shutting down Mississippi State, generating two sacks and 11 QB hurries. But the secondary more than held up its end of the bargain, breaking up as many passes as a team (12) as it allowed to be completed for positive yardage. Seven of those PBUs were credited to the starting corners, Dean and Carlton Davis, with Javaris Davis adding two more off the bench to go with his game-clinching pick-six.
Fat Guy(s) of the Week: Keaton Sutherland and Connor Lanfear, Texas A&M. A&M's offensive line was solid enough against South Carolina, clearing the way for 237 yards rushing while allowing just one sack. But that's only true because of a fourth-quarter surge that absolved the mediocrity of the first three, and the surge wouldn't have been possible without the steady work of the Aggies' junior anchors on the right side.
I'm going to highlight four key plays from A&M's game-tying and go-ahead drives down the stretch, beginning with Sutherland (No. 78, at right tackle) and Lanfear (70, right guard) combining to pick up a twist on a 2nd-and-17 pass that allowed freshman QB Kellen Mond to step up in the pocket and deliver a strike for a key first down inside the Carolina 20-yard line:
Two plays later, blocks from Sutherland and Lanfear helped to open up a vast swath of grass for Mond to gallop untouched into the end zone …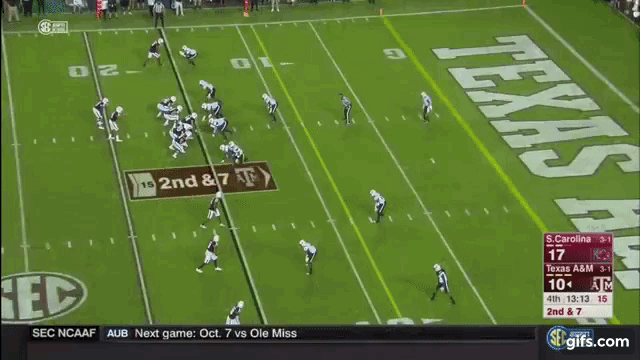 … and then, after the apparent TD was negated by a dubious targeting penalty at the goal line, to pave the way for Keith Ford to finish off the drive in hard-charging fashion: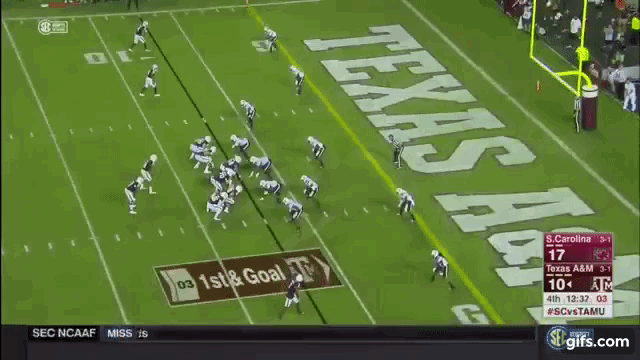 On the Aggies' next possession, Ford put the exclamation point on the comeback by running right again, this time cutting back into a massive lane created by a pair of down blocks by Sutherland and Lanfear that buried two overaggressive, would-be run stuffers a yard deep in the backfield: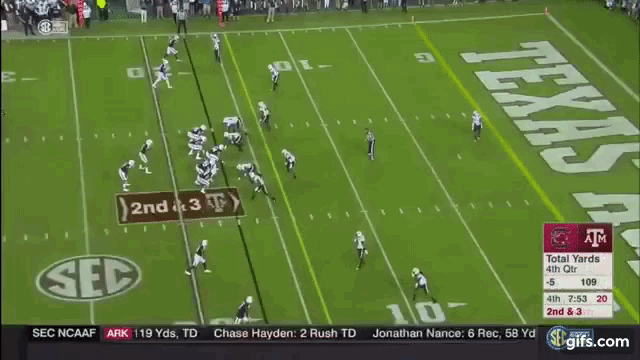 After some early shuffling, A&M has opened the past two weeks with the same starting five in the same positions, and achieved nearly identical results. As well as the current iteration has executed in tandem, Kevin Sumlin should do everything in his power to keep it that way.
Honorable Mention: Auburn OL Braden Smith, who threw the key block to spring a long run on the Tigers' first series against Mississippi State and went on to earn a 100 percent pass-blocking grade from Pro Football Focus.
DEMERITS
…and the worst.
DaMarkus Lodge Waves the White Flag. Most of Bama's victims can take solace in the fact that at least they were outmanned by a more talented opponent, and generally speaking Ole Miss can, too. But that certainly wasn't the case on the Crimson Tide's second touchdown against the Rebels, a pick-six involving a blue-chip quarterback, Shea Patterson, firing a slant pass to blue-chip wide receiver, Damarkus Lodge, who happened to be covered by a former walk-on, Levi Wallace. Patterson's pass was bad, coming in early and off-target despite good protection. But Lodge's effort in response was a picture of a man who had already conceded defeat: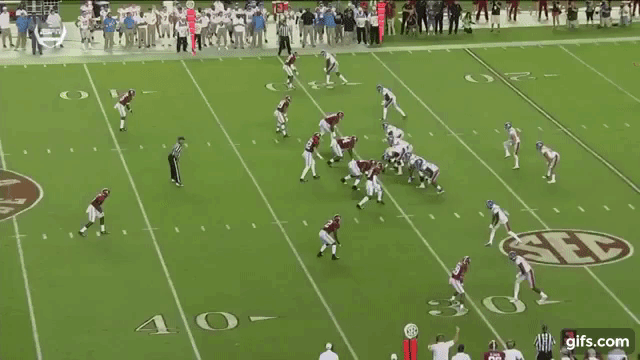 At that point Alabama led 7-0 on the heels of its first touchdown (which, again, immediately followed a dropped interception by Ole Miss); Wallace's return gave Bama a 14-0 edge less than a minute later, and the rout was on. In fairness, Lodge went on to bring in both of the Rebels' longest receptions of the game, covering 37 and 35 yards, respectively, and after the game offensive coordinator Phil Longo defended his apathy on the interception by explaining Lodge didn't realize the pass had been picked off. Based on the tape, if he didn't know, it's only because he didn't seem very interested.
LSU In the Trenches. Every aspect of LSU's loss to Troy deserves a red card, from the athletic director on down to the kicker. But nothing was more shocking in the final box score than the disparity on the ground, where the Trojans outrushed the Tigers, 206 yards to 162 — a better output in terms of both yards (not including negative yardage on sacks) and yards per carry than any opposing offense managed against LSU in 2016, including Alabama, Auburn, or Louisville. It was Troy's best rushing effort against an FBS defense — seriously, any FBS defense — since 2014.
Almost all of the damage was inflicted by the Trojan's All-SBC tailback, Jordan Chunn, who went for 191 yards on 6.4 per carry, the biggest chunk of that coming on a 74-yard gain to open the second half. They converted that into a touchdown to extend their lead to 17-0, at which point LSU's own ground game largely ceased to be relevant. A healthy Derrius Guice would have helped on one side of the equation; on the other, there's no excuse.
Blown Call of the Week: Premature whistle punks Mississippi State. It wouldn't have made any difference in the end, but it certainly didn't help the Bulldogs' cause when officials blew an apparent first-quarter fumble by Jarrett Stidham dead too soon, negating a would-be touchdown return by MSU's Montez Sweat — in a 7-0 game, no less — on the grounds that this somehow constituted an incomplete pass:
Officials did correct the call on replay, duly awarding Mississippi State possession at the spot of Sweat's recovery on the Auburn 32-yard line. Because a whistle stopped the play, though, the return was ignored; MSU's offense subsequently stalled out, settling for a 40-yard field goal that cut the deficit to 7-3. In a game that went on to end 49-10, four points in the first quarter is a footnote. In the moment, though, it's a wonder Dan Mullen wasn't even more incensed than he already was.