SEC
Saturday Football: Georgia QB battle, Playoff long-shots and Week 1 fun
The Saturday Football newsletter goes out to subscribers up to 3 days a week and discusses the major events going on around the nation in college football. You can subscribe by clicking here.
Good morning and happy Monday! There was actually college football Saturday! All was right in the universe for a while. And, in even better news, BYU and Navy play tonight to end your Labor Day Weekend on a high note. Then, there's a full slate of action next weekend, including games involving ACC and Big 12 teams.
In today's newsletter, we'll dive into the Georgia QB battle, which was made much more interesting last week. We'll also break down some of the interesting things that happened in Week 1 games and provide some recruiting updates. Let's get started!
GEORGIA QB BATTLE
Georgia's QB situation is in flux after Jamie Newman opted out. What's the latest on the Bulldogs' battle?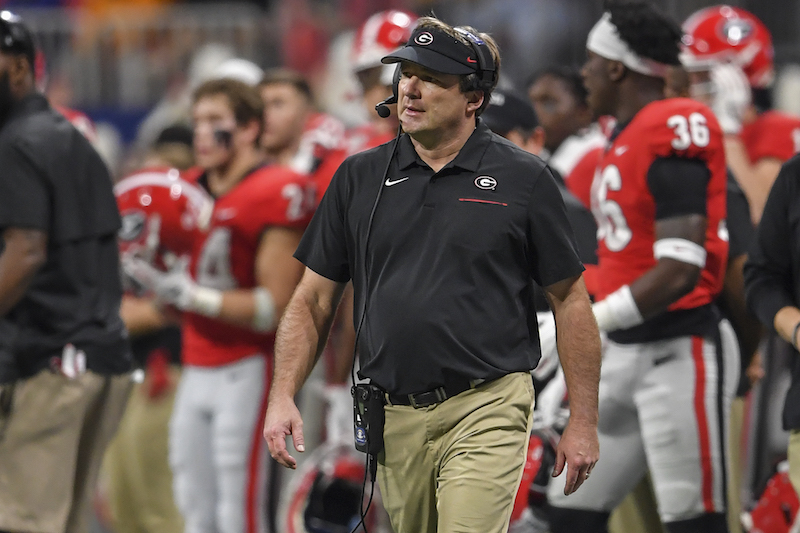 In last Wednesday's newsletter, we put together an SEC East preview. Well, as things sometimes happen in the world of journalism, that section was relevant for approximately 3 hours on Wednesday morning. That's because that was the day that news broke about Georgia graduate transfer QB Jamie Newman opting out of the 2020 season.
The former Wake Forest standout was expected by many to be the Bulldogs' Week 1 starter, but now it's back to the drawing board. So, what's the latest out of Athens? Let's take a look at some of the fallout from Newman's opt-out decision:
First, it's important to acknowledge that Newman's decision is reasonable. In these COVID-19 times, schools and coaches are doing all the right things to support players who are deciding to opt out. Kirby Smart said in a statement that Newman "will always have a home at UGA." Saturday Down South's Connor O'Gara put together a list of 5 takeaways from Newman's decision, including how it impacts the SEC East race.
Now, the QB battle is on between D'Wan Mathis and JT Daniels. Daniels is a transfer from USC and Mathis is a redshirt freshman who signed with Georgia in the 2019 class. Want to know more about both of those guys? Saturday Down South's Georgia columnist, Sydney Hunte, broke down 10 things to know about Daniels. He also put together a list of 10 things to know about Mathis.
So, the big question is — who has the edge at the moment? Well, that's not exactly clear. After Saturday's scrimmage, Smart said both Mathis and Daniels took first-team reps. Meanwhile, freshman Carson Beck worked with the second unit. Making things even more difficult is the fact that Daniels still hasn't been cleared for full contact after tearing his ACL last year. Smart does anticipate Daniels will be cleared before Week 1, though. Want an outside-the-box option? Well, after Newman's decision became official, Ohio State QB (and former Georgia QB) Justin Fields' name started trending on Twitter. Clearly, there are some fans out there who wouldn't mind seeing Fields return to Athens.
Newman's opt-out is one of the most impactful in the country thus far. Yes, Georgia has some intriguing options moving forward, but with Daniels' health still uncertain, it will be a QB battle worth monitoring. If the Bulldogs get off to a slow start, it will be difficult to win a 4th consecutive SEC East title.
TOP 2021 RECRUITING CLASSES
The 2021 recruiting cycle is still going strong. Many players in the class are starting their senior seasons, though others have had their football postponed until spring. However, colleges are still recruiting, so decisions are being made by top players every week.
So, which teams are putting together the best 2021 recruiting classes? Here's a look at how the top 10 classes stack up as of Sunday evening (via the 247Sports composite rankings):
Ohio State — 19 players, 4 5-stars, 12 4-stars
Alabama — 20 players, 4 5-stars, 11 4-stars
LSU — 18 players, 0 5-stars, 14 4-stars
Clemson — 15 players, 1 5-star, 13 4-stars
Oregon — 18 players, 1 5-star, 12 4-stars
Tennessee — 26 players, 1 5-star, 11 4-stars
Florida — 24 players, 0 5-stars, 13 4-stars
Miami — 22 players, 2 5-stars, 10 4-stars
Michigan — 21 players, 1 5-star, 10 4-stars
USC — 18 players, 0 5-stars, 13 4-stars
Which schools will make big moves over the next few weeks? We'll update this again in October, so check back then!
GOOD READS
COLLEGE FOOTBALL PLAYOFF LONG-SHOTS
This year could see some surprise teams make the Playoff. Which teams are good long-shot candidates?
The 2020 season is going to be unlike any season we've seen in our lifetimes. Between a pandemic that continues to make headlines around the globe and conference-only schedules for some leagues, things are going to be a lot different.
So, it stands to reason that the College Football Playoff could feature some surprise teams, too. Playoff dark horses have been a hot topic in recent days. Let's dive into some top analysts' Playoff picks here:
On College GameDay on Saturday, Desmond Howard's picks raised eyebrows. The first three teams on his list — Alabama, Clemson and Oklahoma — won't surprise anyone. But, his 4th team was Cincinnati out of the AAC. That, if it came true, would be the first time a Group of 5 team has ever made the Playoff field. Earlier in the show, Howard, David Pollack, Chris "Bear" Fallica, Kirk Herbstreit and Rece Davis picked their long-shot Playoff candidates, which featured 3 SEC teams, an ACC squad and a Big 12 sleeper.
Davis, who picked Texas A&M, isn't the only one high on the Aggies. During the Marshall-Eastern Kentucky game, ESPN broadcaster Andre Ware agreed with Davis, explaining why he thinks A&M can take home the 2020 title.
When it comes to the title game, though, familiar faces are expected to contend. In that College GameDay piece above, each panelist picked either Clemson or Alabama to win the title. And, in a poll of 14 additional ESPN experts, the Crimson Tide or Tigers were named champions by everyone.
It's possible that we see a very chalky year, with top teams like Alabama, Clemson, Georgia, Oklahoma and Notre Dame making up the field in some combination. However, if we were going to see some utter chaos, 2020 is the year it could happen. We'll start finding out a lot more about the Power 5 teams next weekend!
JUST FOR FUN
Of the 130 FBS programs in the country, only 13 have nicknames that don't end in the letter "s." Can you name those 13 teams?
Scroll down to see the answers to today's quiz.
WEEK 1 HIGHLIGHTS
Saturday's slate of games featured a couple of blowouts and a nail-biter. What were the best moments?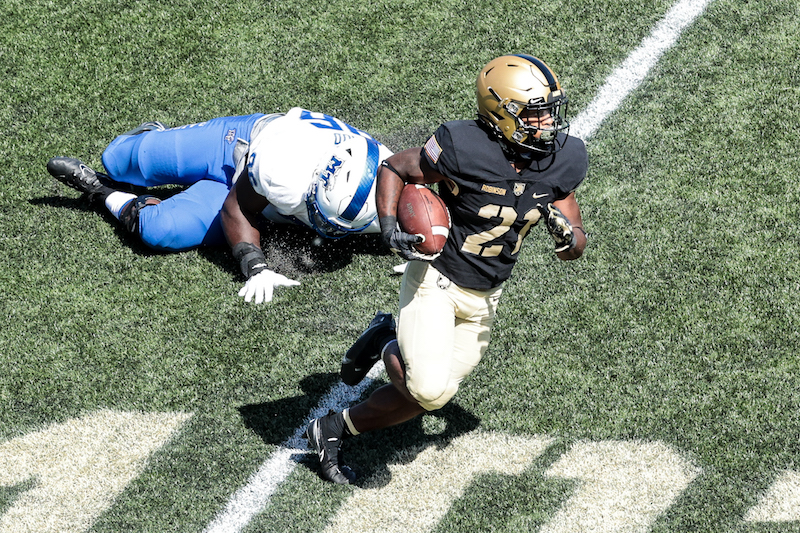 Saturday featured some FBS action throughout the day. It wasn't the Week 1 we were expecting to have prior to the COVID-19 pandemic, but it was better than many expected over the past couple of months. Seeing teams like Army and Middle Tennessee square off and Marshall and Eastern Kentucky share the field was just what many fans needed to see, even if the games were blowouts.
Still, as we prepare for tonight's BYU-Navy showdown, it's worth looking back at some of the best moments from Saturday's action. Here are some noteworthy items that took place:
As mentioned above, the two early games were complete blowouts. Army shut out Middle Tennessee 42-0 and Marshall walloped EKU 59-0. Middle Tennessee certainly wasn't helped by some awful clock management at the end of the first half. It's only Week 1, and the Power 5 conferences haven't played any games yet, but it's going to be tough to top this bizarre sequence that cost Middle Tennessee a chance to score before halftime. The Blue Raiders were treated to a heavy dose of Army RB Sandon McCoy in the first half, as he scored the Black Knights' first three touchdowns. This was touchdown No. 3. Army also put together an incredible, 19-play, 99-yard drive that took 12:26 off the clock.
Saturday afternoon saw a better game between SMU and Texas State. It also saw Texas State WR Jeremiah Haydel make an early submission for catch of the year. Watch here as he makes a spectacular one-handed grab with an SMU defender all over him just before halftime. SMU got the last laugh though, and certainly enjoyed a first-half turnover. This "Club Take Away" celebration was quite elaborate.
So, do you want to make sure you didn't miss anything from Saturday? Well, you're in luck. ESPN's Dave Wilson put together a list of all the interesting things that have taken place over Week 1. From College GameDay oddities to the Iowa Wave continuing, it's a thorough recap of the college football action that took place from Thursday to Saturday.
This weekend was just an appetizer, too. Next weekend, Big 12 and ACC teams kick off their seasons. Then, on Sept. 26, the SEC joins the fun. We'll see what next weekend's openers bring to the table in terms of interest, upsets and exciting plays.
ANSWERS
Here are the answers to today's FBS nicknames quiz. The 13 teams with nicknames that don't end in "s" are:
Alabama Crimson Tide
Illinois Fighting Illini
Marshall Thundering Herd
Navy Midshipmen
NC State Wolfpack
Nevada Wolfpack
North Texas Mean Green
Notre Dame Fighting Irish
Stanford Cardinal
Syracuse Orange
Tulane Green Wave
Tulsa Golden Hurricane
UMass Minutemen
QUOTE OF THE DAY
"I heard Paul Finebaum talking about Vanderbilt. He didn't think they could win 1, he said. To tell you the truth, I don't know how they're going to win 1. Because they don't have Arkansas on the schedule."
— Former Florida and South Carolina coach Steve Spurrier continues to be the master of the zinger. His latest troll job got both Vanderbilt and Arkansas. Never change, Head Ball Coach.
TWEET OF THE DAY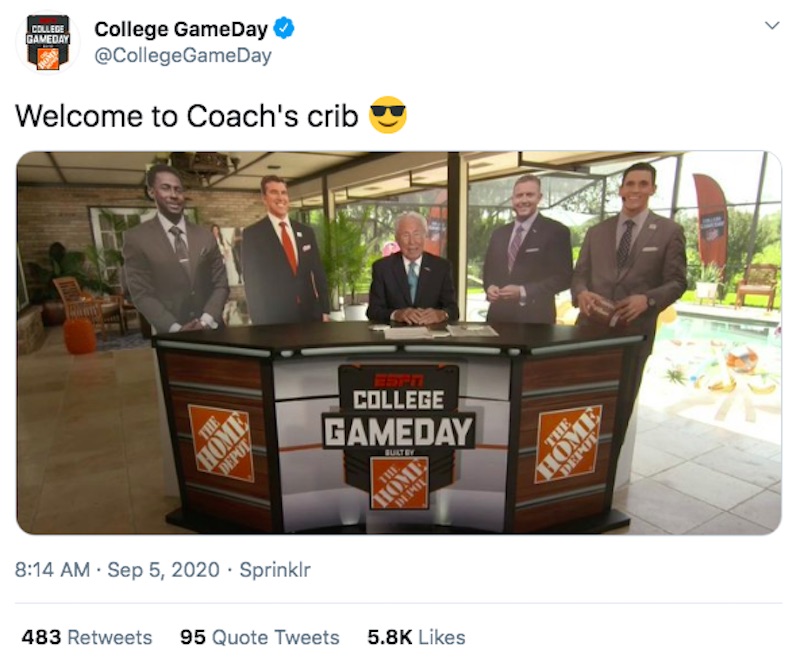 Saturday's edition of College GameDay on ESPN was a virtual affair, but the legendary Lee Corso made sure to have some friends close by. You can see his incredible setup in the tweet above. Fortunately, the real-life versions of Desmond Howard, Rece Davis, Kirk Herbstreit and David Pollack have a bit more to say than their cardboard counterparts.