SEC
Week 8 SEC QB Power Rankings: Jake Fromm has as much to prove as ever
Quarterbacks: There are a lot of them! Each week throughout the season, SEC QB Power Rankings will help you keep the game's most important position in perspective by ranking the SEC starters 1-14 according to highly scientific processes and/or pure gut-level instinct. Previously: Week 1 … Week 2 … Week 3 … Week 4 … Week 5 … Week 6 … Week 7.
1. Tua Tagovailoa, Alabama
Texas A&M threw a lot against the wall against Tagovailoa in obvious passing situations, some of which actually worked. Blitzing on 3rd-and-10?
You think Tua likes the slant route? pic.twitter.com/5U5TWmqab0

— CBS Sports (@CBSSports) October 12, 2019
Not so much! Who could have guessed. The win in College Station marked Tua's 11th career game with at least four touchdown passes and his fifth of the season.
Tank for Tua Watch: The Miami Dolphins took a commanding lead in the race to the bottom of the NFL standings on Sunday with a dramatic, 17-16 "loss" vs. Washington, an historic battle of winless and hopeless teams decided on a failed 2-point conversion. (Or … uh, wildly successful 2-point conversion? Is it a failure if you're actively trying to lose?) That left the Phins with an incredible 89 percent chance of landing the No. 1 overall pick in the 2020 NFL Draft, according to ESPN's Football Power Index — vastly better than the league's only other winless team, Cincinnati, which has just a 6.7 percent chance despite a miserable, 0-6 start of its own. The Bengals' Week 16 trip to Miami looms impossibly large. (Last week: 1)
2. Joe Burrow, LSU
It says a lot about Burrow's dominance over the first half of the season that he's graduated from a "moxie" guy to a mainstay in the Heisman race in the span of 6 weeks. Saturday's 24-of-27, 293-yard, 3-TD effort against Florida left him slightly ahead of Tagovailoa and Jalen Hurts as the national leader in pass efficiency; in the specific components that make up that metric he's 1st in completion percentage, 2nd in passing yards, 2nd in yards per attempt, and tied for 2nd in touchdowns, where he's just 3 off the single-season LSU record. (Last week: 2)
3. Jake Fromm, Georgia
Georgia obliterated the Fromm Line against South Carolina, putting the ball in the air 51 times en route to a double-OT defeat and an existential crisis over the state of the offense as a whole. You know the drill here: The Bulldogs are 29-1 over the past 3 years when Fromm comes in under 30 attempts and 0-5 when he goes over.
That still says more about UGA's preferred style of play than it does about Fromm himself — he throws more when the team struggles, not the other way around — but it hardly seems like a coincidence that the most pass-happy outing of his career was also the worst. The only comparable performance from an efficiency standpoint was last year's mid-October loss at LSU, in which Fromm was sacked 4 times, picked twice, and ended with a career-low passer rating of 96.6; on Saturday, he went down 3 times with 3 picks, including his first career pick-6 under heavy pressure, with a 98.2 rating. He averaged just 5.8 yards per attempt, narrowly missing a new career low, and managed just one completion of 20 yards or more. He blew a key scoring opportunity on a fumbled snap.
Still, even Fromm's worst day was a long way from a meltdown. Not all of the INTs were his fault: The pick-6 was a disaster, but the second looked like a busted route by the intended receiver, and the third hit WR Tyler Simmons in the hands. Neither resulted in points for South Carolina. The majority of his completions (18-of-28) went for 1st downs, including 8 3rd-down conversions. With his back against the wall late, he engineered his first 4th-quarter comeback drive, a 96-yard march that evened the score with less than 2 minutes to play.
In many ways, Fromm is in one of the best positions of any FBS quarterback, surrounded by a team that doesn't need him to smash records to win a championship. In other ways, though, it's unforgiving: Because he's not an awe-inspiring talent or Heisman-level star on the order of Tagovailoa or Trevor Lawrence, the rare losses tend to come with more loaded questions about his ceiling. Does he really have what it takes to take Georgia all the way? Last year, the midseason loss at LSU sparked a brief but very real debate over whether ludicrously talented backup Justin Fields deserved a shot at supplanting Fromm; this year, Fields' emergence as a bona fide dude at Ohio State has only raised the stakes.
All of the Bulldogs' big-picture goals are still intact, albeit with a zero margin for error the rest of the way. But the sinking feeling in Athens this week isn't only because the path to a championship is narrower than it was last week. It's also because of the nagging suspicion that their best chance at winning it all is playing for another school. (Last week: 3)
4. Kelly Bryant, Missouri
Through 6 games, Bryant is running the ball slightly less often than he did at Clemson, and not nearly as successfully. As a passer, though, his output has largely improved, especially in terms of yards per attempt, touchdown rate, and generating big plays in general: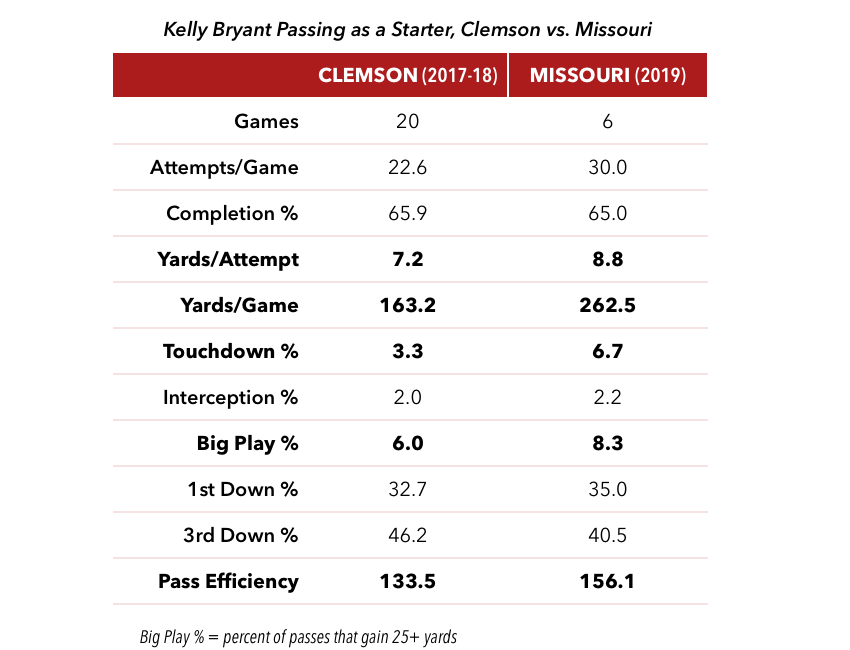 Granted, the right-hand column is a small sample size against uninspiring defenses. But the Tigers have cruised in every game since the opening-night stunner at Wyoming and Bryant looking the part is a big reason why. (Last week: 4)
5. Kellen Mond, Texas A&M
The first half of A&M's season was a clear disappointment, not so much for the 3-3 record itself as for the fact the Aggies came a lot closer to losing to Arkansas than they did to winning any of their 3 measuring-stick games against Clemson, Auburn and Alabama. Mond, of course, has shouldered his share of the angst from the fan base. But he's also shouldered a larger individual share of his team's total output than any other SEC quarterback to date, and more than all but a handful of players nationally: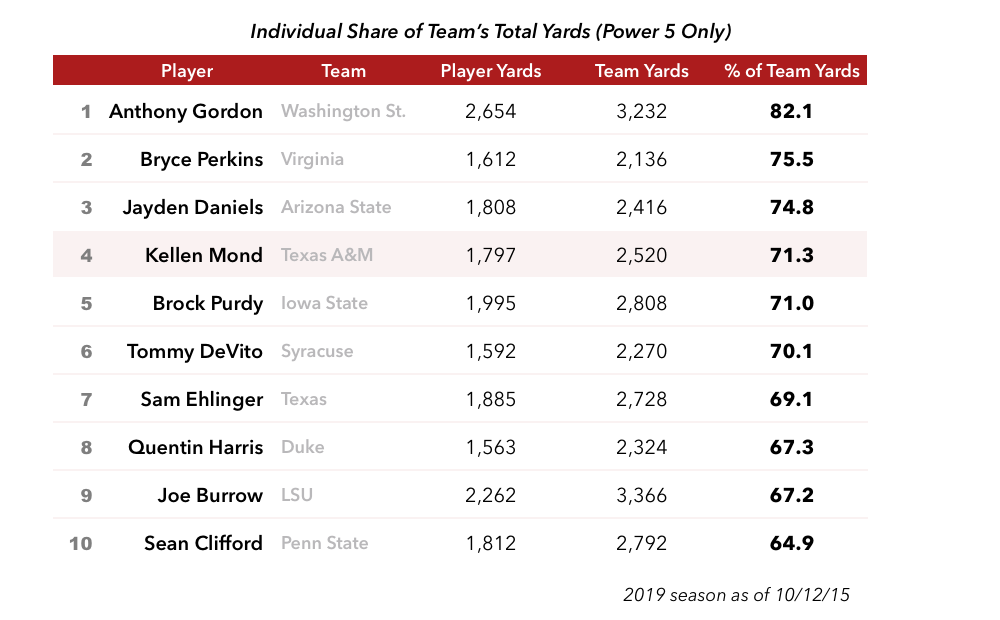 And even that number is misleading: Outside of a couple token blowouts against Texas State and Lamar, Mond's share has been so high — 82 percent at Clemson, 92 percent against Auburn, 78 percent against Arkansas, 91 percent in Saturday's loss to Alabama — that he's functioning essentially as the entire offense in a system that's ostensibly built for balance.
A big part of that trend is that A&M has trailed big in each of the 3 losses and has been forced to abandon the running game early in an effort to throw its way out of a hopeless deficit. A big part of that trend, though, is that outside of Mond himself, the running game has ceased to exist in the first place. The Aggies lost their top back, Jashaun Corbin, to a season-ending injury in Week 2; in the 3 games since (excluding Lamar), the running backs have produced a grand total of 112 yards rushing on a pathetic 2.7 per carry. Adjusting for negative yardage on sacks, Mond nearly matched that number against Bama alone.
The really frustrating part is that the talent in the passing game is obvious. Jhamon Ausbon, Quartney Davis and Kendrick Rogers are impressive, veteran weapons who are good for at least 1 or 2 jaw-dropping plays per week. Mond has all the tools. But it's all been too little, too late: 8 of their 11 scoring drives in the losses have come with A&M already trailing by double digits. And they have all been drives, spanning somewhere between 6 and 16 plays apiece against defenses that feel free to tee off on Mond. (He's absorbed 15 sacks on the season, most in the SEC, and countless other hits.)
The upcoming stretch against Ole Miss, Mississippi State, UT-San Antonio and South Carolina is the opposite of a murderer's row ahead of season-ending/defining trips to Georgia and LSU — the perfect opportunity to get in sync with the idea of making comeback mode the offense's default setting. (Last week: 5)
6. Kyle Trask, Florida
Trask was impressive in the Gators' loss at LSU, both statistically (23-of-39, 310 yards, 3 TDs, 1 INT) and in terms of It Factor intangibles in a high-pressure, high-profile setting. He held serve opposite Joe Burrow in the first half, leading three methodical, 75-yard touchdown drives that left the game knotted at halftime and led another long march out of the locker room that put Florida up 28-21 early in the 3d quarter.
There were a couple of turning points. The first came later in 3rd, after LSU scored to go up 35-28 and Florida responded by … taking the ball out of Trask's hands. Instead, Dan Mullen gave backup/Wildcat Emory Jones a full series in a back-and-forth, every-possession-counts kind of game to do this:

The second came on Florida's next series, at the end of another marathon drive that put the Gators within spitting distance of tying the score at 35 midway through the 4th quarter … at which point Trask made his first really costly mistake of the season:
Derek Stingley Jr comes up CLUTCH and LSU opens up a two-score lead on the Gators!

(Via @ESPN)pic.twitter.com/zxxkXRUX9N

— PFF College (@PFF_College) October 13, 2019
LSU scored 4 plays later to extend its lead to 42-28, game effectively over. But whatever doubts still existed about Trask's transition from career back-up to full-time starter should be resolved. Combined with Georgia's loss earlier in the day, the Gators' chances of crashing the SEC title game arguably improved. (Last week: 6)
7. Bo Nix, Auburn
Nix got an extra week to marinate in the aftermath of his reality-check performance at Florida, but if there's one thing the freshman definitely does not lack it's confidence. And even if he did, a trip to Arkansas is exactly what doctor ordered to get it back. (Last week: 7)
8. Matt Corral and John Rhys Plumlee, Ole Miss
Corral and Plumlee alternated throughout the Rebels' at 38-27 loss at Missouri, and from the sound of it there's no plan to end the rotation any time soon.
On paper, they make for an interesting tandem with complementary skill sets — Corral the more polished passer, Plumlee the more dynamic athlete. In practice, the offense has clearly responded to Plumlee: In 3 games he's accounted for 8 touchdowns, including 3 TDs at Alabama and all 4 of the Rebels' scores at Mizzou; in between, he was the catalyst of Ole Miss' first 400-yard rushing performance vs. an SEC opponent in 40 years in a blowout win over Vanderbilt. And while he is notably less consistent than Corral as a down-to-down passer, he's been more willing to push the ball downfield, resulting in more big plays — by land and air — on fewer snaps.
Ole Miss still hanging around! John Rhys Plumlee 40 yards to the house!!pic.twitter.com/EJgAorFhSG

— #BusinessIsSuspended (@FTBeard11) October 13, 2019
It's understandable that coaches feel invested in Corral, a major recruit who redshirted last year as the heir apparent to Jordan Ta'amu and opened this year as the unquestioned starter. At this rate, though, it won't be much longer before the decision is made for them. (Last week: 9)
9. Garrett Shrader, Mississippi State
Speaking of decisions: After a month of hemming and hawing, Joe Moorhead is officially casting his lot with Shrader, the high-flying freshman, over grad transfer Tommy Stevens, who hasn't looked comfortable (or finished a game) since suffering a shoulder injury in Week 2. Moorhead acknowledged this week that Saturday's 20-10 loss at Tennessee — coming on the heels of an equally deflating loss at Auburn — was a low point that demands some kind of shake-up in response. Shrader might not be that, exactly, but if nothing else he has a chance to be part of a plausible long-term plan. (Last week: 8)
10. Ryan Hilinski, South Carolina
Hilinski delivered South Carolina's only offensive touchdown against Georgia, a 48-yard bomb to Bryan Edwards in the 2nd quarter, and watched the rest of the upset from the bench due to a sprained knee. His replacement, redshirt freshman Dakereon Joyner, took a punting-is-winning approach — the Gamecocks didn't come close to scoring in regulation after Hilinski's injury, but didn't commit a turnover, either, forcing UGA to start all 5 of its second-half possessions inside its own 25-yard line. Helmet stickers for everyone; now let's get Hilinski back as soon as possible. (Last week: 10)
11. Brian Maurer or Jarrett Guarantano, Tennessee
Have a feeling this is why Brian Maurer was hurting. Immediately grabbed head/neck. #Vols pic.twitter.com/LDIKnjzRHc

— Trey Wallace (@TreyWallace_) October 12, 2019
Maurer has practiced this week after leaving the Vols' win over Mississippi State with a concussion and is "going to be fine" for this weekend's trip to Alabama, per Jeremy Pruitt. The more relevant question might be whether he's going to be fine after this weekend's trip to Alabama. A little discretion with a promising young player who's already been knocked out of 2 consecutive games might be in order. (Last week: 11)
12. Sawyer Smith, Kentucky
Smith sat out the Wildcats' win over Arkansas due to a lingering shoulder injury, yielding to all-purpose dynamo Lynn Bowden Jr., who went on to share SEC Offensive Player of the Week honors with Joe Burrow after accounting for 274 yards (196 rushing, 78 passing) and 3 touchdowns in his first college start behind center. I wouldn't count on Smith getting Wally Pipp'd: The updated depth chart lists Smith and Bowden as co-starters for this week's trip to Georgia, which is (a) not Arkansas, and (b) not going to be taken by surprise by Bowden after his heroics against the Hogs. Bowden will get his touches in a Wildcat package, but health pending, Smith remains the incumbent. (Last week: 13)
13. Nick Starkel or Ben Hicks, Arkansas
Starkel and Hicks played at Kentucky and will continue to split snaps this weekend against Auburn, for whatever it's worth. Given how little difference there's been between them this season, that's probably not very much. (Last week: 14)
14. Riley Neal or Deuce Wallace, Vanderbilt
The Commodores' 34-10 loss to UNLV was a point-of-no-return moment that almost certainly spells the end of the Derek Mason era in Nashville. Neal has started all 6 games this season, and Wallace has played extensively in all but 1; whoever gets the nod going forward will be manning the wheel of a sinking ship. (Last week: 12)