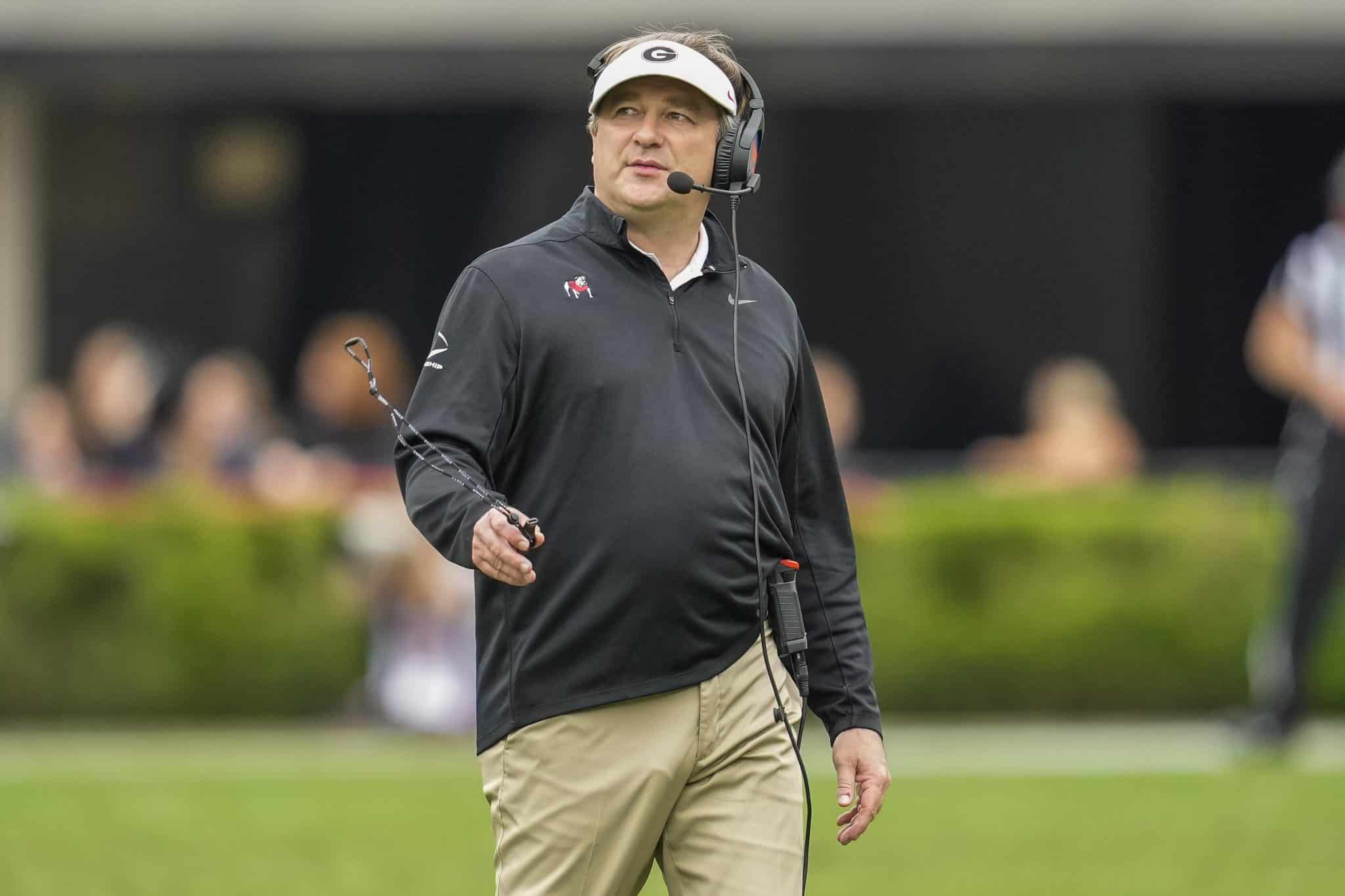 SEC
Week 1 SEC Primer: Oregon comes to Atlanta with familiar faces. Georgia aims for familiar results
Breaking down the rest of Labor Day weekend's SEC slate.
The stakes:
New season, new players, new coaches, new questions. The opener isn't a defining game for either team's season, but it will go a long way (especially for Oregon) toward calibrating expectations.
Oregon is at a crossroads, both on the field and on a larger existential level. There's a new head coach, ex-Georgia defensive coordinator Dan Lanning, and a new quarterback, Auburn transfer Bo Nix, who will be front and center on Saturday night in the Ducks' bid for national relevance. In the background, there's also the big, looming question of which side of the great realignment divide Oregon will land on over the coming years, which takes the concept of national relevance to a whole other level.
Under Lanning's predecessor, Mario Cristobal, the Ducks reasserted themselves as West Coast powers, but never quite got all the way the back to the heights of the Chip Kelly years, when the offense was elite, the Nike U brand was fresh, and a national championship seemed imminent. Cristobal topped out at winning a watered-down version of the Pac-12. And his decision to leave for Miami last December, just 4 years after Willie Taggart's decision to leave for Florida State, was another signal that the program has peaked an inch or two short of the summit. If the Big Ten decides against adding Oregon to its burgeoning coast-to-coast empire — preliminary discussions are reportedly underway, with different factions within the B1G aligning on different sides of the question — that will be the final verdict.
New DraftKings users can claim this promo code and be eligible for a $200 bonus on any college football game. Simply place a $5 wager on any game to win an instant bonus of $200. That's right, bet $5 on any week 1 college football or NFL game, and DraftKings will give you $200. Click here to get started.

DRAFTKINGS SPORTSBOOK
21+ and present in participating states. Gambling problem? Call 1-800-GAMBLER.
NEW USER BONUS
BET $5, GET $200
IN BONUS BETS!
That's a much too lofty, long-term dynamic to be swayed by the outcome of one game, even if it's a high-profile upset of the defending national champs. But to the extent that Oregon's national rep matters, and to the extent that Oregon's national rep depends on sustained playoff runs, and to the extent that sustained playoff runs hinge on winning big games like this one, well, it certainly can't hurt. Taken along with last year's upset at Ohio State, beating Georgia in Lanning's debut would be a statement.
By comparison, Georgia's questions are downright pedestrian. Routine stuff, like how do you replace 6* first-round draft picks (plus the coordinator) from arguably the most revered college defense of the past 25 years? In the Bulldogs' case, the old-fashioned way: With a surplus of blue-chip recruits at every position. Ten of last year's top 14 defenders in terms of snap counts moved on, but the holdovers (Jalen Carter, Kelee Ringo, Nolan Smith and Christopher Smith) are all preseason All-America types with first-round potential in their own right, and as always the next generation is the cream rising from a series of decorated recruiting classes. The Bulldogs didn't add a single player in the transfer portal, which should tell you all you need to know about guys like Zion Logue, Jamon Dumas-Johnson and Kamari Lassiter. They still have to prove it, but hey, that's what opening night is for.
(*I'm counting Nakobe Dean in this number and always will.)
The stat: 4.3 yards per attempt
That's the difference in Georgia QB Stetson Bennett IV's average gain in 2021 on play-action passes (12.8 ypa) vs. non-play-action passes (8.5 ypa), per Pro Football Focus, easily the widest gap among regular SEC starters. Only one other FBS quarterback, Coastal Carolina's Grayson McCall, posted a higher average on play-action attempts.
The Bennett-Bowers connection is working to perfection for @GeorgiaFootball. pic.twitter.com/yv04UZRjIR

— CBS Sports College Football ? (@CBSSportsCFB) October 16, 2021
The big question: Which Bo Nix shows up?
Nix's 3-year tenure at Auburn was defined by his volatility — not just in a general sense, but in a quantifiable, borderline predictable pattern of chaos: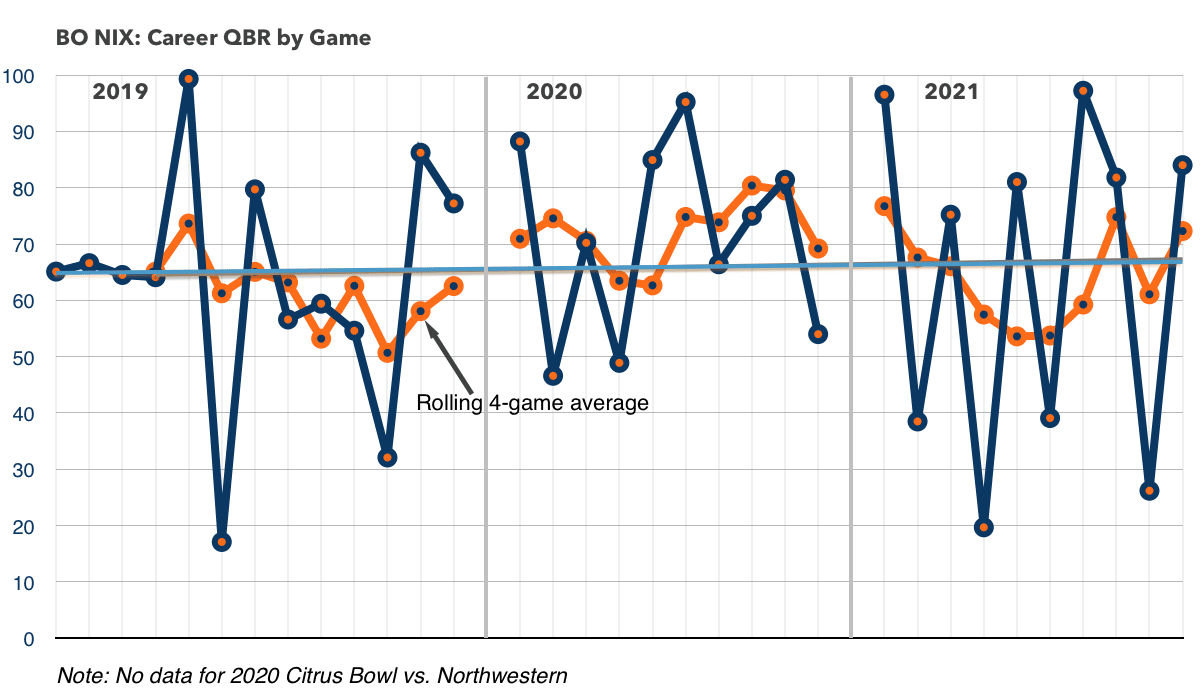 By midway through his sophomore season, Auburn fans had more or less come to grips with the fact that their franchise QB was actually two QBs fighting for control of the same brain. For every example of "Good Bo" living up to the 5-star recruiting hype by torching LSU or carving up Arkansas, there's one of "Bad Bo" fumbling away the game against Texas A&M or getting benched against Georgia State. (For the record, Nix was never "on" in any of his 3 meetings against Lanning's defense at Georgia, although in fairness very few other quarterbacks the Dawgs faced in that span were, either; last year's 34-10 UGA win at Auburn might have even been one of Nix's more respectable performances if you factor in degree of difficulty and all the drops.) If anything, the hype itself always seemed as much to blame for the relentless scrutiny that eventually drove him out of the SEC as his actual skill set, which never quite justified the blue-chip billing.
It's telling that Saturday will mark the first time in Nix's college career he's taken the field in Week 1 under a coordinator he's played for before. After serving under 3 different OCs in 3 years at Auburn — and facing the guarantee of a fourth if he'd stayed — he's reunited in Oregon with his freshman year offensive coordinator, Kenny Dillingham, who came aboard under Lanning after a 2-year stint at Florida State. Ironically, reconnecting with Dillingham may have been as close as he could get to some degree of continuity. He just had to move 2,700 miles away to find it.
The key matchup: Oregon OL TJ Bass vs. Georgia DL Jalen Carter
At 6-5/315, Bass is a certifiable hoss with 21 starts over the past 2 seasons at left guard and left tackle. He was a first-team All-Pac-12 pick in 2021, posted an elite 90.5 PFF run-blocking grade, and is likely to get drafted next spring. He's the veteran anchor of a front that returns all five starters. But he has almost certainly never attempted to block a specimen like Carter.
Jalen Carter is just freakish man pic.twitter.com/7UJaiwYFU7

— ?? ☔️ (@ImperiumNFL) August 1, 2022
Although he technically came off the bench in all but 2 games, Carter led UGA's behemoth interior d-line rotation in total snaps and almost everything else, including tackles for loss (8.5) and QB pressures (34). Beyond his own huddle, he posted the top PFF pass-rushing grade among Power 5 DTs, recording sacks against double teams, triple teams, and on moves that showed off his shocking athleticism for a 300-pounder. Outside of tossing around o-linemen at will, he served as a punishing lead blocker on the goal line, caught a touchdown pass out of the backfield, and blocked two kicks, one of them coming at a clutch moment in the national title game. A one-man gang can't have the same effect as last year's fully staffed wrecking crew all by himself, but when the man in question has Carter's appetite and capacity for destruction, the drop-off doesn't have to be nearly as steep as the first-round departures up front suggest.
The verdict:
It's realistic to expect to expect some growing pains from Georgia's defense, which can't be expected to measure up to the standard of an essentially NFL-ready unit that held 13 of 14 opponents to 17 points or less. (The lone exception being Alabama, twice.) The offense is probably going to have to score at least 1 touchdown, which it memorably failed to do in last year's Week 1 slugfest against Clemson, and possibly even two!
But between Nix and a largely brand-new group of skill players, Oregon's offense has just as many unresolved questions as Georgia's defense, and is much less confident in the answers. And on the biggest question — who has more dudes? — the Bulldogs are never going to come in second. Unless Lanning successfully made off with some nuclear secrets on his way out he'll do do well just to keep this one interesting.
– – –
Georgia 31 | • Oregon 16
Utah is still only just beginning to register as a brand east of the Rockies, so it's tempting for outsiders to dismiss the defending Pac-12 champs as beneficiaries of the league's broader slide into mediocrity. Anyone who actually watched last year's Rose Bowl run knows better. Despite a shaky start, after QB Cam Rising's promotion to QB1 the Utes were clearly the best in the West by year's end, physically whipping Oregon in both the regular season and the rematch in the Pac-12 Championship Game, and they rang in the new year by giving Ohio State all it could handle in Pasadena. Much of the core of that outfit is back, including returning all-conference picks at quarterback (Rising), running back (Tavion Thomas), tight end (Brant Kuithe), offensive line (Braeden Daniels) and cornerback (Clark Phillips III). That justified AP voters tabbing them for the highest slot in the preseason poll (7th) in school history.
The caveat: Speed, or lack thereof. On offense, Utah struggled to stretch the field, tying for 120th nationally in passes that gained 30+ yards, and the top 3 returning receivers are a couple of tight ends (Kuithe and Dalton Kincaid) and a running back (Micah Bernard). On defense, the secondary was woefully outmanned in the Rose Bowl, coming in on the wrong end of a record-breaking performance by a short-handed OSU offense. The Utes also lost their best player on either side of the ball, All-American linebacker Devin Lloyd Jr., who was one of the top handful of defenders in the country in 2021 and went 27th overall in the draft.
It's probably safe to say Florida doesn't have anywhere near Ohio State's historic concentration of talent at receiver, but that's about all it's safe to say as the Gators hit reset as hard as possible under Billy Napier. Based on how it ended last year under Dan Mullen, the rebuild is a long-term project; based on the actual roster, not so much. 247Sports' Team Talent Composite ranks Florida 12th nationally, No. 2 in the SEC East behind Georgia and 21 spots ahead of Utah. The prospect of Napier beating a top-10 opponent in his first game with (mostly) Mullen's players would wreck the rebuilding curve overnight and possibly inspire visions of a dark-horse run in the division — potentially a blessing or a curse.
– – –
• Utah 31 | Florida 26
We still don't know who LSU's starting quarterback is going to be in Brian Kelly's debut, but whoever it is we do know he's going to have weapons: Between Kayshon Boutte, Jaray Jenkins, Malik Nabers, Jack Bech, Brian Thomas and Kyren Lacy, the Tigers' WR rotation guarantees a steady supply of proven targets at all times, all of them (with the possible exception of Jenkins, the only senior) still on the upward slope of their careers. Bech, Thomas, and Nabers were all plus recruits who were immediately productive last year as true freshmen, and the electric Boutte finished as the team leader in yards and touchdowns despite missing half the season. The odd man out of that group, Trey Palmer, transferred to Nebraska and already looks like he has a chance to be All-Big Ten.
On the opposite end of the spectrum, there's the offensive line, which remains a guessing game. No full-time starters return, and LSU didn't release a pre-game depth chart, leaving it up to reporters to read the tea leaves at practice. Kelly has already anointed 5-star freshman Walker Howard as the starting left tackle opposite FSU's rising star on the edge, Jared Verse, a hyped newcomer in his own right after transferring in from the FCS ranks in the spring. Sophomore Garrett Dellinger appears locked in at center after filling in at every other position on the line last year as a true freshman. The rest of the front is a shrug emoji. Transfers from Florida International (Miles Frazier) and East Tennessee State (Tre'Mond Shorts) are prominently involved alongside a handful of career reserves. Not very reassuring. But if that group manages to hold its own, the QB won't have any excuses.
– – –
• LSU 29 | Florida State 20
The rebuilding cycle has come for Cincinnati, which lost a school-record 9 draft picks from last year's Playoff run. The exodus represented the core of a team that's 44-7 over the past 4 seasons, including offensive coordinator Mike Denbrock (now at LSU), face-of-the-program QB Desmond Ridder (now with the Atlanta Falcons), and half the starting defense, most notably No. 4 overall pick Ahmad "Sauce" Gardner. Coach Luke Fickell is still in charge, but in Year 6, the foundation he's built there is due for its first major stress test.
Against Arkansas, naturally, that test is likely to be focused in the trenches. The Hogs' backfield-by-committee approach led the SEC in rushing in 2021 and returns four of the top five members of the rotation, headlined by jumbo QB KJ Jefferson and jumbo RB Raheim "Rocket" Sanders — only Arkansas can get away with a 6-2, 227-pounder nicknamed "Rocket" — both of whom did most of their damage last year after contact. (The other jumbo option, 247-pound Dominique Johnson is doubtful with a knee injury.) Stopping the run was one of the Bearcats' few red flags in '21, especially in their semifinal loss to Alabama, where the most pass-oriented offense in Bama history cranked out an old-school 301 yards rushing on 47 carries against a badly undersized UC front.
Based on listed weights, Arkansas' starting o-line on Saturday will outweigh Cincinnati's starting d-line by 27 pounds per man, which might be generous to the latter. You don't let Kendal Briles call the plays if you're not willing to take some shots downfield, with or without Treylon Burks on the receiving end. (Burks' big-play role is most likely to be filled by Oklahoma transfer Jadon Haselwood, a former 5-star recruit, if Haselwood is cleared to play.) But if Jefferson puts the ball in the air more than 20 times in this one something has probably gone very wrong.
– – –
Arkansas 27 | • Cincinnati 23
Utah State is coming off a conference championship and a Top 25 finish in 2021, so all due respect to the Aggies. Don't let Nick Saban catch you even thinking about disrespecting the Aggies. Utah State: A solidly above-average Division-I football team!
That said, this should ultimately amount to a preseason game for the Tide, with similar priorities: No. 1, no major injuries, and No. 2, start to get a feel for how the new members of the cast mesh with the star. All of last year's starting backs and receivers are gone, leaving mostly question marks in their place – highly touted, blue-chip question marks, yes, but still. Scheme-wise, the biggest development of the offseason was the arrival of Georgia Tech transfer Jahmyr Gibbs, whose Kamara-esque skill set potentially adds a dual-threat dimension to the backfield that last year's feature back, grinder Brian Robinson Jr., did not.
Jahmyr Gibbs.

That's it. That's the tweet. pic.twitter.com/XsdoVXjoZV

— Clint Lamb (@ClintRLamb) August 10, 2022
And the receivers: Who are they? Of the 3 starters listed on the official depth chart, only one, Georgia transfer Jermaine Burton, was widely regarded as a likely starter according to most of the preseason projections; the other two, junior Traeshon Holden and true freshman Kobe Prentice in the slot, benefited to some extent from injuries during preseason camp to Tyler Harrell and Jojo Earle, which makes their staying power more difficult to gauge. And although he's currently listed as a backup, 5-star sophomore Ja'Corey Brooks was the first man off the bench late last year, hauling in the season-saving touchdown at the end of regulation against Auburn and starting both playoff games in place of John Metchie III; surely he'll be a factor. By Saturday night we should know a lot more.
– – –
Alabama 48 | • Utah State 13
A 3-score spread against a nondescript AAC opponent feels about right for a Mississippi State outfit returning the vast majority of last year's lineup, but then when a Mike Leach team is involved you never know. Memphis upset MSU last year in a 31-29 decision in the Liberty Bowl, 2 weeks after the Bulldogs barely eked out a come-from-behind, 35-34 win over bad version of Louisiana Tech in the season-opener. They're perfectly capable of playing down to the competition in this spot.
Mississippi State's most urgent vacancy is at left tackle, where the now-departed Charles Cross allowed a grand total of 2 sacks and 16 pressures in 2021 on more than 700 pass-blocking snaps, per PFF. Cross is just the 6th player in school history to go out as a top-10 draft pick (No. 9 overall) and only the second offensive lineman to go anywhere in the first round. To fill the void, the Bulldogs are banking on 6-7, 320-pound senior Kwatrivous Johnson, who's coming off an uneventful year at right guard (0 sacks, 11 pressures) but by PFF's accounting struggled badly in 2020 in a limited role at right tackle. (Limited because he was benched.) "The blindside" isn't necessarily a make-or-break position in an offense largely designed to get the ball out of the quarterback's hands as quickly as possible. But QB Will Rogers is obviously the team's most valuable commodity, and in this league a wobbly LT is a liability no one can afford.
– – –
Mississippi State 34 | • Memphis 24
Offseason attrition hit Ole Miss harder than any other SEC roster, and the Rebels worked the transfer portal harder than any other SEC team to address it. The opening-day depth chart reflects their efforts: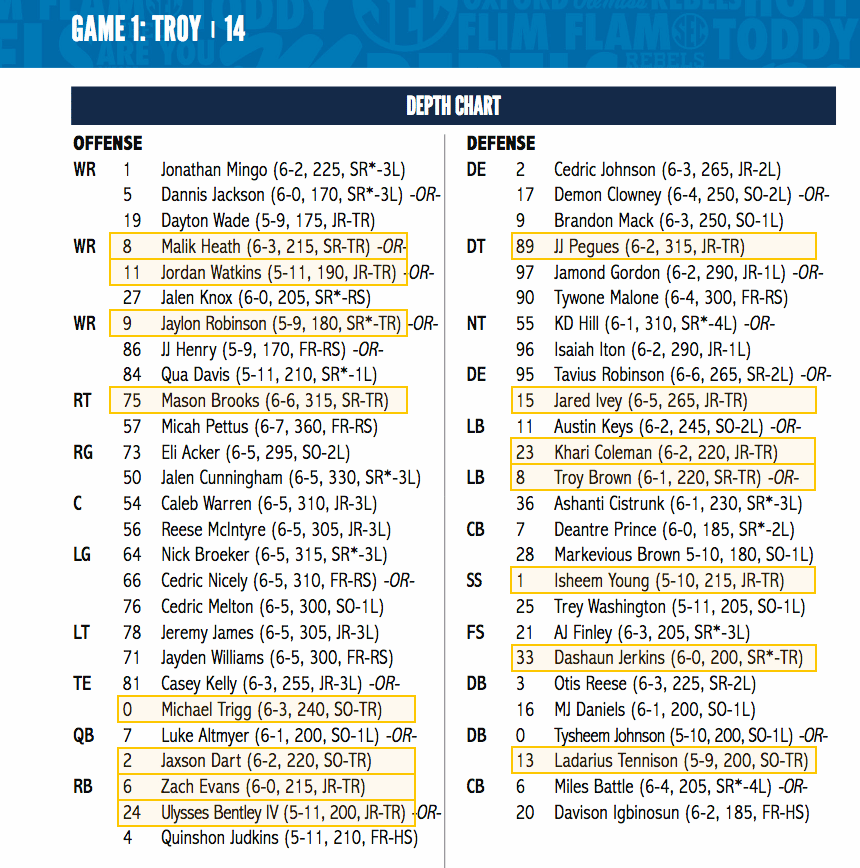 That's 15 transfers in the 2-deep — not literally enough fill an entire starting lineup, but more than enough to account for a majority of the players on the field on any given play, on both sides of the ball. Get used to it: Along with the total roster overhaul at USC, that's a prime example of the kind of dramatic experiments in roster building the portal era is about to usher in across the sport. Which, yeah, welcome officially to the Portal Era.
As always, the -OR- at quarterback looms large. Whatever other kinks there are to work out in the early going, though, at least the continuity on the offensive line is encouraging — especially against Troy, which returns most of a defense that ranked in the top 25 nationally in 2021 in total D and yards per play allowed. The Trojans are listless offensively, but edge rushers Javon Solomon and Richard Jibunor (an Auburn transfer) are both aspiring draft picks capable of wreaking considerably more havoc than the Rebels bargained for when they put a Sun Belt team on the schedule.
– – –
• Ole Miss 37 | Troy 13
Georgia State's past 2 games vs. SEC opponents: A major upset over Tennessee in 2019, from which then-Vols coach Jeremy Pruitt arguably never recovered; and a down-to-the-wire loss at Auburn in 2021, from which Bo Nix arguably never recovered. All eyes on Saturday will be on Spencer Rattler in his Carolina debut, which could go any number of ways and not all of them good. Avoiding one of the paths that ends with the camera panning across the faces of nervous Gamecocks fans with their hands clasped over their heads in the fourth quarter would be very reassuring.
– – –
• South Carolina 33 | Georgia State 17
Sam Houston State at Texas A&M (n/a)
As FCS cupcakes go, Sam Houston is a spicy one, with 6 playoff appearances in 8 seasons under coach KC Keeler and a national championship in spring 2021. (The only D-I national championship in the state of Texas since 2005!) The Bearkats are due to join Conference USA, which technically remains an FBS entity until the current divisional structure collapses following the formal withdrawal of the NewsCorp Conference and the Disney League from the NCAA, in 2023.
In the meantime, from Texas A&M's perspective, Sam Houston is only in town this weekend to serve as target practice for freshly anointed QB Haynes King, who will be under heavy scrutiny after beating out LSU transfer Max Johnson and 5-star freshman Conner Weigman for the starting job. Everybody wants to get a good look at King in live action before calibrating their optimism for the rest of the year. Torching Sam Houston State on opening day might not count for much, but the implications of not torching Sam Houston State would roil the edgier corners of the Aggie base for most of the next week, at least.
– – –
Texas A&M 44 | Sam Houston State 10
The Wildcats won't have All-SEC workhorse Chris Rodriguez Jr., who's serving an apparent multi-game suspension followed a DUI arrest earlier this year. (Mark Stoops has specified that Rodriguez and starting linebacker Jordan Wright will be "unavailable," but not why or for how long.) That's an opportunity for a deep stable of backs behind him, led by the extravagantly named Kavosiey Smoke, a known quantity currently listed atop the depth chart in Rodriguez's absence. The most intriguing name on the list, however, is Ramon Jefferson, an FCS transfer with just shy of 3,000 career rushing yards and 28 touchdowns to his credit at Sam Houston State and Maine. One of the top FCS backs in the country last year, Jefferson was initially committed to Colorado before swerving to Kentucky in June.
Colorado secured a commitment from an elite RB transfer in Ramon Jefferson.

Jefferson piled up 1,155 rushing yards this past season at Sam Houston State

— WestCoastCFB (@WestCoastCFB) January 31, 2022
Jefferson is a native of the Bronx, NY, which doesn't produce many D-I football recruits, and which may partially explain his circuitous route to the SEC — at 5-10/215, clearly he wasn't overlooked due to his size. His offensive coordinator in his freshman season at Maine was Liam Coen, who just parlayed a one-year stint as OC in Lexington in 2021 into the same title with the L.A. Rams. That hire may continue paying dividends for everyone involved even after Coen is gone.
– – –
• Kentucky 38 | Miami (Ohio) 16