SEC
Saturday Football: A season on the brink, SEC schedule drama and a B1G feud
The Saturday Football newsletter goes out to subscribers up to 3 days a week and discusses the major events going on around the nation in college football. You can subscribe by clicking here.
Good morning and happy Monday! We actually have some football-related news to talk about today! Sure, it's all purely hypothetical schedule speculation and reaction at this point, but that's better than nothing. Plus, players around the country are back on campus and continue to gear up for the 2020 campaign, even as some teams have to take COVID-19-related hiatuses.
It's not all good news, though. In fact, after the first FBS conference canceled its fall season, others could follow suit. Is the season on the brink of cancellation? We'll cover that and more in today's Saturday Football newsletter.
A SEASON ON THE BRINK?
The MAC canceled its fall sports season. Will other FBS conferences follow suit?
The college football world is still dealing with the very real threat of the COVID-19 pandemic. Last week, both the Division II and Division III Presidents Councils voted to cancel fall sports championships. A number of FCS conferences have canceled or are considering postponing their fall football seasons.
On Saturday, the MAC became the first FBS conference to postpone football. Will others follow suit? Let's dive into this concerning storyline and discuss whether the 2020 season is on the brink of being postponed or not:
The important thing to note here is that you can be hopeful for a season to be played while also understanding the concern many athletes, coaches and administrators have. Yes, many players want to play. The game's biggest stars, including Trevor Lawrence, Najee Harris and Justin Fields, began tweeting "#WeWantToPlay." Others don't. Neither group is wrong. Moving forward, though, these next few days will be huge when it comes to determining which, if any, conferences will have football seasons this fall.
TOP UNCOMMITTED 2021 RECRUITS
As we continue to move toward the start of the 2020 regular season (fingers crossed!), top 2021 recruits are making the most of this strange recruiting landscape and either committing to schools or narrowing their lists of top options. Many elite recruits still haven't made their final choices, but those decisions could be coming this month.
Below, you can take a quick look at the top 10 uncommitted recruits currently remaining on the board. There are still plenty of elite players out there (via the 247Sports composite rankings):
5-star DE Korey Foreman — No. 1 overall
5-star DE J.T. Tuimoloau — No. 2 overall
5-star OL Amarius Mims — No. 6 overall
5-star WR Emeka Egbuka — No. 7 overall
5-star OL Tristan Leigh — No. 11 overall
5-star OL Nolan Rucci — No. 13 overall
5-star RB Camar Wheaton — No. 18 overall
5-star DT Maason Smith — No. 19 overall
5-star CB Ga'Quincy McKinstry — No. 22 overall
5-star OLB Smael Mondon — No. 25 overall
As we approach the potential starts of both the high school and college seasons, we'll see which of these top players decides to commit before game action begins. Stay tuned for an update in September!
GOOD READS
SEC SCHEDULE DRAMA
The SEC released each team's 2 additional 2020 opponents. What should we take away from those games?
Finally, after what seemed like weeks of waiting, the SEC announced on Friday which 2 additional conference games would be added to each school's 2020 schedule. That gives each squad a 10-game slate, though specifics (like dates and times) for those games have not been announced yet.
Even so, SEC fans were excited to have some football-related news to discuss. And so are we. So, let's dive into the reactions to the SEC's schedule announcement:
Reaction to the new opponents on social media was quick. On one hand, there was talk about Alabama, LSU, Georgia and Florida avoiding tougher opponents. Then, there was reaction to Mizzou and Arkansas getting hammered with their draws. Here's how the media reacted to the news. And, here's some general fan reaction. Arkansas AD Hunter Yurachek delivered a heck of a quote after the Razorbacks added Georgia and Florida to their schedule. "We now own the most challenging schedule in the history of college football," he said. SEC commissioner Greg Sankey also issued a statement after the scheduling news broke.
Some reactions to the news took a humorous approach. Saturday Down South's Chris Marler put together a series of GIFs to describe how every SEC fan base should feel. Saturday Football newsletter editor Adam Spencer, a long-suffering Mizzou fan, took a more somber tone with his reaction, putting together a GIF from "The Office" to react to each Mizzou opponent for 2020. SDS writer Houston Barber wrote a piece humorously outlining how each fan base should feel right now.
Even if your team added 2 tough foes, it's important not to overreact. (We know, too late, right?) SDS columnist Connor O'Gara explains why complaining about your team's schedule in a loaded SEC doesn't make any sense. It all balances out eventually, basically.
Even amid the weekend's turmoil, as noted in the first section of the newsletter, it was reported that the SEC isn't considering canceling or postponing the season at this point. So, there's still a good chance we get to see these games this fall. Now, we'll just wait for the SEC to announce the full schedule.
JUST FOR FUN
This past week, the first Coaches Poll of the 2020 season came out. After asking you about the final AP Poll of the 2019 season last week, let's see how closely you paid attention to the new 2020 Coaches Poll when it was released. We'll give you 2 schools that are ranked in the top 25. You tell us which one is ranked higher. Ready? Here we go:
Georgia and LSU
Notre Dame and Oregon
UCF and Iowa
Utah and USC
Scroll down to see the answers to today's quiz.
JIM HARBAUGH VS. RYAN DAY
Jim Harbaugh and Ryan Day went at it last week. What's going on with this B1G rivalry?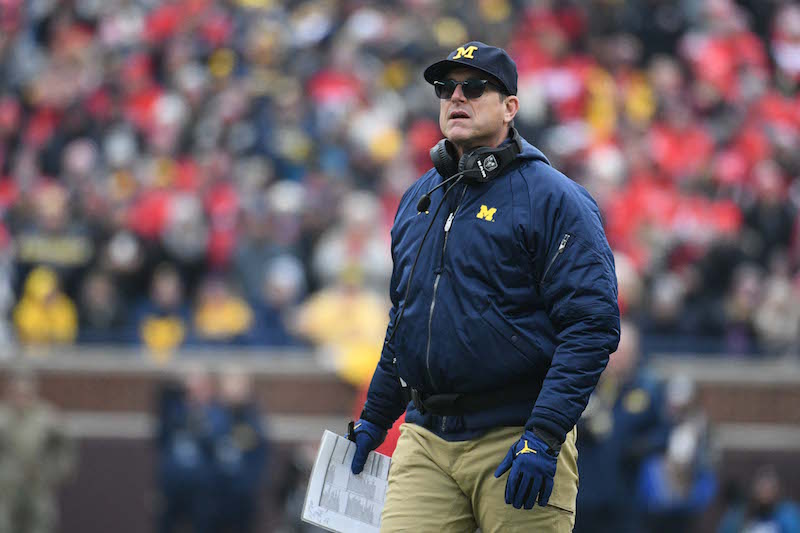 When it comes to the Big Ten (and college football, in general), the Ohio State-Michigan rivalry is one of the best. Last week, Ohio State coach Ryan Day and Michigan coach Jim Harbaugh reportedly did some talking back and forth, and let's just say it didn't sound jovial.
As we potentially gear up for the 2020 season, this will add another layer to the major rivalry. Let's take a look at the stories out of Columbus and Ann Arbor from this past week:
The drama reportedly began on a B1G coaches call. First, Harbaugh apparently accused Day and the Buckeyes of violating Big Ten rules regarding on-field instruction. That led to Day telling Harbaugh to mind his own business. Then, according to the report, Day told his team "Michigan better hope for a mercy rule this year because we are going to hang 100 on them." No love lost there.
SEC Network host Paul Finebaum then weighed in on the feud. A noted Harbaugh critic, Finebaum gave the Michigan coach a backhanded compliment in the wake of the report. "You have to applaud Jim Harbaugh," Finebaum said. "It doesn't matter how many times he gets sand kicked in his face, he gets sucker-punched, eviscerated on the field, he keeps coming back for more. I've never seen anyone quite like that. For that, I admire Harbaugh." Yeah, that's not exactly the best compliment in the world, but that was probably Finebaum's point.
It's nice to see some college rivalries sparking up again. That means the season is (hopefully) right around the corner. Saturday Tradition's Phil Ervin wrote that the latest installment of the Ohio State-Michigan rivalry sounds like the byproduct of pent-up energy from the uncertain offseason.
The Buckeyes have won eight in a row against Michigan, dating back to 2012. Will this be the year Harbaugh and the Wolverines end that streak? Well, it seems Day and the Buckeyes have their bulletin board material heading into this year's installment of The Game.
ANSWERS
Here are the answers to today's first 2020 Coaches Poll quiz:
Georgia — No. 4 to LSU's No. 5
Oregon — No. 9 to Notre Dame's No. 10
UCF — No. 21 to Iowa's No. 23
USC — No. 17 to Utah's No. 20
Check out the full Preseason Coaches Poll here.
QUOTE OF THE WEEK
"Remember when they first got the deal with Jordan (brand)? He just wouldn't take off his cleats, and like, he came to my home visit with cleats on the feet, and I have hardwood floors. He's just walking around with cleats, bro."
— Former Georgia OL Isaiah Wilson explains why he didn't commit to Michigan after a strange visit from coach Jim Harbaugh. The 2020 first-round pick of the Tennessee Titans also shared a story about why he didn't commit to Nick Saban and Alabama. Don't wear cleats on hardwood floors, folks.
TWEET OF THE WEEK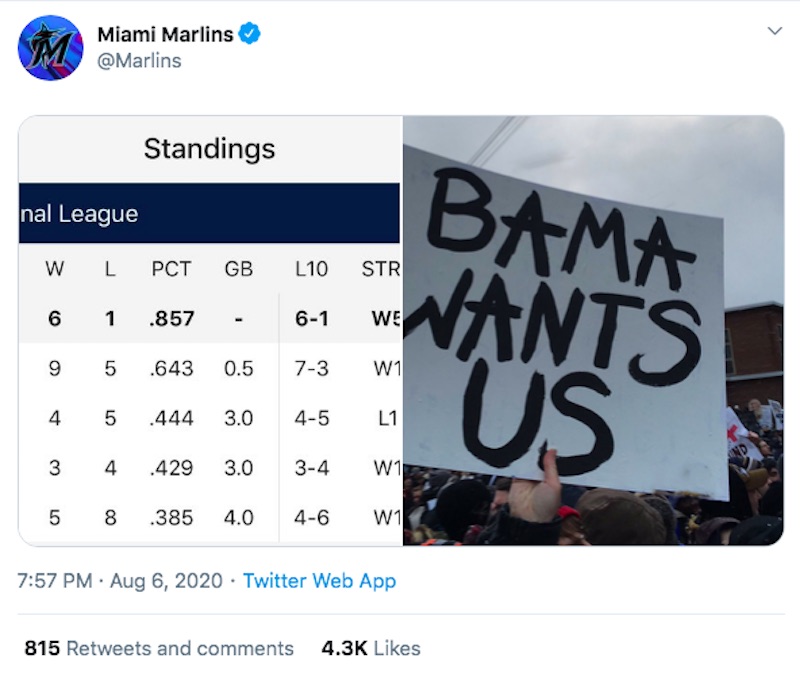 After having several games postponed following a major COVID-19 outbreak, the Miami Marlins have been hot. After 1 win, they posted a picture of the standings with a "We Want Bama" poster. But, following their 5th consecutive victory, they posted a "Bama Wants Us" poster, as you can see above.