SEC
SEC QB Power Rankings, Week 8: Gap widens between haves and have-nots
Quarterbacks: There are a lot of them! Each week throughout the season, SEC QB Power Rankings will help you keep the game's most important position in perspective by ranking the SEC starters 1-14 according to highly scientific processes and/or pure gut-level instinct. Previously: Week 1 … Week 2 …Week 3 … Week 4. … Week 5 … Week 6 … Week 7.
1. Mac Jones, Alabama
Jones remains the tentative Heisman front-runner following an open date and appears to be rising quickly on the NFL Draft beat, as well, where he's been promoted to the second tier of 2021 QB prospects behind the presumptive No. 1 and No. 2 picks, Trevor Lawrence and Justin Fields. Jones, a redshirt junior with (technically) 2 years of eligibility left after this one, doesn't exactly fit the profile of a likely one-and-done starter. At the rate he's going over the first half of the season, though — and assuming he's still going to have a second half to come back to on the other side of widespread COVID issues across the league, which have already put the kibosh on this weekend's trip to LSU — he may not have much of a choice.
– – –
(Last week: 1)
2. Kyle Trask, Florida
Trask's 474-yard, 4-touchdown clinic against Georgia was a milestone performance on many levels, most notably making him the first SEC quarterback ever to throw at least 4 TD passes in 5 consecutive games. It also emphasized just how vital his arm and decision-making are to the Gators' success: 10 receivers caught at least 1 pass against the Bulldogs, none of whom accounted for more than 100 yards. (The leading target, RB Malik Davis, hit that number exactly on 5 receptions out of the backfield.)
Without much in the way of a ground game, Trask's output ultimately accounted for a little over 81% of the Gators' total Saturday, consistent with his individual share (76.1%) for the season to date. No other Power 5 quarterback who has played in at least 4 games has accounted for more: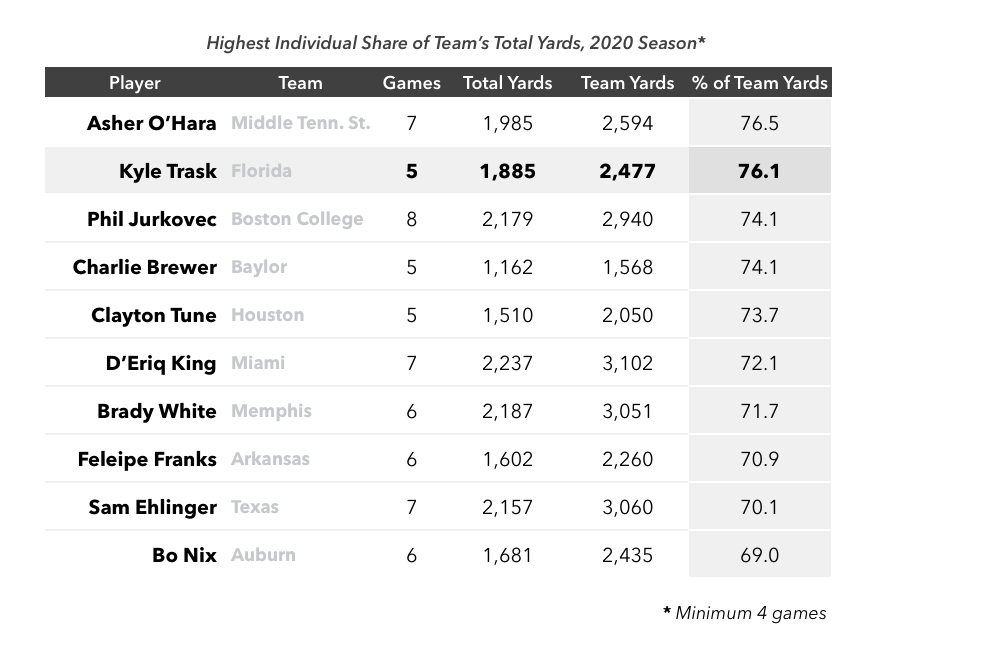 Granted, this is the kind of statistic that tends to say less about the player than it does about his team. It's often reserved for QBs compensating for a lack of balance, Air Raid types who don't care about balance in the first place, and/or guys who have spent too much time in catch-up mode.
Trask could arguably fall into the first category. More likely, though, Florida's evolution into a relatively high-volume passing attack is a deliberate decision by Dan Mullen to play to the strengths of his personnel: Trask is the most polished passer (and least threatening runner) that Mullen has had at his disposal in many years, and his full range of targets — Kadarius Toney in the slot; big, blue-chip dudes on the outside in Trevon Grimes, Jacob Copeland and Justin Shorter; an assortment of capable backs and tight ends; Kyle Pitts being Kyle Pitts — is the envy of the SEC outside of maybe Alabama. And with Jaylen Waddle done for the season that's up for debate.
Pitts is questionable to play Saturday vs. Arkansas after suffering a concussion on a kamikaze shot by Georgia's Lewis Cine that knocked both of them out of the game. He may or may not be missed against the Razorbacks, who improbably lead the SEC in pass efficiency defense. If he's out for an extended period, Trask's ability to thrive without a true go-to receiver will be put to the test.
– – –
(Last week: 2)
3. Matt Corral, Ole Miss
Corral returns from an open date to face a South Carolina defense that has been eviscerated in its last 2 games, having allowed 7 TD passes on more than 11 yards per attempt in blowout losses vs. LSU and Texas A&M. The betting line, which opened at Ole Miss –7, has already moved by 4 points in the Rebels' favor as gamblers contemplate the prospect of the Gamecocks' secondary getting properly deep-fried.
– – –
(Last week: 3)
4. Kellen Mond, Texas A&M
Mond has paid down 3 years of frustration over the past month, turning in the best stretch of his career over the course of a 4-game winning streak that has A&M poised to make serious noise in the national race in December. Not coincidentally, the streak has coincided with significantly improved play up front: The Aggies have averaged more than 200 rushing yards over the last 4 games on more than 5 yards per carry — they lead the SEC at 5.4 yards per carry for the season, up from 4.1 ypc in SEC games last year — and haven't allowed a sack since the season opener.
– – –
(Last week: 4)
5. Feleipe Franks, Arkansas
For a guy with an objectively huge arm, Franks has always been somewhat conservative in terms of challenging defenses downfield. Arkansas' offense has taken that tendency to extremes: His average depth of target this season is just 6.8 yards, which ranks 13th among full-time SEC starters. (Only Mississippi State's KJ Costello and Will Rogers throw shorter on average, at 6.1 and 3.6 yards per attempt, respectively.) On 3rd downs, Franks' average depth drops to 4.5 yards, more than a full yard below any other SEC QB with at least 20 attempts.
– – –
(Last week: 5)
6. Bo Nix, Auburn
Nix's stock was way up last week in the wake of a blowout win over LSU, and now he gets to bask in the glow a little longer: Between an open date and the postponement of Saturday's game against Mississippi State, Auburn's going to go 20 full days between games – and that's assuming its Nov. 21 date against Tennessee goes off as planned, which… well, just look around. Compared to the looming volatility of the next few weeks, even the weekly swings in Nix's rep barely rate.
– – –
(Last week: 6)
7. Connor Bazelak, Missouri
Bazelak is a) healthy, and b) more or less entrenched as Mizzou's starter, which is more than can be said at the moment for almost anyone in the bottom half this week's rankings. We'll see if it can still be said next week after Saturday's encounter with Georgia.
– – –
(Last week: 9)
8. Myles Brennan, LSU
LSU is on extended COVID leave, as well, giving Brennan an extra week to get right from the abdominal injury that sidelined him for the Tigers' last 2 games. That still may not be long enough: Brennan had already been ruled out out of Saturday's game vs. Alabama before it was postponed, and Ed Orgeron confirmed there has been some discussion about shutting him down for the year. Freshmen TJ Finley and Max Johnson have predictably struggled in relief, but with nothing much left to play for at this point, there's no use exposing anyone to unnecessary risk.
– – –
(Last week: 8)
9. TBD, Georgia
The Bulldogs are starting over from scratch after Saturday's debacle against Florida, leaving the door open for any of 4 candidates to take the first snaps this weekend at Missouri. Officially, Stetson Bennett IV is still one of them, although he hasn't thrown in practice due to the shoulder injury that derailed his afternoon vs. the Gators and appears doubtful for the trip to Columbia. D'Wan Mathis was erratic off the bench, reminding fans why he was benched for Bennett in the first place back in the season-opener. Neither JT Daniels, the touted transfer from USC, nor true freshman Carson Beck has taken a snap.
Daniels' failure to graduate from clipboard duty remains one of the season's great mysteries. Is he healthy? Most signs point to yes: He was medically cleared to return from a lingering knee injury weeks ago, has continued to practice, and has dressed for every game since. (On the other hand, Kirby Smart has repeatedly expressed concerns about his mobility, without letting on much else.) Is he too far behind the curve in learning the offense? Daniels was a relatively late arrival over the summer, and based on Smart's comments, he's been largely relegated to the scout team, limiting his reps with Georgia's playbook.
Is he just straight up not that good? Smart talks about Daniels like he's just another guy rather than a former 5-star prospect, one who presumably didn't spurn other schools for the opportunity to back up lesser talents. At this point, with a championship no longer at stake, a forgiving schedule ahead, and the Bennett/Mathis dynamic looking more dysfunctional by the week, there's no good reason left not to find out.
– – –
(Last week: 7)
10. Collin Hill or  Ryan Hilisnki or  Luke Doty, South Carolina
The Gamecocks are back at square one after a rock-bottom effort against Texas A&M in which Hill was benched after going a dismal 8-for-21 for 66 yards with 2 INTs. All 3 QBs are splitting first-team reps this week ahead of a trip to Ole Miss, with no indication of who has a leg up.
Hilinski, whom Hill unseated as the starter before the season, was the first off the bench in College Station and comes with a full season under his belt as a starter. Doty, a true freshman, is the most touted option and the most athletic, having gotten some limited run at wide receiver just to get him on the field. Given that the older candidates have both held and subsequently lost the job, he's also the default "what do we have to lose?" option. But then, given Will Muschamp's dwindling job security, he really doesn't have the luxury of gambling on the future.
– – –
(Last week: 10)
11. Terry Wilson or  Joey Gatewood, Kentucky
Wilson, who sat out the Wildcats' Oct. 24 loss to Georgia with an injured wrist, returned to practice this week and would seem to the favorite to retake the job after Gatewood bombed his audition against UGA. Either way, a home date against Vanderbilt is a good opportunity for a struggling offense to get right going into the home stretch.
– – –
(Last week: 11)
12. Jarrett Guarantano or Harrison Bailey, Tennessee
Guarantano's status is uncertain after he was knocked out of last week's loss to Arkansas with an apparent concussion; Bailey, a true freshman, closed the game in his absence by going 6-for-9 for 65 yards with 2 INTs in the first extended action of his career. The postponement of this weekend's game against Texas A&M leaves the Vols in the all-too-familiar position of punting on a decision for another week.
– – –
(Last week: 12)
13. Ken Seals, Vanderbilt
Seals finished 31-for-46 for 336 yards against Mississippi State, accounting for the lion's share of Vanderbilt's massive, 274-yard edge in total offense on the day. He was also responsible for 4 turnovers (3 interceptions, 1 fumble), 1 of which cost Vandy points in a goal-to-go situation and 2 of which led directly to short-field MSU touchdowns in an eventual 24-17 loss. Yet another reminder of the cardinal rule of living with a freshman starter: Accept the good alongside the not-so-good and just hold out hope that the former will eventually outweigh the latter over time.
– – –
(Last week: 14)
14. KJ Costello or Will Rogers, Mississippi State
Rogers didn't inspire much confidence in his first career start, going 35-for-46 for 226 yards with 1 TD, no INTs and 3 sacks against a bad Vandy defense – at 4.9 yards per attempt, that's the Air Raid equivalent of 3 yards and a cloud of dust. But the Bulldogs are literally out of other options: With KJ Costello recovering from a concussion and the rest of the QB room in the transfer portal, Rogers is the last scholarship quarterback standing.
As a team, Mississippi State is below the minimum threshold of 53 scholarship players required to play a game due to a combination of heavy attrition and contact tracing, which is frankly a fitting summary of the general direction of the Bulldogs' season. They're scheduled to be back on the field on Nov. 21 at Georgia, but regardless of who's behind center, it's hard to see them adding a 3rd win down the stretch.
– – –
(Last week: 13)