SEC
SEC QB Power Rankings, Week 9: Kyle Trask is as unlikely a Heisman candidate as they come
Quarterbacks: There are a lot of them! Each week throughout the season, SEC QB Power Rankings will help you keep the game's most important position in perspective by ranking the SEC starters 1-14 according to highly scientific processes and/or pure gut-level instinct. Previously: Week 1 … Week 2 …Week 3 … Week 4. … Week 5 … Week 6 … Week 7. … Week 8.
1. Kyle Trask, Florida
Trask is your new Heisman front-runner following a near-flawless outing against Arkansas, which begs the question: Has any serious Heisman contender in recent memory come from as far off the radar to make an actual run at the award?
Trask's unlikely path to stardom — from career back-up in high school to entrenched starter at a blue-chip program — has been well-documented. This is a kid whose other scholarship offers out of Manvel (Texas) High were from local FCS schools like Lamar University and Houston Baptist. Had he not caught the eye of a Florida scout in practice, he might have been understandably ignored by the online recruiting sites altogether; as it was, he was ranked 2,123rd overall in the 2016 class per 247Sports' composite ratings, barely achieving 3-star status. (Note that players ranked in that range were considered 2 stars until relatively recently, reflecting some systematic grade inflation over the years.) In the entire 247 database dating to 2002, the only quarterbacks with a top-10 finish in Heisman voting who were less touted in their respective classes are the ones who weren't ranked at all: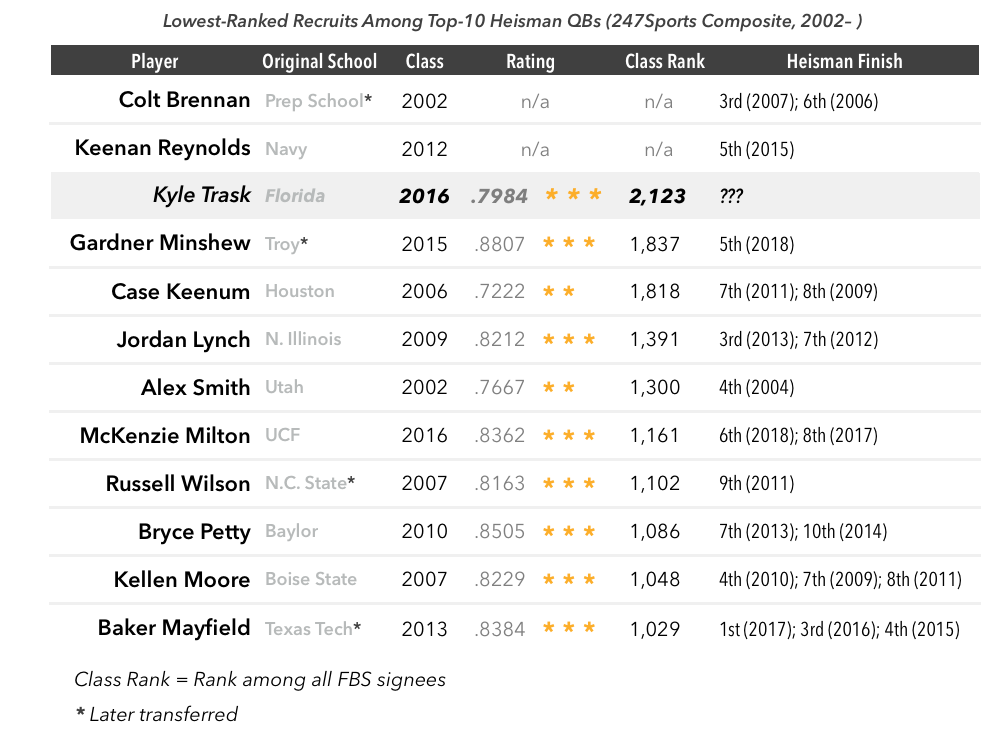 Colt Brennan reportedly passed on a scholarship offer from Utah State out of high school to attend prep school before embarking on a well-traveled college career; Keenan Reynolds was part of a typically massive signing class at Navy, which technically doesn't offer athletic scholarships or even release its official list of incoming recruits for months after Signing Day. Otherwise, Trask is the most obscure prospect to crack the Heisman conversation in at least 15 years.
Of course, no one else on that list managed to land in anywhere near as high-profile a situation as Trask in Gainesville, and only Mayfield following his transfer to Oklahoma benefited from the kind of surrounding talent at receiver that Trask is enjoying this year. (If we limited the question strictly to the SEC, the next name on it below Trask's would be Dak Prescott, who came in at No. 601 overall in 2011; in related news, Dan Mullen is a good coach.)
Still, Trask just delivered arguably the best game of his career with his favorite target on the shelf, and his 20 touchdown passes this season to guys other than Kyle Pitts have been distributed among 8 receivers. Dude is feeling it. Where he ultimately lands in the Heisman order will depend on how he fares down the stretch, specifically in a potential SEC Championship showdown vs. Alabama. But just being in it is already one of the stories of the year.
– – –
(Last week: 2)
2. Mac Jones, Alabama
You have to be pretty deep in the trenches of the recruiting wars to remember that Jones, a solid 3-star prospect in the class of 2017, was once committed to Kentucky for a year before jumping on a Bama offer relatively late in the process — an episode UK beat reporters have revisited this week ahead of the Wildcats' upcoming trip to Tuscaloosa. But it is an interesting counterfactual: Would Jones have blossomed into the emerging Heisman candidate/first-round prospect that he's become in Year 4 if he'd stuck with Kentucky? More to the point: Would he have had a chance?
Playing for the Tide doesn't only mean throwing to the best wideouts behind the best o-line. In Jones' case, it also meant that he had the luxury of biding his time behind Jalen Hurts and classmate Tua Tagovailoa rather being thrown to the wolves as an underclassman, which he very likely would have been in Lexington to the detriment of both sides. Consider: Would the Wildcats really have been any better off with a still-forming Jones the past few years than they've actually been with Terry Wilson (15-6 as a starter) and Lynn Bowden Jr. (6-2) running a system that relies as little as possible on conventional pocket passing? For my money the notion of missing out on the Bowden Experience over the back half of 2019 is reason enough for everyone to be glad things have worked out the way they actually have.
– – –
(Last week: 1)
3. Matt Corral, Ole Miss
Corral has transcended consciousness the past 2 weeks, trashing Vanderbilt and South Carolina for a combined 925 yards on 14.0 per attempt with more touchdowns (10) than incompletions (7). For some context: His combined passer rating in those games (257.1) is higher than Joe Burrow posted in any single game last year vs. any opponent.
For more context: Corral's 6-INT meltdown at Arkansas a few weeks back just keeps making less and less sense.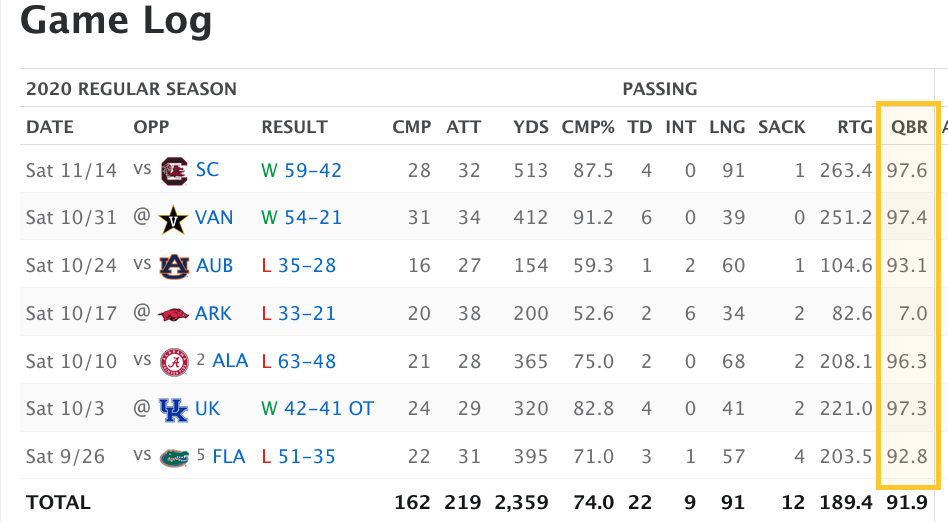 Block out that game and he's on pace for an historic campaign. Unfortunately Heisman voters tend not to drop the lowest test grade from your overall average.
– – –
(Last week: 3)
4. Kellen Mond, Texas A&M
Mond is coming off the best month of his career (12 TDs to just 1 INT over the course of a 4-game win streak), so naturally it's at this exact moment that the Aggies have run into a thicket of COVID-19 issues that have nixed their last 2 games and halted that gathering momentum in its tracks. They're scheduled to pick up the stretch run on Nov. 28 vs. LSU, but right now it's best to interpret the concept of a "schedule" with a grain of salt.
– – –
(Last week: 4)
5. Feleipe Franks, Arkansas
Franks put up a nice stat line in his return to Florida (15-for-19, 250 yards, 2 TDs, 0 INTs), good for a career-high 224.2 passer rating in a 63-35 loss that fell mainly on the defense. For a guy who's sometimes been reluctant to show off his golden arm, it looked nice, too, especially coming in front of a crowd that booed him during pregame intros.
https://twitter.com/SECNetwork/status/1327770124288471041?s=20
True, there wasn't nearly enough of that. Aside from the touchdowns — which covered 47 and 82 yards, respectively — it was underwhelming business: Franks' other 17 attempts yielded just 7.1 yards a pop with 5 first downs and only one other sustained scoring drive prior to garbage time. Still, compared to the standard entry for Razorbacks QBs in this space over the past couple of years, pretty much everything he accomplishes at this point is gravy.
– – –
(Last week: 5)
6. Bo Nix, Auburn
Nix hasn't played in 2 weeks due to COVID, and for his sake thank goodness the extended break came off the high of his career-best, optimism-restoring performance against LSU rather than a moment when his stock was trending down. Tennessee's defense isn't intimidating, by any means, but it is better than LSU's, after 21 days in limbo Nix and the rest of Auburn's offense will inevitably be sloughing off a layer or two of midseason rust.
– – –
(Last week: 6)
7. Connor Bazelak, Missouri
If Saturday's trip to South Carolina goes off as planned, it could be be a big one for Bazelak against a Carolina secondary that has been absolutely torched in its past 3 games, and which just saw both of its starting cornerbacks opt out of the season in the wake of Will Muschamp getting thrown overboard over the weekend. But that's a big if: As of Tuesday, Mizzou reportedly had 56 scholarship players available to play, just 3 above the 53-man minimum mandated by the conference, with 2 more COVID-19 tests still left to pass before game day. A second consecutive COVID delay on the heels of a previously scheduled open date would extend the wait since the Tigers' last game, a Halloween-night loss at Florida, to nearly a month and counting.
– – –
(Last week: 8)
8. Stetson Bennett IV or  JT Daniels, Georgia
Bennett was back at practice this week off the shoulder injury he suffered in the Bulldogs' loss to Florida and listed alone atop the official depth chart for this week's game against Mississippi State, for what it's worth. But the headlines the past 2 weeks have been all about Daniels, the touted USC transfer who has been conspicuous in his absence over the first half of the season. Daniels was finally promoted to first-team reps last week with Bennett out, and Kirby Smart has left the door open to him getting his first action of the season Saturday against MSU.
Publicly, at least, Smart's main concern with Daniels throughout the season has been his mobility in the wake of a major knee injury in 2019, with a preseason setback and a bulky knee brace adding to the reluctance to turn him loose. This week, he's reportedly shed the brace and continued to split snaps with Bennett. For UGA fans who have been obsessing over the tea leaves for months now with nothing to show for it, this might be a believe-it-when-you-see-it situation that they're still not sure they'll ever see, at least in this bizarro season. But with the smoke coming out of the Bulldogs' camp they haven't had more reasons to believe.
– – –
(Last week: 9)
9. Terry Wilson, Kentucky
The door was briefly open for Joey Gatewood to make his move following Wilson's wrist injury, but the combination of Gatewood's flop against Georgia and Wilson's smooth return to form in Saturday's 38-35 win over Vanderbilt has resolved the question for the foreseeable future. Wilson was in his element against the Commodores, finishing 13-for-15 passing and accounting for 193 total yards (110 passing, 83 rushing) with 3 touchdowns, good for a 95.5 QBR grade from ESPN — the best of his career, by far.
– – –
(Last week: 11)
10. Collin Hill, South Carolina
Hill appeared to tighten his grip on the starting job last week, fending off an open challenge from backups Ryan Hilinski and Luke Doty to earn his 7th consecutive start. Whether that can still be said after Will Muschamp's abrupt departure remains to be seen. Hill does have an apparent edge with the interim boss, offensive coordinator Mike Bobo, who recruited and coached Hill as the head coach at Colorado State and led the way to South Carolina. Then again, with another subpar outing against Ole Miss, the pressure to move on only continues to mount as whatever arguments there were for the status quo keep getting that much thinner.
– – –
(Last week: 10)
11. Jarrett Guarantano or  Harrison Bailey, Tennessee
Guarantano is back at practice this week after getting knocked out of the Vols' Nov. 7 loss at Arkansas with an apparent concussion, making him the favorite to carry on as the starter this weekend against Auburn. But with Bailey, a touted true freshman, emerging from the pack lately as the clear No. 2, there's still very little margin for error before the temptation to defer to the future finally carries the day.
– – –
(Last week: 12)
12. TJ Finley, LSU
Myles Brennan is likely done for the season due to the abdominal/hip injury that's cost him the past month, leaving the job to Finley and/or fellow freshman Max Johnson down the stretch. As poorly as he played his last time out (13-for-24, 143 yards, 0 TDs, 3 turnovers in a blowout loss at Auburn), Finley's stellar debut against South Carolina still points toward enough upside to imagine him turning a solid finish into a run at Brennan's job in 2021. But he'll need some help: The Carolina win was easily the most productive outing to date from a ground game that ranks 13th out of 14 SEC teams in rushing offense, a repeat of which this weekend at Arkansas would go a long way toward keeping him out of trouble and on track.
– – –
(Last week: n/a)
13. Ken Seals, Vanderbilt
Seals continues to look more and more like a viable long-term starter with each passing week. Against Kentucky, he finished 21-for-32 for 225 yards with 2 TDs and (crucially) no turnovers, a welcome turn after he committed 4 giveaways in a frustrating loss at Mississippi State. Vandy is still unlikely to record a win in its last 4 games, but given the trajectory over the past couple of weeks, it's not out of the question.
– – –
(Last week: 13)
14. KJ Costello or  Will Rogers, Mississippi State
The depth chart still says "or," but there's been no update on how close Costello is to returning from the apparent concussion he suffered in the Bulldogs' loss to Alabama, and given a) his history of head injuries at Stanford, and b) the futility of Mississippi State's season, in general, it's difficult to come up with a good argument for putting him back in harm's way even if he's technically cleared. That goes regardless of the opponent, and especially when the opponent is Georgia. Throwing a struggling true freshman into the teeth of the UGA defense behind a shaky o-line is a worst-case scenario, but … well, yeah, here they are. The next beating is Rogers' to take.
– – –
(Last week: 14)