SEC
SEC QB Rankings, Week 11: Tua vs. Burrow is college football's biggest QB showdown in ages
Quarterbacks: There are a lot of them! Each week throughout the season, SEC QB Power Rankings will help you keep the game's most important position in perspective by ranking the SEC starters 1-14 according to highly scientific processes and/or pure gut-level instinct. Previously: Week 1 … Week 2 … Week 3 … Week 4 … Week 5 … Week 6 … Week 7 … Week 8 … Week 9 … Week 10.
1. Tua Tagovailoa, Alabama
2. Joe Burrow, LSU
Tua is practicing this week on his surgically repaired ankle, which means he's playing against LSU. This is understood, right? I get it, he's limited, he's splitting reps, the point spread is fluctuating, etc. They're looking out for his future. OK. They're calling it a "game-time decision." Fine. When the clock hits 2:30 p.m. (local) Saturday in Tuscaloosa, the decision is going to be that Tua is playing.
As blockbuster QB matchups go, Tua Tagovailoa vs. Joe Burrow ranks right up there. Two-thirds of the way through the season, they're 2 of the top 3 passers nationally in terms of completion percentage, yards per attempt, touchdowns, and overall efficiency. ESPN's QBR metric ranks them 1st (Tua) and 4th (Burrow), respectively. They're No. 1 and No. 2 in the Heisman odds and on draft boards. What school and conference records they don't already own they're on pace to annihilate.
Matchups like this don't come along in the regular season very often, and when they do they tend to deliver. Since 2000, there have been just 18 head-to-head regular-season meetings between quarterbacks who went on to finish in the top 10 in that year's Heisman vote — roughly one per season — a list that has yielded some of the most entertaining and dramatic classics of the past two decades: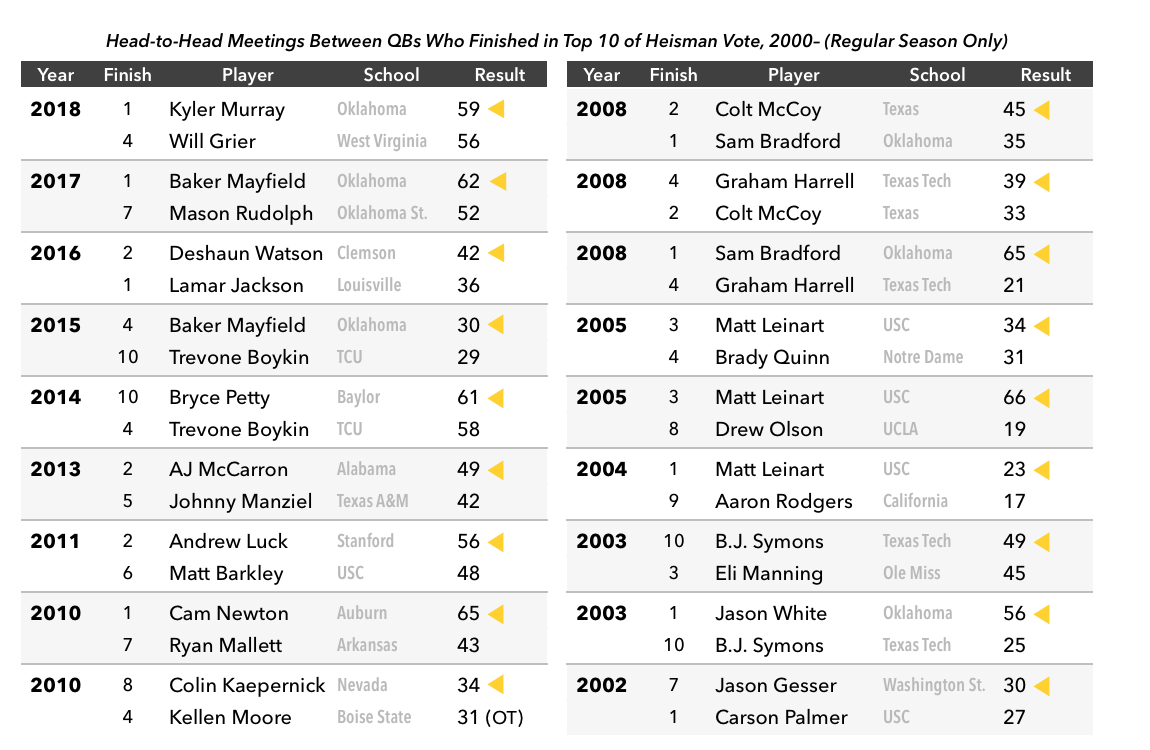 The effect might be skewed a bit by hindsight, given that in many cases the players went on to be Heisman candidates because they played well in these games, whereas other high-profile QBs who flopped in big games fell off the radar. But the hit rate is encouraging for another high-scoring epic this weekend: 12 of the 18 were decided by a touchdown or less, and 13 saw both teams score at least 31 points in regulation. (In the entire history of the Alabama-LSU rivalry both teams have scored 31 points just once, in 2007.) More recently, 6 of the 9 games since 2010 have seen both teams top 40 points, including Alabama's explosive win at Texas A&M in 2013.
Not a single matchup on that list, not even Deshaun Watson vs. Lamar Jackson in 2016, was more hyped or had more riding on it at the time than Tua-Burrow this weekend.
In my estimation, it's the most highly anticipated regular-season QB showdown in college football since Wuerffel-Manning in the mid-1990 — not least due to the fact that, given LSU's extended losing streak in the series, and last year's 29-0 shutout in Baton Rouge, specifically, it has some of the same undercurrents that defined those old Florida-Tennessee games. Anything less than an instant classic will be a letdown. (Last week: 1/2)
3. Jake Fromm, Georgia
It's interesting how wildly perception on Fromm shifts from week to week despite his game remaining remarkably steady. (I'm guilty of this myself, although he hasn't budged from this slot since being passed by Burrow in early September.) This week the needle is up again following a hyper-efficient outing against Florida that QBR graded as the best of any FBS quarterback in Week 10 vs. a Power 5 opponent. The good vibes should hold for at least one more week, until he has to prove it all over again in a Nov. 16 trip to Auburn. (Last week: 3)
4. Kellen Mond, Texas A&M
Mond had a predictably light afternoon in the Aggies' blowout win over UT-San Antonio, attempting a season-low 21 passes and leaving the running entirely to the running backs for a change. It would be nice if he could continue to count on that kind of balance down the stretch against South Carolina, Georgia and LSU, rather than being forced to throw the Aggies out of a hole after the non-Mond portions of the ground game get stuffed. I wouldn't bet on it. (Last week: 4)
5. Kyle Trask, Florida
Last week I noted eerie consistency of Trask's stat lines since the start of October, and on paper Saturday's loss to Georgia continued that trend in a couple of key areas — most notably pass efficiency:

Completion percentage in the low 60s; 7-plus yards per attempt; multiple touchdowns; passer rating in the "solidly above average" window between 145-150. Par for the course, right?
But none of those performances has been nearly as similar as the numbers suggest, and the latest effort was the biggest outlier of them all. For one thing, Georgia's methodical, ball-control offense limited Florida to just 7 possessions for the entire game, the first 5 of which yielded 3 punts, a turnover on downs and a field goal. Most of what made it into the box score came on the Gators' last 2 possessions, time-consuming marches on which Trask was a combined 14-of-19 for 128 yards while Georgia's defense — protecting a 2-touchdown lead on both drives — played primarily to prevent a quick strike. The resulting scores were too little, too late.
The big-picture question now shifts from whether Trask is good enough to carry Florida to the SEC East crown (not quite) to whether he's good enough to remain the presumptive starter in 2020 over the 2 vastly more hyped prospects on the depth chart, Feleipe Franks and Emory Jones.
He has to be the front-runner: The Gators will be certainly be favored to win their last 3 games against Vanderbilt, Missouri and Florida State, setting up a major bowl bid and a chance to go into the offseason with plenty of momentum toward a championship run next year, when Trask (like Franks) will be a 5th-year senior.
If Franks is healthy enough to compete by next spring, it could be one of the most compelling and consequential QB battles in the country. If not, Franks will likely be on his way out. (Last week: 5)
6. Kelly Bryant, Missouri
Bryant remains "day to day" with a sore hamstring, and the most recent update wasn't encouraging: "If [we] played today, he wouldn't be out there," coach Barry Odom said on Tuesday, while Bryant himself estimated he was around 75 percent. If that doesn't improve in time for Saturday's trip to Georgia, the upset bid will hinge on a first-time starter, redshirt sophomore Taylor Powell. (Last week: 6)
7. Bo Nix, Auburn
Nix rebounded from a rough day at LSU — as well as a rough week in the aftermath — with a resolute effort against Ole Miss, setting season/career highs for attempts (44), completions (30), passing yards (340), and longest gain (78 yards, on a swing pass to RB Harold Joiner) in 20-14 win. He also connected on his 2nd-longest gain, a 50-yard bomb to Anthony Schwartz that might be the best evidence yet of Nix's downfield arm strength.
Nice toss by Bo Nix and an even better catch by Anthony Schwartz! #devy #CollegeFootball pic.twitter.com/dOCLqVw917

— Brandon Lejeune (@DynastyDeepDive) November 2, 2019
Finishing drives, however, continues to be an issue. Despite crossing midfield into Ole Miss territory on 10-of-11 possessions, the Tigers only managed to reach the end zone twice; their other 8 opportunities on the Rebels' side of the field ended with 2 successful field goals, 3 missed field goals, 2 punts and a fumble. The result: A thoroughly lopsided game on the stat sheet, where Auburn outgained Ole Miss 507 yards to 266 with a 12-minute advantage in time of possession, that still came down to the final play. (Last week: 8)
8. Lynn Bowden Jr. or  Sawyer Smith, Kentucky
It still says "or" on the depth chart, so the door for Smith to return to the lineup after Bowden's eye-opening October run is at least technically open. The Wildcats have had 2 weeks to figure out how the rotation is going to work Saturday against Tennessee; personally, I find it hard to justify taking the ball out of Bowden's hands until an opposing defense proves it can stop him in something other than a monsoon. (Last week: 7)
9. Brian Maurer or  Jarrett Guarantano or  J.T. Shrout, Tennessee
Maurer skipped Saturday's 30-7 win over UAB for the 2nd week in a row, despite being cleared to play following back-to-back concussions in the Vols' previous 2 games. Shrout earned his first career start against the Blazers instead, with Guarantano playing the majority of the game off the bench — the 7th consecutive game the Vols have played multiple quarterbacks.
The fan base, for its part, still seems to prefer Maurer for the stretch run to Shrout or a potential Guarantano redemption arc, if only because Maurer is (a) the youngest and most likely to grow into a competent starter in the future, and (b) not Guarantano, whose time as the starter is very much up. The bullpen role might suit him better, anyway. (Last week: 10)
10. Garrett Shrader or  Tommy Stevens, Mississippi State
Sure, it came at the expense of Arkansas, but on the heels of a 4-game losing streak, a blowout road win over a division rival is a blowout road win over a division rival. Shrader, barely 2 weeks removed from being promoted to QB1, was sidelined in Fayetteville by "general health issues"; Stevens got the surprise start instead, coming out of hiatus to account for 246 yards (172 passing, 74 rushing) and 2 touchdowns in a run-oriented, 54-24 massacre. The duo remains as interchangeable as ever. (Last week: 11)
11. Matt Corral and  John Rhys Plumlee, Ole Miss
Plumlee took all but a handful of the snaps in the Rebels' loss at Auburn, churning out a team-high 92 rushing yards on 5.4 per carry in the process. But his athleticism isn't nearly enough to compensate for his subpar arm: Out of a dozen qualified passers, Plumlee ranks dead last vs. SEC opponents in completion percentage (44.8), yards per attempt (4.8), and overall efficiency (94.6). On Saturday, he managed to convert a short field into a touchdown in the first half, string together a 15-play, 91-yard TD drive in the second, and not much else.
Corral has been better when healthy, but not by much, and doesn't offer nearly the same spark as a runner. If the Rebels could somehow graft his arm onto Plumlee's body, Frankenstein-style, they might have something. As it is, they're 1 loss from extending their bowl drought to 4 years and counting. (Last week: 9)
12. Ryan Hilinski, South Carolina
The typical Hilinski performance this season has tended to involve one big play, usually in the early going, that winds up accounting for a significant chunk of his output in an otherwise sketchy effort overall. Saturday's 24-7 win over Vanderbilt was the opposite: Hilinski turned in his best passer rating of the year vs. a Power 5 opponent (162.4) despite a long gain of just 25 yards. Add a big play or two to that and he'll be flying up this list in a hurry. (Last week: 12)
13. Riley Neal or  Mo Hasan or  Deuce Wallace, Vanderbilt
Hasan, the unlikely hero of Vandy's Oct. 19 upset over Missouri, sat out the loss to South Carolina due to the lingering effects of a concussion and isn't expected to play Saturday at Florida. Ditto for Neal, who suffered a concussion on a 1st-quarter touchdown pass at Carolina and didn't return.
That leaves either Wallace, whose past 2 appearances against UNLV and South Carolina have yielded QBR scores of 2.3 and 2.2, respectively — that's out of a possible 100 — or redshirt freshman Allan Walters, who has yet to see the field in a college game, to make his first career start in The Swamp. I'm sure there's been a worse set of circumstances at Vanderbilt over the years, but I can't think of any. (Last week: 13)
14. John Stephen Jones or  K.J. Jefferson, Arkansas
The transfers, Nick Starkel and Ben Hicks, are out; the freshmen are in. Jones (redshirt) and Jefferson (true) came off the bench to lead a pair of late, garbage-time scoring drives against Mississippi State, which is all Chad Morris needed to see to elevate them to the top of the depth chart for Saturday's must-win face-saving opportunity against Western Kentucky. Jones will be the Razorbacks' 6th starting QB in 22 games on Morris' watch. (Last week: 14)