SEC
SEC QB Power Rankings, Week 9: Joe Burrow's touchdown pace is off the charts
Quarterbacks: There are a lot of them! Each week throughout the season, SEC QB Rankings will help you keep the game's most important position in perspective by ranking the SEC starters 1-14 according to highly scientific processes and/or pure gut-level instinct. Previously: Week 1 … Week 2 … Week 3 … Week 4 … Week 5 … Week 6 … Week 7 … Week 8.
1. Tua Tagovailoa, Alabama
The most pressing question in Tuscaloosa this week: What are the anticipated recovery schedules and most common proximal effect associated with the Arthrex Knotless Syndesmosis TightRope procedure? The second-most pressing question: Who is Mac Jones?
A few Mac facts: (1) He's a 3rd-year sophomore from Jacksonville, Fla.; (2) He's logged 45 attempts over the past 2 years in a dozen appearances off the bench, including a career-high 11 attempts after Tagovailoa left last week's win over Tennessee in the 2nd quarter; (3) He's one of just a handful of scholarship players on the roster who arrived as a 3-star recruit; (4) His first career start Saturday against Arkansas also will be, incredibly, the first by a backup quarterback due to injury in Nick Saban's entire Bama tenure. Streak-wise, that ranks right up there with the Tide's ongoing, 11-year run vs. unranked opponents.
The latter streak is in no jeopardy from the Razorbacks, a hapless outfit that's lost 15 consecutive in SEC play and opened as a 33-point underdog. If the former extends beyond one game against the division doormat, though, it will have major ramifications. Given a chance, Jones could turn out to be a serviceable starter for a team with championship goals in the mold of Greg McElroy and AJ McCarron; absolutely the last thing the Tide want is to have the opportunity to find out. (Last week: 1)
2. Joe Burrow, LSU
Burrow threw his 26th, 27th, 28th and 29th touchdown passes of the season Saturday at Mississippi State, claiming LSU's single-season record in the process in just 7 games. With all due respect to Matt Mauck and JaMarcus Russell, that mark was ripe to go down sooner rather than later. (The only other SEC schools that have never had a player throw for 30 TDs in a season are Mississippi State, South Carolina and Vanderbilt.) But as soon as mid-October? At the rate Burrow is going, the school standard is just the first of many in his sights.
First, the big one: The FBS record for TD passes in a season is 58, set by Hawaii's Colt Brennan in 2006. With 29, Burrow is exactly halfway to that mark, meaning that at his current pace LSU will have to play its way into a 14th game by (a) winning the SEC West, or (b) earning a Playoff bid as the West runner-up and winning a semifinal game to advance to the national championship. Not impossible; don't bet on it.
As for the relevant SEC records, on the other hand, it's only a matter of time and health. Burrow's pace right now is historic: No other SEC quarterback has ever thrown 29 TD passes in the first 7 games of a season. In fact, no other SEC quarterback has ever thrown 29 TD passes in the first 8 games of a season. The fastest to reach that mark before Burrow, Missouri's Drew Lock in 2017 and Florida's Rex Grossman in 2001, needed 9 games. Danny Wuerffel (1995) and Johnny Manziel (2013) needed 10. Tagovailoa didn't throw his 29th TD pass last year until game No. 11 against The Citadel.
Heady stuff before we've even set the clocks back. Consider that since 2000, 16 SEC quarterbacks have thrown 30-plus TD passes in a season — 4 of whom did so in multiple seasons — and none came anywhere near the pace that Burrow and Tagovailoa have blazed so far in 2019: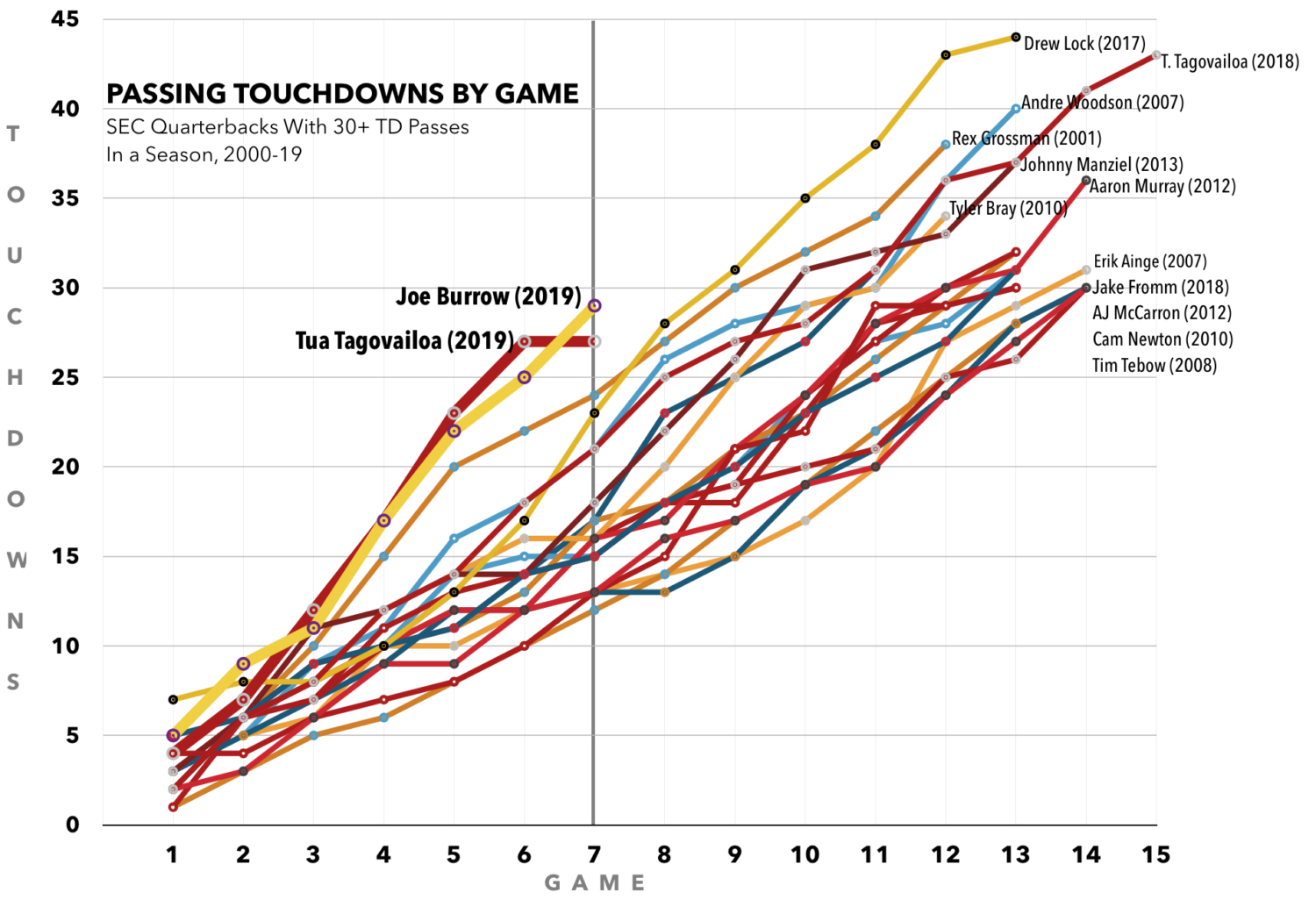 If he doesn't break Lock's record at this point it will be a disappointment, and very possibly a disaster. (Last week: 2)
3. Jake Fromm, Georgia
Fromm's Week 7 performance against South Carolina was widely panned as the worst of his career. His Week 8 performance against Kentucky might not even qualify for the distinction: With pouring rain and the defense firmly in control, Georgia largely abandoned the concept of passing altogether en route to a 21-0 win. Fromm finished just 9-of-13 for 35 yards (2.9 per attempt), all but 1 of those attempts coming in a scoreless first half.
In this case, the miserable stat line was clearly due to the miserable conditions. But the most basic premise of Georgia's offense — the less Fromm is asked to do, the better the results — continues to hold up, even if the relationship remains more effect than cause. Against Kentucky in a monsoon, whatever; for the Bulldogs to get over the hump against Playoff-level competition, at some point that will have to change. (Last week: 3)
4. Kelly Bryant, Missouri
The Tigers' 21-14 loss at Vanderbilt was one of the most shocking results of the season, and Bryant turned in his worst stat line in a Missouri uniform, by far: 13-of-26, 140 yards, 1 TD, 1 INT, 3 sacks. His game grade according to ESPN's QBR metric (35.7) was nearly 30 points below his grade in any of his other 6 starts; the lone interception killed an extended drive inside the Commodores' 10-yard line. Mizzou's other possessions yielded 7 punts, 5 3-and-outs, 2 missed field goals and a short-field touchdown after taking over at the Vandy 6-yard line.
Bryant did contribute a team-high 90 rushing yards (not including negative yardage on sacks), and his dual-threat potential is one of the main reasons he didn't drop this week from the slot he's held down for the past month. But that position is suddenly on thin ice. (Last week: 4)
5. Kyle Trask, Florida
Swain goes FULL EXTENSION for the Gators touchdown. pic.twitter.com/fwUG2Db8K7

— CBS Sports HQ (@CBSSportsHQ) October 19, 2019
I haven't decided yet if Trask is actually better than Feleipe Franks, or if he's just being graded on a more forgiving curve — inevitably, a B+ outing by a career backup making good on his big break is always easier to appreciate than the same performance by blue-chip talent struggling to live up to high expectations. Franks' production the past 2 years has generally been better than his reputation, and before his season-ending ankle injury the odds were good that the Gators would wind up in exactly the same position (7-1 record, top 10 ranking, plausible Playoff aspirations) that they're in now. They've barely budged in the polls.
I do know, though, that the arrow for Trask continues to point up. At South Carolina, he salvaged a dismal afternoon in the rain with a clutch 4th quarter, connecting on 5-of-6 attempts with 3 touchdowns and 2 crucial pass interference penalties to rally the Gators to a 38-27 win. That was his 5th consecutive game with multiple TD passes and a passer rating of 145.0 or better, a stretch that (so far) has included a major rival in his first career start, back-to-back dates against top 10 opponents, and a division road trip in bad weather. Franks, for his part, never hit both of those marks in more than 2 consecutive games.
These things can change quickly, but barring injury or collapse down the stretch, it's probably safe to assume that (a) Trask will enter his final season of eligibility in 2021 as the entrenched starter, and (b) Franks will finish his career elsewhere as a grad transfer. Emory Jones' outlook is harder to predict, but given that he got exactly one snap at Carolina after Trask's helmet was knocked loose it's time for the hints at a "2 quarterback system" to be retired. (Last week: 6)
6. Kellen Mond, Texas A&M
Mond accounted for 248 of the Aggies' 337 total yards at Ole Miss; that's roughly on par with his 71.6-percent share of A&M's output for the season, still the highest in the SEC. For once, though, it wasn't a 1-man show: Freshman RB Isaiah Spiller ran for a team-high 78 yards in Oxford on 4.9 per carry — easily the best individual outing by an A&M back this season against a Power 5 defense, and more than the running backs as a group managed in their previous two games against Alabama and Arkansas combined. (Last week: 5)
7. Bo Nix, Auburn
Nix had an extra week to stew over his grim afternoon at Florida and responded nicely Saturday with an efficient evisceration of Arkansas: 12-of-17, 176 yards, 3 TDs, 0 INTs, plus a 4th TD as a runner. The degree of difficulty gets dialed back up to 11 this weekend at LSU. (Last week: 7)
8. Garrett Shrader, Mississippi State
Shrader was mostly fine against LSU, accounting for 304 total yards (238 passing, 66 rushing) and 2 touchdowns in a wholly predictable 36-13 loss that could have been a lot bloodier than it was. He also threw 2 interceptions, led 4 3-and-outs in the second half, and padded that stat line considerably on a meaningless, 90-yard TD drive in the closing minutes. At least he's in no immediate danger of yielding the job back to senior Tommy Stevens; check back again after this weekend's trip to Texas A&M. (Last week: 9)
9. Matt Corral and John Rhys Plumlee, Ole Miss
Like a lot of Ole Miss fans, I've been enamored with Plumlee, the speedy true freshman, but the Rebels' 24-17 loss to A&M was a reality check. For the first time, Plumlee failed to break out as a runner, managing just 38 yards on 2.9 per carry; meanwhile, he finished just 4-of-12 passing for 31 yards, lost a fumble that A&M returned for a game-changing touchdown, and left the game with a knee injury. Corral, who split snaps roughly down the middle, didn't fare much better.
Plumlee had minor surgery on his knee, one of a multitude of injuries for the Rebels, and won't practice at all ahead of this weekend's open date. Coach Matt Luke said he expects Plumlee to be available for the Nov. 2 trip to Auburn, although that remains up in the air. So does the state of the rotation if both quarterbacks ever manage to get healthy at the same time. (Last week: 8)
10. Ryan Hilinski, South Carolina
The Gamecocks' loss to Florida yielded season lows for Hilinski in pass efficiency (98.8) and QBR (16.4), as well as a costly fumble that helped spark the Gators' comeback in the 4th quarter. Not good, but for a true freshman playing opposite a top 20 defense on a bad knee in horrendous weather, I've seen a lot worse. (Last week: 10)
11. Brian Maurer or TBD, Tennessee
Maurer has started 3 games and been knocked out early by cringe-worthy hits in all 3. Jarrett Guarantano has been demoted once and might be on the outs for good after apparently calling his own number on the goal line Saturday on what was probably the Vols' biggest play of the season to date, with catastrophic results; he was read the riot act by Jeremy Pruitt on national TV and benched for the rest of the game for redshirt freshman J.T. Shrout. Ideally, Maurer will return in one piece and remain in one piece, while Guarantano counts the weeks before he can peace out for the transfer portal.
If Maurer is ruled out following multiple concussions, the situation gets dicier. Tennessee is entering the manageable portion of its schedule, with conceivably winnable games on deck against South Carolina, UAB, Kentucky, Missouri and Vanderbilt. Guarantano might give the Volunteers a better chance to string together a couple of wins against that group than Shrout; he might also have just blown whatever trust coaches had left. Pruitt insisted on Monday that that isn't the case. Who he decides to put on the field on Saturday will be more telling. (Last week: 11)
12. Sawyer Smith or Lynn Bowden Jr., Kentucky
Much respect to Bowden, a dynamic athlete who stole the show in a crucial Week 7 win over Arkansas and turned in a gutsy effort in the loss at Georgia. But, you know, he's a wide receiver for a reason. He didn't complete his first pass against the Bulldogs until well into garbage time, narrowly avoiding becoming the first FBS player this century to attempt at least 10 passes in a game without connecting on a single one.
Smith was technically cleared to play in Athens, but it made little sense to rush him back from shoulder and wrist injuries for a game the Wildcats had little chance of winning, in conditions that largely rendered the passing game irrelevant in the first place. This weekend's visit from Missouri makes a lot more sense as a return date. (Last week: 12)
13. Riley Neal or Mo Hasan, Vanderbilt
Hasan, a former walk-on, earned his first career start in the Commodores' upset win over Missouri and might have been on his way to locking down the job for the foreseeable future until he was knocked out of the game on a hit that was flagged for targeting. Neal, who started the first 6 games, was picked off on his first attempt in relief, setting up Mizzou's only points of the second half; he bounced back by leading a 65-yard touchdown drive in the 4th quarter on which he was 3-of-4 with 2 3rd-and-long conversions, including the go-ahead/game-winning pass to Cam Johnson from 21 yards out.
Hasan wasn't exactly a revelation — half of his 120 passing yards came on a 61-yard screen pass to Vandy's only reliable weapon, RB Ke'Shawn Vaughn — but health pending, one would assume that a guy who came out of nowhere to help save his head coach from certain doom deserves to keep playing. What do they have to lose? (Last week: 14)
14. Nick Starkel or Ben Hicks, Arkansas
Hicks went the distance Saturday in a 51-10 loss to Auburn, no small feat for an Arkansas quarterback over the past 2 years: In 19 games under Chad Morris, it's only happened 8 times. By contrast, it was the 9th time in Morris' tenure that the Razorbacks' leading passer by attempts in a given week was a different guy than the previous week: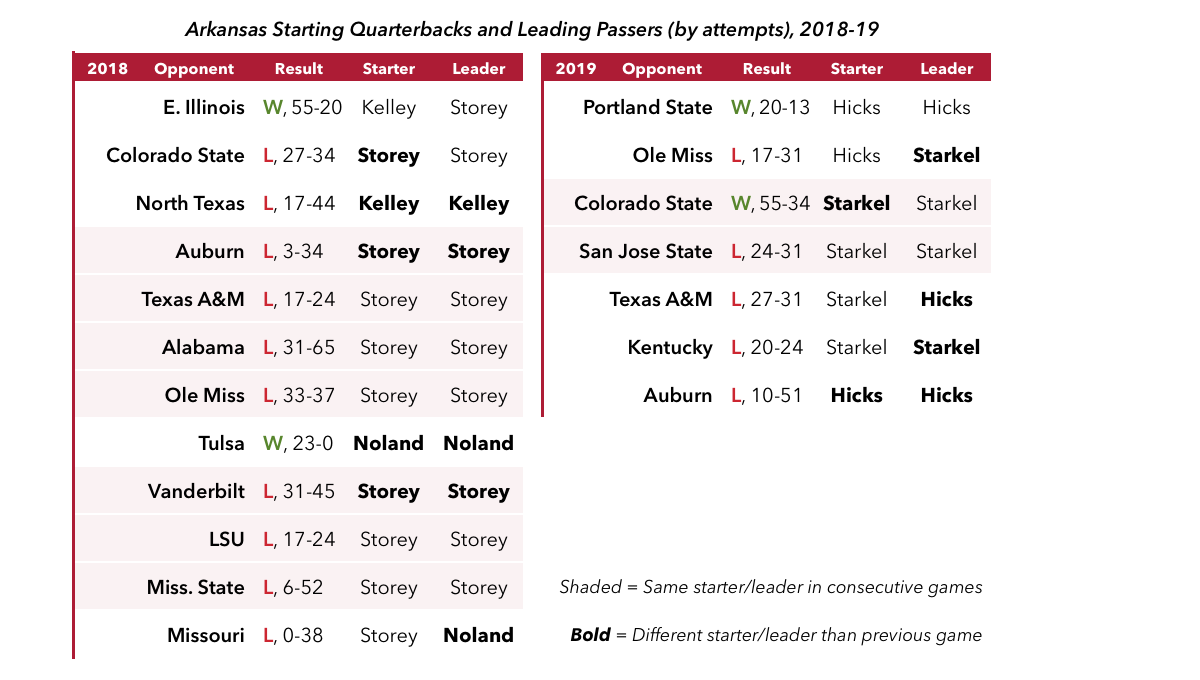 For what it's worth, the pendulum is likely to swing back to Starkel for Saturday's trip to Alabama while Hicks nurses a shoulder injury; it looks like a game-time decision, and a fluid situation from there, as usual. The real intrigue begins next week, when 4-star true freshman K.J. Jefferson will be eligible to enter the mix over the last 4 games without burning his redshirt. (Last week: 13)