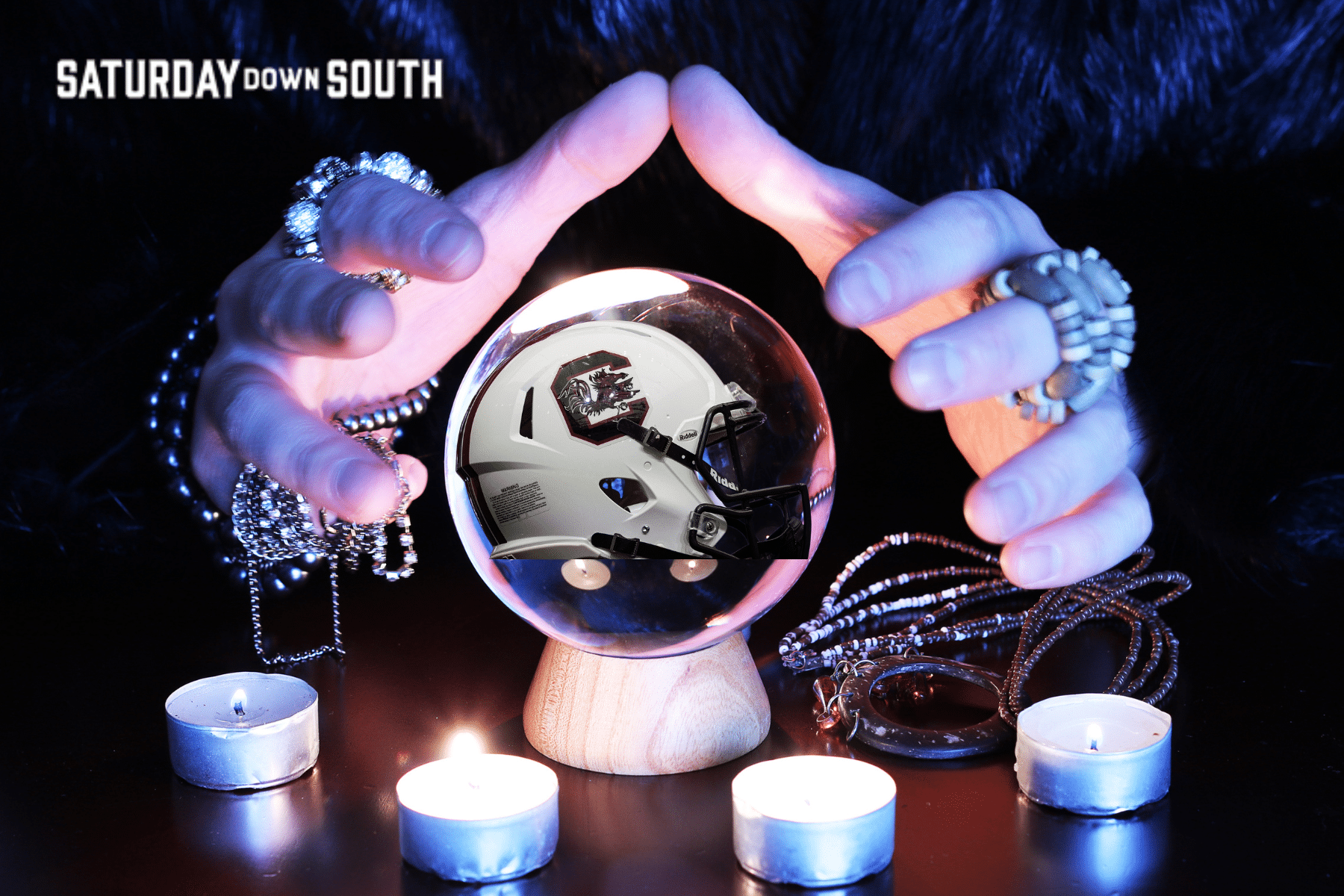 SOUTH CAROLINA
South Carolina Crystal Ball: Predicting every game for 2023
Editor's note: Saturday Down South's annual Crystal Ball series continues today with South Carolina. We'll stay with the SEC East all week. Last week, we predicted every game for every SEC West team.
Previously: Alabama | Arkansas | Auburn | LSU | Mississippi State | Ole Miss | Texas A&M | Florida | Georgia | Kentucky | Mizzou
* * * * * * *
It's cliché, but it's true. Things change quickly in this sport.
Heading into late-November of last year, South Carolina appeared to be destined for mediocrity. Fresh off a 38-6 blowout loss at Florida, Shane Beamer had a 6-4 team that was facing a pair of matchups against 2 Playoff-hopeful teams to close the regular season. The Gamecocks appeared destined for the Liberty Bowl and the honeymoon phase of the Beamer era was approaching a screeching halt.
And then it all changed.
In a span of 8 days, South Carolina demolished 1-loss Tennessee and then it went into Clemson and handed the Tigers their first home loss in 6 years. It put South Carolina atop the college football world in consecutive weeks, just as the home stretch of the recruiting period approached. Ideal? Absolutely.
If you earned a nickel for every time Beamer was asked about "momentum" because of those 2 victories, you could've financed his raise. Beamer is now making $6.5 million annually. That'll come with an increased set of expectations.
So, will the Gamecocks pick up where they left off? Or will the team that looked like it was destined for mediocrity revert to that?
Let's see what the 2023 Crystal Ball has to say:
One more Spencer Rattler chapter with another new OC
Nobody personified that late-season push better than Rattler. He was a bottom-of-the-pack SEC quarterback before those final 2 games. Then we watched him live up to that former 5-star, Heisman Trophy favorite billing. His decision to return for another year was a monumental win for Beamer and Co.
Did Rattler turn the corner? Or should we just expect him to make some jaw-dropping plays with some head-scratching mistakes over the course of the game? I'd argue the latter is a more appropriate expectation.
Rattler struggled for most of his time in the Marcus Satterfield offense. With Satterfield off to Nebraska, Dowell Loggains was the off-the-radar hire as the Gamecocks' new play-caller. Loggains has never called plays at the college level, and most recently, he was coaching tight ends at Arkansas. If South Carolina's offense isn't more consistent with Rattler, that'll be a popular topic of conversation.
But Loggains came in with high marks from former Gamecocks Connor Shaw and Alshon Jeffery, both of whom spent time with the new OC while he was with the Chicago Bears. So did Jay Cutler, who gave Loggains glowing remarks upon his arrival. It's Cutler who might share the most similarities with Rattler, at least from a skillset standpoint.
Does that mean Rattler is destined to become the 1st round prospect that he was billed as entering 2021? No, but it does set the stage for yet another fascinating chapter of his roller-coaster career.
This running back situation isn't the way you draw it up
In a perfect world, South Carolina wouldn't have lost MarShawn Lloyd to USC. Like, the other USC. Ideally, the Gamecocks wouldn't be entering 2023 with just 4 scholarship running backs and a hope that a converted quarterback/receiver Dakereon Joyner could roll with RB1 duties.
But that's the situation Beamer is facing.
It's great that Joyner is so willing to take on that role, which is a fitting way for the 6th-year player to use his last year of eligibility. It's a bit more daunting that a South Carolina ground game that has yet to finish in the top half of FBS under Beamer is entering a season with a lack of proven backs.
If South Carolina had a dominant offensive line, the topic of backfield depth wouldn't be so pressing. But that hasn't been the case. The Gamecocks have yet to average better than 3.78 yards per carry under Beamer, and nobody hit the 700-yard mark in those first 2 seasons.
Now would be a good time for that trend to turn around amidst some low expectations.
More Beamer Ball in 2023? You bet
To be clear, Beamer Ball isn't just a special teams deal. It's the belief that no matter who is on the field, you can score. In 2021, South Carolina had 5 non-offensive touchdowns. In 2022, that number jumped up to 7. That's 12 non-offensive touchdowns in 26 games during the Beamer era. That's almost unheard of. South Carolina also forced more turnovers than any SEC team each of the past 2 seasons.
It's great that South Carolina gets points like that, but ideally, you don't want to be so reliant on non-offensive touchdowns. At the same time, playing lights out special teams and forcing turnovers isn't a bad foundation to fall back on. There might not be a better punter in America than Kai Kroger — he might also be the best passing punter in America — and the fact that Xavier Legette has turned into a legitimate kick return threat is a positive. South Carolina has just 1 missed field goal attempt in Beamer's 2 years in Columbia.
The question isn't whether Beamer Ball will surface in 2023. It's just how much we'll see and how often it'll be the difference in a game.
Game-by-game predictions
Week 1: vs. UNC in Charlotte (W)
Spencer Rattler said that he hopes he and Heisman Trophy-hopeful UNC quarterback Drake Maye "put on a show" in Week 1. My guess is that Rattler delivers on that. Against a UNC defense that was gashed frequently last year, Rattler eventually settles into a nice rhythm. With top target Juice Wells a bit banged up to start the year, Legette shines. Rattler and Maye go blow for blow in a wildly entertaining second half that's shades of South Carolina's bowl game against Notre Dame. This time, however, the Gamecocks block a punt that turns into a JuJu McDowell rushing score to take the lead late. The Battle of the Carolinas goes to the Gamecocks.
Week 2: vs. Furman (W)
This has "Nyckoles Harbor breakout game" written all over it. The guy who earned the No. 1 spot on Bruce Feldman's annual "Freaks List" has his first college touchdown in a dominant Week 2 win.
Week 3: at Georgia (L)
Finally, Georgia faces a team that deserves to be on the same field. Well, at least that's the consensus for the first half. South Carolina surprises Georgia by going vertical out of the gate. With the UGA front unable to get home, Rattler has a pair of first-half touchdown passes to Wells and Legette. But South Carolina's run defense leaves something to be desired all game. A healthy Kendall Milton prevents the Gamecocks from staying within arm's reach in the second half. UGA rolls to a 42-21 victory in the SEC opener.
Week 4: vs. Mississippi State (L)
Consider this a reminder of why this conference can be so tough to predict. The last time South Carolina stepped into Williams-Brice Stadium against an SEC opponent, Tennessee happened. But 10 months after the Gamecocks shocked the college football world, it can't muster that same offensive mojo. Mississippi State's Nathaniel Watson and Jaden Crumedy stuff the developing South Carolina ground game and Rattler forces too many throws in obvious passing situations. A 3-turnover day is the difference in a huge Mississippi State road victory.
Week 5: at Tennessee (W)
You thought last year was a fluke? Nope. With so many of those pieces back from last year's stunner in Columbia, South Carolina does the unthinkable again. This time, Rattler doesn't play perfect. He throws 2 interceptions, but he also delivers touchdown passes to Wells and tight end transfer Trey Knox. A revenge game for Tennessee follows a frustrating script. Joe Milton's fast start fades and Tennessee is forced to turn into a 1-dimensional offense. The Gamecocks pounce on a pair of fumbles, the second of which sets up a game-winning field goal in the final minute. The Vols lose at home for the first time since November 2021.
Week 6: Bye
Week 7: vs. Florida (W)
Remember that time Florida beat South Carolina 38-6 in mid-November and there was no doubt about who had the better football team? Well, the Gators responded by losing at Vandy, at Florida State and to Oregon State while the Gamecocks beat 2 top-10 teams and played Notre Dame down to the wire in a bowl game. Weird. Not so weird? The idea that Rattler moves past last year's dud in Gainesville with a brilliant showing. Florida DC Austin Armstrong's pressure packages backfire and South Carolina takes advantage of matchups on the outside. A 31-14 South Carolina victory totally flips the script.
Week 8: at Mizzou (L)
Death, taxes and Mizzou finding a way to beat South Carolina. The last time that didn't happen was 2018 when the college football gods dropped a monsoon into Williams-Brice Stadium. But just like each of the past 4 years, South Carolina is a shell of itself offensively against Mizzou. Rattler gets picked off by Kris Abrams-Draine, who returns it to the house. The Gamecocks' ground game can't muster much of anything against Mizzou DC Blake Baker's experienced defense. The Sam Horn-led Mizzou offense opens up a bit with some play-action shots to Luther Burden III, and once again, the Tigers find a way to bring South Carolina back to earth.
Week 9: at Texas A&M (L)
A&M's dominance of South Carolina finally ended in 2022, but here's why order will be restored in this rivalry. Four weeks removed from their last win, the Aggies flip the switch offensively. They attack the South Carolina corners and turn it into a pass-heavy game plan. But unlike when the Gamecocks couldn't gain a first down in their last visit to College Station in 2021 (that's what it felt like), this one turns into a back-and-forth shootout. A&M struggles to put away Rattler and the South Carolina offense until an interception on the final drive gives the Aggies a 42-38 victory.
Week 10: vs. Jacksonville State (W)
The "LaNorris Sellers is the future" hype builds in a big way after a convincing win.
Week 11: vs. Vanderbilt (W)
This is a day in which we're reminded why South Carolina safety Nick Emmanwori is already one of the SEC's best defensive players. He's everywhere. Whether it's separating receivers from the ball downfield or applying pressure to AJ Swann, Emmanwori does it all en route to SEC Defensive Player of the Week honors. It's needed for the Gamecocks on a day in which Clark Lea's Year 3 defense keeps the emerging passing game at bay. But South Carolina hangs on for a 21-10 victory.
Week 12: vs. Kentucky (W)
I get the sense that there's no love lost between Mark Stoops and Beamer. Will sunglasses be discussed in this one? Maybe. But unlike last year's rock fight, this one becomes a fun Saturday night SEC Network game. Rattler and UK QB Devin Leary, both vying for All-SEC love, throw 3 touchdown passes apiece in a game that feels like the last team with the ball will win. Kentucky lines up for a 45-yard field goal to tie it at 38 all, but … Beamer Ball strikes. A blocked kick in the final minute is returned for a touchdown and sends the Williams-Brice crowd into a frenzy as South Carolina hangs on.
Week 13: vs. Clemson (W)
Yep. Again. Rattler saves his best for last. Again. On Senior Day, Rattler's best moment yet comes against an unbeaten Clemson squad. Loggains gives Rattler the opportunity to air it out early and often. Just as he did last year, Wells gets behind the Clemson secondary and has a field day. Instead of relying on All-ACC running back Will Shipley to dig Clemson out of an early hole, OC Garrett Riley puts the ball in the hands of QB Cade Klubnik. Clayton White's defense befuddles the first-year starting quarterback and South Carolina takes advantage of a pair of 2nd-half turnovers. For the 2nd consecutive year, Beamer knocks off Dabo Swinney and puts Clemson's Playoff hopes in jeopardy.
2023 projection: 8-4 (4-4), 2nd in SEC East
#SpursUp
Most South Carolina fans would take 8-4 all day, every day, especially if it included another win against Clemson. Of course, some would say a 4-4 record in SEC play wasn't good enough and continuing to lose to Mizzou is equal parts baffling and maddening.
But what the Gamecocks have to show is that 2022 was indeed a building block. Spending the 2023 season outside the AP Top 25 with a lack of national TV games would be a setback. Even if the record is the same as it was a year ago, there's a chance we're talking about a much more consistent South Carolina team. We could see Rattler have a much better start with Loggains, and perhaps the struggles that the team has had in the trenches will begin to fade.
Competing for an East title isn't a realistic goal for 2023. Not with Georgia doing what it's doing. But having a fun season with more of those "how do you like me now" victories would go a long way for Beamer in his quest to establish South Carolina as an emerging threat in the expanded SEC.
That's very much on the table.