SEC
SEC QB Power Rankings for Week 10: The JT Daniels bandwagon has achieved liftoff
Quarterbacks: There are a lot of them! Each week throughout the season, SEC QB Power Rankings will help you keep the game's most important position in perspective by ranking the SEC starters 1-14 according to highly scientific processes and/or pure gut-level instinct. Previously: Week 1 … Week 2 …Week 3 … Week 4 … Week 5 … Week 6 … Week 7 … Week 8 … Week 9.
1. Kyle Trask, Florida
When Joe Burrow passed for 29 touchdowns in just 7 games last year, it was an off-the-charts achievement in SEC history. (I actually made the chart.) Well, here's the updated chart: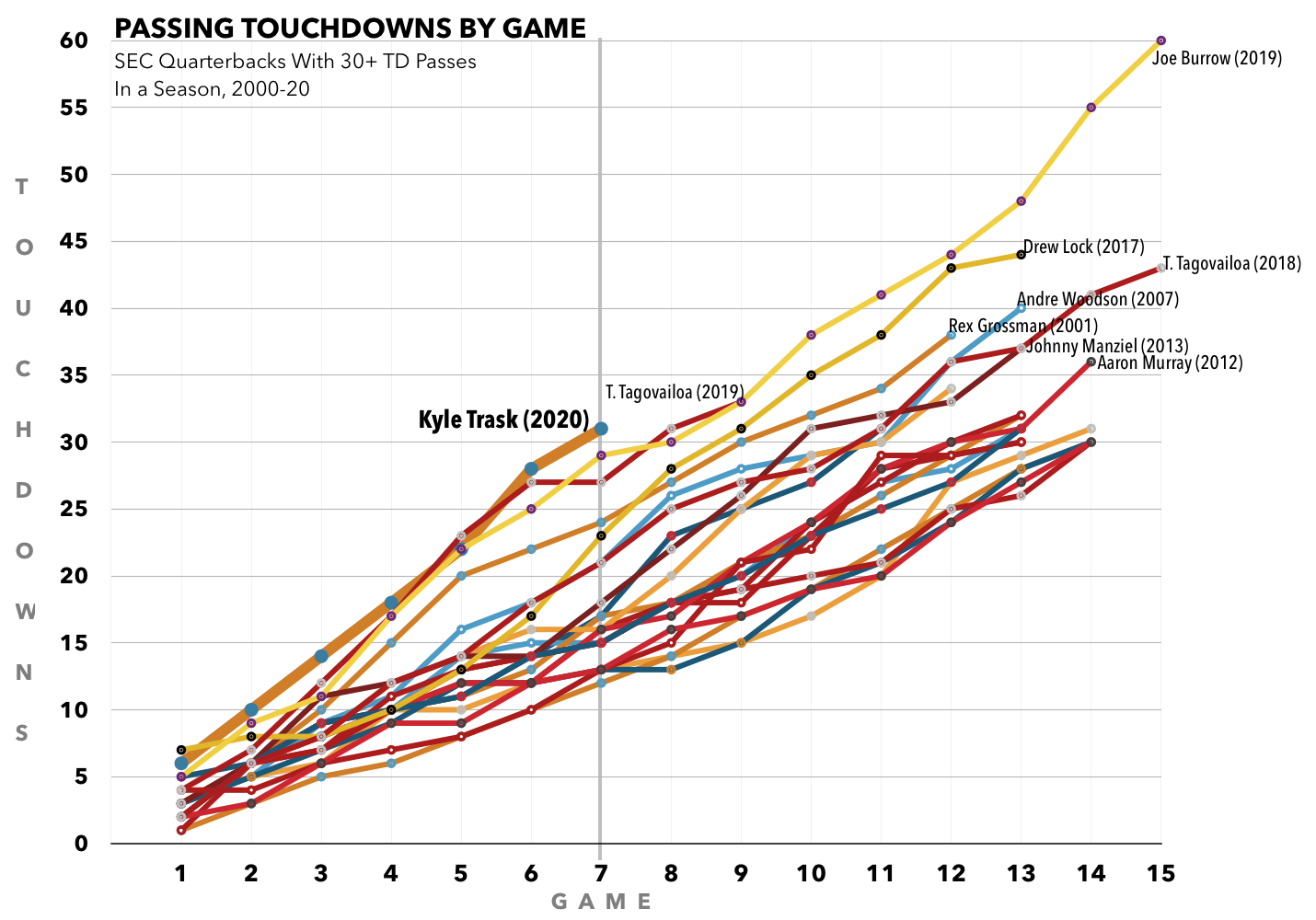 Thirty-one touchdown passes in 7 games! Only 1 quarterback in D-I history has thrown for more TDs at the same point on his team's schedule (Texas Tech's B.J. Symons, who had 32 through 7 games in 2002), and only 13 QBs in SEC history have thrown for more over an entire season. Trask probably has no realistic shot at catching Burrow overall due to the COVID-shortened schedule, but assuming Florida ultimately plays at least 5 more games (3 more to close the regular season + SEC Championship Game + bowl game), he might wind up within spitting distance, at least: At his current pace, Trask will finish with 53 TDs over 12 games, which would rank in the top 5 all-time. If the Gators advance to the National Championship Game, look out below.
– – –
(Last week: 1)
2. Mac Jones, Alabama
Jones has earned heaps of praise this season for his downfield accuracy on deep balls, deservedly so. Against Kentucky, he also set about answering any lingering doubts about his ability to drive the ball into a tight window:
Devonta Smith sets SEC career touchdown record on tight throw from Mac Jones pic.twitter.com/gz1EYUcBuo

— Cameron Patterson (@camwpat) November 22, 2020
It goes in the books as a 10-yard touchdown, but that's a big-league throw that actually covered closer to 30 yards, on a rope, from outside the structure of the play. Next up on the "first-round talent" checklist: Threading the needle under pressure — you know, if Alabama's A+ pass protection ever gives him the chance.
– – –
(Last week: 2)
3. Matt Corral, Ole Miss
Corral is having a season reminiscent of the Mahomes years at Texas Tech, ranking among the top 10 nationally in total offense, pass efficiency and Total QBR opposite a defense that spends most of its time engulfed in flames. All of which makes his 6-INT meltdown against Arkansas last month, which made very little sense at the time, look more and more inexplicable by the week: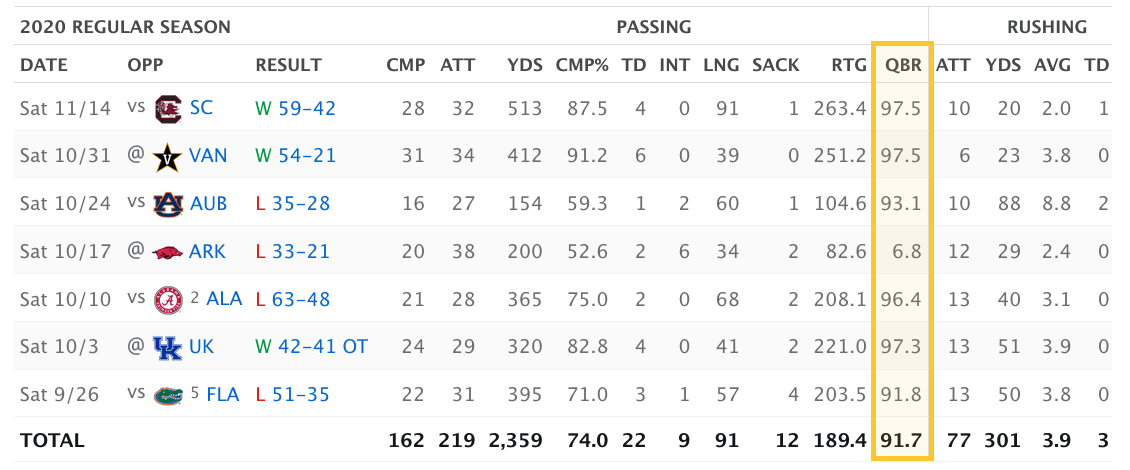 With (for now) only Mississippi State and LSU remaining on the schedule, there's no good reason to expect those numbers to come back to earth. But let that outing in Fayetteville be a reminder that the absolute last thing anyone should expect in college football — and from Ole Miss football, especially — is good reasoning.
– – –
(Last week: 3)
4. Kellen Mond, Texas A&M
Mond has made strides this season on many levels, most notably cutting his interception rate in half. Nowhere, though, has his improvement been more dramatic than on 3rd down, where he's elevated his conversion rate to an eye-opening 55%, best in the SEC, after coming in below 40% each of the previous 2 years. The Aggies' overall conversion rate (62.0%) leads the nation, a major factor in their success despite a relative lack of explosiveness.
– – –
(Last week: 4)
5. Feleipe Franks, Arkansas
Franks threw for a career-high 339 yards on 13.0 per attempt in Saturday's 27-24 loss to LSU, dropping Arkansas' record to 0-3 this season when averaging at least 10 yards per attempt and 1-4 when posting a passer rating of 170 or better. This sport frequently makes no sense.
– – –
(Last week: 5)
6. Bo Nix, Auburn
It wasn't pretty, but after a shaky start against Tennessee, the Tigers rallied to score on 5 of their last 6 possessions en route to a comfortable 30-17 win. Nix, who started 2-for-7 for 31 yards with an interception on Auburn's first 2 possessions, finished 15-for-19 for 190 yards and 1 TD the rest of the way — albeit with just a little bit of help from a shorthanded Vols secondary on the touchdown.
https://twitter.com/ESPNCFB/status/1330319102787850240?s=20
Eh, take 'em however you can get 'em. Iron Bowl's on deck.
– – –
(Last week: 6)
7. JT Daniels, Georgia
Is this ranking too conservative? Maybe. But listen: I've seen more than enough hyped young quarterbacks crash and burn after being anointed the Next Big Thing based on an outsized debut (cough, Kenny Hill, cough), so I'm not looking for excuses to get out over my skis over a big night at the expense of Mississippi State. If Daniels has the staying power Georgia fans hope he has, he'll be making his way up the board in short order.
That said: If you are inclined to anoint Daniels a 2021 Heisman contender, there was certainly nothing in his 401-yard, 4-touchdown breakthrough on Saturday night that suggested otherwise. He was accurate, completing 28-for-38 attempts without an interception. He was efficient, going 10-for-11 on 3rd down with 7 conversions. He was on point downfield, connecting on 6 completions that gained 25+ yards — an area that has plagued Georgia's offense for years. He was the highest-graded passer of the weekend nationally according to Pro Football Focus, in a game that saw the Bulldogs post their worst rushing totals (8 yards on 0.3 per carry) in at least 20 years. He flashed touch on downfield throws, zip into tight windows, even some short-area mobility under pressure.
This was dropped, but how was JT Daniels not starting earlier? This play is incredible. pic.twitter.com/7GEPOGIw4G

— Chris Hummer (@chris_hummer) November 22, 2020
So, yeah, he looked like the blue-chip talent he was supposed to be. It's only 1 game, but combine the advance hype with the initial results and you have a solid basis for assuming a star was born.
Georgia's remaining dates against South Carolina and Vanderbilt are only likely to entrench Daniels' rep as a comer while making it even harder for Kirby Smart to justify keeping him on ice as the QB situation deteriorated over the first half of the season. (For what it's worth, Daniels' father defended Smart after the game for not rushing JT back from the torn ACL that ended his 2019 season at USC, even though he was medically cleared to play nearly 2 months ago and was dressed for each of the previous 5 games.)
Going forward, though, the outlook is suddenly bright: The uncertainty that has consumed the position looks like it's been definitively resolved, while the presence of an imminently draftable prospect behind center will keep UGA on the short list of national contenders next year off what can only be described as a disappointing 2020. It also eases the pressure on 5-star 2021 commit Brock Vandagriff to seize command of the job as a true freshman. Anyway, if Daniels wasn't signing up for massive expectations that risk outrunning the available evidence when he chose Georgia, he made the wrong choice.
– – –
(Last week: 8)
8. Connor Bazelak, Missouri
Missouri finished with 301 yards of total offense Saturday in a 17-10 win over South Carolina, its fewest in a win since a 2015 victory over … South Carolina. Sorry, in an inconsequential game featuring 14 punts, 1 touchdown in the final 40 minutes, and zero plays of 30 yards or more, that's as insightful as it gets.
– – –
(Last week: 7)
9. Terry Wilson, Kentucky
Kentucky managed just 179 yards Saturday in a 63-3 beatdown at Alabama, the vast majority of those coming on 3 possessions in the first half that collectively consumed 137 yards, drained nearly 16 minutes from the clock, and resulted in a grand total of 3 points. As for the rest of the afternoon, well, it did give us this …
— Viral Sports (@NotScTop10plays) November 21, 2020
… so at least it wasn't a complete waste of time. Wilson finished 10-for-19 for 120 yards with 0 TDs, a pick-6 INT, and no notable impact as a rusher.
– – –
(Last week: 9)
10. TJ Finley, LSU
With 2 extra weeks to stew in his miserable Halloween performance at Auburn, Finley could have easily been a basketcase his next time out. Instead, he turned in a reassuring effort in the Tigers' 27-24 win at Arkansas, finishing 27-for-42 for 271 yards with 2 TDs, including the game-winner from 13 yards out with 4 minutes to play — good enough to keep him at the front of the pack of 5 true freshmen rounding out this week's rankings, as they tend to do at this point on the calendar. On deck: Another steep road test this weekend at Texas A&M.
– – –
(Last week: 12)
11. Ken Seals, Vanderbilt
Seals continues to make the best of the worst possible situation for a fledgling starter, going 22-for-34 for 319 yards, 2 TDs and 1 INT Saturday in Vandy's 38-17 loss to Florida. That marked the 3rd time in the last 4 games he's eclipsed 300 yards passing with a QBR of at least 75, benchmarks that seemed well beyond his reach at the start of the season. The Commodores are likely going winless, but they've been more competitive as the season has worn on, and Seals increasingly has 4-year starter written all over him.
– – –
(Last week: 13)
12. Will Rogers, Mississippi State
Next up on Freshman Row: Rogers delivered his best outing of the season by far at Georgia, connecting on 41-of-52 attempts for 336 yards, 1 TD and no turnovers in a 31-24 loss that felt like a major step forward for an outfit short on numbers and confidence.
Rogers still doesn't bring much to the table in terms of downfield arm strength — he didn't complete a pass against UGA that traveled more than 15 yards in the air — but then, Mike Leach is well accustomed to doing more with less in that regard. More importantly, Rogers appears to have a solid grasp of the offense and a budding rapport with fellow freshman Jaden Walley, who accounted for a little more than a third of the Bulldogs' total output in Athens (115 yards on 7 catches) as well as their first bona fide big play in 2 months on a 51-yard, catch-and-run TD reception in the second quarter.
Will Rogers : 41/52 for 336 yards, 1 TD & a 92.6 QBR
Jaden Walley : 7 catches for 115 yards & a TD pic.twitter.com/z3I3iK9suz

— Lee Harvey (@MusikFan4Life) November 22, 2020
That was Mississippi State's first 40+ gain since the season-opening win at LSU, and only the 4th touchdown pass, period. An Egg Bowl date with one of the most generous defenses in SEC history is another opportunity to build toward relevance.
– – –
(Last week: 14)
13. Jarrett Guarantano or Harrison Bailey, Tennessee
Yes, 2020 is another lost season for the Vols and most of the fan base is long past the point of dismissing Guarantano as a lost cause. Another dismal night at Auburn (15-for-23, 156 yards, 3 sacks, 0 TDs, 1 INT) only reinforced their ambivalence, which hit a record high at some point in the middle of Guarantano's 3rd pick-6 of the year.
https://twitter.com/SECNetwork/status/1330337618052206594?s=20
Bailey came on in the 4th quarter to finish 7-for-10 for 86 yards and lead a garbage-time touchdown drive, for what it's worth. If he does get his first career start in 2 weeks vs. Florida, though — this weekend's game against Vanderbilt has been postponed — it will be strictly a concession to building for the future, and to the fact that Guarantano probably won't be a part of it. Whether Jeremy Pruitt will be is still to be determined.
– – –
(Last week: 11)
14. Collin Hill or Luke Doty, South Carolina
The Gamecocks are facing a similar situation after Hill, the season-long starter, gave way to Doty in the second half of Saturday's 17-10 loss to Missouri. Doty, one of the gems of Carolina's 2020 recruiting class, was fine in his first extended action (14-for-23, 130 yards, 1 INT + 59 yards rushing), which included leading SC's only touchdown drive midway through the 4th quarter. But the question has less to do with the players than the circumstances: At the lowest point in a truly dismal season, the only thing left to play for is getting the heir apparent reps for the benefit of the next coaching staff.
– – –
(Last week: 10)