SEC
SEC QB Power Rankings, Week 12: Joe Burrow's leap year is as dramatic as they come
Quarterbacks: There are a lot of them! Each week throughout the season, SEC QB Power Rankings will help you keep the game's most important position in perspective by ranking the SEC starters 1-14 according to highly scientific processes and/or pure gut-level instinct. Previously: Week 1 … Week 2 … Week 3 … Week 4 … Week 5 … Week 6 … Week 7 … Week 8 … Week 9 … Week 10. … Week 11.
1. Joe Burrow, LSU
Has any college quarterback ever made as dramatic a leap over the course of a single year?
It's a legitimate question. The 2018 version of Joe Burrow was, on the whole, just another guy whose team got shut out by Alabama on his way to finishing in the bottom half of the SEC in almost every major statistical category. The 2019 version has laid waste to every team on the schedule — now including Bama, which allowed more points in Saturday's 46-41 loss to LSU than in any other game in the Nick Saban era — and emerged as both the undisputed Heisman favorite and the presumptive No. 1 overall pick in next April's NFL Draft. Watching him this season, and against the Crimson Tide, especially, has been like watching a completely different dude.
I can't come up with another college QB in the past 40 years who has come that far, that fast, and there's a good reason for that: There aren't any. Using pass efficiency as a baseline, Burrow's year-over-year improvement to date is the most dramatic of any I-A/FBS passer who has posted a rating of 160.0 or better in any season since the NCAA introduced the statistic in 1979: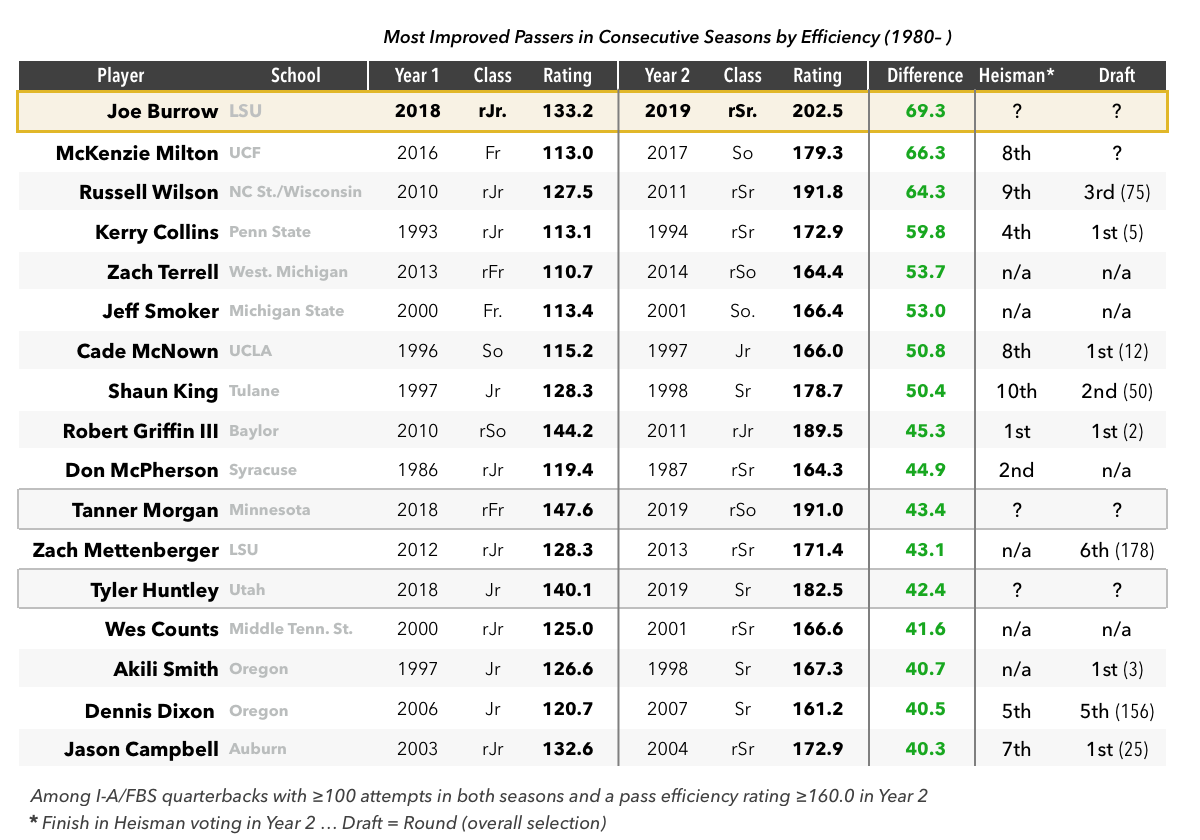 A gaudy passer rating is one of the most difficult numbers to sustain into the postseason, especially over the course of an extended run against multiple Playoff-level defenses. Even if Burrow winds up ceding his place at the very top of that list, though, the turnaround is remarkable — and the fact that he's sustained the trend against the likes of Bama, Florida, and Texas even more so.
Russell Wilson makes for an interesting comparison, mostly because, like Burrow, he was a grad transfer who only realized his potential after leaving his original school. (Unlike Burrow, who barely saw the field at Ohio State, the first column in Wilson's case reflects his output in his last season at NC State, where he was a 3-year starter before transferring to Wisconsin as a senior.) A better comparison might be to a guy who didn't quite make the cut for the chart: Vince Young. In his last season at Texas, in 2005, Young improved his efficiency rating by more than 35 points; snapped a 5-game losing streak against Texas' nemesis, Oklahoma, avenging a shutout loss to the Sooners in 2004; and transcended the "athlete" label to become the first quarterback taken in the 2006 Draft.
Burrow has already checked the first two of those boxes, and played himself into good position to check the last one. If he can take the analogy all the way by capping an undefeated season with a historic performance on a championship stage, it will be hard to remember anyone ever thought about him any other way. (Last week: 2)
2. Tua Tagovailoa, Alabama
This is the first time since the start of the 2018 season that Tagovailoa is not the automatic, no-doubt-about-it No. 1 on this list, and the fact that his demotion comes after a game in which he bombed a secondary full of future NFL starters for 418 yards and 4 touchdowns on a gimpy ankle says a lot more about Burrow's excellence than it does about Tua.
True, the first half against LSU was one of the worst of his career: In addition to general shakiness, 2 bad Tagovailoa turnovers — a phantom fumble on the opening series, followed by an ill-timed interception just before halftime — represented a 14-point swing that Alabama ultimately could not overcome. In the end, though, Bama's offense was Bama's offense. The Tide's last 4 possessions were TD drives covering 95, 78, 75, and 85 yards, respectively, and there was little doubt how it was going to end if LSU's offense failed to hold serve.
THIS GAME IS BONKERS! pic.twitter.com/67CL9Q8944

— CBS Sports (@CBSSports) November 10, 2019
Is the Heisman still in play? Honestly, probably not: Tua will likely to return to New York as a finalist, but barring a total implosion by Burrow and our old friend Jalen Hurts over the coming weeks it looks like a 2-horse race. (Hurts finishing ahead of Tua in All-America/Heisman voting, which he very likely would if the ballots were due this week, would be yet another entry in the "how the tables have turned" Hall of Fame.) A shot at redemption in the National Championship Game? Also a long shot at this point, unless a very specific set of dominoes falls in Alabama's favor in the Playoff chase. The closer we get to the end of the Tagovailoa era in Tuscaloosa, the more it looks like 2nd-and-26 is going to remain the crowning moment. (Last week: 1)
3. Jake Fromm, Georgia
Fromm followed his best game of the season against Florida by connecting on just 13-of-29 attempts Saturday in a 27-0 win over Missouri — a new career low for completion percentage (44.8) despite the lopsided final score. On the next episode of the long-running series Is Jake Fromm Elite?: Georiga visits Auburn, site of his first loss as a starter back in 2017. (Last week: 3)
4. Kyle Trask, Florida
Trask torched Vanderbilt Saturday for 363 yards and 3 touchdowns to 3 receivers, his 7th consecutive game with multiple TD passes. That's the longest such streak by a Florida QB since Tim Tebow did it in 9 consecutive games en route to the 2008 national title. (Last week: 5)
5. Kellen Mond, Texas A&M
Saturday's home finale against South Carolina might not feel like a must-win for the Aggies, who are bowl-eligible at 6-3 and have no realistic hope of winning the SEC West. But with road trips to Georgia and LSU on deck to close the regular season a loss would put A&M in very real danger of finishing with a losing record, pending the bowl game. For what they're paying him, the last thing Jimbo Fisher needs going into Year 3 is 6 months of hearing about a 4-game losing streak to end Year 2. (Last week: 4)
6. Kelly Bryant, Missouri
As expected, backup Taylor Powell struggled mightily in Bryant's absence against Georgia, finishing 10-of-22 for 84 yards and an interception before getting the hook in garbage time. True freshman Connor Bazelak threatened to break up the shutout late, leading a 17-play, 76-yard drive that consumed nearly half of the 4th quarter before stalling out on downs inside the UGA 10-yard line. Bryant is expected back this weekend against Florida, Mizzou's first home game in more than a month on the heels of a 3-game losing streak on the road. (Last week: 6)
7. Bo Nix, Auburn
Nix's production has been dramatically better in Jordan-Hare than in road/neutral games, although it's impossible to separate that from the fact that all of Auburn's toughest games so far (vs. Oregon, at Texas A&M, at Florida, at LSU) have come away from home — based on ESPN's Football Power Index, the best defense he's faced in the friendly confines is Mississippi State's, which ranks 54th. That will change in a big way this weekend against Georgia, which comes in at No. 6. (Last week: 7)
8. Lynn Bowden Jr., Kentucky
The fan base is on the fence in the debate between the electric Bowden, who has run for 634 yards (not including sacks) in 4 games since converting from wide receiver, and Sawyer Smith, who might actually give the Wildcats some semblance of a passing game. Electricity notwithstanding, Bowden's arm is a liability: He's just 19-of-44 passing on the season with 9 first downs and 3 completions of 15 yards or more. As a team, Kentucky racked up 302 yards rushing on 62 carries in Saturday's 17-13 loss to Tennessee but failed to score after the 1st quarter.
On the other hand, the offense was seriously struggling with Smith as the starter, managing just 13 points in a loss to Mississippi State and 7 in a loss at South Carolina, and turned in its best performance, a 29-7 romp over Missouri, behind Bowden. He is one-dimensional, but at least he is undeniably effective in that dimension. As offensive coordinator Eddie Gran said after the Tennessee game, "Lynn Bowden gave us a chance to win tonight. That's a fact." As long as that's still true, it's hard to see them taking the ball out of his hands. (Last week: 8)
9. Brian Maurer or Jarrett Guarantano, Tennessee
Once again Guarantano made the bizarre but increasingly compelling case against Kentucky that he's more valuable in a relief role, coming off the bench at halftime to rally the Vols from a 13-3 deficit. With that, he's come out of the bullpen with Tennessee either leading or within reasonable striking distance in 5 consecutive games, which is hardly a definitive sample size but does make for a bona fide trend: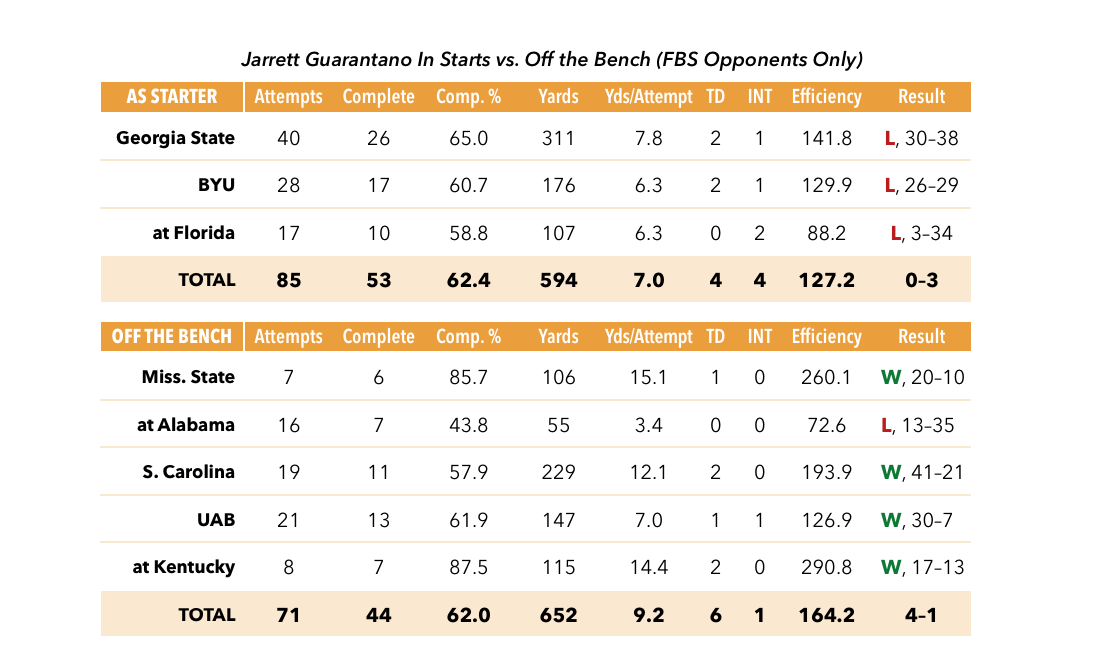 Completion percentage is steady; everything else — touchdowns, interceptions, yards per attempt, efficiency rating — has improved significantly since Guarantano was demoted from the starting job. With just 2 games left on the other side of an open date (one of them against lame-duck Vanderbilt), no one in Knoxville appears to be in any hurry to resolve the "or" between him and Maurer on the depth chart, and why would they? Leave that question for spring practice. For now, stick with what works, whether it makes any sense or not. (Last week: 9)
10. John Rhys Plumlee and Matt Corral, Ole Miss
Coaches haven't officially conceded the job to Plumlee, but the writing is on the wall. The freshman took every meaningful snap in Saturday's 41-3 win over New Mexico State, the first time that's happened since Corral returned from the injury that opened the door for Plumlee in the first place. Corral was also a spectator for the entire second half of the Rebels' Week 10 loss at Auburn, a fairly obvious signal that the choice has been made.
There's still time for that to change, but if the final 2 games against LSU and Mississippi State play out the same way it's a safe bet that Corral — a California native and the highest-rated prospect in Ole Miss' 2018 recruiting class — will be portaling out of Oxford after the season. That will likely mean sitting out 2020, but based on the list of teams that expressed interest in his talents out of high school he should have no shortage of options. (Last week: 10)
11. Garrett Shrader or Tommy Stevens, Mississippi State
Joe Moorhead described Shrader and Stevens as "QB 1A and QB 1B" for this weekend's game against Alabama, indicating (in keeping with the season-long trend) both were in line to play. Speculating on which guy takes the first snap is about as dramatic as that game is likely to get. (Last week: 11)
12. Ryan Hilinski, South Carolina
Which feeling is worse: Watching your quarterback overthrow a potentially game-winning touchdown so badly he forces his wide-open target to dive into the hedges behind the end zone as time expires …
South Carolina lost to App State like this. Brutal. Missed a wide open WR for the game-winning TD. pic.twitter.com/B4SwHpq61M

— Chris Hummer (@chris_hummer) November 10, 2019
… or actually connecting for the score, only to have it called back by a holding penalty on the left tackle? All things considered, Hilinksi's devastating inaccuracy might have actually spared Carolina fans from an even more painful fate. Credit where credit is due. (Last week: 12)
13. Riley Neal, Vanderbilt
Deuce Wallace was predictably overwhelmed in his first career start, finishing 7-of-18 for 60 yards (3.3 yards per attempt) against Florida with an interception and a fumble that the Gators returned 80 yards for a touchdown. Neal, who is 1-6 as a starter on the season, is expected to return to the lineup this weekend against Kentucky after missing the trip to Gainesville due to a concussion; the fact that that actually qualifies as good news should tell you all you need to know. (Last week: 13)
14. K.J. Jefferson or John Stephen Jones, Arkansas
Arkansas' long-suffering QB situation hit a new low against Western Kentucky, largely due to the guy on the other side: The Hilltoppers' starter, former Razorback Ty Storey, transferred to WKU after behind shown the door last winter, and returned to post a better stat line Saturday against his former team (290 total yards, 3 TDs, 0 INTs) than he ever did in an Arkansas uniform. Meanwhile, the 2 grad transfers Chad Morris recruited to Fayetteville to replace Storey, Ben Hicks and Nick Starkel , spent the afternoon watching as Jefferson and Jones combined to 9-of-25 for 87 yards with 2 INTs — including a pick-6 — in a 45-19 debacle that emphatically ended Morris' tenure on the spot.
If there's a glimmer of optimism in the abyss, it's that Jefferson, a 4-star recruit, will have all 4 years of eligibility remaining under the next head coach. Realistically, that might be how long it takes before Arkansas begins to resemble a competitive SEC team again. (Last week: n/a)