SEC
SEC QB Power Rankings, Week 11: Is Kellen Mond an asset or a liability in Texas A&M's Playoff push?
Quarterbacks: There are a lot of them! Each week throughout the season, SEC QB Power Rankings will help you keep the game's most important position in perspective by ranking the SEC starters 1-14 according to highly scientific processes and/or pure gut-level instinct. Previously: Week 1 … Week 2 …Week 3 … Week 4 … Week 5 … Week 6 … Week 7 … Week 8 … Week 9. … Week 10.
1. Mac Jones, Alabama
Jones returns to the top spot this week after a 302-yard, 5-TD turn in a hopelessly lopsided Iron Bowl, and arguably never should have relinquished it given his steady national lead among Power 5 QBs in pass efficiency and Total QBR. The win over Auburn was his 4th this season with a 200+ passer rating and his 7th with a 95+ QBR score in 8 games — two more 95+ outings than Tua Tagovailoa logged last year in 9 games.
This is basically a perfect throw from Mac Jones. pic.twitter.com/dFwTItyzZq

— CBS Sports (@CBSSports) November 28, 2020
Jones will never rate against Trevor Lawrence or Justin Fields (or Tua) as a pro prospect, but at his current pace the Heisman is beginning to look more and more like his to lose. In fact, with only a few weeks to go the race is shaping up as a winner-take-all showdown in the SEC Championship Game with the guy he replaced in this slot…
– – –
(Last week: 2)
2. Kyle Trask, Florida
Trask tentatively slides to No. 2 here, and quite possibly in his own huddle: Just as he was beginning to distance himself as the undisputed No. 1 Kyle in the nation, Kyle Pitts returned to steal the show against Kentucky and remind everyone that the top of the AP Kyle Poll is still very much up for debate. Heisman hype remains Trask's domain, as it should — after all, he's thrown 23 touchdown passes to 8 guys this year who are not Kyle Pitts, including 3 of his 4 TDs against Georgia and all 6 vs. Arkansas. But for sheer athletic spectacle, Pitts right now is operating on a different level than almost anyone else in college football.
– – –
(Last week: 1)
3. Matt Corral, Ole Miss
The case for Corral as an elite talent begins and ends with his Mahomes-ian output on the stat sheet, where he ranks 2nd nationally in total offense, 4th in QBR and 4th among Power 5 QBs in efficiency opposite one of the worst defenses in America. (Just, uh, whistle past the Arkansas game.) In Ole Miss' 31-24 win over Mississippi State, though, the box score line (24-for-36, 385 yards, 2 TDs, 0 INTs) was overshadowed by his abundant arm talent, which was more evident than ever on a pair of dead-on touchdown passes that legitimately covered 55 yards …
Matt Corral with a casual 55-yard flick of the wrist

— PFF College (@PFF_College) November 28, 2020
… and 60 yards in the air …
Matt Corral hit a NASA spaceship with this ball

— PFF College (@PFF_College) November 28, 2020
… en route to hitting his receiver in stride. That's some next-level business. Corral, a redshirt sophomore barely a year removed from a time-share situation with the forgotten John Rhys Plumlee, isn't considered a likely candidate to leave early for the NFL Draft with 3 years of eligibility remaining — remember, the COVID year doesn't count against the clock — but it is a conversation that Lane Kiffin has admitted to having. Assuming he does come back in 2021, threatening some of Eli Manning's career passing records in Oxford is not out of the question.
– – –
(Last week: 3)
4. Feleipe Franks, Arkansas
If Corral's not the most improved quarterback in America, Franks has a compelling case. Compared to his underachieving tenure as the starter at Florida from 2017-19, his output in Fayetteville represents an across-the-board leap, including an improvement of nearly 40 points in overall efficiency: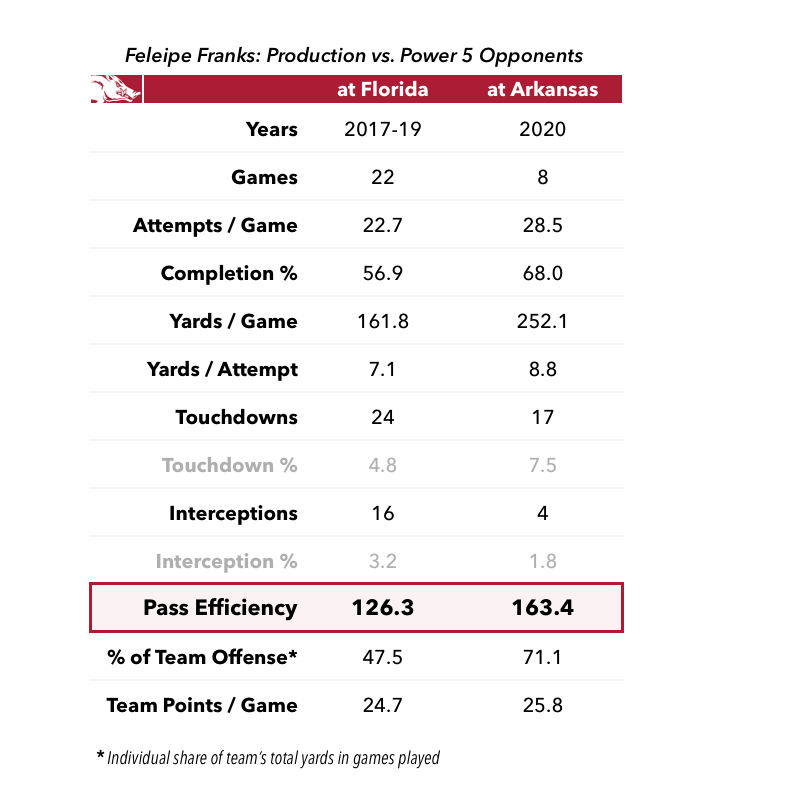 We're well beyond the days when a 160+ rating was rarefied territory, but as it stands it would rank as 1 of top 25 seasons in SEC history in terms of efficiency and puts Franks within spitting distance of the single-season Arkansas record (166.5 by Brandon Allen in 2015, including non-Power 5 games). That will be difficult to sustain with (presumably) an upcoming date against Alabama, but at this point both he and Arkansas have already gotten more out of this marriage of convenience than either side could have hoped for.
– – –
(Last week: 5)
5. Kellen Mond, Texas A&M
You'll never catch me describing a winning effort over LSU as a disaster, even one in which the LSU team in question is a shell of itself and the winning offense effectively went into hibernation in the second quarter against one of the league's worst defenses. But the effect of actually watching Mond operate Saturday night was like watching someone trying to crank a car that won't start for the better part of 3 hours. His 11-for-34, 105-yard performance was one of the worst of his career by every important measure and a big, bright red flag for a team aiming to impress the Playoff committee.
The silver lining (aside from the final score) is that A&M didn't drop in the committee's weekly rankings, holding at No. 5 on Tuesday night. Ostensibly, the Aggies' path to the Playoff hasn't changed: Win out vs. Auburn, Tennessee, and (presumably) Ole Miss; fend off a late surge in the rankings from undefeated Cincinnati; and bank on losses by Florida and Clemson in their respective conference championships to free up a slot in the top 4. The last part of that equation is out of their hands.
The the first two parts, though, become much less certain if the usually steady-but-unspectacular Mond is an outright liability. A&M came out of the weekend ranked No. 1 in the SEC in total defense and No. 2 in rushing offense, but it's not dominant enough in either respect to compensate for a stale passing attack in an actual Playoff game.
I'm hesitant to hold up an Auburn defense that was just ritually sacrificed at Alabama as some kind of litmus test. Frankly, though, the Iron Bowl was a useful point of comparison for what an actual Playoff outfit looks like. (See also: Georgia's 24-3 romp over Auburn earlier in the season, hailed at the time as a breakthrough performance by Stetson Bennett IV.) Auburn, big-game flops notwithstanding, is the best opponent by both record and reputation that the Aggies have faced, or will face, since their season-defining upset over Florida on Oct. 10.
That game, coming at a moment when Mond's grip on the job was in some doubt following a shaky turn at Alabama, may have been his best. It undeniably changed the trajectory of the season, if not the program. A&M probably won't need that dramatic a rebound to win this weekend on the Plains – the defense can clearly hold its own – but it would be reassuring right about now  to any committee members who might be having their doubts.
– – –
(Last week: 4)
6. JT Daniels, Georgia
Shockingly, Georgia declined the opportunity to unleash Daniels' arm against a depleted South Carolina secondary, opting to get its struggling ground game on track instead in a 45-16 blowout: He finished 10-for-16 for 139 yards with 2 TDs and 1 INT in support of a rushing attack that piled up 351 yards on 8.2 per carry. Blue-chip QB or not, if a Kirby Smart team if ever passes up a chance to replicate the latter half of that sentence for the sake of the former, somebody needs to check up on him.
– – –
(Last week: 7)
7. Bo Nix, Auburn
Is Nix maxed out as a true sophomore? Nothing about his performance at Alabama (23-for-38, 227 yards, 0 TDs, 2 INTs, 4 sacks, minimal impact as a runner) hinted at any significant growth or untapped potential just below the surface. And that was in keeping with a Year 2 that, on the whole, has looked an awful lot like Year 1: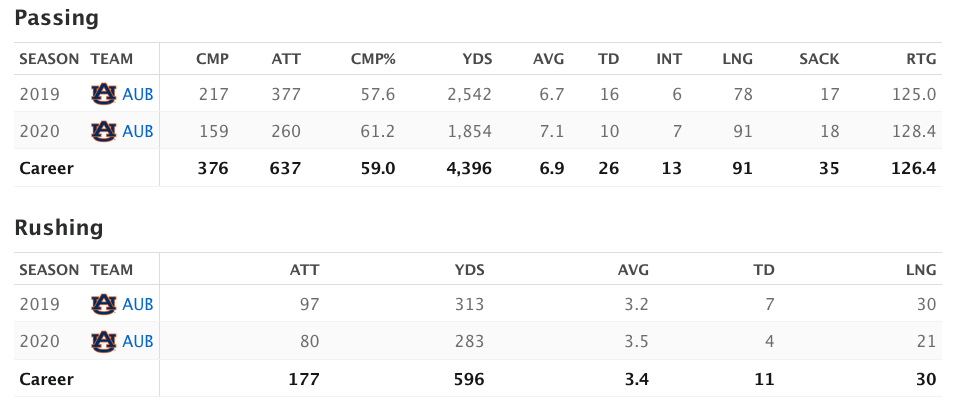 On a game-by-game basis, Nix has delivered one truly outstanding effort (in Auburn's 48-11 win over LSU) and a couple of positive ones (vs. Kentucky and Ole Miss) at the expense of some very vulnerable defenses; by the same turn, he's looked overwhelmed in the Tigers' biggest games (blowout losses vs. Georgia and Alabama) and mediocre against the likes of Arkansas, South Carolina and Tennessee. Is that all there is? Is he stuck as a guy who, after arriving as a 5-star recruit, still gets credit for "continu[ing] to fight" in rivalry games decided by halftime?
With Auburn reduced to a spoiler role this weekend vs. Texas A&M, those are the kind of Big Questions that will carry over into 2021, which looms as – brace yourself – yet another make-or-break year for Gus Malzahn. Nix remains firmly entrenched going forward, with no notable competition on the current roster or in the 2021 recruiting class. But whether that's for better or worse, or just for more of the same, remains to be seen.
– – –
(Last week: 6)
8. Connor Bazelak, Missouri
Bazelak had no trouble with Vanderbilt, finishing 30/37 for 318 yards (albeit with no touchdowns) to improve his record to 4-1 as a starter. Combined record of the victims in those 4 wins: 8-25. But who's counting? In the preseason media poll Mizzou was picked to finish 6th in the East, ahead of only Vandy; instead, the Tigers are comfortably in 3rd place behind Florida and Georgia with an opportunity this weekend against Arkansas (3-5) to secure at least a .500 record in conference play for the 3rd time in the last 4 years.
– – –
(Last week: 8)
9. Terry Wilson, Kentucky
Wilson's arm was no threat whatsoever against Florida, yielding just 62 yards on 3.4 per attempt in a 34-10 loss. After achieving a brief, 10-7 lead in the second quarter, Kentucky went 6 consecutive possessions with gaining a first down, culminating in a 3rd-and-long INT in the 4th that marked the end of Wilson's afternoon.
Mohamoud Diabate rips a Terry Wilson pass out of the air and returns the interception to the Kentucky 13 yard line – playmaker. pic.twitter.com/8nfsjKWrIv

— libgator (@lib_gator) November 28, 2020
Although he's 15-8 as a starter, from the sound of it, Wilson is expected to move on after Saturday's season-finale against South Carolina, thereby turning the page on an era of occasionally effective, often frustratingly one-dimensional Kentucky offenses. His more touted backups, Auburn transfer Joey Gatewood and true freshman Beau Allen, promise to deliver some downfield juice that has been sorely missing. Whether they can deliver in the win column is anyone's guess.
– – –
(Last week: 9)
10. Will Rogers, Mississippi State
Back-to-back 31-24 losses to Georgia and Ole Miss may be moral victories rather than actual ones, but after 2 months in the wilderness offensively the Bulldogs will take any kind of win they can get. Rogers (45-for-61, 440 yards, 3 TDs, 0 INTs vs. Ole Miss) has grown overnight into a typically efficient-but-limited Air Raid quarterback, completing 76% of his attempts the past 2 weeks for 6.9 yards a pop. Meanwhile, the team's leading rusher (Jo'quavious Marks) and receiver (the fast-emerging Jaden Walley) are also true freshmen, pointing the way forward into 2021. That doesn't mean the offense is suddenly good, but at least it's pointed in the right direction.
– – –
(Last week: 12)
11. Jarrett Guarantano or Harrison Bailey, Tennessee
Vols fans are long past ready to turn the page on the Guarantano era, for obvious reasons in the midst of a 5-game (and counting) losing streak. The calculation for Jeremy Pruitt is different: If he's coaching for his job over the next 2 weeks against Florida and Texas A&M — which he very likely is — he can't afford to make concessions to a future that may not include him in it. From his point of view, it's not hard to see how a 5th-year senior with 32 starts under his belt, even one with as many longstanding, ongoing issues as Guarantano, still looks like a safer bet to hold it together in an upset bid than a true freshman with 23 attempts.
The larger question is whether it's even Pruitt's decision to make. On Monday, he told reporters that one of his quarterbacks has been affected by contact-tracing protocols, but declined to say which quarterback or how it might affect his status for Saturday's game vs. Florida. In a desperate situation with no good answers, leaving fate to be dictated by the whims of a virus somehow feels appropriate.
– – –
(Last week: 13)
12. Luke Doty, South Carolina
Doty's stat line against Georgia (18-for-22 passing, 190 yards, 1 TD, 1 INT) fell squarely under the "just fine" column for a first-time starter, especially under the circumstances — blue-chip opponent, interim head coach, best receiver on the shelf, etc. That's an invitation for a meltdown, and although Doty certainly wasn't a difference-maker in the outcome, he didn't turn into a puddle, either. Given the advance hype on Doty as a recruit, it's probably safe to assume he'll be the favorite to remain QB1 under the new staff, and that 2019 starter turned third-stringer Ryan Hilinski will be portaling out ASAP.
– – –
(Last week: 14)
13. Ken Seals, Vanderbilt
After an encouraging November, Seals took a huge step back in Saturday's 41-0 loss at Missouri, finishing 11-for-18 for 79 yards (a season-low) with 5 sacks (a season-high). Derek Mason's ouster as head coach doesn't necessarily alter Seals' trajectory as a potential 4-year starter — Seals plans to remain at Vandy, according to his father — but then that depends largely on the next head coach. A conventional hire might be glad to find a viable young starter already in place for the foreseeable future; on the other hand, if the 'Dores take my advice and embrace the triple-option lifestyle, Seals will likely be the first out the door. Either way, he's not nearly enough of a program-defining talent to factor into that significant of a decision.
– – –
(Last week: 11)
14. TJ Finley or Max Johnson, LSU
Both of the Tigers' freshman QBs saw extended time at Texas A&M, both struggled, and both will compete to start this week against Alabama in a game that may have just as well stayed canceled. (Just to drive the point home, the Tigers will be playing out the string without the one player on offense who has actually lived up to the hype, WR Terrace Marshall Jr., who officially opted out of the lame-duck portion of the season on Sunday with an eye toward the NFL Draft.)
Once healthy, Myles Brennan figures to resume the starting role next year regardless of what happens over the next few weeks. Still, if either Finley or Johnson has a long-term future in Baton Rouge, the closing stretch vs. Bama, Florida and Ole Miss is the last opportunity to make the case before blue-chip 2021 commit Garrett Nussmeier arrives in January and the casualties of this doomed campaign become yesterday's news.
– – –
(Last week: 10)