SEC
Monday Down South: No one is great, everyone is vulnerable, and anything goes down college football's home stretch
November is the time of year when every college football season begins to take on a shape of its own, a rough outline that separates itself from all the others for posterity, and as of Saturday night the 2017 campaign is curling into the distinct form of a question mark.
Two of the top three teams in the weekly Playoff standings lost in brutal, lopsided fashion, while the third barely survived with its perfect record intact. In the power conferences, the shake-up left three undefeated but flawed outfits at the top of the polls alongside just three others with one loss; behind them, a quietly massing army of two-loss teams is liking with designs on filling a void at the team that gets larger by the week.
With three Saturdays remaining in the regular season, the picture is little more than a haze of hypothetical scenarios that could conceivably coalesce in at least a dozen different ways — as many as there are teams still holding on to a plausible chance of landing in (or crashing) the Final Four on Dec. 3. None is great, all of them are vulnerable, and anything goes between them.
Nowhere was the looming chaos more obvious than it was for Georgia, arguably the best team in college football over the first 10 weeks of the season, which suddenly found itself at the mercy of a belligerent crowd and a fully realized game plan at Auburn; the Bulldogs, winners of seven straight by at least 14 points apiece coming in, were run out of the state by a final of 40-17 in a game that wasn't really that close.
Georgia can still win the SEC championship, theoretically, and still claim the automatic Playoff ticket that will almost certainly come along with it. But it can't claim anymore that its consistent dominance somehow sets it apart from other contenders, or that there's anything inevitable about its ascent.
Neither, though, can Auburn, a team that can still draw a direct line to a Playoff bid despite having wilted twice on big, national stages in losses at Clemson and LSU. Nor can Alabama, which preserved its three-year, 23-game SEC win streak only by the skin of its teeth at Mississippi State, the second week in a row and at least the fourth time this year the Crimson Tide have looked less than dominant against respectable but less-than-elite competition. (See also: Bama's wins over Florida State, Texas A&M and LSU.) The Tide will presumably take over No. 1 in this week's Playoff rankings by some combination of reputation and default, but with almost none of the sense of invincibility that kept them entrenched in the top spot last year. Alabama is only narrowly favored in the Iron Bowl, by a lone field goal.
Nor can Miami, a true dark horse only just beginning to hit its stride in November after a series of close, one-score wins over the mediocre likes of Florida State, Georgia Tech, Syracuse and North Carolina in October. Nor can Wisconsin, a team that has yet to defeat an opponent ranked higher than 25th in the AP poll, and which still has its two toughest games (against Michigan this weekend, followed by the Big Ten Championship Game) left to play. Nor Clemson, a team that might be considered reliable if not for a random, Friday-night lapse at Syracuse. (The Orange are 0-3 since.) Nor Oklahoma, a team that boasts the nation's 70th-ranked scoring defense and is barely a month removed from blowing a two-touchdown lead at Iowa State. Nor can Ohio State, a team that remains very much in the Playoff mix — sorry, it's a fact, deal with it — despite a pair of blowout losses at the hands of Oklahoma and Iowa. And so on down the line.
Take a step back, and it's possible to see some order amid the chaos: The SEC champion (Alabama, Auburn, or Georgia) will surely have a spot waiting, as will the ACC champion (Miami or Clemson), barring a wild upset between now and the ACC title game. All of those teams control their own fate, as do Oklahoma in the Big 12 and Wisconsin in the Big Ten. Bama and Miami could each conceivably lose a game and still make the cut, with the right breaks. No fewer than eight teams sitting at 8-2 or 9-2 can still theoretically win the Big 12, Big Ten, or Pac-12 if they win out, and therefore theoretically crash the Playoff.
Take any of their seasons as a whole, though, and it's almost impossible to argue that any of them are arriving at the crucial stretch in control of anything. A few — Miami, Auburn … uh, Ohio State? — are on the rise at the right time; then again, "momentum" can shift abruptly from one Saturday to the next with no rhyme or reason, as we've seen too many times to count. It's impossible to tell whether we've seen any given team yet at its best, or its worst. All we can really say for certain, now more than ever, is that this sport will always have a new way to remind us we never know as much as we think we do.
NOTEBOOK
Around the conference.
Auburn 40, Georgia 17: Well, I think it's fair at this point to assume Gus Malzahn is probably not in any imminent danger of losing his job, don't you? I'll go ahead and go out on that limb.
On further review Auburn's performance was every bit as lopsided as it looked in real time, beginning with the complete and utter domination of the Tigers' front seven against a previously unstoppable Georgia rushing attack. In my preview of the game last week, I tried to highlight just how successful the Bulldogs had been on the ground by comparing their output to their opponents' season averages against everyone else; in each case Georgia came in ahead of the curve, often by a lot, and the margins had only widened as the season wore on. This was an offense that had legitimately imposed its will at the line of scrimmage on every previous defense it had faced.
Here's what the same chart looks like after Saturday:
… which pretty much tells you all you need to know. Auburn came into the weekend as a top-five rushing defense nationally according to S&P+; even by that standard, the Tigers exceeded any realistic expectation, holding UGA not only to its worst rushing performance of the season (by far), but also to the worst rushing performance by any opposing offense against Auburn. The middle of the defensive line, manned by tackles Dontavius Russell, Andrew Williams and Derrick Brown, was a wall. The most prolific backfield combo in the nation, Nick Chubb and Sony Michel, ran 20 times between them for 47 yards, with a long gain of 7; the other members of the Bulldogs' celebrated backfield barely registered at all.
If stuffing the run was the cause, the obvious effect was to make precocious freshman quarterback Jake Fromm look like just another freshman in the most hostile environment of his life. From the beginning, the major question surrounding Fromm was how he would hold up in exactly this situation, facing a deficit on the road with no reliable ground game to fall back on, and the answer was not great: After completing his first three passes on Georgia's opening drive, Fromm finished 10-for-25 the rest of the way, with more sacks (5) than third-down conversions (3).
When he wasn't being sacked, he was being routinely hounded behind a run-blocking line that looked as overwhelmed and out of its element in the face of a blue-chip SEC pass rush as its freshman quarterback. By my accounting, all five starting UGA linemen were victimized on at least one sack by five different Auburn players.
Even the final numbers on paper, mediocre as they are, might be misleading: A significant majority of Georgia's 230 total yards for the game came on the Bulldogs' first and last possessions, touchdown drives that covered 70 and 74 yards, respectively. In between, their other 10 possessions netted five first downs, six three-and-outs, eight punts and just three points. It was in that stretch that the picture of the Bulldogs' collapse was formed, and that's the enduring image anyone who watched it will take away.
More on Auburn's offense a little further down, but broadly speaking the story on the other side of the ball was the same: Auburn established firm control of the line of scrimmage early on — according to Pro Football Focus, the Tigers' three highest-graded players on offense were the three interior linemen, center Casey Dunn, RG Braden Smith and LG Marquel Harrell, which seems just about right — and methodically turned one of the most imposing units in the country into just another speed bump. Auburn's total output (488 yards on 6.9 per play) eclipsed Georgia's average yields on defense by more than 200 yards and 2.5 yards per play. That's what's known in the business as a butt-kicking.
What does it mean when Alabama rolls into Jordan-Hare in two weeks? Only that the stakes will equally high on both sides, which is all Auburn fans could have asked.
Alabama 31, Mississippi State 24: Not that Alabama is in a state of panic, but there was more to like about this performance than the down-to-the-wire finish suggested. And I don't just mean the Crimson Tide "came through in the clutch," or whatever — by and large they looked like themselves. Offensively, Bama went over 200 yards rushing and passing on 7.8 yards per play, almost a full yard per play above its season average. Its five scoring drives covered 75, 75, 63, 82 and 68 yards, respectively, in addition to a 10-play, 57-yard march in the fourth quarter that ended in a missed field goal for the lead. And then, yes, in a tense, competitive fourth quarter the Tide outgained Mississippi State 192 yards to 34.
The issue wasn't what the offense did when it had the ball, but just how little it actually had it: Through three quarters, Alabama had run a grand total of 33 plays, and went on to finish with season lows both for plays (57) and time of possession (21:04) opposite an MSU offense that executed its ball-control game plan to near perfection. As you might expect, the Bulldogs put up pedestrian numbers overall and struggled to generate anything resembling a big play; at the same time, they ran the ball just effectively enough to generate manageable third downs and succeeded in converting eight of their first dozen third-down attempts.
Just by keeping the sticks moving, State significantly blunted Bama's edge by running 26 more plays — almost two quarters' worth — and amassing a whopping 18-minute advantage in time of possession. Not the most entertaining brand of football, but very nearly good enough for a win that would have rivaled any in school history.
Credit Dan Mullen for that (although not for the way the game ended; see the "Demerits" section below). But also remember that Alabama's linebackers are the most decimated unit by injury in Nick Saban's entire tenure: The defense has played nearly the entire season without two would-be starters on the outside, Christian Miller and Terrell Lewis, and last week's win over LSU cost them a pair of inside 'backers, Shaun Dion Hamilton and Mack Wilson, for the rest of the year.
Their replacements, Keith Holcombe and true freshman Dylan Moses, visibly struggled on Saturday, even to a layman; Mississippi State ran straight at Holcombe on its first andsecond touchdowns, knocking him backward on both, and he whiffed on a tackle on the third, putting the lie to the notion that Alabama has an endless supply of 5-star, All-SEC-caliber specimens waiting in the wings.
With Da'Shawn Hand still week-to-week up front, depth along the entire front seven is a legitimate concern. After watching the running game struggle last week against LSU, those are getting to be quite a few of those with the most important games looming.
The one thing Alabama has going for it that is clearly not a concern at the moment is Jalen Hurts, about whom I'll go deeper in this week's edition of QB Curve. Hurts will never be a conventional slinger from the pocket, but suffice to say his blossoming connection with Calvin Ridley has saved Bama's bacon two weeks in a row now, which should put to bed any lingering suspicion that he's merely a "system" QB being buoyed by the talent around him.
Hurts is the engine behind everything the Crimson Tide do on offense, and when they find themselves in a corner, he's consistently succeeded in getting them out.
Missouri 50, Tennessee 17: Oh hey, Tennessee gave up 433 yards rushing to an utterly pedestrian ground attack, got blown out for the third time this year, fell to 0-6 in SEC play, and finally — my god, finally — fired its head coach. You know, by the way, in case you were wondering exactly what rock bottom looks like. This is it. A trash can is prominently involved. Brady Hoke is in charge.
Butch Jones has been obviously on his way out for long enough now that there's not much point in a lengthy postmortem of his tenure, because in reality this season has served as exactly that. His trajectory in Knoxville was essentially flat: Jones was an underwhelming hire in 2012, his highly-ranked recruiting classes have largely failed to translate into results on the field, and the 2016 team that seemed poised for a breakthrough couldn't even win a severely watered-down East Division. Even it had, the subsequent collapse in 2017 has been so complete that it likely wouldn't have made any difference in the decision to end it, just as it didn't make any difference in Florida's decision to part ways with Jim McElwain.
Like McElwain, Jones made enough initial progress from the depths of his predecessor's regime to raise expectations, but not nearly enough to fulfill them. And in the end, he leaves the program no better off than he found it.
New athletic director John Currie has promised an "exhaustive search" for Jones' successor, which almost certainly is not going to result in Mike Gundy or any other established head coach at a Power 5 program swooping in to resurrect Tennessee from its decade-long malaise. (That's also roughly how long Jon Gruden has been floated as a potential candidate, a perennial pie-in-the-sky rumor that gets both dumber and more fun with each new cycle.)
The new hire is probably going to look like the last one, and the one before that, and the one before that: A relatively young, up-and-coming type, unrecognizable to most casual fans, likely with a few years of head-coaching experience at a school like Iowa State or Memphis, with just enough of a résumé to inspire some optimism in the fan base but not genuine enthusiasm. With Florida already open, Nebraska soon to be, and the UCLA and Texas A&M hanging in the balance, top candidates — read: Scott Frost — are likely to have their pick of jobs, and Tennessee, at this stage of its decline, is unlikely to come in higher than third in that race.
Personally, if I were in charge in Knoxville I'd make my pipe-dream calls and then make a run at a high-level coordinator like Clemson's Brent Venables or LSU's Dave Aranda. That's just me; Currie might put more value in prior head-coaching experience, which neither Venables nor Aranda has. Otherwise, brace yourself for a résumé that looks a lot like Butch Jones' did in 2012, only with a better haircut.
Texas A&M 55, New Mexico 14: There's no reason to read too much into or dwell on a blowout win over a Mountain West squad — seriously, New Mexico attempted 17 passes for 24 yards — but just in case there was any doubt: Nick Starkel is Texas A&M's quarterback.
The redshirt freshman bombed the Lobos for 416 yards and four touchdowns without a pick, a gaudy, Air Raid-style stat line that a) looked a lot closer to the ideal offense Kevin Sumlin sees in his mind than anything else he's actually seen on the field this year, and b) at least temporarily put a little daylight on the depth chart between Starkel and Kellen Mond.
That's disappointing for Mond, who flashed more than enough promise earlier in the year to continue to preside as the Quarterback of the Future. About the same time Starkel (the opening-day starter against UCLA, if you can remember that far back) was returning from injury, though, Mond descended into a deep freshman funk, turning in wretched passing performances against Florida, Auburn and especially Mississippi State, where he was benched for Starkel in the second half.
Although Mond has played in each of the past two games, Starkel started both and clearly looks more comfortable running the kind of pass-happy scheme Sumlin has traditionally preferred. If he can get even two-thirds of that production in A&M's remaining games at Ole Miss and LSU, there's still a chance for Sumlin to save his job and for Starkel to confirm his status as QB1 heading into the offseason.
SUPERLATIVES
The best of the week …
More good stuff by Chip Kelly to detail Kerryon Johnson's screen pass that led to a touchdown. pic.twitter.com/aqCGM2kodl

— Billy Marshall (@BillyM_91) November 12, 2017
1a. Gus Malzahn and Chip Lindsey, Auburn. Malzahn and his first-year offensive coordinator put together a flawless plan against a defense that had been nothing short of dominant in its first nine games. The Tigers scored on four of their first five possessions in both halves, effectively balancing run (237 yards) and pass (251) without committing a turnover or letting their foot off the gas — a master class in finishing that singlehandedly redeemed the Oct. 14 debacle at LSU, where conservative play-calling was blamed for costing Auburn a 20-0 lead. The overnight drop in the temperature beneath Malzahn's office chair may be some kind of climate-change record.
1b. Kerryon Johnson, RB, Auburn. Of course, when you have Kerryon Johnson at your disposal it doesn't necessarily take a stroke of genius to devise a plan that amounts to "hand the ball to Kerryon Johnson." The Tigers' resident workhorse logged 34 touches against Georgia (32 carries, two receptions) for 233 yards, his fourth game with at least 30 touches in the past five. Since returning from a hamstring injury in September, Johnson is shouldering as heavy a workload as any back in the nation at 26 carries per game.
To do it against an opponent like Georgia, though, on a stage as large and electric as the one he owned on Saturday, was an eye-opening, next-level performance that should elevate him into the conversation for the Heisman and the early rounds in next year's draft. The prospect of Kamryn Pettway returning at or near 100 percent for the postseason is almost as unfair to opposing defenses as it is distant. But at this point, frankly an equal partner on the depth chart is a luxury the Tigers have proven they can live without.
2. Jeff Holland, DE, Auburn. On the other side, Holland will serve as the rep here for the entire Auburn d-line, which did yeoman's work in shutting down Georgia's ground game and generally harassing Jake Fromm. Even before Saturday, Holland's status as the SEC's most productive edge rusher was already secure; with an early, tone-setting sack in the first quarter — his ninth of the year, leaving him alone in the conference lead — and three additional QB hurries, the time is ripe for "Sensei Mud" to break nationally as a legitimate All-American candidate.
#LSU Film Room: Donte Jackson's sack. pic.twitter.com/utFZaoPMxC

— Ross Dellenger (@RossDellenger) November 12, 2017
3. Donte Jackson, DB, LSU. Jackson was everywhere against Arkansas, literally, spending the vast majority of the game in safety and nickel roles rather than his usual outside cornerback spot, and delivered arguably the best outing of his career: Six total tackles, two TFLs (including the Tigers' only sack), three passes broken up, and a handful of not-completely-crazy comparisons to Tyrann Mathieu. For his sake, let's hope Jackson's college career (or what's left of it, anyway, if he opts for the draft after this year) ends on a better note than the Honey Badger's.
4. Calvin Ridley, WR, Alabama. In a receiving corps otherwise devoid of reliable, veteran playmakers, Ridley is beginning to look like Mr. November: Of his eight receptions over the past two weeks, all but one has gained at least 15 yards, and all eight have led to points. Against Mississippi State, he hauled in a pair of 60-yard gains that set up both of Bama's touchdowns in the first half, followed by two clutch grabs on the Crimson Tide's game-winning TD drive — including a must-have, 31-yard reception on 3rd-and-15 from midfield that put the Tide in position for the decisive score.
On a related note, I hereby retract my tweet from earlier in the day anointing D.J. Chark as the SEC's best receiver, which I can only presume is largely responsible for fueling Ridley's heroics in Starkville in response. Sorry Bulldogs!
A.J. Brown is 99 overall pic.twitter.com/mpZb090YWi

— Zach Berry (@Zach_Berry) November 11, 2017
5. Jordan Ta'amu, QB, and A.J. Brown, WR, Ole Miss. Ta'amu, making just his third start in place in Shea Patterson, turned in another monster game against UL-Lafayette, bombing the Ragin' Cajuns for 418 yards and three touchdowns en route to a 50-22 blowout. The lion's share of that output went to Brown, who was on the receiving of fully half of Ta'amu's 28 completions; his final output (14 for 185 yards, 2 TDs) ended a month-long slump since Brown's last big game, against Vanderbitl, and left him atop the SEC leaderboard in all three categories. At 1,015 yards for the year, he's nearly 250 yards ahead of the No. 2 player on that list, Missouri's J'Mon Moore, and will probably end the regular season as the league's only 1,000-yard receiver. If only the vast majority of that output hadn't come against the dregs of the schedule…
For his part, Ta'amu joined Patterson as only the second QB in school history with three straight games over 350 yards passing. Ta'amu is a juco transfer with one more year of eligibility remaining in 2018, and his success will create an interesting dynamic re: Patterson's decision to return or not under the Rebels' new head coach.
Honorable Mention: Georgia LB Roquan Smith lived up to his reputation in a losing effort, finishing with 12 tackles, 2 TFLs, and a downfield pass deflection in the end zone. … Texas A&M's Nick Starkel put the torch to New Mexico. … LSU's Derrius Guice and D.J. Chark combined for 273 yards from scrimmage and all five of the Tigers' touchdowns against Arkansas. … And Benny Snell Jr. racked up 116 yards with three TDs in Kentucky's 44-21 win over Vanderbilt, in the process becoming the first UK back to go over 1,000 yards rushing in consecutive seasons.
Catch of the Year of the Week: Darius Slayton, Auburn
Obviously. Slayton is a Georgia native who was briefly committed to Georgia as a recruit, before a literal 11th-hour conversion to Auburn on signing day. Instead, UGA fans will remember him as the guy who set off the first spark that sent their undefeated season up in flames.
Darius Slayton, this is a ridiculous catch. pic.twitter.com/rxbEK1ltk9

— CBS Sports (@CBSSports) November 11, 2017
That wasn't even an especially great throw by Jarrett Stidham, but Slayton's body control, ball judgment, timing and general awareness of where he was in relation to the defender rendered No. 14 Malkom Parrish helpless. Marvel at the way Slayton snatches the ball back into his body and somehow manages to spin against his momentum, leaving Parrish swatting at air as they tumbled into the end zone. The damage was done: The Bulldogs never succeeded in turning the momentum or pulling within one score the rest of the game.
Moment of Zen of the Week: Gators Taketh, and Giveth, and Giveth, and…
I haven't mentioned South Carolina's 28-20 win over Florida — the Gators' fifth consecutive loss, and Carolina's fourth win in its past five — which unfolded along more or less predictable lines. Here's a brief summary:
Uhhh…what just happened? pic.twitter.com/aRumkgf5Ub

— CBS Sports (@CBSSports) November 11, 2017
For the record, that sequence was recorded in the official play-by-play as "1st and 10 at SC 4: Jake Bentley pass intercepted CJ Henderson return for 24 yds to the SCaro 24 CJ Henderson fumbled, forced by Hayden Hurst, recovered by SCaro A.J. Turner , return for 24 yds to the SCaro 24."
The upshot: South Carolina gained 20 yards on an egregious interception.
With a fresh set of downs, the Gamecocks proceeded to go three-and-out, resulting in a punt … which Florida's Brandon Powell proceeded to fumble right back to them at the UF 13-yard line. With another fresh set of downs, Bentley was subsequently picked again on the next play, bringing the tally to four giveaways — two by each team — in a span of five snaps, all without Florida's bottom-dwelling offense setting foot on the field. (When it finally did, it capitalized on the interception by losing three yards on three plays and punting from midfield.)
In related news, Florida is reportedly pursuing Chip Kelly to be its next coach.
Honorable Mention: Kentucky gained 25 additional yards against Vanderbilt on a fumble that a Vandy defender saved from going out of bounds, only for UK to recover at the Commodores' 2-yard line; the Wildcats scored on the next play to take a commanding 27-7 lead.
DEMERITS
… and the worst.
Shurmur's Pick Parade. Kyle Shurmur is closing in on one of the most prolific passing seasons in Vanderbilt history, highlighted by the fact that, prior to Saturday, he'd thrown just three interceptions (vs. 20 touchdowns) in more than 250 attempts. Against Kentucky, though, Shurmur was a pick machine, offsetting a 308-yard performance with four INTs — three in the first half alone — in a deflating, 44-21 loss that was effectively over early in the third quarter. Shurmur is the first SEC quarterback this year to throw four interceptions in a game this season; he was also sacked five times and fumbled twice.
At 4-6 overall (0-6 in SEC play), the Commodores' still might qualify as a 5-7 bowl team because of a strong APR, but its bowl chances effectively come down to finishing 2-0 against Missouri and Tennessee, i.e. an identical position to the one they found themselves in after a 4-6 start last year. The 2016 team pulled it off thanks to arguably the two best games of Shurmur's career to close the regular season. If that's what it's going to take this time, the surge won't be any less surprising.
Mississippi State In the Clutch. The Bulldogs led Alabama entering the fourth quarter and were still on track following a late, bonked Bama field goal attempt that left the score tied, 24-24, with 2:03 to play. From there, though, the offense turned in its first abbreviated drive of the night at the worst possible time, going three-and-out in just 54 seconds, and the defense picked an even worse time to get sloppy blitz-drunk.
First, the Crimson Tide faced 3rd-and-15 from their own 43-yard line following a sack on second down, which forced Alabama to burn its second timeout. Coming out of the timeout, defensive coordinator Todd Grantham came after Jalen Hurts with an all-out, seven-man blitz, and began to follow through on it before the play was blown dead just before the snap by an MSU timeout; coming out that timeout, the Bulldogs appeared to make zero adjustments whatsoever, showing Hurts exactly the same, aggressive look as they had prior to the stoppage — which, again, they asked for themselves with the clock already stopped. The entire stadium saw the blitz coming a mile away.
As promised, seven Mississippi State rushers crossed the line for a second time, leaving just four in coverage and a huge, predictable swath of space for the best player on the field, Calvin Ridley, to collect a short crossing route at midfield …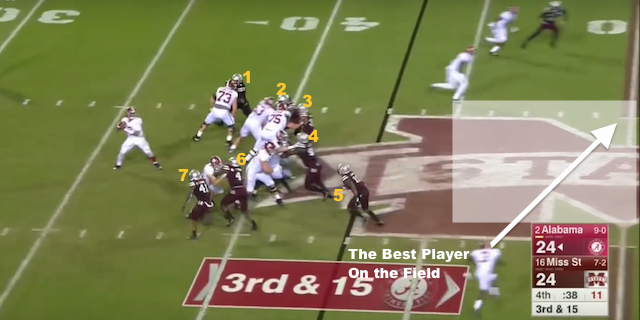 … and pick up an additional 23 yards after the catch to the Bulldogs' 26-yard line. Sufficiently singed, Grantham responded on the next play by regrouping, showing Hurts a different look downfield, and forcing him to make multiple reads before — no, wait, actually he responded by blitzing six, leaving his corners one-on-one against Bama's wideouts and a quick slant window defended only by the umpire:
Good throw, good catch, missed tackle, touchdown, drive home safely.
"Todd knows what I want, which is to be an aggressive style of defense," Dan Mullen said after the game. "We're going to come after people. We're an aggressive defense so we came after them. We're not going to change our style or get conservative. That's who we are and how we've had success."
In fact, the Bulldogs' best pass-rushing outing of the season, against LSU, involved a bare minimum of blitzing, and nothing like an all-out, six- or seven-man kamikaze mission on an obvious passing down. But contrary to the cliché, you don't actually have to live by it to die by it.
LSU's Recurring Kicking Weauxs. LSU kicker Connor Culp missed two extra points and a 32-yard field goal in the Tigers' win over Arkansas, all wide left, which didn't affect the outcome but did land Culp on the bench for LSU's last two PAT attempts in the rout. (Sophomore walk-on Jack Gonsoulin made both.) The lapses were especially disappointing given that, before Saturday, Culp looked like he'd put the Tigers' early kicking woes to bed: He came into the weekend on a hot streak, having connected on 14 consecutive extra points and eight straight field goals — including two late kicks against Auburn that provided the winning margin in a come-from-behind LSU win — before abruptly and inexplicably going cold.
Instead of stability, the misses likely set the kicking situation back to where it was at the end of September, at which point Culp and Gonsoulin had combined to miss more field goals (4) than they had made (3) through the first five games. At the time, Ed Orgeron told the audience for his weekly radio show that the Tigers didn't really have a kicker, which apparently remains the case.
Tennessee's Front Seven. Missouri's 433-yard outburst on the ground was its most prolific rushing performance since 2003 and nearly doubled the Tigers' best output against any other SEC opponent this year. It was also, incredibly, the fifth 400-yard rushing game Tennessee has allowed in the past two years, and left the Vols sitting dead last in the SEC in rushing defense despite a proliferation of four- and five-star talent on the defensive line. The massively hyped 2015 recruiting class alone — you remember, the one that was supposed to signal Tennessee's return to relevance among the league's heavy hitters? — produced two blue-chip starters on Saturday night (Kyle Phillips and Shy Tuttle, both top-100 prospects nationally) with the most celebrated member of that class, Kahlil McKenzie, coming off the bench.
Top talent steamrolled by mediocrity: A fitting end to another entirely forgettable era of Tennessee football. Please get the next hire right.