SEC
SEC QB Power Rankings, Week 13: Kyle Trask takes his first false step ahead of his biggest test
Quarterbacks: There are a lot of them! Each week throughout the season, SEC QB Power Rankings will help you keep the game's most important position in perspective by ranking the SEC starters 1-14 according to highly scientific processes and/or pure gut-level instinct. Previously: Week 1 … Week 2 …Week 3 … Week 4 … Week 5 … Week 6 … Week 7 … Week 8 … Week 9 … Week 10 … Week 11 … Week 12.
1. Mac Jones, Alabama
Final score notwithstanding, Jones had a muted afternoon in a 52-3 win over Arkansas, finishing with a season-low 208 yards and without a touchdown pass for just the second time in 14 career starts. He still enters the SEC Championship Game as the national leader in both pass efficiency and Total QBR, as well as Heisman odds in a still wide-open race. If Bama dispatches Florida as expected, his only relevant competition for the honor might be his own best weapon, WR DeVonta Smith.
– – –
(Last week: 1)
2. Kyle Trask, Florida
Are we worried about Trask? Saturday's 37-34 loss to LSU was his shakiest outing of the year, yielding season lows for efficiency (151.9) and QBR (64.9) despite a career-high 474 yards passing against a depleted secondary. He took 4 sacks, a season-high. And although 1 of his 2 interceptions against the Tigers was a fluky deflection, the other was a disaster:
Five-star freshman Eli Ricks with the pick-six pic.twitter.com/8W9ThP3ss3

— Rivals (@Rivals) December 13, 2020
A great play by the freshman (a replay angle showed more clearly how Ricks baited Trask into the throw), but the costliest mistake of Trask's season. There was also the key stretch in the late 3rd and 4th quarters that saw Florida's offense, with a chance to seize control of a surprisingly close game, instead go 3-and-out on 3 consecutive possessions, ceding the lead in the process; on those drives Trask was just 1-for-7 for 3 yards. For all the positives on the night – he still averaged 10.1 yards per attempt with a 2 touchdowns, and went 3-for-3 for 42 yards on the Gators' last-gasp drive to set up a field goal attempt as time expired – this week marks the first time since he took over the starting role last year that Trask's stock is trending down.
Of course, that can change in a hurry vs. Alabama. With the SEC title, the Heisman, and potentially a long-shot Playoff bid at stake, it's not a stretch to call Saturday night the defining game of Trask's Florida career. Bama's defense is, well, Bama's defense, having clamped down on opposing QBs since its early lapse at Ole Miss. Kyle Pitts will be back in the fold after sitting out the LSU game as a last-second scratch, filling out what remains the nation's deepest and most complete group of receivers.
Trask himself has played his way right onto the line that separates good college quarterbacks whose memory fades over time from legends. A star turn on the season's biggest stage may be his last chance to cross over.
– – –
(Last week: 2)
3. Matt Corral, Ole Miss
Compared to, say, the Pac-12, the SEC's attempt to stage a season amidst a global pandemic has sometimes felt relatively normal. But then there's the fact that Ole Miss has played 2 games in the last 6 weeks to remind us all just how relative "normal" really is right now. Pending further cancellations, the Rebels are 1 of 4 SEC teams (along with Georgia, Texas A&M and Vanderbilt) that will have to settle for a 9-game regular season, in their case the shortest campaign since 1963.
– – –
(Last week: 3)
4. Kellen Mond, Texas A&M
Mond has been a good-not-great quarterback for more or less his entire A&M career, but even as a firmly entrenched senior imagining him as a Playoff quarterback is a leap. The Aggies have a shot entering the final weekend, holding at 5th in the latest CFP Top 25 – the on-deck circle – with only Tennessee standing between them and an 8-1 finish. (A&M is a 14-point favorite Saturday in Knoxville.) If they do make the cut, though, Mond will have a lot to prove at that level: His current QBR score (73.5) ranks 35th nationally, the lowest of any starter for a current top-10 team, and lower than all but 3 Playoff starters since 2014 – Ohio State's J.T. Barrett in 2016 (70.5), Alabama's Jacob Coker in 2015 (70.2) and Alabama's Jalen Hurts in 2016 (68.4).
– – –
(Last week: 4)
5. Feleipe Franks, Arkansas
Franks' stint in Fayetteville was always understood to be a 1-year marriage of convenience, and it worked out for both sides. Arkansas, after years of turbulence behind center, got a reliable starter who led the Hogs to more SEC victories (3) under first-year head coach Sam Pittman than they had enjoyed in the previous three seasons combined (1). Franks, coming off a devastating knee injury that ended his tenure at Florida, revived his plunging draft stock with one of the most efficient passing seasons in school history. (He's already accepted an invitation to the East-West Shrine Bowl, signaling his intent to move on.) Next up: Redshirt freshman KJ Jefferson, who has played in 8 games the past 2 years, including 2 starts, while retaining 4 years of eligibility.
– – –
(Last week: 5)
6. JT Daniels, Georgia
Daniels has only logged 3 starts as a Bulldog, but he's looked the part in all of them, averaging 10.4 yards per attempt with 9 touchdowns to just 1 interception. The last 2 wins over South Carolina (45-16) and Missouri (49-14) are Georgia's 2 highest-scoring SEC outings in the past 3 years, behind a lineup that's expected to remain essentially intact in 2021. I can feel the preseason hype building by the hour.
– – –
(Last week: 6)
7. Bo Nix, Auburn
Where does Gus Malzahn's abrupt exit as head coach leave his quarterback? Nix, a 5-star prospect anointed the starter almost from the moment he arrived on campus, was arguably the prized recruit of Malzahn's entire tenure, and his lack of any discernible progress this season stood in for the stagnation of the team as a whole. In fact, his production from Year 1 to Year 2 was virtually identical: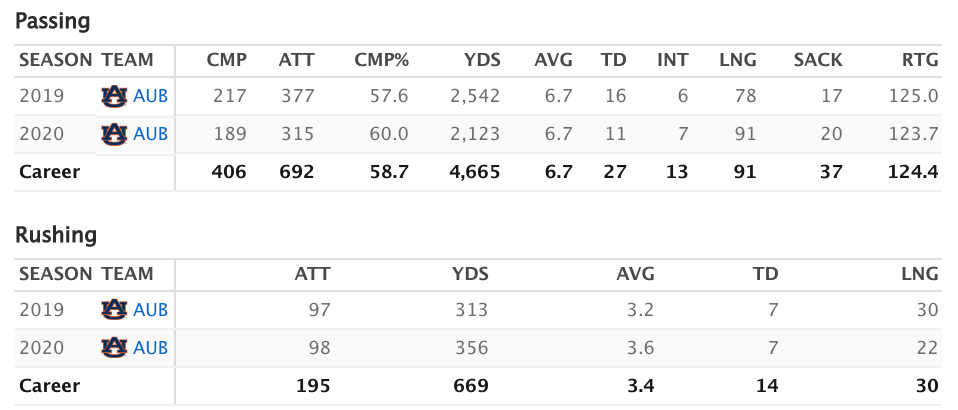 In another context, it might be possible to chalk those numbers up to growing pains, or the surrounding cast, or what have you; in the context of a guy who was touted as a program-changing talent, surrounded by the likes of Seth Williams, Anthony Schwartz and Tank Bigsby, it's deeply disappointing.
Nix has had his moments, and veteran QBs with a 15-8 record as a starter don't grow on trees. But the new staff will have a very big decision to make in a very short period of time about how comfortable it is, or isn't, with Nix as the entrenched starter going forward. The grad transfer market may be more fertile than ever, given that literally every player in college football is technically free to return next year, but for teams looking to make a move the most attractive options won't be available for long.
– – –
(Last week: 7)
8. Connor Bazelak, Missouri
In his first career start, Bazelak threw 4 touchdown passes in 34 attempts in an upset win over LSU. In 6 games since: 1 touchdown pass in 217 attempts. On the plus side, at least he's not turning the ball over in the meantime – his first-quarter INT in Saturday's loss to Georgia was just his 3rd of the year.
– – –
(Last week: 8)
9. Terry Wilson, Kentucky
If there was any doubt, Wilson's departure was effectively sealed this week by the announcement of Los Angeles Rams assistant Liam Coen as the Wildcats' new offensive coordinator, signaling a predictable shift to a more pro-style philosophy. Mark Stoops specifically cited "quarterbacks and receivers" as the most urgent areas for improvement, and underclassmen Joey Gatewood and Beau Allen both project as better fits. (Although I wouldn't rule out the possibility of making a run at a grad transfer, either.) Wilson, a 5th-year senior with a 16-8 record as a starter, is eligible to transfer for his final year of eligibility, although given his limitations as a passer other Power 5 opportunities may not be in the cards.
– – –
(Last week: 9)
10. Max Johnson, LSU
.Awarding Johnson as SEC Offensive Player of the Week may have been a little overboard, but then in the immediate aftermath of the most compelling game of the year to date, it's easy to get caught up in the spirit. So his stat line against Florida (21-for-36, 239 yards, 3 TDs/0 INTs) doesn't exactly leap off the page. Under the circumstances – true freshman, first career start, on the road, in the fog, with a shorthanded supporting cast and no larger goals at stake – Johnson was a revelation, and his emergence was the highest point in a season defined almost entirely by the lows.
The force is strong with this one pic.twitter.com/sq0R992xW6

— LSU Football (@LSUfootball) December 13, 2020
Now, it's one game, and LSU has already been through the "emerging freshman" cycle once this season following TJ Finley's encouraging debut vs. South Carolina. Finley subsequently melted down at Auburn, looked overmatched in losses to Texas A&M and Alabama, and is now a likely candidate for the transfer portal. Even assuming the pendulum remains in his favor entering 2021, Johnson is in for a serious competition in the spring with a healthy Myles Brennan and incoming freshman Garrett Nussmeier for the starting job.
After the season LSU has had, though, those qualify as good problems. Whether or not he pans out long-term, Johnson has put a .500 finish improbably within reach (the Tigers can even their record at 5-5 with a win over Ole Miss in Saturday's regular-season finale) and salvaged the possibility that 2020 does not have to go in the books as a total loss.
– – –
(Last week: 12)
11. Will Rogers, Mississippi State
Rogers averaged just 4.3 yards on 51 attempts in the Bulldogs' 24-10 loss to Auburn, dropping his average to 5.5 ypa on the year – the lowest number by a regular SEC starter since then-freshman Drew Lock averaged 5.1 yards in 2015. Part of that is just life in Mike Leach's offense, which effectively replaces a conventional ground game with a barrage of short, safe throws, and which has tread especially lightly with a true freshman thrust into the lineup at midseason. Going forward, though, adding some downfield juice to his game must be a priority as he grows into the role.
– – –
(Last week: 10)
12. Harrison Bailey or JT Shrout, Tennessee
.Bailey was solid in the Vols' 42-17 win at Vanderbilt, finishing 14-for-18 for 207 yards with 2 TDs and outshining Shrout (6-for-13, 90 yards, 2 TDs/1 INT off the bench) in the process. The rotation will continue this weekend against Texas A&M, according to Jeremy Pruitt, after which the exact order of the depth chart will likely be the last thing on his mind.
– – –
(Last week: 11)
13. Luke Doty, South Carolina
Doty ended the season on top of the depth chart, but a new regime under incoming head coach Shane Beamer means a clean slate in the spring for 2019 starter Ryan Hilinski to reassert himself after spending virtually all of 2020 on the bench. There are certainly worse ways to begin a tenure at a new school than a competition between 2 former top-100 recruits with starting experience and multiple seasons of eligibility to burn. Just don't bet on both of them sticking around.
– – –
(Last week: 13)
14. Ken Seals, Vanderbilt
On Saturday the Commodores wrapped up the first winless season in school history (yes, really); on Monday, they announced Notre Dame defensive coordinator Clark Lea, a Vandy alum, as their new head coach. Lea's first order of business will be keeping Seals, the one promising building block on the roster, in the fold. After that, let the questions about his long-term ceiling begin.
– – –
(Last week: 14)