SEC
SEC QB Power Rankings, Week 12: The Heisman race comes down to Mac Jones vs. Kyle Trask
Quarterbacks: There are a lot of them! Each week throughout the season, SEC QB Power Rankings will help you keep the game's most important position in perspective by ranking the SEC starters 1-14 according to highly scientific processes and/or pure gut-level instinct. Previously: Week 1 … Week 2 …Week 3 … Week 4 … Week 5 … Week 6 … Week 7 … Week 8 … Week 9. … Week 10. … Week 11.
1. Mac Jones, Alabama
2. Kyle Trask, Florida
To all the other surreal, unpredictable twists of 2020, add another: Mac Jones vs. Kyle Trask for the dang Heisman Trophy.
The SEC Championship Game is still a week away, but with the Florabama matchup now set and Jones and Trask entrenched at the top of the Heisman straw polls you may as well go ahead and deliver the trophy to the winning locker room in Mercedes-Benz Stadium on Dec. 19. Only routine dates with Arkansas (Jones) and LSU (Trask) stand in the way of a winner-take-all showdown between a couple of guys who arrived to campus as afterthoughts in their own recruiting classes.
How often does the Heisman race come down to a head-to-head scenario at the end of the schedule? Not very often! Before last year's Alabama-LSU game featuring then-front-runners Tua Tagovailoa and Joe Burrow, I noted that there had only been 18 regular-season meetings since 2000 (including conference championship games) between 2 quarterbacks who both went on to finish in the top 10 in that year's Heisman vote; of those, only 1 — USC's Matt Leinart vs. UCLA's Drew Olson in 2005 — came in the final game before voting wrapped.
Narrow the criteria to players who finished in the top 5, and for an award that's been handed out annually since 1935 you've got yourself a very short list going all the way back: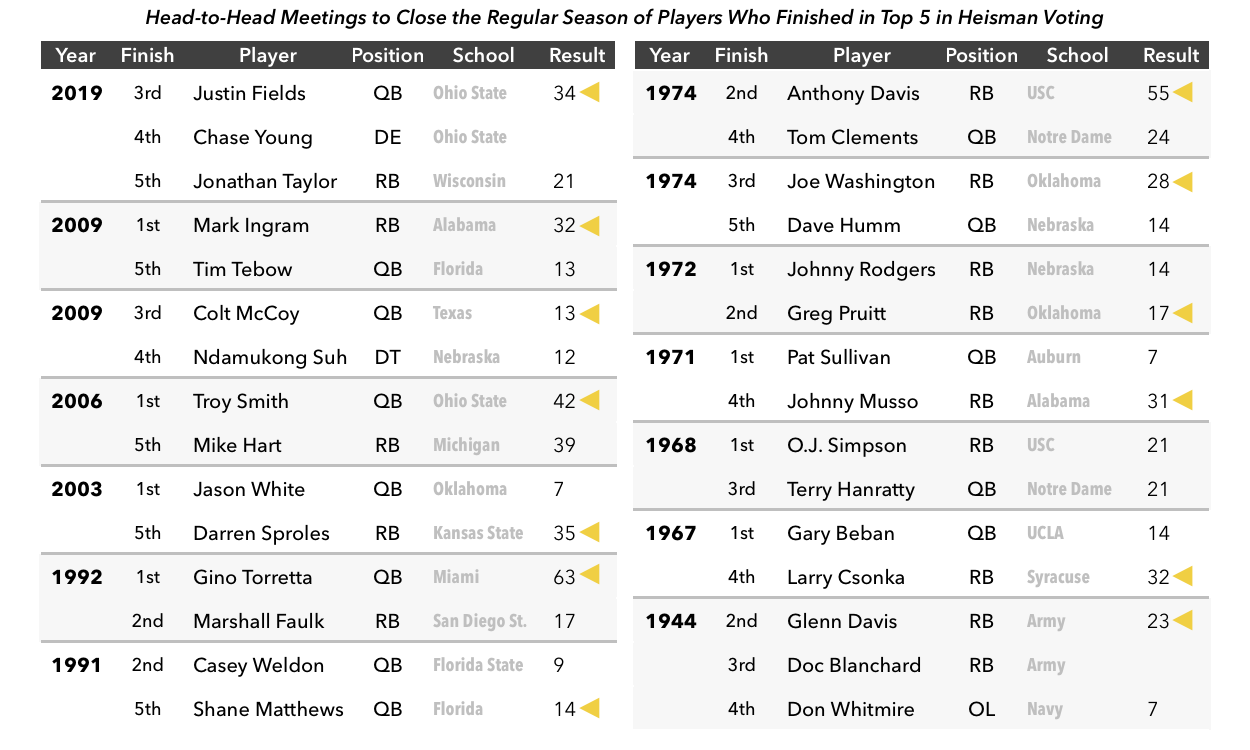 Conference championship games have been key to the trend more recently — 4 of the 5 matchups since 2000 were in conference title games, and Mark Ingram's 2009 victory was clinched in Atlanta with a 209-yard, 3-TD romp against a much better Florida defense than the one Bama will face this year. For such a quarterback-centric award, though, it comes as a surprise that only 1 of these examples was a QB duel: Florida State's Casey Weldon vs. Florida's Shane Matthews in 1991, a defensive slugfest in which the headliners combined to average a mediocre 6.3 yards per attempt. With the possible exception of Ingram, the closing Saturday has never been clearly decisive in a head-to-head, winner-take-all context.
Of course, there's always a chance that an out-of-body performance by Clemson's Trevor Lawrence against Notre Dame in the ACC Championship Game could be enough to put him over the top, especially if neither Jones nor Trask distinguishes himself in the finale. (Both Clemson and Notre Dame are off this week ahead of that game.) But nothing about this season, these quarterbacks, or the abundance of talent around them screams "defensive slugfest." A late Lawrence surge is the only other plausible outcome at this point, though, and if you're going by the oddsmakers it's debatable how plausible even that really is.
– – –
(Last week: 1/2)
3. Matt Corral, Ole Miss
Ole Miss' date with Texas A&M is the latest casualty of COVID-19, likely capping the Rebels' season at 10 games (including a likely bowl bid) and ending whatever distant shot Corral had of threatening the most high-profile school passing records for yards and touchdowns in a season. In the efficiency stats, on the other hand, he's already assured of leaving Eli Manning and Chad Kelly in the dust: Corral is on pace for 1 of the top 5 seasons in SEC history in terms of completion percentage (73.8), yards per attempt (10.8), and overall passer rating (187.3), at the helm of a unit that's on pace to set the SEC record for total offense in conference games. Given that the individual marks are the kind that tend to fall on an annual basis these days — Mac Jones has a shot at breaking all 3 — he should enjoy the lofty status while it lasts, asterisks and all.
– – –
(Last week: 3)
4. Kellen Mond, Texas A&M
Coming off a dismal effort vs. LSU, Mond responded Saturday with a reassuringly efficient afternoon against Auburn, going 18-for-23 for 196 yards with 2 TDs, no INTs, and a season-high 60 yards rushing – a solid afternoon all the way around in a 31-20 win driven by the defense and ground game. How different does that line look if his second TD pass, a go-ahead strike that deflected off the waiting hands of Auburn LB Zakoby McClain early in the 4th quarter, was picked off instead?
Sometimes it's better to be lucky than good.

Kellen's pass could have been picked off, but instead it finds Wydermyer's hands in the end zone to give the #Aggies a 21-20 lead over Auburn. #GigEm pic.twitter.com/07wzPJDsWd

— Mike Lucas (@KAGS_Lucas) December 5, 2020
We'll never know, and if the Aggies manage to back their way into a Playoff bid a couple weeks from now, they certainly won't care. A&M capitalized on its fortune by tacking 10 more points onto a final margin that erased any evidence it was ever in doubt.
– – –
(Last week: 5)
5. Feleipe Franks, Arkansas
Franks was a surprise scratch from Arkansas' wild, 50-48 loss at Missouri due to sore ribs, forcing him to watch as the Razorbacks put up season highs for yards and point behind redshirt freshman KJ Jefferson instead. Coach Sam Pittman assured reporters on Monday that Franks has "earned the right to be our starter" if he's feeling good enough play in Saturday's finale against Alabama, which he clearly has over the Hogs' first 8 games. If he's not, another positive turn by Jefferson vs. the Crimson Tide would be an encouraging way to transition toward his promotion to the full-time role in 2021.
– – –
(Last week: 4)
6. JT Daniels, Georgia
Daniels is already destined for enormous expectations next year, and if his coaches are inclined to let him, he has an opportunity to max out the offseason hype over the next couple of weeks against 2 of the league's more vulnerable secondaries in Missouri and Vanderbilt. Then again, that's a little like asking if a Cracker Barrel is inclined to start serving sushi. Given Kirby Smart's track record with 5-star quarterbacks, his collaboration with Daniels is going to be a fascinating and/or potentially frustrating one to watch unfold.
– – –
(Last week: 6)
7. Bo Nix, Auburn
Nix delivered the first honest-to-goodness "wow" play of his career against Texas A&M, on a frantic, Manzielian touchdown run that said 5 yards in the box score but ultimately covered more like 50 yards in real time.
BO NIX WENT HOUDINI ON THIS PLAY 🤯 pic.twitter.com/jvM1bWMRa3

— ESPN (@espn) December 5, 2020
Otherwise: Standard-issue Bo Nix vs. a ranked opponent. He finished 15-for-23 passing for a season-low 144 yards and no TDs against the Aggies, right in line with his turns in losses to Georgia and Alabama. His athleticism is a plus, but his inability to challenge any halfway decent secondary downfield remains a serious limitation.
– – –
(Last week: 7)
8. Connor Bazelak, Missouri
Bazelak improved to 5-1 as a starter in Mizzou's win over Arkansas, throwing for 380 yards on 49 attempts and rallying the Tigers from a 14-point deficit in the 4th quarter. It got a little dramatic, too: Trailing 48-47 with the game on the line in the final minute, he drove the offense 60 yards on 4-of-4 passing to set up the game-winning field goal as time expired. That capped the largest 4th-quarter comeback in Mizzou history.
Now, to put his record in context, Bazelak's other wins in addition to Arkansas (3-6) have come at the expense of LSU (3-5), Kentucky (4-6), South Carolina (2-8) and Vanderbilt (0-8) – no one's idea of murderer's row. (His lone outing against a winning team: A 41-17 loss at Florida.) Still, for a redshirt freshman who began the season as an afterthought, his emergence has been one of the more promising developments at the position across the conference. Eli Drinkwitz might have himself a 4-year starter.
– – –
(Last week: 8)
9. Terry Wilson, Kentucky
Wilson will end his Kentucky career with a solid 16-8 record as a starter, capped by Saturday's 41-18 thumping of South Carolina. Good times in Lexington, all in all. At the same time, though, the Wildcats have consistently ranked among the league's most sluggish attacks, coming in dead last this year in total offense, and after 3 years resigned to running a glorified option scheme, Mark Stoops is clearly ready to move on: Wilson is unlikely to return for a 6th year, while offensive coordinator Eddie Gran and QB coach Darin Hinshaw have already been shown the door.
The mandate for whoever comes next is "balance," i.e. developing some semblance of a downfield passing game that has been sorely missing. Holdovers Joey Gatewood and Beau Allen may be better suited to that vision athletically than Wilson; whether they can actually deliver better results is anybody's guess.
– – –
(Last week: 9)
10. Will Rogers, Mississippi State
Rogers made huge strides in the Bulldogs' last 2 games – 31-24 losses at Georgia and Ole Miss, respectively – looking the part of a freshman beginning to see the light at the end of the tunnel. Coming off an open date, another good turn this week against Auburn would help solidify his status as QB1 as long as he remains upright behind a rickety o-line and out of Mike Leach's overcrowded doghouse.
– – –
(Last week: 10)
11. Harrison Bailey or J.T. Shrout, Tennessee
Never say never in this Twilight Zone of a year, but with 2 games remaining in one of the worst seasons in Tennessee history, the Jarrett Guarantano era in Knoxville appears to be mercifully over. Bailey and Shrout went the distance in Saturday's 31-19 loss to Florida, finishing a combined 26-for-35 for 232 yards and 2 TDs without a pick, and Jeremy Pruitt confirmed Monday that the Vols plan to stick with the underclassmen to close out the season vs. Vanderbilt and Texas A&M. (Whether that coincides with the end of the Pruitt era remains an open question.)
Assuming he's taken his last snap, Guarantano finishes among the top 10 passers in UT history in terms of yards (7th), touchdowns (6th), completion percentage (7th) and overall efficiency (7th), as well as, incredibly, with a slightly better career INT rate (2.1%) than Peyton Manning (2.4%). He was 12-20 as a starter.
The conventional wisdom going forward favors Bailey, a true freshman who survived his first career start against the Gators without any major disasters despite taking 5 sacks. A blue-chip recruit listed at 6-5, 225 pounds, Bailey is the kind of guy who shows up to campus with "future NFL prospect" written all over him until he plays his way out of the distinction. Shrout, however, while significantly less touted, made the most of his opportunity Saturday by overseeing a pair of long, late touchdown drives that covered 94 and 96 yards, respectively — a garbage-time effort, to be sure, but a highly encouraging one as garbage-time efforts go. The updated depth chart for this weekend's trip to Nashville doesn't specify a starter at the position, leaving the door open for Shrout or fellow sophomore Brian Maurer to make a move. Even if Bailey remains the default option, Pruitt is in no position to preach patience if things go south.
– – –
(Last week: 11)
12. TJ Finley or Max Johnson, LSU
Finley and Johnson split time for the second consecutive week against Alabama and held their own, finishing a combined 25-for-45 for 254 yards, 1 TD, and no turnovers. (Yes, Finley's 2nd-quarter strike to Kayshon Boutte went in the books as a touchdown pass despite Boutte doing the thing where he inexplicably dropped the ball just short of the goal line; technically, the box score gave Jontre Kirklin credit for the receiving end of the score instead after he alertly recovered the fumble while his teammates celebrated, but on Finley's end, it counted all the same.) On paper, at least, that's a notable step forward from their doomed time shares against Auburn and Texas A&M, albeit in a game that was essentially over in the 1st quarter. Ed Orgeron indicated this week that he's open to flipping the order for Saturday's trip to Florida, setting up Johnson for his first career start, but as little separation as there's been between them to this point there's every reason to expect the rotation to continue.
– – –
(Last week: 14)
13. Luke Doty, South Carolina
Doty started Carolina's last 2 games following Will Muschamp's exit and looks like the obvious front-runner under Muschamp's successor, Shane Beamer. For now, he's still more of an athlete at this nascent stage of his career than a reliable passer, but at 6-1, 210 pounds, he possesses the tools to grow into the full-time role in short order.
– – –
(Last week: 12)
14. Ken Seals, Vanderbilt
Seals will play out the string against Tennessee and Georgia, but his future remains in limbo as Vandy continues its  search to replace Derek Mason. He has started every game this season as a true freshman and has no intention of transferring, according to his father, but if the choice is a coach who values mobility at the position he may be left with no choice.
– – –
(Last week: 13)