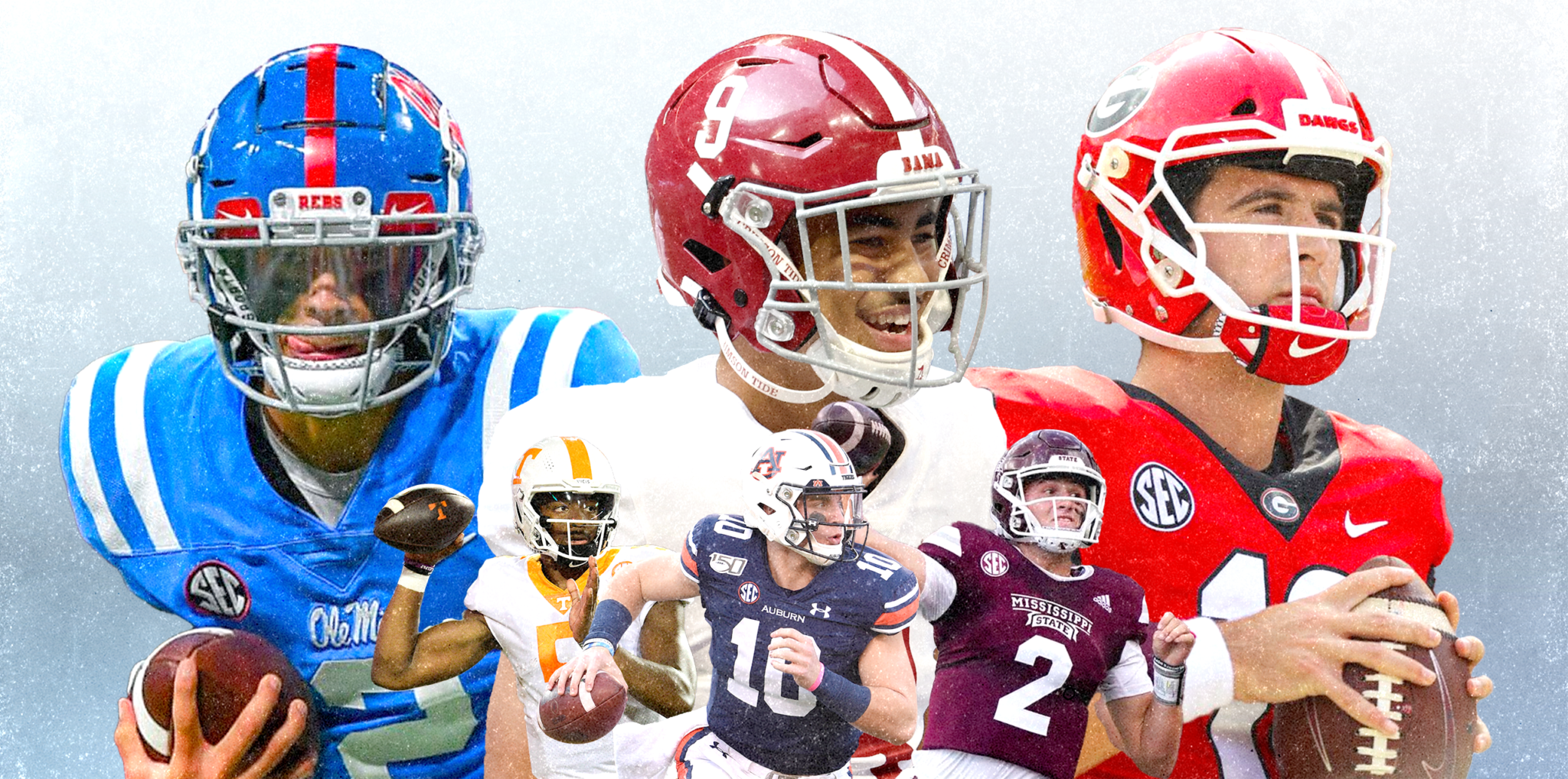 SEC
SEC QB Power Rankings, Week 13: Dan Mullen is gone, but Florida's lingering QB question remains
Quarterbacks: There are a lot of them! Each week throughout the season, we'll help you keep the game's most important position in perspective by ranking the SEC starters 1-14 according to highly scientific processes and/or pure gut-level instinct. Previously: Week 1 … Week 2 … Week 3 … Week 4 …. Week 5 … Week 6. … Week 7 … Week 8 … Week 9 … Week 10 … Week 11 … Week 12.
1. Bryce Young, Alabama
The Heisman derby went from cruise control to warp speed in Week 12 with both Young and Ohio State's CJ Stroud delivering monster games on a national stage, effectively whittling the field to a 2-man race in the home stretch. (I'm still chugging along on the Will Anderson Jr. bandwagon, personally, but after a few weeks of narrowing the gap on the quarterbacks, clearly they're about to leave the non-traditional candidates in the dust, consensus-wise.) Stroud, who played more or less a perfect game in OSU's 56-7 annihilation of Michigan State, predictably surged ahead in the betting odds, and if you really want to split hairs about it he comes in narrowly ahead of Young for the season in both pass efficiency and QBR.
But the case for Young is stronger than ever after his record-breaking afternoon against Arkansas, and plenty of time to make up the difference with high-profile games against Auburn and especially Georgia on deck. The opportunity to throw Bama into the Playoff against the college football equivalent of the '85 Chicago Bears in the SEC Championship Game is about as compelling a closing argument as anyone could ask for.
The most encouraging aspect of Young's breakthrough against the Razorbacks: His downfield accuracy, the area where he's most clearly suffered by comparison to Mac Jones and Tua Tagovailoa over the course of the season. On Saturday, he was 4-for-6 on throws of 20+ yards with 3 touchdowns, including a couple of precision-guided bombs to the Tide's resident deep threat, Jameson Williams, covering 79 yards and 40 yards, respectively. The emerging mind meld between Young and Williams only seems to be getting deeper by the week, which suggests — terrifyingly, for opposing secondaries — that their best may still be in front of them.
– – –
(Last week: 1 ⬌)
2. Matt Corral, Ole Miss
Corral effectively declared for the NFL Draft last week ahead of the Rebels' home finale, a 31-17 win over Vanderbilt, which makes him a prime candidate to opt out of a bowl game, which makes Thursday night's trip to Mississippi State potentially his last game in an Ole Miss uniform. Either way, barring a complete meltdown, he's going to go out as both the most efficient passer in school history — his current career passer rating (161.1) ranks first — and the most likely candidate to be the first quarterback off the board next April.
– – –
(Last week: 2 ⬌)
3. Stetson Bennett IV, Georgia
All quarterbacks are better throwing from a clean pocket than with rushers bearing down, but in Bennett's case, the sharp decline in his production under pressure may be where his athletic limitations are most apparent. Per Pro Football Focus, he's completed just 34.4% of his pressured attempts this season (compared to 71.1% when kept clean), which ranks 17th out of 18 qualifying SEC quarterbacks. The good news: He's been one of the best-protected QBs in the country, having faced pressure on just 25.4% of his total dropbacks. The not-so-good: Will Anderson Jr. and Alabama are less than 2 weeks away.
– – –
(Last week: 3 ⬌)
4. Will Rogers, Mississippi State
Rogers attended the same high school as another notable Mike Leach quarterback, Gardner Minshew II, and aside from the dubious facial hair he may as well be a Minshew clone. Compare Rogers' production this year to Minshew's in 2018, the year he finished fifth in Heisman voting running Leach's offense at Washington State: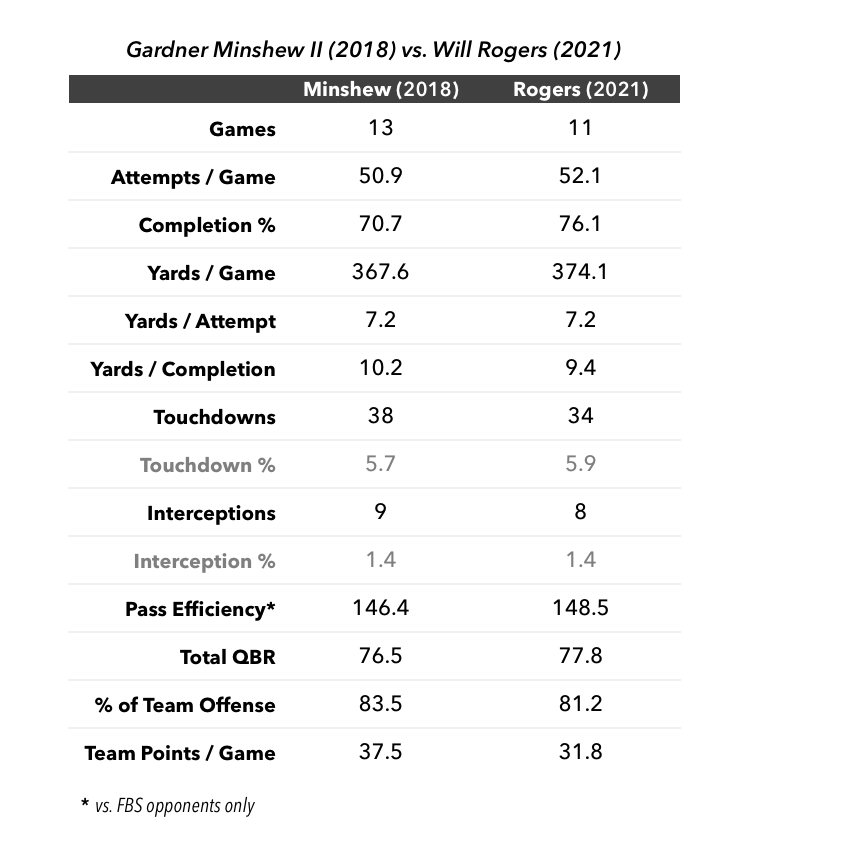 One reason (though not the only one) for the relatively glaring disparity in scoring: Red-zone efficiency. The 2018 Cougars scored touchdowns on more than 78% of their trips inside opponents' 20-yard line, one of the best rates in the nation; Mississippi State is currently at 66%, having left points on the board on multiple red-zone opportunities in 7 of 11 games. More consistency in that part of the field, and a little Heisman buzz before Rogers leaves Starkville is not out of the question.
– – –
(Last week: 5 ⬆)
5. Hendon Hooker, Tennessee
There's no official award (yet) for Best Transfer Quarterback, but if there was Hooker would be the frontrunner for the title in 2021, and aside from Western Kentucky's Bailey Zappe it wouldn't be particularly close.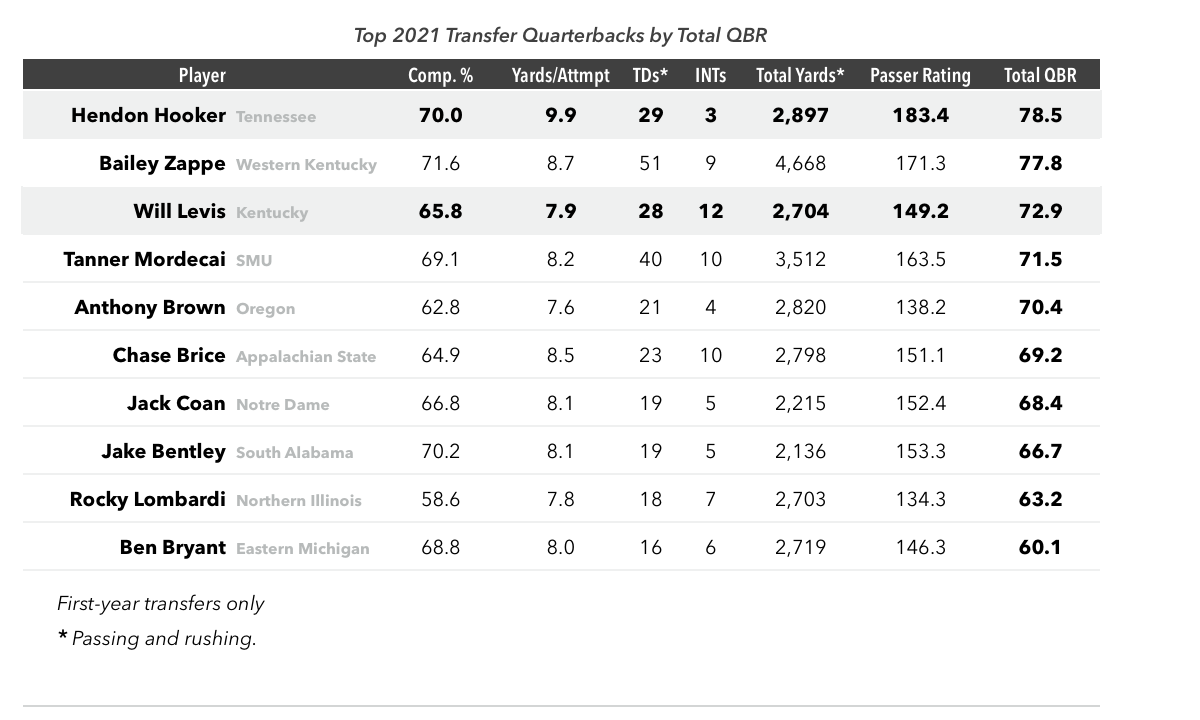 Hooker may also be the player at any position who's been the most missed by his former team. Whereas Wake Forest and Ohio State have fared just fine without Kenneth Walker III and Jameson Williams, respectively, Hooker's old school, Virginia Tech, ranks dead last in the ACC in total offense, next-to-last in scoring, and just fired its head coach.
– – –
(Last week: 4 ⬇)
6. KJ Jefferson, Arkansas
It got lost in Bryce Young's shadow, but Jefferson's 326-yard, 3-TD performance in a losing effort at Alabama may have been the best of his young career, yielding stellar numbers in terms of efficiency (197.6) and QBR (92.4). Whatever there was to be said about the long-distance connection between Young and Jameson Williams, the same could be said for Jefferson's comfort zone with Treylon Burks.
Treylon Burks just outran the entire state of Alabama for @RazorbackFB. pic.twitter.com/X1k1gb7L89

— CBS Sports (@CBSSports) November 20, 2021
Jefferson and Burks were both a part of the 2019 recruiting class that signed up to play for Arkansas in the darkest depths of the Chad Morris era in Fayetteville, and it would be great to see them max out their potential together next year, if Burks wasn't a lock to leave early for the draft. At any rate, Jefferson is trending toward a strong finish in his first season as a starter and massive expectations to match his massive arm in 2022.
– – –
(Last week: 6 ⬌)
7. Will Levis, Kentucky
It was not obvious when Kentucky landed Levis in the transfer portal that a career backup from Penn State represented an upgrade over the QBs already on the roster, but the move has undeniably paid off on both ends: He seized the job from Day 1 and is on pace to post the best passer rating by a full-time Kentucky starter since the immortal Andre' Woodson in 2006. Factoring in the pandemic pass, he also has two more years of eligibility, which might be something on Mark Stoops' mind over the next few weeks if Florida and/or LSU comes calling.
– – –
(Last week: 7 ⬌)
8. Emory Jones and Anthony Richardson, Florida
Jones has taken every snap the past 3 weeks, leaving Anthony Richardson's status in the air as the Gators limp to the finish line under an interim head coach. On one hand, injuries have played a major role in Richardson' s absence – he was knocked out of the Georgia game with a concussion, sidelined by a knee injury at South Carolina, and reportedly limited in practice ahead of games against Samford and Missouri. On the other, in what turned out to be his last press conference, Dan Mullen described Richardson as 100% healthy ahead of the trip to Mizzou, and Richardson's initial reaction after watching the offense struggle to a 24-23 loss in overtime was to delete all references to Florida from his Twitter page. (He subsequently restored "Quarterback at the University of Florida" to his bio after Mullen's ouster became official.)
As far as Saturday's finale against Florida State is concerned, you know, whatever. Interim coach Greg Knox told reporters on Monday that Richardson will play if he's healthy. Beyond that, though, resolving the Jones-Richardson dynamic will be one of the new administration's top priorities in the spring, at least if it doesn't resolve itself first by one or the other opting to portal out.
As the younger, more physically gifted of the two, Richardson would arguably be the bigger loss in that calculation. With 3 years of eligibility left, keeping him in the fold could secure the position beyond 2022 and potentially make or break the next coach. Otherwise, the long-term outlook once Jones' time is up is TBD.
– – –
(Last week: 8 ⬌)
9. Zach Calzada, Texas A&M
An offseason decision between Calzada and the guy he replaced in the starting role, redshirt freshman Haynes King, is looming. To his credit, Calzada has recovered from a rough September to preside over five wins in the last six games, including an upset over Alabama in which he played the game of his life. Still, Bama notwithstanding, Calzada has been ordinary at best against everyone else, taking a backseat to the defense and running game in the wins and struggling to pick up the slack after the Aggies fell behind in their most recent loss at Ole Miss.
Speed kills. pic.twitter.com/PTx0slgpTj

— Ole Miss Football (@OleMissFB) November 14, 2021
Statistically, Calzada ranks near the bottom of the conference across the board, including yards per attempt, TD-to-INT ratio, overall efficiency, and QBR. He may be the incumbent entering the offseason, but I wouldn't be surprised if King gets a fair shot to reclaim the job in the spring before exploring his options.
– – –
(Last week: 9 ⬌)
10. Connor Bazelak, Missouri
Missouri's season in a sentence: If you're throwing, you're losing. In 6 wins, Bazelak has averaged 28.7 attempts per game; in 5 losses, that number jumps to 44.8, with a corresponding plunge in efficiency.
– – –
(Last week: 10 ⬌)
11. Max Johnson, LSU
Johnson will finish the season as QB1 for the sake of preserving true freshman Garrett Nussmeier's redshirt – Nussmeier has already hit the 4-game limit – but still faces an uphill battle to hold onto the job under a new coaching staff in 2022. The question will more likely come down to Nussmeier and incoming freshman Walker Howard, a 5-star prospect due to arrive in the new year – that is, as long as Howard doesn't change his mind in the meantime.
– – –
(Last week: 11 ⬌)
12. Jason Brown, South Carolina
Brown, a 5th-year transfer from FCS St. Francis (Pa.), made the most of his limited opportunities in the Gamecocks' 21-17 upset over Auburn, throwing for 3 touchdowns on just 15 attempts. That gives him 8 TD passes in the past 13 quarters, matching Carolina's total as a team for the entire 2020 season.
– – –
(Last week: 13 ⬆)
13. TJ Finley, Auburn
Finley, a Louisiana native, conceded this week that he didn't know anything about the Iron Bowl until he got to Auburn earlier this year. But he does have some experience against Alabama: A year ago, Finley was LSU's starter against the Tide in a 55-17 debacle in Baton Rouge that effectively ended his LSU career — he finished 14-for-28 for 144 yards, got benched in the second half, and didn't see the field again in the Tigers' last 2 games. I'm sorry, when I started that sentence I meant for it to be more reassuring.
– – –
(Last week: 12 ⬇)
14. Mike Wright and/or Ken Seals, Vanderbilt
Wright has gone the distance in 4 of the Commodores' past 5 games, including Saturday's loss at Ole Miss, ostensibly due to various injuries to Seals. When he has played, though, Seals hasn't exactly solidified his status as the incumbent. If anything, he's clearly regressed, posting significant declines in both efficiency (from 128.1 as a freshman to 100.9 in Year 2) and QBR (from 51.0 to a dismal 26.5).
Seals did lead a couple of non-conference wins over Colorado State and UConn, which for a team coming off an 0-9 campaign in 2020 is something to hang his hat on. But barring an eye-opening performance in this weekend's season finale at Tennessee, all options should be on the table here in 2022, including the portal.
– – –
(Last week: 14 ⬌)